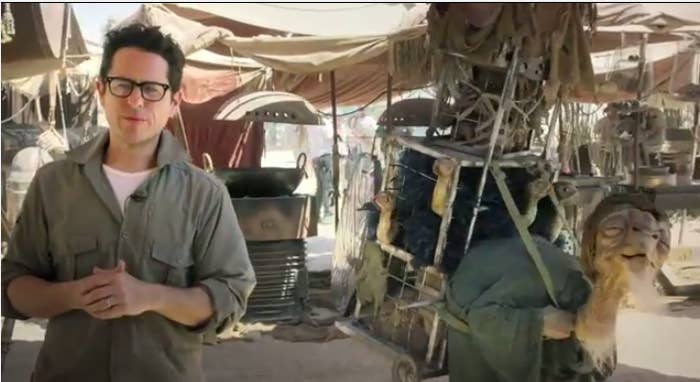 J.J. Abrams has been zealously guarding the details of Star Wars: Episode VII like the plans to the Death Star, but at least one lucky fan will get a peek at what he has planned — and all she or he will have to do is pony up as little as $10. For charity.
On Good Morning America this Wednesday, Abrams announced that he, Lucasfilm, and Disney are teaming up with crowdfunding charity site Omaze to raise money for the UNICEF Innovation Labs, part of a new charitable initiative called Star Wars: Force for Change. By making a minimum $10 donation via Omaze, fans will be entered into a sweepstakes, with a grand prize of a VIP visit to the Episode VII set in London for the winner and a guest, including an opportunity to be in the movie in full makeup and costume. (Disney is also putting up $1 million.)
There are other guaranteed prizes depending on how much a person donates — including a screening of the film in the donator's home town. But much like other celebrity-driven campaigns on Omaze (like a date with George Clooney, or a ride in the Breaking Bad RV with Bryan Cranston and Aaron Paul), the winner of the top prize will come from a random drawing, and after clearing a background check. The campaign will run until 11:59 p.m. PT on July 18, and the winner and her or his guest will likely visit the London set and shoot their scene in the film some time in August or early September.
It's a savvy win-win for Abrams and Lucasfilm, engaging with the vast Star Wars fan base in a meaningful way for a very good cause, but keeping the actual exposure to any genuine spoilers about the film to a bare minimum. Indeed, Abrams has not revealed any information about what scene the winner will appear in, but check out the video the filmmaker shot to announce the campaign on the film's Abu Dhabi set.
Imagine, a chance to work with J.J. Abrams and that beautiful (not CGI) alien from a galaxy far, far away.