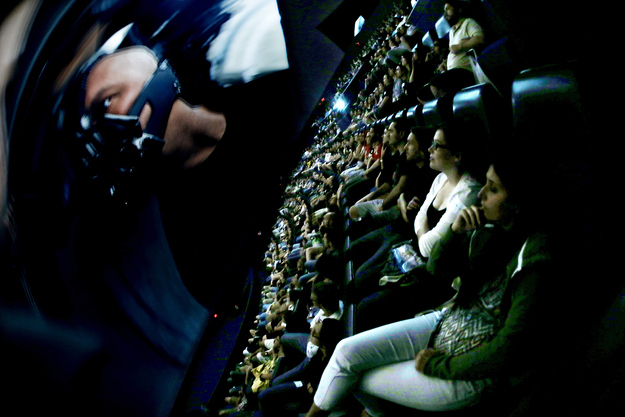 For a few years now, IMAX has become several top-tier filmmakers' favorite new toy. But the filmmaking system — which employs a bigger, 65mm negative and taller aspect ratio to create a sharp image that covers practically one's entire field of vision — has never become a full-fledged tool, something directors can rely on for their entire film. That could be changing within the year.
For decades, traditionally-shot films have been released in IMAX theaters through a digital conversion process. But since Christopher Nolan used IMAX cameras to shoot select sections of 2008's The Dark Knight, several other major directors have convinced their studios to let them play with IMAX too.
The specialized cameras have already been hauled out for Mission: Impossible — Ghost Protocol (from director Brad Bird), The Dark Knight Rises (from Nolan), Star Trek Into Darkness (from J.J. Abrams) and The Hunger Games: Catching Fire (from Francis Lawrence). And at the film industry convention CinemaCon in Las Vegas this week, Paramount and IMAX announced a new five-picture deal that includes Nolan's next film, Interstellar, and Michael Bay's Transformers 4.
Directors love the brilliant, rich image clarity and enveloping scope that IMAX cameras provide. And theater owners are pleased that audiences consider IMAX a special experience worth seeking out — even IMAX showings of films that have been digitally converted often sell better than their traditional-screen counterparts.
Enamored as directors may be of the format, it hasn't yet moved beyond its boutique status — because shooting on the IMAX cameras is the definition of cumbersome. At CinemaCon earlier this week, some of the Star Trek Into Darkness cast, who shot scenes using IMAX cameras, explained what the process is like.
"The sequences that we shot on IMAX were the biggest sequences in the movie, the most cinematic and action packed," Zachary Quinto (i.e. Spock) told BuzzFeed. "So it was challenging. They jam more easily. They're really loud. They take a lot of time to reload."
"The cameras are bigger, and... they're a lot slower," added Chris Pine (Kirk). "And filmmaking is already a very slow process as it is."
The culprit is the very thing that makes IMAX, IMAX: That mighty 65mm film stock. Racing the bulky material through a camera at 24 frames per second creates such a loud mechanical din within the cameras that they're impractical to use for dialogue-heavy scenes, especially since magazines can run out of film stock within a matter of minutes. Even though Quinto and Pine also praised the "spectacle" IMAX provides, the promise of an all-IMAX movie will remain just that until these issues with the mechanics are resolved. For now, the cameras will remain in the toy bin, trotted out for special occasions.
This weekend, however, audiences will get their first look at one possible solution: simply getting rid of the film. Director Joseph Kosinski (TRON: Legacy) shot his entire sci-fi thriller Oblivion using Sony's newest digital camera, which captures images at an enormous 4K resolution, resulting in a stunningly clear image. It's not quite IMAX — the film still required further digital conversion for IMAX exhibition — but it is damn close.
More importantly, IMAX is also going digital. Michael Bay told BuzzFeed at CinemaCon this week that when he begins shooting Transformers 4 later this summer, he will be using IMAX's new digital 3-D camera, which is more compact and less noisy than the current 3-D IMAX camera that uses film stock. (IMAX declined to discuss the new camera, but you can see a prototype of the system in a video from the company's website below.) "We're still retro-fitting it and hot-wiring it," Bay said. "It's just going to be ready when we start shooting." Not that people go to Michael Bay movies for the dialogue, per se. But it's definitely a start.