Warning: The following story contains some mild SPOILERS for the movie Creed.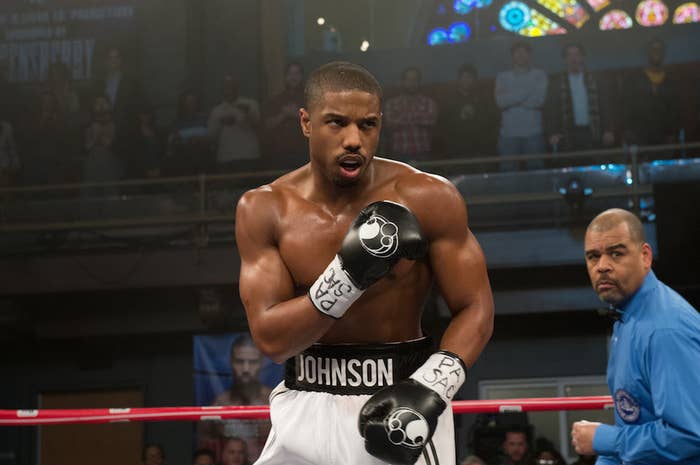 There are many standout moments in Creed, the boxing drama that inventively continues the Rocky movie franchise by turning the focus to Adonis Johnson (Michael B. Jordan), the son of Rocky's long-dead main rival, Apollo Creed. Just watching Adonis convince Rocky (Sylvester Stallone) to train him — at first in the same gym where Rocky became a Philadelphia legend in the 1976 Oscar-winning film that bears his name — evokes a surprising measure of nostalgic good feeling.
But Creed, currently in theaters, really explodes during Adonis's first professional match as a boxer with Rocky in his corner, for the simple, breathtaking fact that director Ryan Coogler (Fruitvale Station) shot the entire match, from the opening bell to Adonis's knockout punch, in a single take.
"Me and Ryan are really big fans of 'oners,'" Jordan recently told BuzzFeed News over the phone, referring to the industry term for a scene shot in a single take. "We tried to get as many as we could in Fruitvale Station, but ... a lot of times, you don't have the time to achieve that."
With Creed, however, Coogler and Jordan had studio backing and much more time to prepare, so they made the most of it. "Our goal is to get the audience to engage," said Jordan. "I think that's one of my favorite scenes in the movie."
This is how — and why — it was important to pull it off.
They wanted to capture that universal "holy shit" feeling when you get your big shot…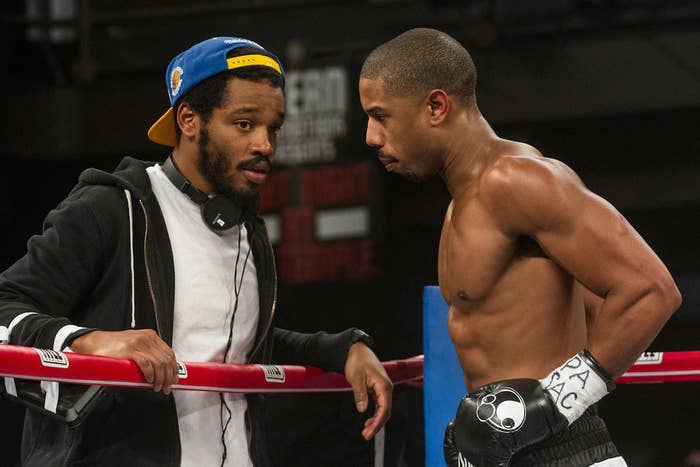 "Adonis has a lot of fights," Coogler told BuzzFeed News in a phone interview. "We wanted each fight to tell its own story, and we wanted them all to build up to the final moment when he kind of becomes who he was meant to be."
At the onset of the film, we see Adonis in one of a dozen clandestine matches he wins in Mexico. But his first professional match in Philadelphia represents a major turning point for his career.
"Adonis starts off this film wanting to get a trainer, and about a third of the way through the film, he gets his wish," said Coogler. "He gets Rocky training him. It's a really important moment, because those of us who are fortunate enough to have our dreams come true, we have that moment happen, and then it's like, holy shit, it's really scary."
Coogler, a former collegiate football player, continued: "I've been through that as an athlete. I've been through that as a filmmaker. I've been through those moments when you ask people to give you a shot, and then you get it, and all of a sudden, it's like, there's no more excuses, I've got my shot, and now it's the scariest thing in the world, because if it doesn't work out, it's my fault. That's what this fight was for Adonis. He finally has somebody in his corner, and all of a sudden was nervous, because he didn't want to let them down. There's no more excuses. If it doesn't work, it's on him."
…and the specific experience of getting that shot in a boxing ring.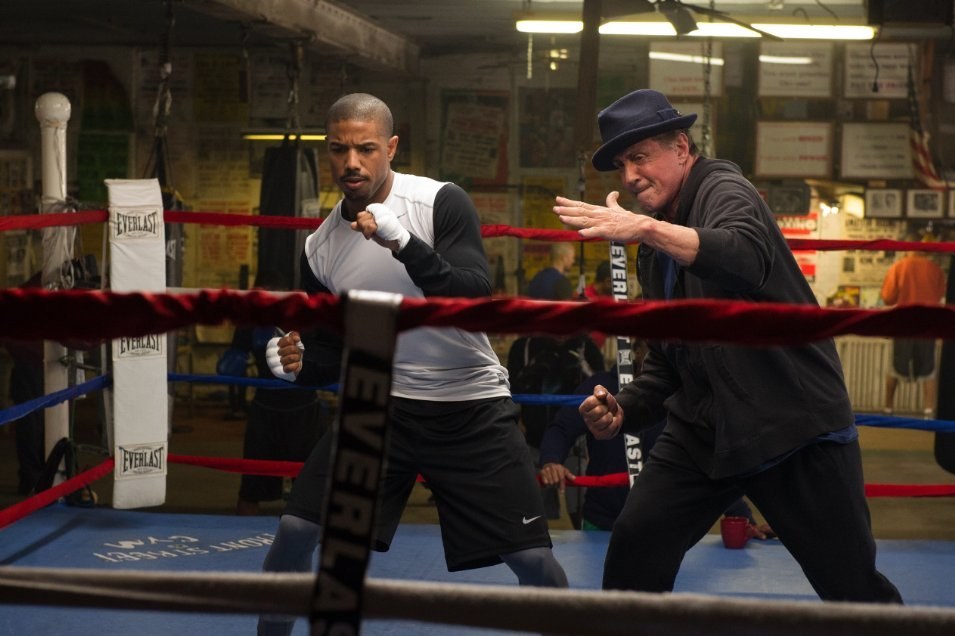 "What's really interesting about boxing is you have this trainer who's there for you, who's there as a support system, but when the bell rings, that trainer leaves you in the ring completely alone," said Coogler. "It's just you, the ref, and this other guy who's trying to knock your head off."
Coogler said he became fascinated with the idea of capturing the continuity of that experience, of having to leave your support system behind and then, with the ring of a bell, returning to your trainer for a fleeting moment of coaching before you're back in the ring. "You see Rocky leave him. You can only hear Rocky, and then Rocky comes back and the round breaks, and then Rocky leaves again, and then Rocky comes back afterwards," Coogler said. "So it was that kind of yo-yo of emotion that we wanted to capture with the camera, and that's when it made sense that we would do it in one take."
Rehearsal was key, and not just for the actors.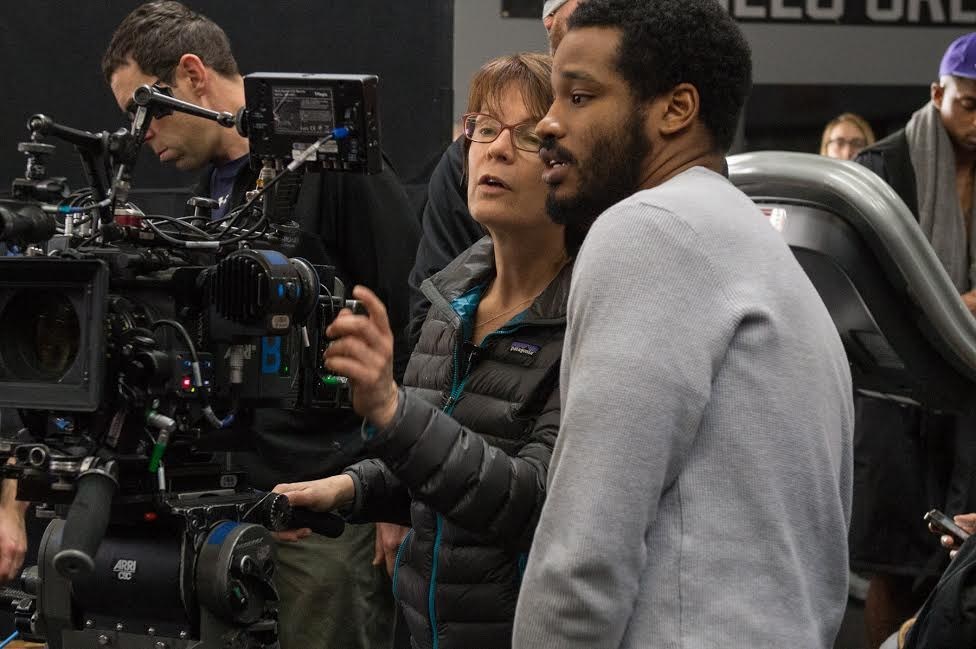 Jordan said he spent a month in rehearsals and choreography for Creed's boxing matches, of which Coogler said roughly a week was spent blocking out the one-take fight. But Jordan wasn't just working with the real-life professional boxer, Gabriel Rosado, who played his opponent in that match — he was also working with the main Steadicam camera operator, Benjamin Semanoff.
"Ben started taking boxing classes so he could prepare for this moment," said Coogler. A boxing ring was set up next to the production office, where Jordan, Rosado, Semanoff, Coogler, cinematographer Maryse Alberti (The Visit, The Wrestler), and stunt coordinator Clayton J. Barber could run through the scene step by step. Later, Stallone and co-star Tessa Thompson, who plays Adonis's girlfriend Bianca, were brought in for a day to work out how, when, and where they would come into the scene.
For Semanoff, the chance to operate a Steadicam in a Rocky movie was especially exciting, since one of the first times a Steadicam was used in a feature film was to shoot the famous scene in the original Rocky of Stallone running up the steps of the Philadelphia Art Museum. "Ben's from Philadelphia," said Coogler. "He's really passionate about the history of the Steadicam, so this [scene], he was especially excited for. It was really great to see."
It took 11 takes to get it right.
Coogler shot the match on the third day of principle photography, and in total, he said, they shot through the scene 13 times — and only take 11 and take 13 were really useable for the scene. "Every time they would flub the choreography, we would have to stop," he said. "We needed all that choreography to work. … We ended up using take 11. All of the boxing that you see, those guys trading punches, that is all take 11."
While Coogler said he did not have a backup plan to shoot the scene more traditionally if the single take didn't work, he thought his editors might be able to edit around the different takes of the fight to cobble together a cut of the scene. But, he said, "We purposefully didn't shoot any cutaways, so that we would have to walk that tightrope with no safety net."
Even with all that rehearsal, there was still room for improv.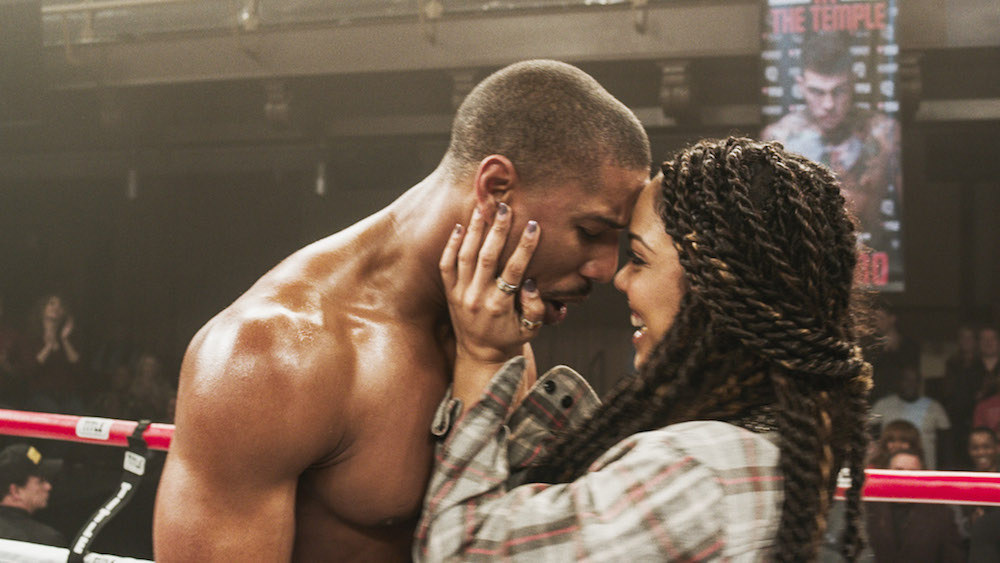 "In the take that we used, Tessa runs up to Mike, and she pushes him after the fight. And Mike kind of reacts, because he's really tired from pulling off that take," Coogler said, laughing, thinking about that day on set. "What's funny is that Bianca's and Rocky's excitement comes from Tessa and Sly's excitement at Mike and Gabe nailing the choreography. They were so fired up from that."
Most of what you see is completely real.
At one point in the scene, Adonis takes a hit that opens up a cut on his face, which Coogler said was achieved with computer-generated visual effects. Later, in the same scene, however, the blood on Jordan's face was added in real time, with fake blood placed there in a fleeting moment when the camera wasn't looking. "It was something that we had to work out with some of the practical blood," said Coogler. "It was a total team effort to get this shot pulled off, even in post-production with VFX and editorial, extenuating the damage that was done on Mike's face."
The scene was shot on Stallone's first day.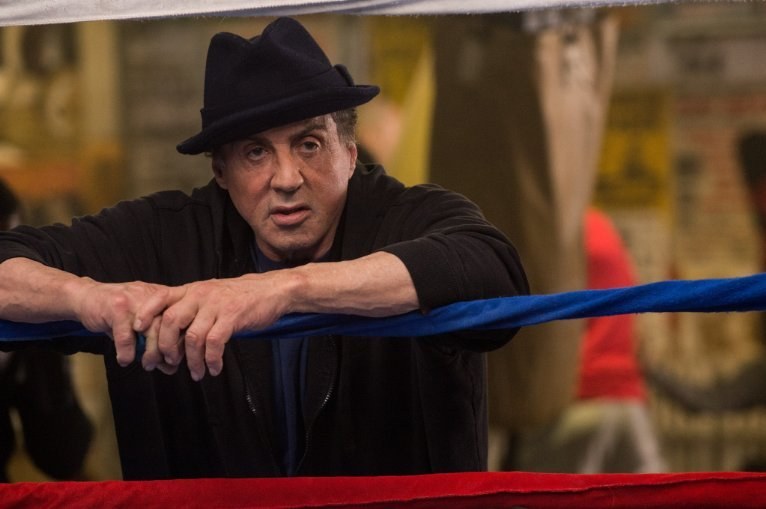 "What was nuts is that I was so focused on getting the scene going, when [Stallone] came to set, I forgot that it was his first time back as this character [since 2006's Rocky Balboa]," said Coogler. "And we happened to be in a room full of 300 Philadelphians, man. They went nuts. They just started chanting and screaming. It took 10 minutes to get them back calmed down again, man. That was awesome. When you're wrapped up in your work, you forget, you know what I mean? And Sly — he didn't even realize. He came on set and we were just talking about what was about to happen, and the crowd just went ballistic. It was really moving."
Additional reporting by Kelley L. Carter.
UPDATE
This story has been updated to note that stunt coordinator Clayton J. Barber also participated in rehearsals for the one-take boxing scene.