AUSTIN — Buck Angel was female-assigned at birth, and now he's a male porn star with a vagina.
In the documentary Mr. Angel, which premiered at the ongoing SXSW Film Festival, we learn how Angel navigated a difficult childhood and an adolescence that careened from a promising high-fashion modeling career (as a woman) to drug addiction, prostitution, and homelessness. We see him talk about getting surgery to have his breasts removed — and why he doesn't want a surgically engineered penis. We see him bursting with joy when he wins Transsexual Performer of the Year at the 2007 AVN awards, and teasingly ask Tyra Banks if she's as comfortable with her vagina as he is with his. We see him completely naked several times over. And we see him connect with his sweet, soft-spoken mother and man's-man tough-guy father — and we see his father sob with grief over his complicated early relationship with his son.
All of it is compelling and challenging, but when I sat down with Angel; his wife, Elayne (a leading authority on body piercing); and the film's director, Dan Hunt, I realized that what makes Mr. Angel so fascinating aren't all the things that set Buck apart. Quite the contrary, in fact.
Adam B. Vary: How did you guys all get together?
Dan Hunt: Actually I had a film here at SXSW in 2006 called Cruel and Unusual, which is a film about transgendered women in prison. A friend heard about Buck and knew that I was interested in gender issues — gender and sexuality is what my work has been about for the past 10 to 15 years. He gave me a picture of Buck naked, and I looked at the picture, and — he's tired of hearing this [Buck laughs] — I had a really hard time reconciling [the image]. Even though I had lots of transmale friends and lots of transfemale friends, maybe I had never seen the body before? It was unfamiliar to me. So I was taken aback, and knew that if I was taken aback...
ABV: You're a person who's quite conversant in this entire area, so if you're challenged by Buck's body, others who aren't as familiar...
DH: It speaks volumes. Then I met him [and] Elayne in Las Vegas. And all these notions about what a porn star is were blown away. You always think it's drugs. You always think it's some kind of exploitation. And here I met this amazing, brilliant couple who are sex-positive, pro-everything, completely open, educated, amazing, giving, loving, caring. And then I just realized if I was having these types of reactions, then a larger audience certainly would be. So I approached him for the film, and then he screened me.
ABV: (To Buck) How did you screen him?
Buck Angel: Well, I wasn't ready to do a documentary about my life. I just wasn't. I was very much into my porn work, and my porn work as activism in a sense, really just putting it out there and making people see something they might not see or know. I told Dan that: "I don't want to do a documentary about my life. I want to do a documentary about my porn work. If you're interested in doing that, then we can talk some more." Being the smart man that Dan is, he was like, "OK, let's do that." But I think in the back of his head he knew that as things progressed, we would probably end up changing that.
ABV: There is a moment in the film where you win Trans Performer of the Year in 2007 — that's a long time to be working on this project.
BA: A long time.
DH: Six years we've been shooting.
ABV: Why so long?
DH: Funding. It was un-fundable, primarily because it wasn't a "woe is me" story about porn. It wasn't Buck being exploited by his horrible wife who was pimping him out.
BA: We weren't on drugs.
DH: They weren't drunk, they weren't dealing. And it's because he's unapologetic, which is what makes him so amazing.
ABV: And that was hard to fund?
DH: Yeah, because people want to hear that there's consequences for doing porn.
ABV: Buck, when did your parents come into it?
BA: I think we did that maybe a year or two [ago].
Elayne Angel: Pretty recently.
BA: I finally became comfortable enough with Dan, and he said, "You know, we really need to start talking about your life because it's a really important part of this story." I mean, we're now like brothers. I felt he wasn't going to make it like, just, weird or something for me. So I was OK, because I was very, very, very protective of my family and my personal life.
DH: Fiercely.
BA: I didn't want to be exploited, I guess, do you know what I mean? I wanted it to always be a powerful message. That's what I'm about, and he gets that.
ABV: Were you in contact with your parents?
BA: Oh, yeah, I have an amazing relationship now with my parents. At the time, I just said, "Well, I'll just ask them. They're probably going to say no, Dan, so that's it." When I asked them and they said yes, I'm telling you it's, like, shocking that my parents said yes. And what you see in that film [with my dad crying] — it's mind-blowing.
EA: If you knew his dad.
BA: It has changed my life. That just changed my life as well.
ABV: Have you talked to them about why they said yes?
BA: You know, that's a good question. I didn't, really. But, well, when my dad started to cry, I was in the other room because I didn't want to make it weird. Then I heard my dad break down and I was like [makes a shocked face], so I went into the room [with my parents] and I told Dan, stop [shooting]. And then I told my dad, "You know what, Dad, I know this is really hard for you, but what you're going to do is going to help to change the world and the way other parents feel about their children." So at that point, I think my dad got it. He got why he did it, and it made him feel better about breaking down because it wasn't easy for him to do that.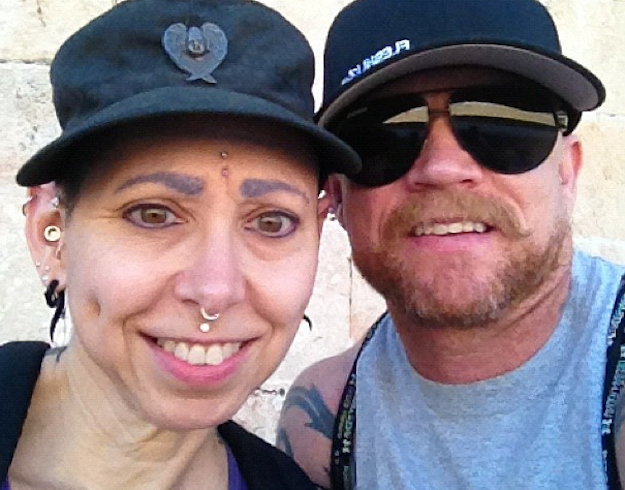 ABV: I'm so glad the film also spent some time with you, Elayne, because when you learn about Buck, you do wonder, Who would be the person that would fit well with him?
EA: Yes. I had been all my life seeking a peer on some level. We're both people who have made ourselves in our own image and become successful at living that way. That is rare, and it's something for which we're both very grateful. I mean, we're a perfect match.
DH: Completely.
BA: Completely. In every single way. It's kinda creepy and weird. (laughs) Creepy is the wrong word.
EA: Creepy in a good way... I don't know if you know we met on the internet.
ABV: That doesn't really surprise met that much, since a lot of people meet now on the internet.
BA: Of course, but it was over 10 years ago. There were no dating sites [for trans men].
EA: Now there's Buck Angel Dating.
ABV: Wait, there's Buck Angel Dating?
BA: I have buckangeldating.com.
EA: Yeah.
BA: For transmen and people who are seeking out transmen. Yes.
ABV: You are so casually naked in the movie too.
BA: (laughs) That's awesome that you noticed that.
DH: That's Buck. He's naked all the time. Every time you turn around, it's like a little boy who won't put his pants on.
BA: Would you like me to take my clothes off right now? No, it's really interesting that I'm able to do that, to be honest with you. I even kind of shock myself sometimes, but it's very natural for me to be in no clothes, really. It just doesn't feel weird.
ABV: I'm thinking especially when you were showing off your tattoos, you're like, "I've got this new one..." and just quickly take off your pants — it is right above your crotch, so we see everything. "Oh! OK!" And, Dan, your lens is right there.
DH: I'm, like, super hardcore, Liberace kind of gay, so when you did that, [I felt] like, "A vagina!" I didn't know what was coming.
BA: Whatever! Yeah, it is, it's very liberating to feel that way about your body. Honestly, I want everyone to feel that way about their body. I don't care who you are. It's the most liberating thing. It's like coming out gay, it's like, "Wooo!" My body is free.
ABV: What do you want to have happen with this film? Where would you like to see it play? Are you thinking pay cable, are you thinking theatrical? Because it's a shorter film, just over an hour.
DH: Yeah, it's probably too short for theatrical. So we'll do film festivals. I would love to do a mix of LGBT [festivals] and not, so we can reach a really broad audience. From there, I think we could do a broadcast, some kind of a cable venue. And I think there's a real potential for something for the web. I've been talking to a number of distributors. I think there's also something educational that we can do with a shorter version.
BA: Also, I get asked to speak at a lot of universities and a lot of conferences and things — so even possibly using the film in my speaking somehow.
ABV: Have you had any conversations with HBO Documentaries?
DH: Yeah, they passed. Unfortunately.
BA: You see that? The world is not ready still. It's shocking.
DH: I talked to them early on...
BA: It's shocking.
DH: …and they just, I was hoping. I think they were looking for something a little bit more out there. I don't think it was crazy enough. So, but, yeah. They passed.
ABV: The really radical thing about the film are all of the scenes that are set in your home, where you're feeding your...how many dogs do you have?
BA & EA: Seven.
ABV: You're feeding your seven dogs, and you're just kind of hanging out, and you're doing your work, and you're just living your life, and there's nothing outrageous about any of it.
BA: No, we're so normal, it's funny. When reality TV [producers] came to us to do a show, they were like, "So what kind of drama do you have in your life?" We're like, "Drama? What's that?" We don't even know what that is. They're like, "Do you think you could make a little drama?" We're like, "We don't do drama."
EA: They're like, "Where's the conflict?" We're like, "Won't find it here. Sorry."
ABV: I think there's this sort of larger conflict with you presenting that to the world.
BA: That's the thing. It's not really a conflict when I explain it to most people; they seem to get it. So their first interaction with me is like, "Oh, that's a nice guy." I think I've sort of broken them in already, so they're not too freaked out about the fact that I still have a vagina. They're like, "That's interesting!"
This interview has been edited and condensed. Ariane Lange contributed to this report.