Bradley Cooper Wasn't The Only Actor Playing The Breakout Character Of "Guardians Of The Galaxy"
Cooper provided the voice for Rocket Raccoon in the Marvel Studios movie, but a different actor entirely played the role on set: the director's brother, Sean Gunn.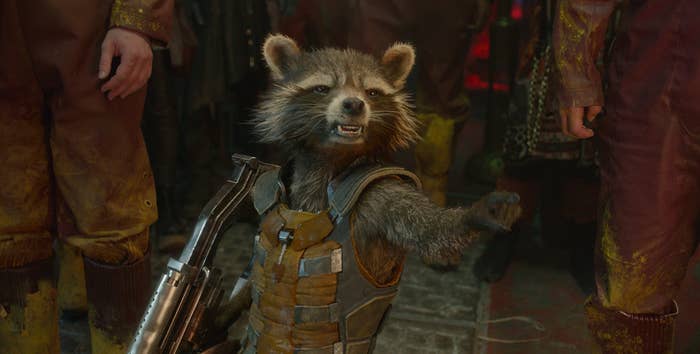 Of all the characters in Marvel Studios' Guardians of the Galaxy, a walking, talking, cursing, bomb-building raccoon named Rocket — featuring the voice of Oscar nominee Bradley Cooper — ranks pretty high on the scale of Things You've Never Seen Before in a Superhero Movie.
There is one crucial element of the character, however, that you definitely won't get to see in Guardians of the Galaxy: Sean Gunn, the actor who actually played Rocket on set, under the direction of co-writer-director James Gunn, Sean's older brother.
Except that you will see Sean Gunn in Guardians of the Galaxy, just as a separate character entirely.
Let's back up a bit. When James Gunn was in the process of casting Guardians last year, he had his younger brother Sean — a character actor best known for playing Kirk on Gilmore Girls — read various roles opposite auditioning actors. "I always had my fingers crossed that I'd be involved in some way," Sean Gunn told BuzzFeed. "But I didn't know what it was or how it was going to work out."
Then, a week before filming was set to begin in London during the summer and fall of 2013, Gunn got the call: He'd been cast as Kraglin, the right-hand man of the morally suspect smuggler Yondu (Michael Rooker). And he would be reading Rocket's lines on set.
"It was like, 'OK, we want you to do this, and this, and can you leave a week from today, for five months?'" Gunn said with a laugh. "On one hand, it was like, Wow, that's crazy, and on the other, it was like, Awesome, yes, I can't wait."
Complicating matters: Gunn, 40, dove into the situation without a full grasp of what, exactly, he would be doing as Rocket. "The way it was explained to me, I was still partially confused by [what I was supposed to do] until I actually got there," he said. "I didn't know if … I was going to be off-camera the whole time, or if I was going to be in the [motion-capture] suit with the balls, or exactly what it was." He chuckled. "I was just kind of like, I'm going to show up for work and whatever it is, that's what I'll do."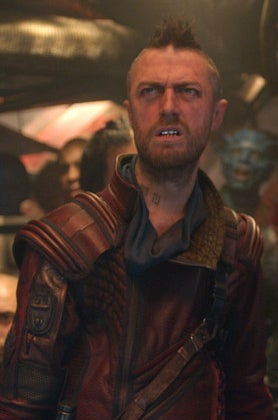 Sean Gunn as Kraglin in Guardians of the Galaxy (left), and James Gunn directing Sean Gunn as Rocket.
At first, it seemed like all Gunn needed to do was essentially read the lines, since he was decidedly much too tall to simulate a walking raccoon on set. "They were going to hire a little person to be Rocket for some of the takes, when he's walking and things like that," said Gunn. "I said at the first rehearsal, 'I think I might be able to do that' — through some of my acting training and stuff where we were, like, animals and things like that. I got down and started moving around like Rocket, and James said to the first [assistant director], like, 'Come here, look at this!' They ended up using me a lot." (The production did hire a little person, Arti Shah, to stand in for Rocket for some scenes as well.)
For each scene involving Rocket, Gunn would position himself — and especially his eyes — where Rocket would be standing on set, and then act out the scene as the character with other actors, especially Chris Pratt, Zoe Saldana, and Dave Bautista. "I knew at that time that Rocket hadn't been cast yet, and he would be cast at some point in the process," said Gunn. "So I asked [my brother], 'Do you want me to stay sort of malleable with my performance because you don't know exactly how it's going to turn out?' James said, 'No. Just go for it. We need the actors to be acting with an actor so that the whole thing is as real and as truthful as possible. So just play it like you're playing the part.' So that's what I did."
James told his brother that he saw Rocket "a little like a younger Joe Pesci, but not exactly," Sean said with a laugh. "I got a good sense that even though he was a raccoon and the kids would like him, he was sort of the most hard-ass character in the movie. It's a weird kind of balance. He's a bounty hunter and he's a degenerate."
By all accounts, Sean Gunn nailed it. "He really filled out the role," said James Gunn. "When you see all those other actors acting in a scene [with Rocket], they're acting off of Sean. His performance is what makes their performance so good, and he was thoroughly invested, and thoroughly connected during the movie to those other actors."
James Gunn and Sean Gunn on the London set of Guardians of the Galaxy (left); Sean Gunn (crouching, below right) and Chris Pratt in a scene from Guardians.
The process, however, took a little getting used to. "We were joking about it the first two, three, or four days that we were doing it," Saldana told BuzzFeed. "We just felt like, Oh my god, I can't believe we've got five more months of this! But after a while, Sean Gunn gave such an amazing performance for us that it was easy for us to play against his tone and his character. … You forget about it. You get used to everything. At first, you'll laugh. It feels awkward and very alien. And then two weeks later, you're like, 'Sean! I need you! Can you just come do this [scene]?' And he's like, 'Absolutely,' and he'll just come do it."
To be clear, Gunn wasn't giving a motion-capture performance, à la Andy Serkis' work in The Hobbit and Dawn of the Planet of the Apes. Gunn would typically only be on set as Rocket for rehearsals — otherwise, the actors needed to act to an empty space, so the visual effects team could cleanly add the CG Rocket in post-production. But because his brother liked to shoot the rehearsals, Gunn did wear a green or blue bodysuit in case those takes ended up in the movie and the visual effects team needed to swap him out.
"I would just try to help as much as I could, so the actors weren't dealing with an empty space," said Gunn. "I actually haven't even asked them yet if they used any takes where they eliminated me. So I did walk around for months in this green bodysuit, maybe for no reason."
Indeed, when Pratt explained the process during a BuzzFeed Brews with CBS This Morning interview on Wednesday, he called Gunn's performance ultimately a "thankless" one. "When I'm talking to Rocket and the magic is happening, I'm looking somebody in the eyes … that's when Sean Gunn would come in," said Pratt. "He would do the dramatic work for Rocket so that the interaction seemed real, the moments that needed to be emotionally resonant. … That's where the soul of these characters were created. It's sort of a thankless job for Sean."
That sentiment is also shared by at least one other cast member. "It is hard," said Saldana. "Because you kind of go, 'I'm getting used to you. And I would love for you to do this part, because you're doing such a great job.'"
Gunn, however, quickly shot down the notion that his performance on set could have permanently landed him the role of Rocket in the film. "Other people asked me that question along the way before Bradley was cast," he said. "Like, 'Do you think maybe they'll just say you should do it?' And I said, 'Never in a million years will that happen.'"
"I've been in Hollywood for close to 20 years," he continued. "I knew how much Marvel had riding on this project. And I knew how much my brother had riding on it. The idea that he would come into this massive movie where he can cast an A-list star in this role, and he would say, 'Hey, I'm going to have my brother do it!' was absurd. And I also wanted to be respectful of the actor who ends up playing the role. I was a placeholder. The way I look at it, once Bradley got in the booth, I was a like a batting practice pitcher. My job was to give him softballs so that when he's then looking at the takes and seeing what the scene looks like, everything makes sense and everyone's reacting to him in the right way." (Cooper was filming and unavailable to comment for this story.)
When it came time for James Gunn to find the actor who would ultimately lend his voice to the role, he discovered it was far from a simple task. "We auditioned a lot of voice actors, we auditioned a lot of actor-actors, and we auditioned a lot of comedic actors," said James. "It was really hard finding somebody to be able to do the three things that I thought Rocket needed: He needed to be funny, he needed to actually be able to do the dramatic bits that Rocket does, and he needed to be able to create a character that was another creature. A couple people came pretty close, but nobody quite nailed it the way we wanted. When we came to Bradley, it really seemed like he was the perfect guy who was able to do all three of those things. He was very funny, he was very dramatic, and he's able to create a character, and so he ended up being the wise choice."
Despite the difficulty in finding an actor to fill the role, James Gunn was also clear from the start about the limitations of how far his brother's performance as Rocket could go for the film. "We knew he wasn't going to end up being the voice," said James. "It was a great opportunity to give him a paycheck." When filming wrapped, Sean Gunn recalled his brother making a heartfelt speech on the set. "He said, 'Probably only the crew will ever really know what Sean contributed to the film,'" said Sean.
But then he saw the final credits for the movie, and next to "Sean Gunn," it read: "Kraglin / On Set Rocket."
"I was really surprised that I got a screen credit for it," said Sean, still a bit in shock by it. "Believe me, I didn't play Rocket. Bradley does. I didn't think any of this would really come out."
Along with playing Rocket on set and performing on screen as Kraglin, it turns out there was another role Sean Gunn played that was even more invaluable for his brother. "We lived together [in London]," said James. "Making a movie is very difficult, and at first, for me, going to England, even though I made some close friends initially, it was very lonely because you don't have anybody who you really know to rely on, so having my brother come in was, to me, a real important way that I was able to get through making the movie."