How Bill Hader Became A Serious Actor
The Saturday Night Live alum shows off some major acting chops in the delightful dramedy The Skeleton Twins, but getting to this moment took Hader on some unexpected detours.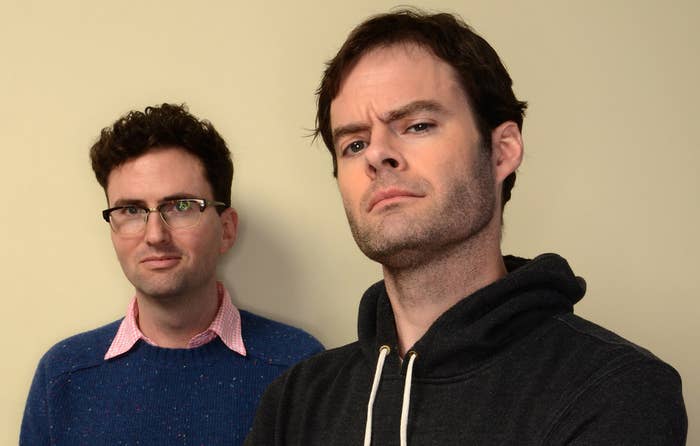 To understand Bill Hader's outlook on his place in show business, you should start with the fact that he landed his first role as an actor by accident, and it wasn't even in a comedy.
"My high school girlfriend was like, 'I'm auditioning for The Glass Menagerie. Do you want to come audition with me?'" Hader told BuzzFeed News. At the time, Hader dreamed of leaving his Tulsa, Oklahoma, home to to become a filmmaker, or at least someone who worked behind the scenes, but he had never considered acting before. "And, um, then I got a part as the Gentleman Caller. That was a surprise."
Today, the 36-year-old Hader is widely regarded as one Saturday Night Live's best ever cast members, an elastic performer equally adept at creating vivid characters (from Stefon to Vinny Vedecci) and killer off-beat impressions (from Alan Alda to Vincent Price). This weekend, however, he will likely surprise audiences by stretching more than he ever has in his career, with his first starring role in the lovely and poignant dramedy The Skeleton Twins, opening in limited release today.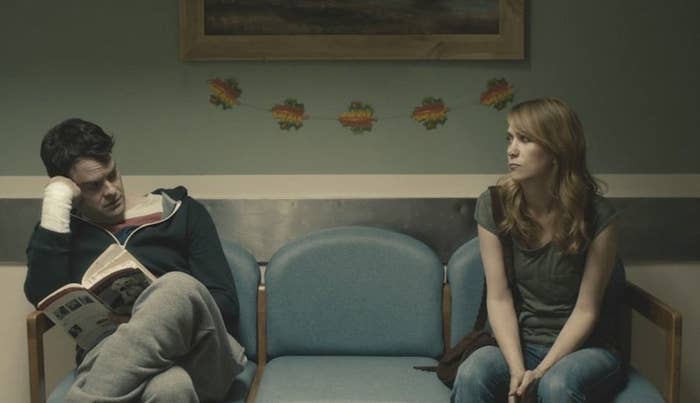 A major hit at the 2014 Sundance Film Festival, the film follows twin siblings Milo (Hader) and Maggie (Kristen Wiig) after news of Milo's unsuccessful suicide attempt interrupts Maggie's own imminent attempt to take her own life. The dour premise gives way to an often delightful dark comedy when Milo leaves his life as a struggling actor in Los Angeles and moves in with his sister and her husband Lance (Luke Wilson) in upstate New York.
The role certainly makes good use of Hader's innate comic timing, but he delivers a performance that is just as often heartbreaking, as Milo attempts to rekindle his highly questionable relationship with his old high school teacher Rich (Ty Burrell). The film has won Hader outright rave reviews, swiftly establishing him as a nimble and nuanced actor much in the same way that Bridesmaids made his co-star Wiig a bona fide movie star.
The path Hader took to get to this moment is littered with even more unexpected hairpin turns like the one that had him suddenly performing Tennessee Williams as a teenager. This is how navigated them.
Despite his very early acting experience, Hader moved out to Los Angeles still with aspirations of becoming a director — a dream that slowly stagnated through his twenties. "I was out in L.A. for so long, just doing jobs with PA jobs and assistant editor jobs and not really doing anything creative," he said. "I have a lot of incomplete short films and incomplete scripts out there."
After catching a friend performing at Second City's Los Angeles theater, Hader decided to give performing a second try and signed up for improv comedy classes. In very short order, he discovered a talent that he'd never quite tapped before — or, rather, others discovered it in him. "I was just standing up against a blank wall and stepping out and just doing improv scenes," he said. "And to be honest, I was not very good at it — I thought."
His teacher felt differently, and let Hader know it. "It was the first time somebody in years told me I was good at something," he said. "And that meant a lot." Hader said that Megan Mullally was so impressed with him that she convinced Lorne Michaels to take a meeting. At which point, Hader realized he had no idea what to do, and so he called on a friend's manager, Naomi Odenkirk, to at least help him through what one does when one meets Lorne Michaels for the first time.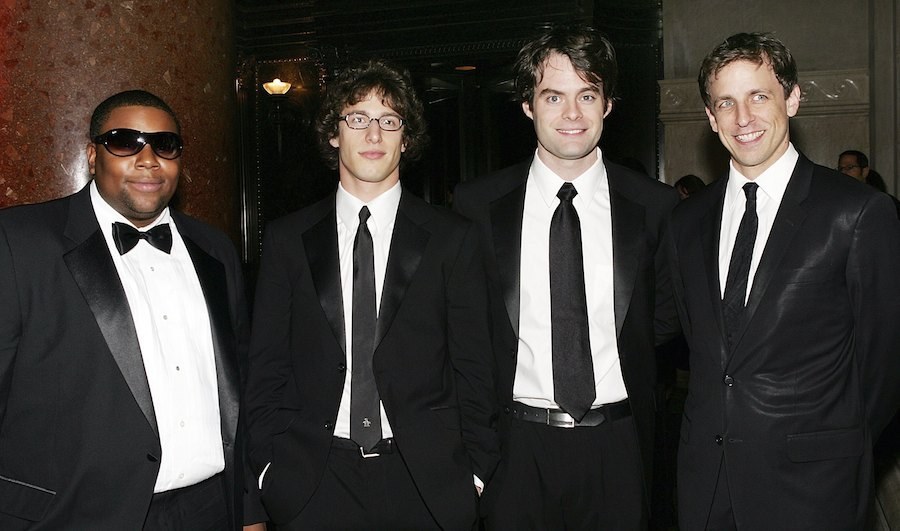 Remarkably, at this early point in Hader's career, the man known as one of SNL's best impressionists didn't do any impressions at all. Hader said he only started doing them because he was told prospective SNL cast members are required to audition with three impressions and three more original characters — of which Odenkirk discovered Hader also had zero.
"She said, 'Do you do characters?' and I said, 'No,'" said Hader, with a chuckle. Eventually, Odenkirk was able to get Hader to show her a rudimentary version of the character who would go on to be his excitable Italian talk show host Vinny Vedecci on SNL. "She went, 'Well, that's a start. … Go meet Lorne Michaels. Just don't perform. Don't say anything.'" Hader bursted out laughing, seemingly more tickled by his own lack of experience in the basics of SNL mastery than embarrassed by it. That's likely because, as Hader explained, once he understood the necessary skills for entry into the most elite comedy institution in the world, "I became a quick study."
Just three years after he began taking classes at Second City, Hader started on SNL as a featured player in 2005, and was promoted to a full-time cast member the following season. With such little time between going from a rookie improv comedy performer to doing sketches in Studio 8H on live television every week, the adjustment period was an abrupt one to say the least.
"I had a very romantic notion of what it is to be a writer and an actor," said Hader. "SNL really knocks all those romantic notions out. You're writing your sketches on the floor, on a legal pad. You're not John Cheever or something in your basement, smoking cigarettes."
Hader's eight-year run on the show is one of the most auspicious for a male SNL cast member since Will Ferrell, and it brought Hader some high-profile supporting roles in 2007's Superbad, 2008's Forgetting Sarah Marshall, and 2009's Adventureland. And while Hader said he enjoyed working on every single one of those films, he began to understand just how quickly Hollywood can pigeonhole an SNL actor.
"I was offered a lot of supporting crazy parts in comedies because that's all I had done," he said. "I realized, like, oh, typecasting's a real thing. I would do Superbad, and the next offers you would get would all be crazy cop characters or crazy security guards or something. After I did Adventureland, it was always the main character is a young kid and it was a summer job, and I was his insane boss or something."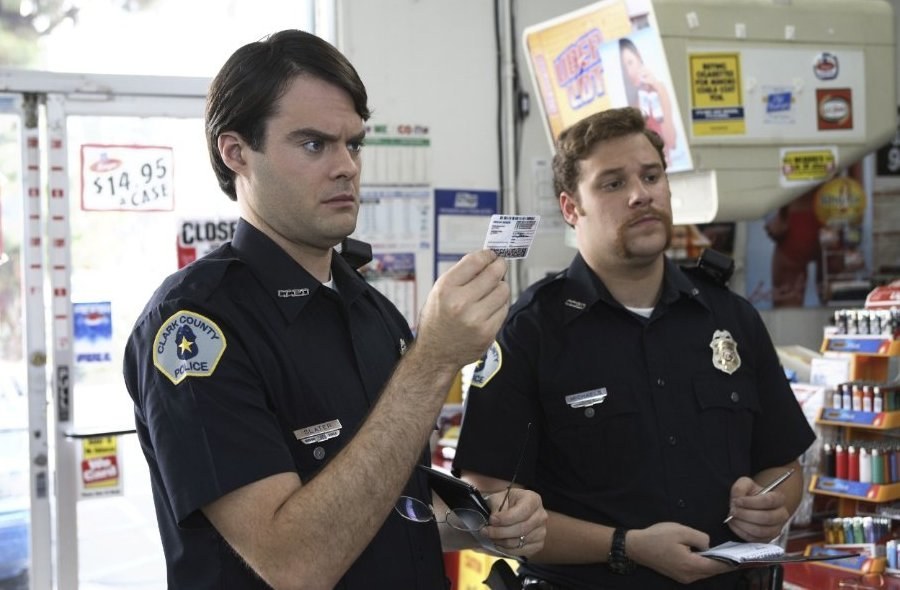 Sometimes the role wasn't even that well-defined. "You get sent something, and they go, 'This isn't really there yet. This isn't really funny, but we would love it if you came in and made it funny.'" He laughed. "That's to me a lot of anxiety. 'Oh, well, now it's on me if this doesn't work?'"
Around the time of his fifth season at SNL, Hader told his agent he wanted to take on a dramatic role. "I'm all about taking one step at a time and not getting too ahead of myself," he said. "I'm more going on instinct — the instinct of saying, 'What about these indie dramas? I got to the IFC theater every Sunday and watch these films. I want to do one of these.'" But Hader insisted his decision wasn't driven by the success so many other SNL alumni (from Bill Murray to Maya Rudolph) were finding with serious roles. "You learn quickly at SNL you get in trouble if you compare yourself to other people, where they're at, or what other people had done before you," he said. "Everyone has their own path. This is just what I was feeling."
Instead, Hader cited actors like Diane Keaton, John Candy, and Madeline Kahn as his inspiration for how to shift from comedy to drama, sometimes within the same movie. "Even Robert De Niro [is] incredibly funny in Midnight Run," he said. "It was fun seeing Robert De Niro in Taxi Driver and thinking, Well, the guy is also in Midnight Run [and] in King of Comedy. How the hell he'd do that?"
To prove himself, his agent landed him a private reading of an unproduced screenplay that also starred Bradley Cooper and Kate Winslet. It was enough to catch the attention of The Skeleton Twins' co-writer-director Craig Johnson. "I was not on his radar," said Hader. "He had a meeting with me, and we ended up really hitting it off. So it worked out all right."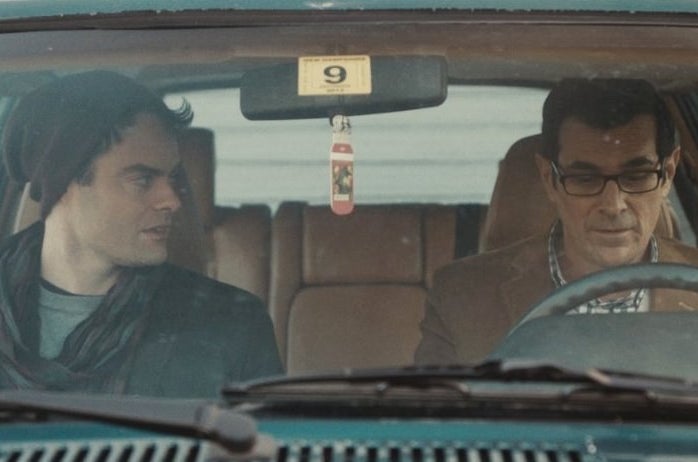 Hader filmed The Skeleton Twins over four weeks during the tail end of 2012, and for the middle two of those weeks, he was also performing on SNL. The whiplash between the vastly different styles of acting suited him. "You're just using a different muscle," he said. "Lorne Michaels thinks that on SNL, you perform; in movies, you act. You're not playing to the people at home, you're playing to that live audience." All that time spent putting up a live television show every week had also brought Hader into fighting shape. "I'd been performing basically every day for nine months out of the year. It was like working out a lot. Those performing muscles were all really toned. I felt comfortable taking chances."
Sometimes those chances panned out, but sometimes Hader and Wiig pushed themselves too far back into their SNL comfort zone. "We did shoot stuff that was much more silly and insane," said Hader. "Suddenly it would be like, Milo and Maggie can do really intricate characters. They should be performing some place! Why are they up there in Nyack? Why did he have such a hard time getting work in L.A.? He was doing SNL-quality stuff.'"
Hader laughed. "Craig rightfully was able to cut that stuff out," he said. "A lot of filmmakers will get really greedy for that. They'll go, 'Oh, this would kill. Oh my god, this would be so funny!' And Craig was smart enough to not do that. … He was saying, 'This is what's right for the character, and this is what's right for the movie. You can't have that stuff in it.'"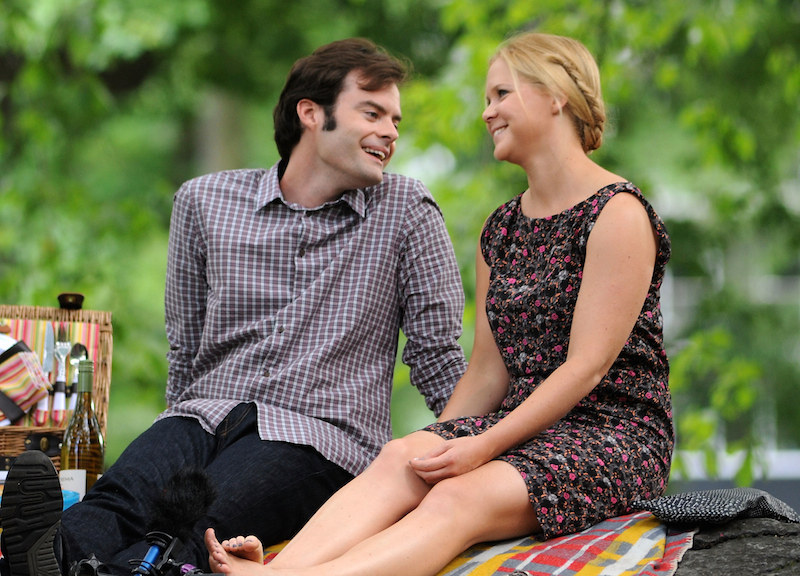 Hader's own life now is in stark contrast to Milo's — he's happily married to filmmaker Maggie Carey (The To Do List), and they have two children together. But in the process of making The Skeleton Twins, Hader still discovered that he shared a great deal in common with his character's deep, unfulfilled yearning.
"Milo comes back to find Rich because Rich is the first person he was ever in love with, and he was looking for someone to tell him he's good at something," he said. "He just wants that feeling of Rich telling him he's good. He wants to get that feeling back. I related to that. I didn't know I needed it until I was at Second City, and someone said, 'Hey, you're really good at this' — kind of off-handedly. And it just meant the world to me. You just [don't] realize how badly you need to hear that. And what if I wasn't able to pull ahead of that?"
Hader certainly is not hurting for praise now. But the guy who booked his very first accidental audition in high school is still hungry to discover just how far he can stretch his abilities: He recently wrapped Trainwreck opposite up-and-coming Comedy Central star Amy Schumer, who also wrote the screenplay, with Judd Apatow (Knocked Up, This Is 40) directing. "I just finished a big movie that I'm the romantic lead in," said Hader. "I'd never done that before. I wondered, Can I pull that off? Let's try it."