1.
A watermelon cutter about to make one of the most annoying tasks one of the easiest. If you've ever spend an ungodly amount of time trying to figure out how to effectively cut a watermelon, you need this handy tool. Reviewers say it's so easy to use and cuts a whole watermelon in five minutes. 🍉
Promising review: "Thanks, TikTok! It works!" —Tanesha
"This tool is so handy!! I hate cutting watermelon, and this is so fast and easy to use and easy to wash. I cut a watermelon in less than five minutes. It cuts yellow watermelon too!!! The included baller is great for the small left over, hard to reach places." —Andrea Draine
Get it from Amazon for $12.37. 
2.
A sand-free beach blanket designed so that sand (or dirt) rolls right off it, so you can fully lay out and relax knowing you won't make a mess all the way home. Reviewers love this blanket because it's big enough for up to four adults to use, and it packs up small, making it super easy to transport.
Promising review: "I walk to the beach and the park with my baby all the time and was sick of my butt getting wet when we sat on the grass and the baby getting all sandy when sitting on towels. I decided to search Amazon for some kind of beach blanket. This blanket wasn't really what I was looking for, but it did not disappoint! First of all it's HUGE. I still haven't used it open all the way yet. It's compact and easy to carry, I love that there are pockets to weigh it down with sand, that sand rolls right off and that I can just stuff it right back in the little bag without having to fold it strategically when I'm done. I can take the baby to the beach and lay her on her tummy without worrying about sand getting on her hands and face. Great product!!" —Adriana
Get it from Amazon for $23.99+ (available in two colors).
3.
A sunburn soother made with aloe and coconut oil you should probably just have on hand for those sunny day when you swear you're applying enough sunscreen but come home to find you're a little red. You'll be so thankful to have this waiting for you. 
Promising review: "I bought this product to take on our vacation. I am so glad I did. I got burnt on my lower legs and tops of my feet. I though I had put enough sunscreen on. I didn't. That night I woke with my legs and feet both burning and itching. The instant I put this on I had relief. OMG I cannot say enough about this stuff. Buy it. Keep it on hand. Great product. Thank you, Burt's Bees!" —D.S. 

Get it from Amazon for $9.99.
4.
BruMate insulated can cooler, featuring a double-walled stainless-steel layer that can keep your drink up to 20 times colder than a Koozie. That means you'll be able to enjoy the whole can, even if the sun is beating down on you at the beach.
Promising review: "Like to keep your beer cold? Get this. Slow drinker but don't want to let your friends on to how slow you're drinking? Get this. Want your White Claw/Truly to stay as cold as it was when you took it out of your fridge? Get this. I kid you not, this thing keeps drinks cold like that's its job (because it is). Once I got mine and saw how effective it was, I decided all of my cold beverage loving friends and family will be getting one also. With most of my friends being Michelob Ultra and White Claw drinkers, this seems to be the perfect fit. So hard to find a can Koozie that holds those slim cans! Love this product and definitely recommend!" —Brooke Price

Get it from Amazon for $19.99 (available in 27 colors).
5.
Essence's Lash Princess mascara to take your lashes to new ~heights~ and make people think you're wearing falsies, when in fact, all you did was swipe on some mascara.

Promising review: "With just a single sweep or two, this made my lashes very long and thick looking. At 53-years-old, I've never used a mascara that gave such a dramatic effect with so little work. I'd been using false lashes, but this works so well, I'll save the falsies for special occasions. It stays in place and doesn't smudge all day, even when it's warm out. I've already recommended it to my friends, and they love it, too." —NOLA Amazonian
Get it from Amazon for $4.99.
6.
A beach pillow so you can lounge comfortably in the sand, even if you refuse to buy a beach chair. This inflates with only a few breaths and then has a little pocket that you can fill with sand to keep it in place. Don't be surprised if you start to doze off as soon as your head hits this pillow.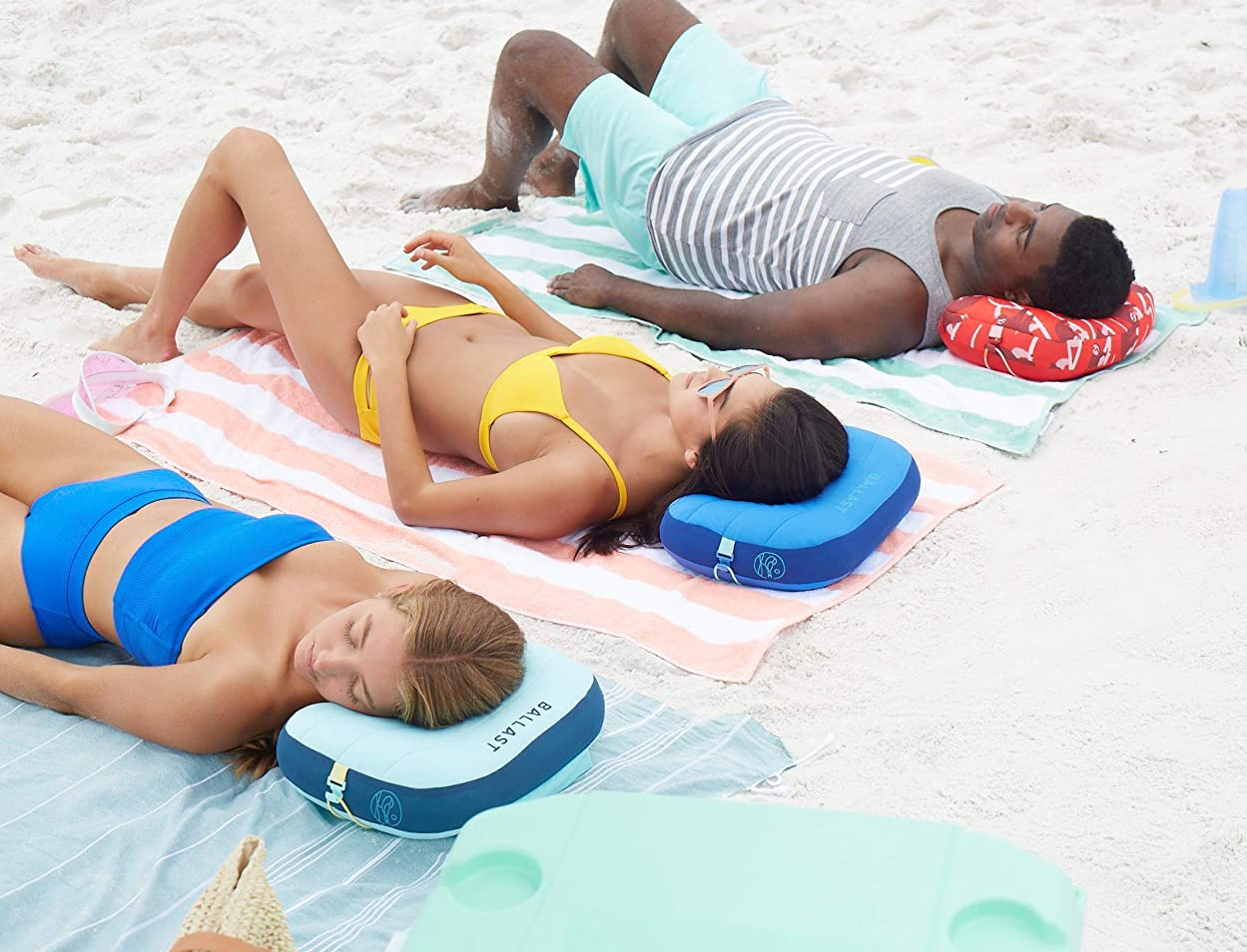 Promising review: "I literally never write reviews, but I am so happy with this pillow that I felt compelled to share. This is absolutely perfect for the beach when you don't have a chair and just want to lay on a towel. It's very lightweight and compact in your bag, blows up in 4–5 breaths, and then if you put sand in the pouch it won't blow away. The design is smart so when you dump the sand out, you flip the storage bag inside out, so no sand stays in the bag or gets on the pillow. Worth every cent." —Amazon Customer
Get it from Amazon for $35 (available in five colors). 

7.
A bug bite suction tool because bug bites ~suck~ no matter where and when you get them. This genius tool will help relieve any itchiness in as little as 30 seconds.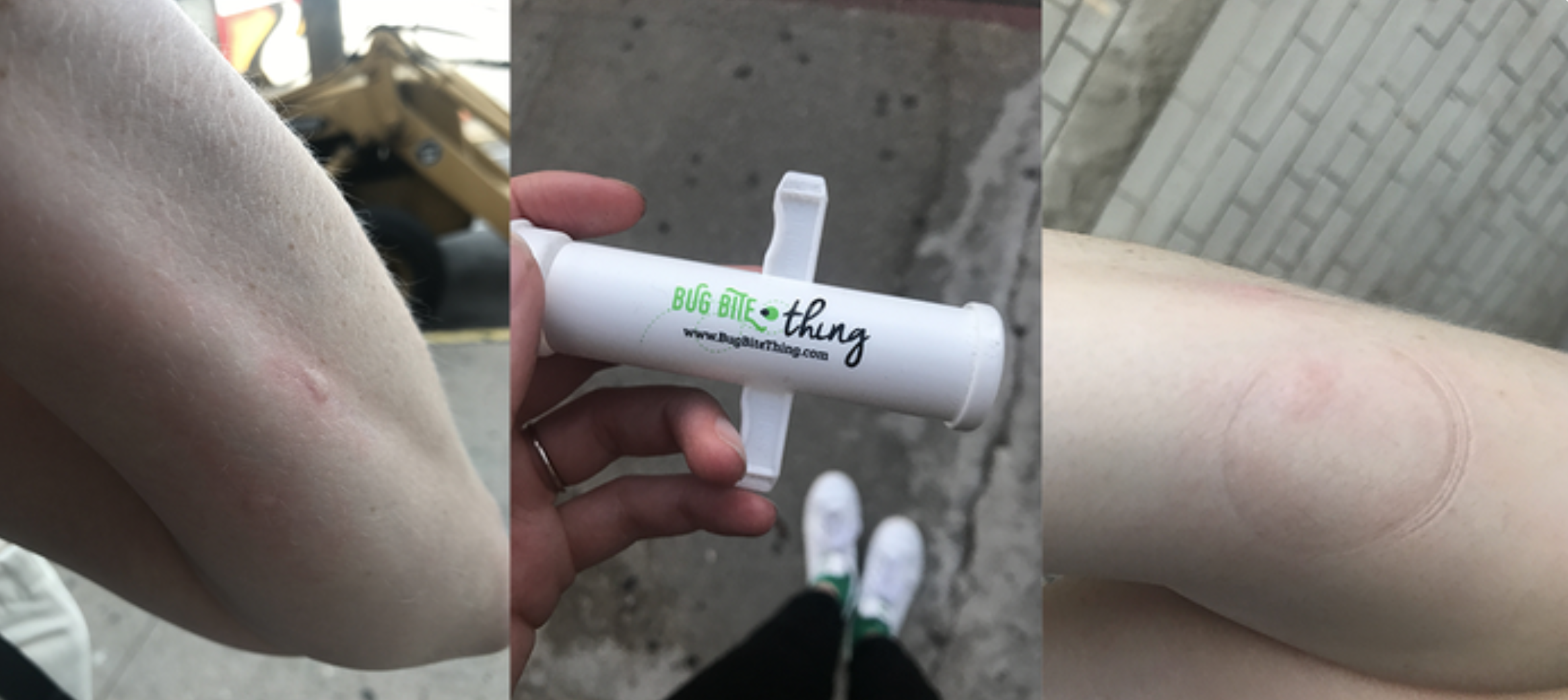 Rebecca O'Connell / BuzzFeed
Promising review: "I am an adult who hates mosquito bites, so much so that I often will avoid going outside. I am a mosquito magnet when others I am with won't get any bites. I will itch for days to the point my bites bleed. With this, I suction the bites a few times and no more itch. If on the rare occasion it flares up a few days later, I suction again and no more itch! I love this thing. If I could give it 10 stars I would!" —Jessica
Get it from Amazon for $9.99 (available in three colors and also multi-packs).
8.
A rechargeable handheld fan to keep you ~cool~, even if the sun is not playing any games. It also folds up, so it's super easy to take with you wherever you go because you never know when you're going to need a little breeze.
Promising review: "I have ZERO complaints!!! My sister got married outdoors and I decided I needed a fan as I sweat a lot. Suffice to say I LOVE IT! I was cool the entire time in the sun, it has a handle and is not too big which makes it easy to tag along anywhere and everywhere. You won't regret this purchase." —DIONNE HOOK

Get it from Amazon for $15.99+ (available in five colors).
9.
A volcanic stone face roller that'll remove some of the oil and shine that appears on your face when you're outside. Reviewers like this option better than oil-blotting sheets because the ball can be popped out and washed, making it a reusable and more sustainable option.
Check it out on TikTok here!

Promising review: "First off, if you have extremely oily skin, this. is. it. I was so tired of getting blotting powder/wipes. It felt wasteful and always left residue on my face. I saw this on TikTok and NEEDED it. It was back ordered, but then I got an email saying it was in stock, and I was SO excited. Not only is it affordable, but it's washable, which helps you save money and be less wasteful. The packaging wasn't over the top exciting, but it provided you all the info you needed. (It felt like the holy grail had been delivered to my front doorstep.) After my first use, I was in love. Now, it doesn't pickup everything but it does make it more matte and gives you a natural look. I am so excited this product exists and I already feel more confident." —Kelsey B.
Get it from Amazon for $9.99.
10.
A leakproof, portable dog water bottle with a spout that actually turns into a mini dish so you can keep your pup hydrated without having to bring *both* a water bottle and dog dish on your summer adventures.
Promising review: "This is the best invention known to mankind. I take this to the park, the beach, or on long walks. I don't have to get out the bowl, I don't waste water, and when my pup is done drinking, I just push the button and the leftover water goes back in to the bottle." —LJ
Get it from Amazon for $14.98+ (available in three colors and two sizes). 
11.
A lace garter built specifically to hold up to 2 pounds, so you can keep all the essentials with you (i.e. phone, credit card, headphones, lipstick, etc.) when you wear a dress that isn't designed with pockets and you want to keep everything safe. Reviewers also say this works great to hold insulin pumps while wearing dresses!
This was created by a woman-run small business started by a celebrity stylist.
Promising review: "This was the BEST! I had an outdoor party. All through setup and the party I got to keep my phone and various other things with me without having to do that hand phone/drink/etc. juggling thing. I kept receipts and cash safe in the lock flap pocket. It didn't budge through the hot sweaty setup and party! This thing is awesome! I followed the instruction videos and never had to mess with it again. I can't wait to take this thing running, to do Black Friday shopping, to a game. So many problems solved!" —pineypalm
Get it from Amazon for $39 (available in women's sizes S–L and in eight colors).
12.
A Solar Buddies refillable roll-on sunscreen applicator that's about to change your life forever. You'll no longer struggle to apply sunscreen on your kids (no matter their ages). All you have to do is add a squirt of sunscreen to the bottle and use the sponge on the other end to seamlessly apply it. Plus, your hands won't get all messy!

And if you want to see it in action, check out how easy it is to apply sunscreen in this TikTok video. 

Promising review: "Trust me, this is worth every penny! I am going to be completely honest, when I saw how long the shipping was going to take, I hesitated, but I originally saw this item on TikTok and knew it would make life SO MUCH easier when it comes to putting sunscreen on myself and my kids. I have to say, I am NOT disappointed!! The wait was 100% worth it!! The sunscreen goes on so smoothly and evenly, and I feel like I will be saving soooo much sunscreen now that I'm not just squirting a huge glob in my hands and spending so much time trying to rub in a ridiculous amount into mine and my children's skin. Also, my sister-in-law hates the feel of sunscreen on her hands, so this was perfect for her. My only regret is that I wish I would have bought a couple more so that I could have different ones for each of the sunscreens we use! But I will be recommending these to everyone! THANK YOU!!" —Carmen
Get a two-pack from Amazon for $15.98+ (available in two colors).
13.
An inflatable lounge chair for when you want to go hang out in the park or beach but realize the ground is not a great place to hang out. The chair weighs less than three pounds, is easy to fill, and super comfortable (according to reviewers).
Promising review: "What a brilliant idea! This chair is super compact and lightweight, and EXTREMELY easy to inflate. You don't need any pumps, and you don't need to blow it up with your breath, yet it inflates in a few seconds. All you have to do is spin your body 360 degrees once while holding the chair out. It really is that easy and it really works! What's more, the chair holds the air in — no leaking — for days, and it is incredibly comfy!!!! I have a very bad back and almost no chairs are comfortable for me to sit on, but this chair is amazingly comfortable. It creates no pressure points you because it is filled with air. You can sit upright on it or lounge on it, depending on how much air you put in and where you place your tush. I thought there had to be a catch, and that it would be difficult to fold up again and get back into the carrying case, but it wasn't. My only advice is to cut off the attached metal bottle opener, as that could hit someone and hurt them when you spin around to fill up the chair." —Elizabeth Schiff
Get it from Amazon for $38.99 (available in two colors).