1.
A rotating timer you can set for a specific amount of time to help with your productivity and also to remind yourself that you need to take a break every once in a while.
You can set the timer for 5-, 10-, 15-, 20-, and 30-minute blocks by rotating it to the time you want. Then it will start the countdown. There are also four volume options in case you don't want to disrupt any other people in your home. 
Promising review: "I love this timer to keep me on task while working from home! For the price, I was honestly impressed with the quality. My only suggestion would be an option for the display to stay backlit. You can press the snooze button on top to light the display for about five seconds, but that's not super convenient if you have it rotated in timer mode, plus you have to actively press the button rather than just glancing at how much time is left. Honestly, this is a very small quibble that I could fix simply by not working in a dimly lit room, but it's really the only critique I have. All in all, this is a fun and functional desk accessory!" —Angela Reiber
Get it from Amazon for $19.99+ (available in 30- and 60-minute configurations and two colors).
2.
An adhesive under-desk phone holder so you have a place to keep your phone if having it next to you is a little too much of a distraction because all those social media apps are just waiting for you to start scrolling... With this, you phone will be out of sight and out of mind so you can get your work done faster than ever before.

Seekon Solutions is a small Boston-based biz that specializes in creating useful gadgets that solve small problems in your office and home.
Promising review: "This is definitely a hit! I installed it horizontal because my desk has a square frame under it that I couldn't put it on as the instruction, but it still do its job. Now I'm so used to reaching my phone from this holder without looking down at my desk, and my screentime has decreased a lot during day time. I work remotely from home, this really helps in terms of being more efficient so that I can finish my work early and get more me time back at the end of the day. Highly recommend it if you want to be less distracted while working!" —Shelby Cedrone
Get it from Seekon Solutions on Etsy for $10.88+ (available in two sizes and six colors).
3.
A laptop stand and organizer with a built-in power hub to not only bring your laptop up to eye level but also make it easy to charge it (and any other devices you have) while ~elevating~ your desk style.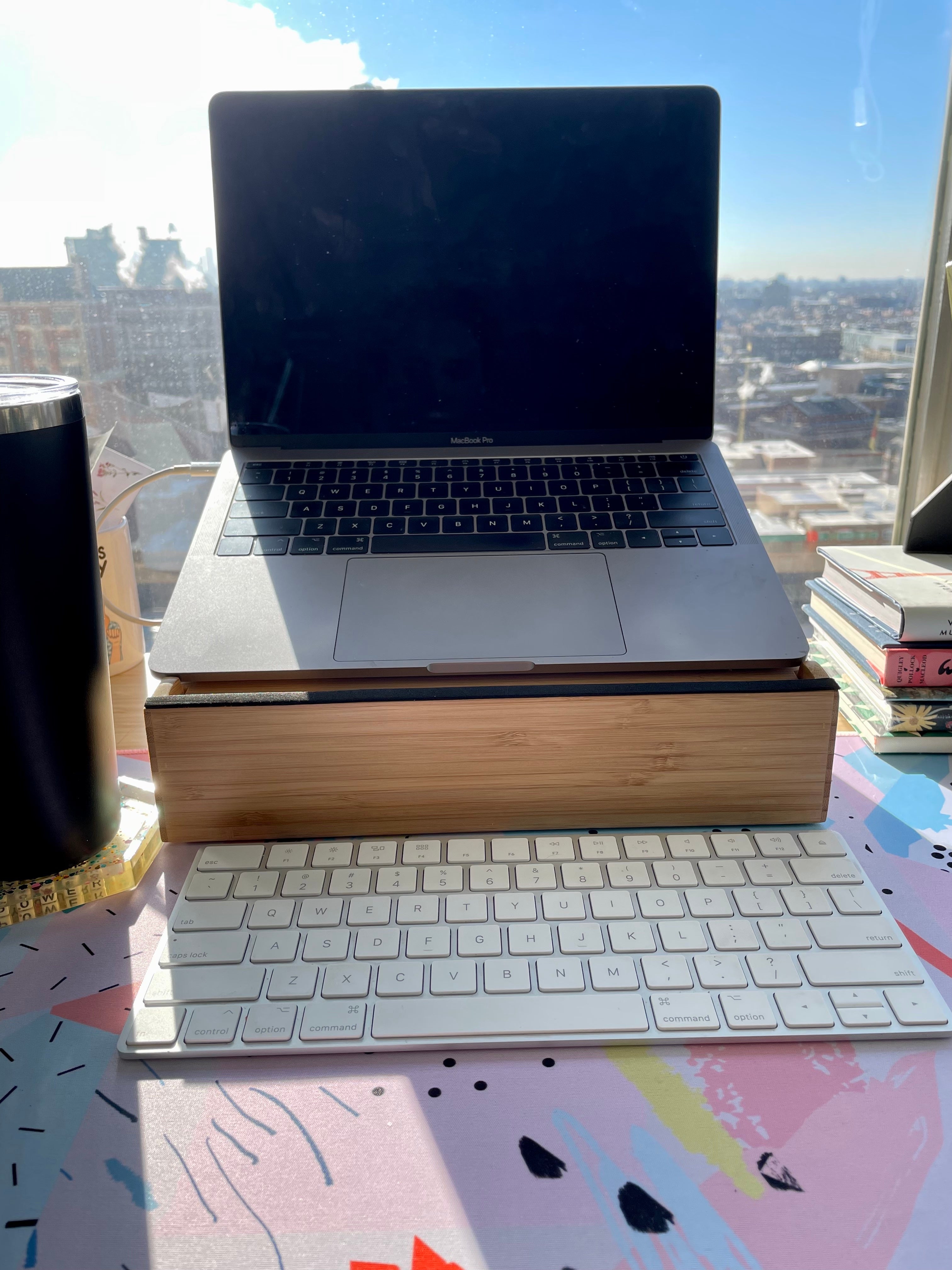 Great Useful Stuff is a small biz based in Sonoma, California, featuring a selection of home and lifestyle products that are...you guessed it...great and useful.

I recently upgraded to this laptop stand, and I love it so much. I was first drawn to it because the light color actually matches my desk super well, giving it a more cohesive look. Before this, I just had a cheap laptop stand, and this one just looks so much nicer. But it's so much more than that. The stand also comes with its own power hub, so you can plug in your computer right on top of the desk — no need to fish it behind and down to the plug every time. This is so convenient, and I love that there are holes on the side so the cords can come out easily. I really only use it to charge my laptop, but there's plenty of room to charge other devices as well. *And* I can't forget to mention that the lid also flips over and becomes a white board, which is a cool feature that I haven't had much need for...yet. Overall, I love that this laptop stand is multi-functional. It really adds so much to my workspace. 
Get it from Great Useful Stuff for $70 (available in two colors). 
4.
Or a two-tier version if you're looking for something that will also help organize the clutter on your desk. This can hold a laptop in the tray as well as a phone, headphones, and all the other assorted desk supplies you've accumulated. 
Plus, the side compartments are adjustable, meaning you can make it work for whatever supplies you have.
Promising review: "I ordered this monitor stand because I've recently been relegated to the dining room for work from home. All I have is a Microsoft Surface Pro, so no external monitor or anything. To get the screen at a proper ergonomic height I had to put the computer on a shoebox, which rendered the type cover useless. The table was completely cluttered and every time it was needed for something besides my office, I had to move everything piece by piece. Today my monitor stand arrived. It took me all of 10 minutes to assemble. The directions were clear and easy to understand, and it came with all the necessary hardware. It's sturdy and solid, and has room for everything I need to have at the desk with me. I can even keep my tea someplace where it's unlikely to get knocked over or bumped into. If I need to move things off the table, I can just pick up the whole thing and get it out of the way. It also looks nicer than I expected it to. I'm very pleased with this purchase." —J.C.
Get it from Amazon for $43.99.
5.
An adjustable foam footrest designed to make sitting at a desk for eight hours more comfortable because it will bring the floor to you, which alleviates pressure in your hips and legs. You'll certainly feel more supported than when you voice a concern in a team meeting and get nothing from your colleagues.
Plus, you can remove the velvet cover for easy cleaning!
Promising review: "My feet have found heaven! After just over a year of working from home, I've finally decided to invest in some home office upgrades. I was on the fence about a footrest, but the new desk chair I had purchased had a few comfort issues, and I thought this foot rest might help address those. I wasn't wrong! From the first moment my feet landed in the plush comfort of the foam, I haven't wanted to take them off of it. As a fairly active person most of my life (basketball, horseback riding, running, etc.) I haven't been kind to my body. My back, knees, hips, and feet have all paid the price. This footrest has helped alleviate much of the daily pain I deal with, and at a far cheaper price than the ergonomic chair." —Wild-Haired Gurl
Get it from Amazon for $44.67.
6.
A Rocketbook smart-reusable notebook that takes your handwritten notes and makes them digital so you can easily keep track of your notes without adding extra clutter to your desk.
Promising review: "Why did I not know about this before now??? I am a travel agent working from home and take loads of notes. I am so happy to be able to scan phone call notes with clients into their trip records! If they do not book right away I can scan and save notes to another file and retrieve them without leafing through a load of paper! Woohoo! I can see so many uses for this product for just about anyone who takes notes or even journals regularly. I see that new version was introduced to the market that has lined pages...which I felt was the only thing lacking." —ellen
Get it from Amazon for $20.76+ (available in two styles and 10 colors and patterns).
7.
A mirror LED clock you can not only keep on your desk to help you keep track of time during during your long meetings but you can also use as a secret subtle mirror to make sure you don't have any everything seasoning stuck in your teeth after scarfing down a bagel right before the meeting started.
Promising review: "I LOVE THIS CLOCK!!! The only improvement would be to have the date on there too. But other than that it's going on my favorite Amazon purchases list. Such a good looking, sleek design, I keep it on the lower brightness which is perfect and if you need a BRIGHT view of time this clock is bright on that setting. Like the USB plug, I have it next to my desk computer set up for when I'm on Zoom and now can keep better awareness of time. I'm ordering another one for my office so just hope the clock will work for the long haul." —ANAGEV
Get it from Amazon for $23.95 (available in eight colors). 
8.
A wall charger with six outlets *and* two USB fast-charging ports to keep all your devices and accessories at 100% and so they won't die in the middle of that important team meeting.
Promising review: "I work from home in a small apartment, and this really made my setup work the way I want it to. I need to use all six plugs, plus I like to keep my phone and Mi-Fi charging while working too. This was the perfect thing for me to get everything plugged in and essentially retrofitted into a built-in apartment wall desk setup that was intended for the large desktop towers of the late '90s. I'm ordering a second one in hopes it transforms another part of my weird floor plan. Bonus: The USB ports seem to fast-charge my iPhone XS Max. I can go from dead to fully charged in about 90 minutes." —Moose
Get it from Amazon for $19.97. 
9.
A reversible waterproof desk mat designed to protect your desk from scratches and scuffs because when you bought it you def didn't think it would be getting this much use. Plus, the mat means you don't have to have a separate mouse pad. 
Promising review: "I'm an art teacher, and working from home during the coronavirus outbreak was going to put a lot of strain on my wood desk (which I keep mostly for show but now am forced to use for work). I ordered this desk pad because mint green is my favorite color, and I wanted something to protect my desk from paint and other art supplies. It arrived today, and it was so cute! It's exactly what I wanted. It's thin enough not to add too much bulk to the desk, the color is so fun, and it wipes off easily. I love that it's reversible, too, so I'll probably use one side for making tutorial videos for my classes and the other for when I'm painting. I was worried that it wouldn't lie flat because it came rolled up, but it lay flat immediately. And it came with a cute little belt in case I need to roll it back up again and store it!" —Jill S
Get it from Amazon for $10.39+ (available in two sizes and eight color combinations).
10.
Or a large patterned version if you want something with a little more spunk that will still protect your desk. If you've ever felt limited by your small mousepad, this will give you free-range to go scrolling and clicking around your whole desk. 
11.
A memory foam chair cushion with a nonslip rubber bottom to ensure you'll be comfortable all day long — it won't move around when you get up every once and a while to stretch your legs (and maybe pet your dog).
Promising review: "I work from home and sit at a desk in front of a computer for a minimum of 10 hours per day. I used to have to get up at least hourly for breaks that never helped to alleviate the 24/7 sciatica pain down my left leg. And long hours at my desk would leave my whole body sore. I've only had this cushion for one day, and my sciatica is barely noticeable, and I woke up today in no pain after using it yesterday. I'm a small person, so I can see how this might not be a good fit for everyone, but for me, it's already had a positive impact. I think because they are just cut foam with gel top and a thin cover that they will probably wear down easily, especially since I sit for so long, but it's a reasonable price and if I get six months at a time out of one, I'll consider that a pretty decent return on my investment. :)" —T. M.
Get it from Amazon for $45.95 (available in black and grey).
12.
And memory foam armrest pads because your elbows deserve just as much love as your butt does! They're sitting in their chair for the same amount of time!!!
Promising review: "I have a desk chair that I live in that I have tried various configurations on the arms to keep from bruising my elbows. Nothing has been much help. I am very glad that I gave this a try! The covers are super soft, and the memory foam works extremely well. I have only had the covers in use for a week, but already I can feel a difference. This is a product that will continue to be appreciated by my elbows." —Kindle Customer
Get them from Amazon for $17.99 (available in black and gray).
13.
A weekly planner pad here to help you stay organized and on top of your ever growing to-do list. It has a space to write your to-do list, as well as your weekly focus, top three priorities, specific tasks and meetings each day of the week, and a habit tracker. You'll be able to accomplish both your personal and professional goals with this pad.  
Promising review: "I really love this pad! It really helps me put my week into perspective. I also love the habit tracker and top three things. This really helps me stay on point and gets me thinking a bit more about the things that make my weeks brighter. I also love the neutral colors of pad. Perfect addition to anyone's desk who loves using pen and paper!" —Mrs J Marshall
Get it from Amazon for $13.95. 
14.
A hand warmer mouse pad for those days when it's just a tad bit chilly in your home and you don't have total control of the heat. Sure, you can put on more layers to keep the rest of you warm, but it's really hard to work while wearing gloves. Your hand will stay toasty inside this mouse pad, and the cute little cat will keep you company throughout the day (and may be more affectionate than your actual cat). 
15.
A laptop table for the days when instead of working from home, you work from bed. And yes, if your boss asks, you are just as productive while tucked under the covers, especially when you don't have your laptop sitting on your lap. Plus, this table has space for both your laptop and a notebook!
BuzzFeed Writer Marquaysa Battle says: "The ULTIMATE laptop desk tray — I own it and I can promise that any student who works from bed (listen, sometimes it's like that) will enjoy every single feature. I don't know where my back and neck would be without it. This baby has three adjustable heights as shown in the photos. On top, it has a spot for your laptop and a mouse pad. Both sections lift up and reveal a storage spot inside the tray for pens, pencils, notepads, etc... The tray also has five USB ports, an LED light, and a laptop fan. Of course, all that runs on three AAA batteries. Simply put, this laptop desk tray has all the bells and whistles for a student to work comfortably and have what they need in less than arm's reach."
Get it from Amazon for $45.99.