1.
A weighted fitness hoop about to ~turn~ up your workout. Reviewers say this is great for not only strengthening your core but also relieving back aches from sitting for too long.
Promising review: "I saw these on TikTok, and I wanted to try it because I HATE working out. But y'all — I received mine today and it was so easy, AND SO FUN. I can feel it working cause it makes my whole body tired when I stop. Very easy to put together, and it's easier than an actual fitness hoop. I was skeptical at first because I always buy workout stuff then shove it in my closet and never use it again — but I can already tell I'm going to use this everyday. I love it, and I'm excited to start seeing results. 🥰🥰" —Mookie
Get it from Amazon for $29.99+ (available in 16 colors). 
2.
An illustrated yoga mat here to help guide you through a yoga flow without having to venture out to a class or have an instructor at all. You'll be able to see exactly how the poses look and use it to switch up your practice, keeping your workout fresh and fun.
The mat  is 24" wide x 68" long and 5mm thick! It's made with a moisture-wicking material that'll keep sweat at bay and is great for hot yoga, too.
Promising reviews: "I use this mat more than I ever took classes. Not sure if it is good for beginners, but if you have basic class instruction already, it gives you a great sequence of moves you are familiar with. Most I can do, a few I have never done." —Mng Parker
"This mat is great for a quick guide to various yoga poses. The length, thickness, and comfort makes it a great purchase. I look forward to many future uses." —Baglady
Get it from Amazon for $29.99+ (available in nine colors).

3.
A set of gold-tone 3-pound dumbbells because aesthetically-pleasing workout equipment *can* help you get excited for a strength workout. And as a bonus, you can leave them out as decor because they'll look nice in your home (and maybe seeing them more will also motivate you to workout).
Promising review: "They're so pretty! Blogilates really put a lot of thought into the design. Comfortable soft cushioned grip, beautiful pink and gold colors. It makes me actually want to work out!" —Mky

Get them from Target for $14.99 (also available in a 5-pound set).
4.
Push-up bars you'll have ~a-round~ for a long time because they'll make doing push-ups on the floor more comfortable and also an even better workout. The handles let you get a good grip and then rotate as you go down, so you don't slip or slide at all. These are also great for anyone who's still working on their push-up game (it's okay, I am too) because they work just as well if you're on your knees.
Promising review: "The first time I used them, I felt burn (the good kind) in the back/neck area. I looked up a diagram of musculature online, and it corresponded precisely with the trapezius muscles. I know that a product can't cure lazy, but knowing that I'm doing push-ups the right way and being able to feel the results makes me want to do more push-ups." —mcba
Get them from Amazon for $31.99.
5.
A Booty Kicker because barre class is great, but those class prices start to add up fast. If you invest in this, you'll have all the equipment you need to practice at home (and won't have to rely on your not-so-sturdy kitchen chair). Plus, it folds flat so you can keep it out of sight (and out of mind) when you're not in class.
And I can't forget to mention one of the coolest features: It has a dumbbell rack at the bottom that fits 1-pound, 2-pound, and 3-pound weights. How cool is that?!?
Promising review: "I'll be honest...I bought this on a whim and then didn't put it together for months. I almost returned it because I hadn't used it, but I'm so glad I didn't. I LOVE THIS BARRE. I look forward to using it every day (and I really don't care to work out generally). It's so fun to use and you can find so many barre classes online for FREE. It's also super easy to fold up and store and for me, that's super important because I live in a tiny space. This is THE best workout tool." —Kathryn
Get it from Amazon for $99.99.
6.
Quiet Punch — a smart punching bag designed to fit into any doorway, giving you an easy, convenient, and quiet way to release your stress without needing a whole punching bag in your home.
Quiet Punch is a small business started to make boxing accessible for all!
Plus, the punching bag comes with access to the Quiet Punch Play app, which has more than 100 hours of on-demand training and workout routines, meaning even beginners can use this equipment.
Promising review: "I have a really hard time self-motivating when it comes to exercising. But since I've gotten the Quiet Punch play system, I have felt totally excited and motivated to use it daily and have really noticed a difference in my energy, strength and endurance. The bag is really easy to use, convenient for any space (especially small spaces like apartments), and installing it couldn't be easier. I love being able to track my punches and the amount of content online; training videos, technique how-tos, and live classes provide so many great options for work outs. I just downloaded the app, which is amazing, and I am so happy with the positive changes in my mood as a result of this awesome product. Highly recommend!!" —Elizabeth K
Get it from Quiet Punch for $140 (originally $159; also available with a punch tracker).
7.
A Stealth core trainer perfect for anyone who needs a little extra motivation to get a workout in. This genius tool is a video game balancing board where you use your abs to get high scores. How cool is that?!?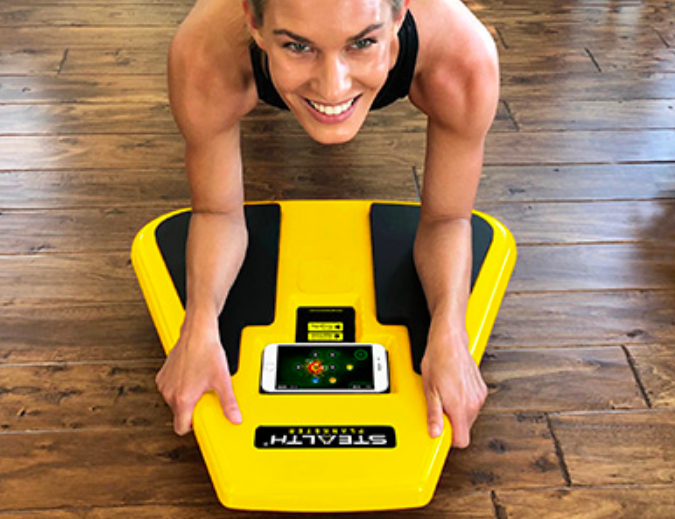 Don't forget to download the app before you get started so you can play the four free games!
Stealth Fitness is a small business that created this to help make working out fun. 
Promising review: "I really don't enjoy exercise. Using this board, with the app, has made planking more tolerable. I like that it's game based, so that I can feel more like I'm playing a game than exercising. And I will say, the games make me want to go back and do more so that I can better my score. A nice way to make planking a little less dull and a little less like an exhausting routine." —Ally Cat
Get it from Amazon for $149.
8.
A yoga wheel to help you increase your mobility and strengthen inversion as you flow through your practice. It works to not only stretch your back but also release tension along your spine.
Promising review: "I love this wheel, and I received it less than a week ago! I was worried at first since being close to 200 lbs, I didn't think it could hold my weight, but it does very well. I have lower back pain and have been to a chiropractor, physical therapy, and have taken pain meds, but this is the only thing that has brought me the quickest pain relief. I actually look forward to getting up in the morning and using this to relieve the tension in my low back. I do feel with the other methods I've tried that I'm healing, but I am certain that this wheel has been the most effective pain relief for me. I use this wheel in combination with some exercises specifically for low back pain relief. I've used this for less than a week, and I feel close to how I felt before suffering from low back pain. I would recommend this to anyone. I also plan to continue to use this as part of my daily stretching routine even after my back heals." —kit
Get it from Amazon for $26.47+ (available in 12 styles).
9.
A NordicTrack exercise bike worth the investment because you'll be able to have a great cycling session no matter the weather outside. It has a touchscreen display that stimulates the ride, 22 resistance levels, and three pound weights so you can cross-train! Plus, it comes with a 30-day iFit membership trial so you can stream live and on-demand workouts.
Promising review: "My husband and I were looking for something to stimulate our motivation to exercise. We love biking but recently moved to a very hilly area. Because of bad knees and our age, biking is very difficult. After doing a lot of research, we found the NordicTrack Commercial Studio Cycle. 
This bike makes exercising something to look forward to doing. The rides are so interesting and various. Love that the two of us are able to save each of our own stats, as we each like different themes. Another feature we like is the fact that the bike simulates the ride you are watching. Additionally, if the going gets too hard on my knees, the bike lets me change it for a more comfortable ride. All in all, I would highly recommend the NordicTrack Commercial Studio Cycle. It's a fun way to exercise." —MMB
Get it from Amazon for $944.36+ (available in two display screen sizes and four styles). Plus, an iFit monthly membership is $39 after the free trial. 
10.
Or a rolling desk bike that's a viral TikTok sensation for a reason — it will keep you active and moving all day, while staying comfortable enough to get your work done. Just imagine the places you'll go with this thing.
Promising review: "My friend recommended this home bicycle to me. I bought it for my small apartment. It looks exactly like the pic. The material quality is high, the setup is easy, and the size is perfect for a small apartment. I am so excited for its working board design. No matter I have to do extra work at home or browse the internet, I can do it with biking. It definitely motivates me when I do not have time to go to the gym or run outside. More importantly, it is not noisy at all, so I do not have to worry about using it too late or too early. Very satisfied with the purchase." —BaggioYang
Get it from Amazon for $499.99 (available in two colors). 
11.
A set of resistance exercise bands that are each different weights, so you can mix and match them to customize your workout and maximize your results.
The set includes five bands of different weights: the black is 30 lbs, blue is 20 lbs, red is 40 lbs, green is 50 lbs, and yellow is 10 lbs. Plus, you get two handles.
Promising review: "I love these resistance bands. I would recommend to anyone that isn't able to go to the gym. These bands have helped motivate me a lot to workout at home and especially doing outside workouts, they work great. There are so many different exercises you can do with them!! I'm happy with this purchase, and they are very durable!!" —kileyranae_
Get it from Amazon for $18.99.
12.
A bala beam you can get in either 15- or 25-lb weight for an interesting accessory that will make you feel like you're working out in the year 3000.
And here are some ideas to get you started using it!
Promising review: "I am obsessed with the 25-lb Bala Beam. It's great for legs and arms when you're getting a quick five-minute workout or for the longer workouts. I love the color and the way the bar is comfortable on my neck/shoulders. It's so cute/happy, and it makes me want to do squats, which is the push I needed." —Katey H.
Get it from Bala for $109+ (available in two weights and five colors).
13.
A simple jump rope with a digital counter that's great if you're a beginner who is looking for ways to ~switch~ up your cardio routine. You'll ~jump~ at the chance to use the counter to start a mini competition with yourself to see how many reps you can get it every day. 
Promising review: "I am impressed with this product! It's super light weight, easy to use and to hold, and has made working out fun again! The buttons are easy to use, it took less than a minute to set up, and it keeps track of how many jumps and feels comfortable in the hands. I find myself using it daily and since the handles keep track of how many jumps, I try to break the previous days records! Definitely would recommend!" —cassandra
Get it from Amazon for $12.47+ (available in four colors).