Muslims around the world celebrate Bakra Eid by slaughtering a goat and cooking a feast. I don't even have a backyard at my apartment in New York City, so this year, I settled for roasting a leg of lamb instead.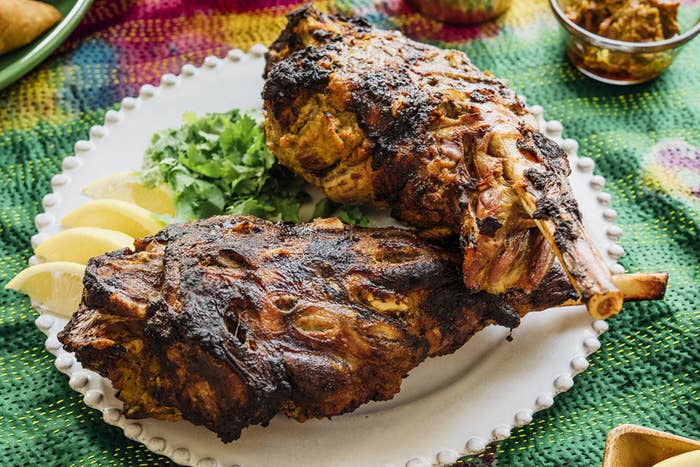 1.
Here are the ingredients you'll need.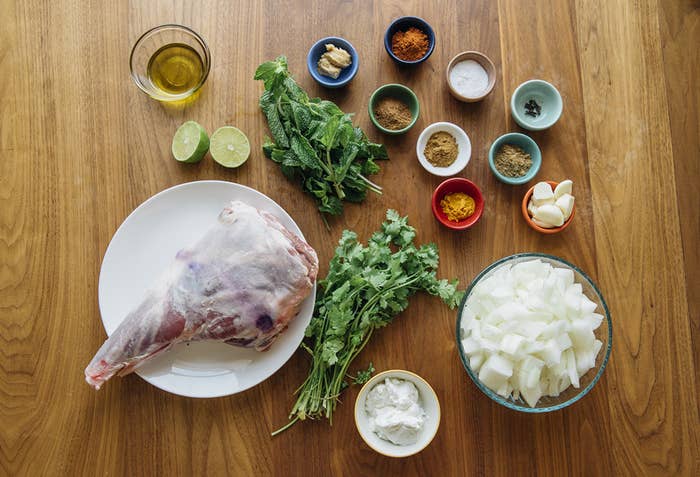 2.
Stab little holes all over the lamb with a knife and then stick the garlic cloves inside.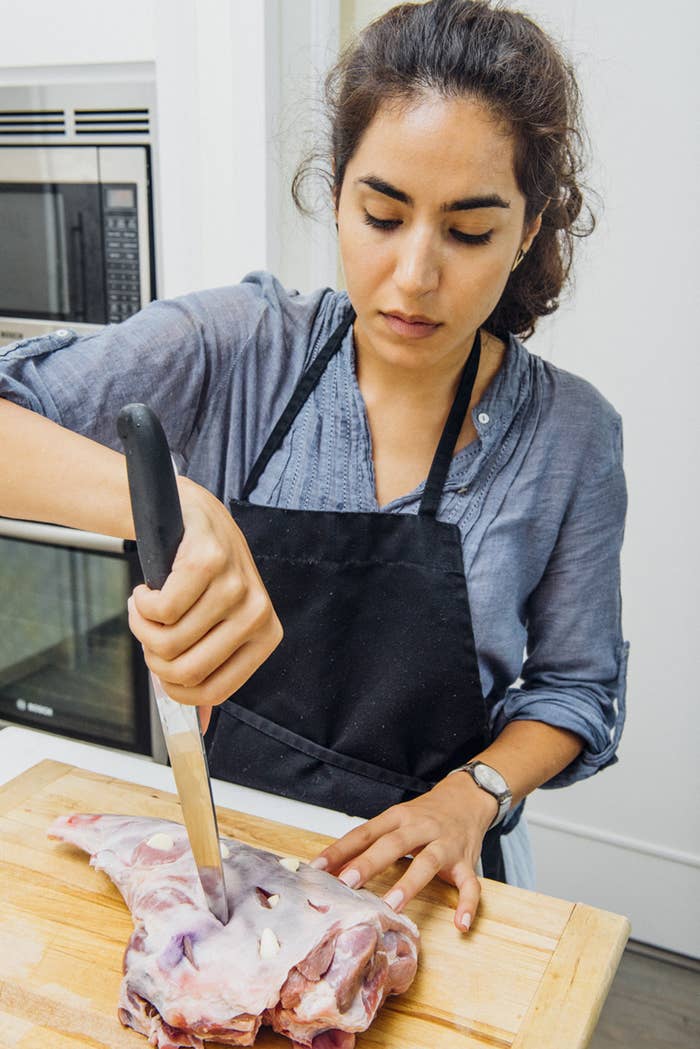 3.
Put the remaining ingredients, except the yogurt, in a blender.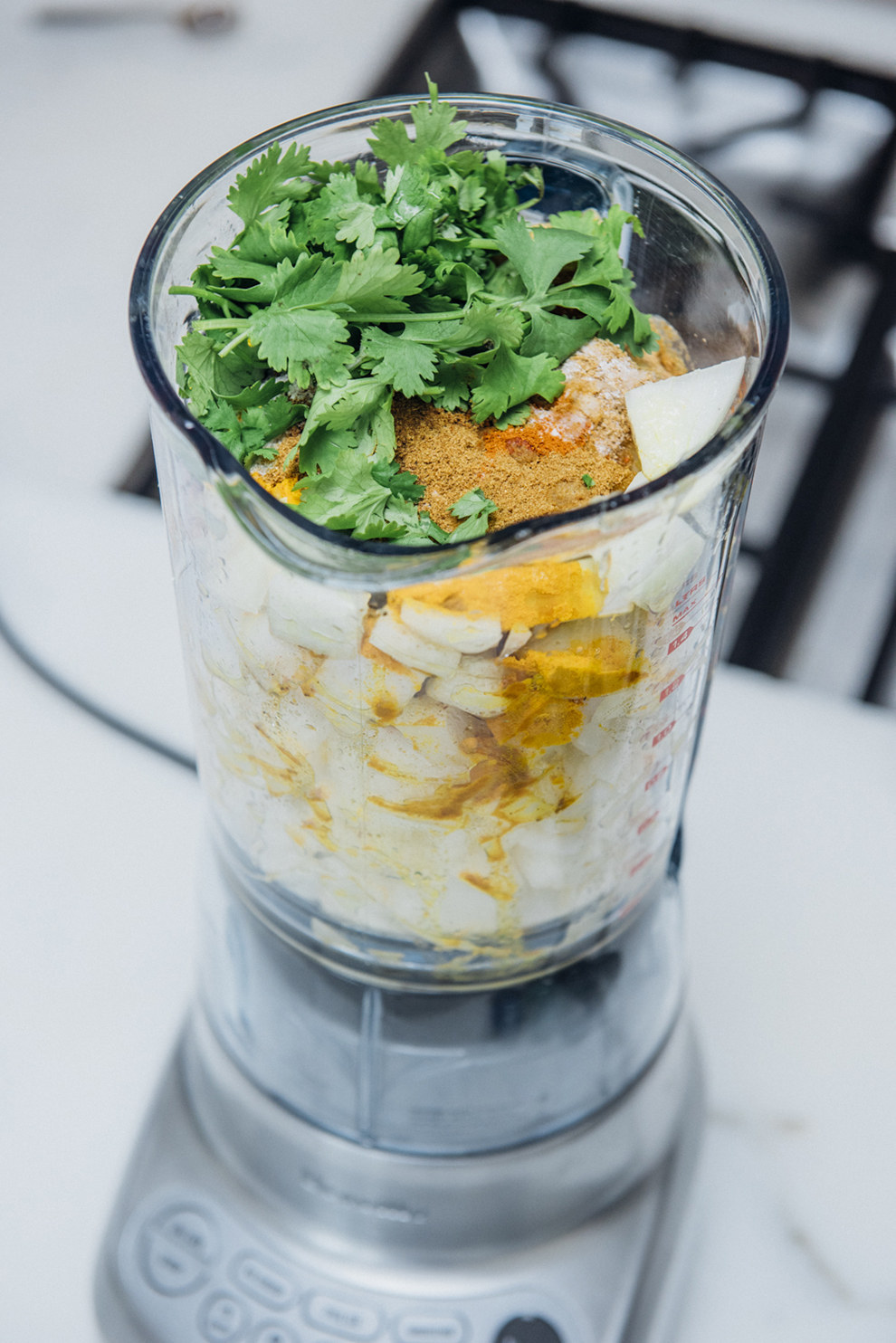 4.
Add the yogurt and blend again.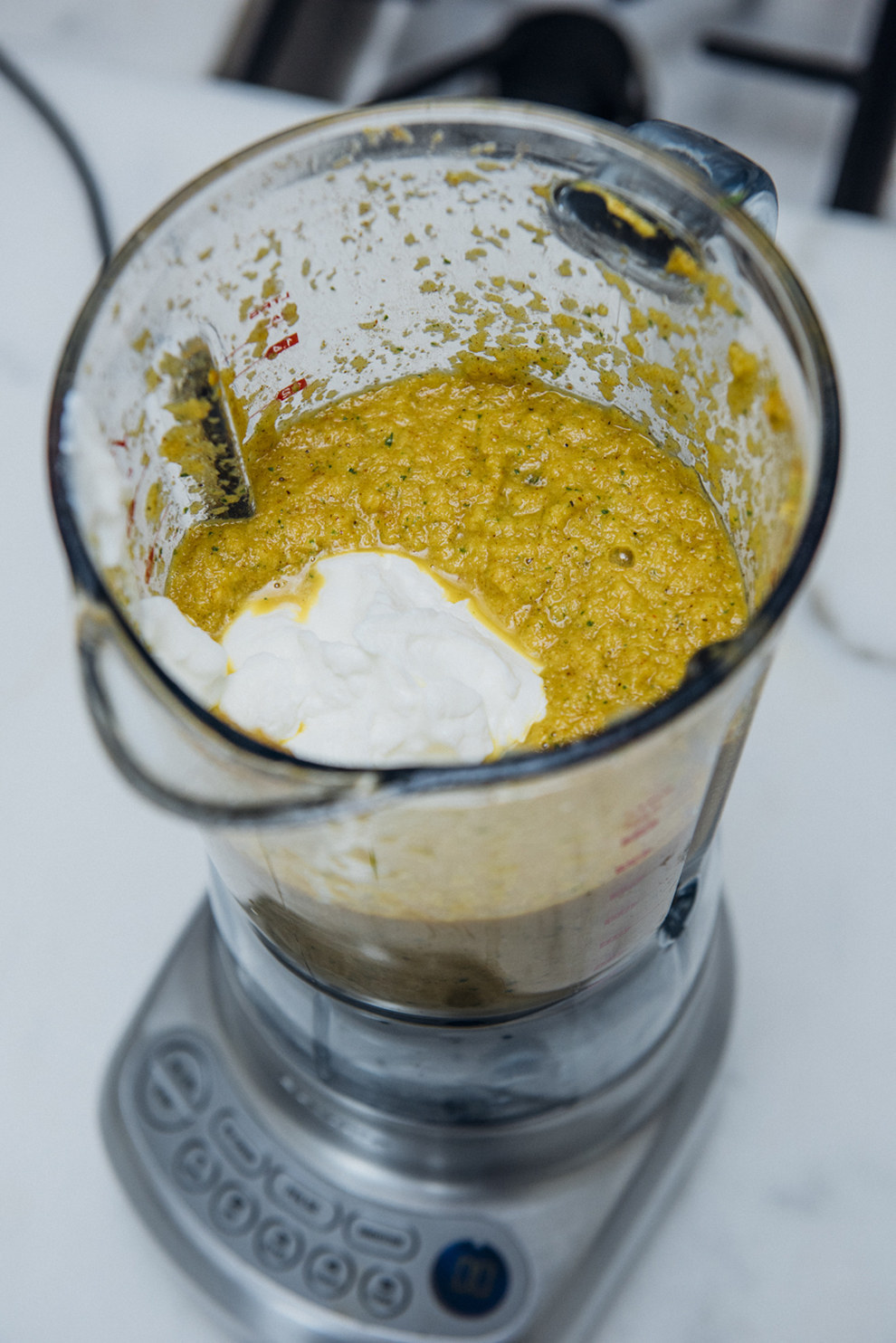 5.
Put the marinade in a big bowl, stick the lamb in there and mix it all together.
6.
Cover the whole thing with plastic wrap and chill it in the fridge for at least four hours.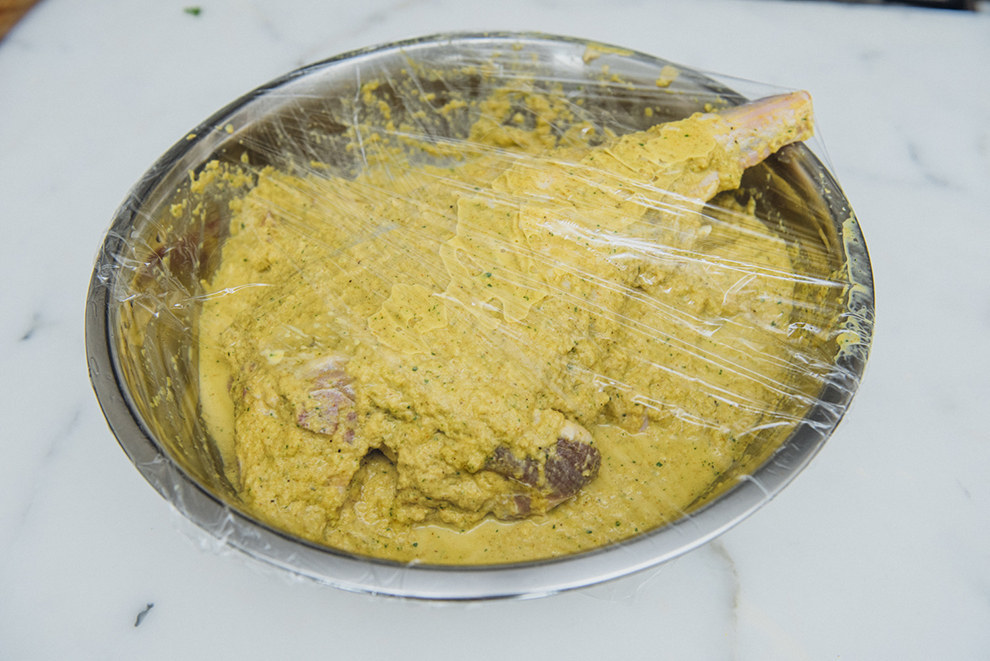 7.
Roast the marinated leg of lamb in a roasting pan or, if you don't have one of those, on a rack set over a baking sheet.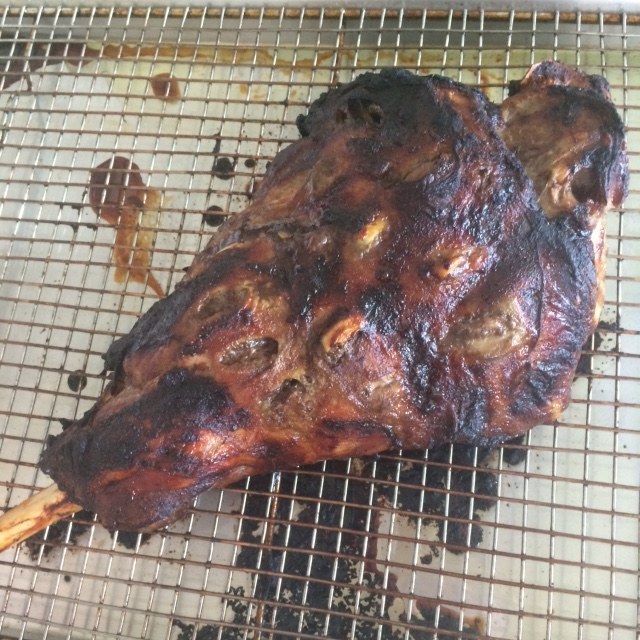 8.
Invite your friends because...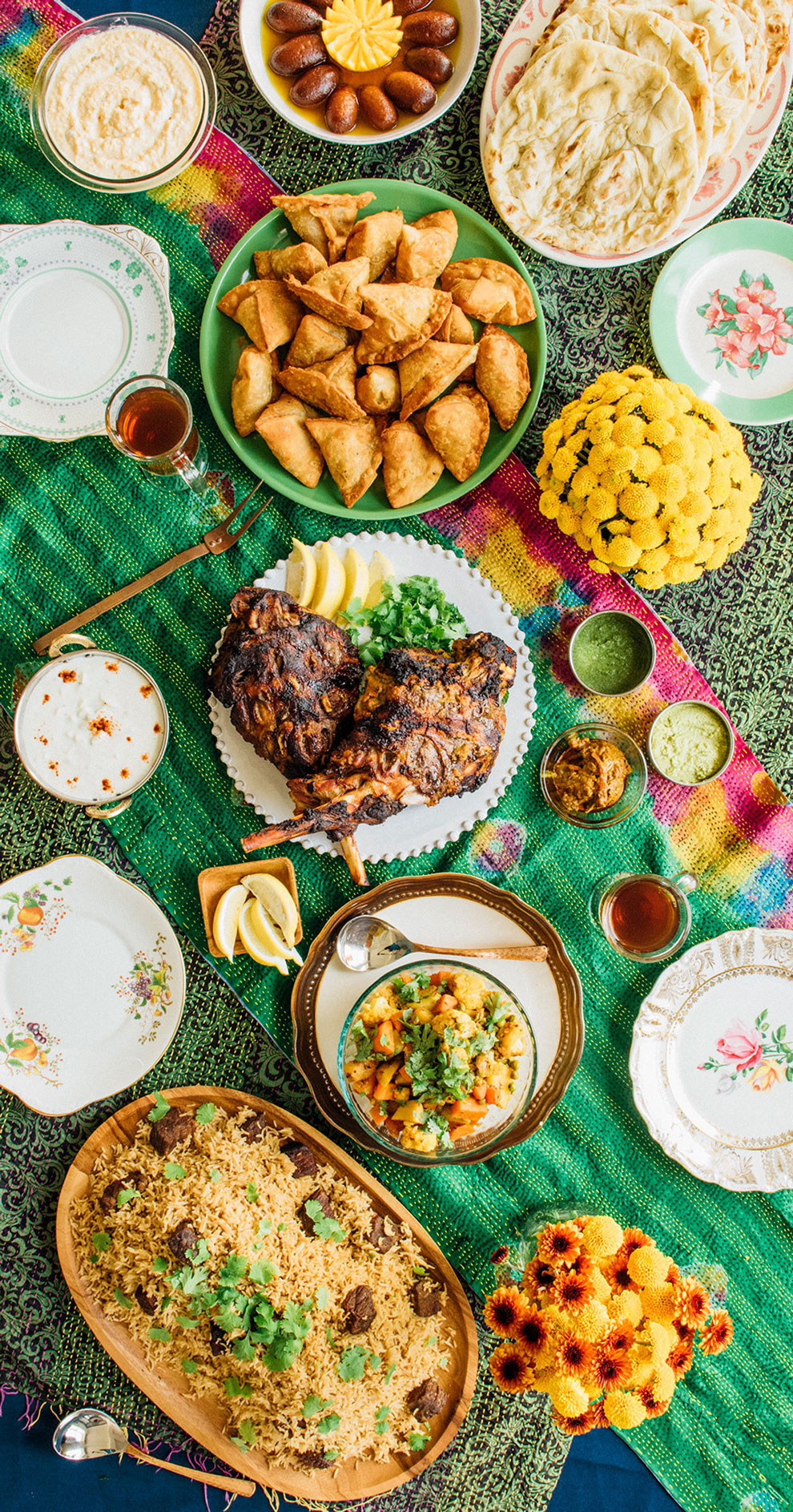 Serve the lamb with a mix of homemade dishes and stuff you can get from your favorite take-out (like samosas and naan).
Read about the whole menu here.
Tandoori Leg of Lamb
Serves: 4-6
Recipe by Zainab Shah
INGREDIENTS
1 (1.5-pound) bone-in leg of lamb
6 cloves garlic, whole (slice them if they are large)
2 chopped onions
6 whole cloves
2 inch piece of ginger, peeled and chopped
1 teaspoon turmeric powder
2 teaspoon coriander powder
2 teaspoon garam masala
2 teaspoon cumin powder
4 to 5 small Thai green chiles or 2 teaspoons red chile powder
Juice of 1 large lemon or 2 limes
2 tablespoons canola oil
1 bunch cilantro
1 large pinch salt
1 bunch mint leaves
1 cup plain, whole Greek yogurt
Raita (yogurt sauce) and mint chutney, optional (recipes below)
PREPARATION
With a knife, make slits in the leg of lamb and insert the garlic cloves into the meat. Combine all the remaining ingredients except the yogurt in a blender and puree until smooth. Add the yogurt and blend again to mix everything evenly. Rub this mixture all over the lamb and marinate least 4 hours or overnight in an airtight container in the fridge.
Place the marinated leg of lamb in a roasting pan and cook in the center of an oven at 375 F (190 C) for 1 hour 30 minutes to 2 hours. Serve the leg of lamb on a platter, with the sauces on the side. Garnish the platter with lemon wedges and cilantro, if you want.
Raita
Serves 4-6
Recipe by Fazilat Shah

INGREDIENTS
1 cup plain whole-milk yogurt
⅓ cup whole milk
½ cucumber, peeled and grated or fine-chopped
Salt and pepper, to taste
Cumin powder, to taste
Red chile powder, to taste
PREPARATION
In a bowl, combine all the ingredients.
Mint Chutney
Serves 4-6
Recipe by Zainab Shah
INGREDIENTS
1 cup mint leaves
1 cup cilantro leaves
1 Thai green chile, stemmed
½-inch piece ginger, peeled
1 teaspoon cumin powder
2 tablespoons lemon juice
Kosher salt, to taste (you could also use black salt, which adds a sharper more peppery taste)
PREPARATION
Combine all ingredients in a blender. Puree until the mixture is a thick, smooth chutney.
THE MENU