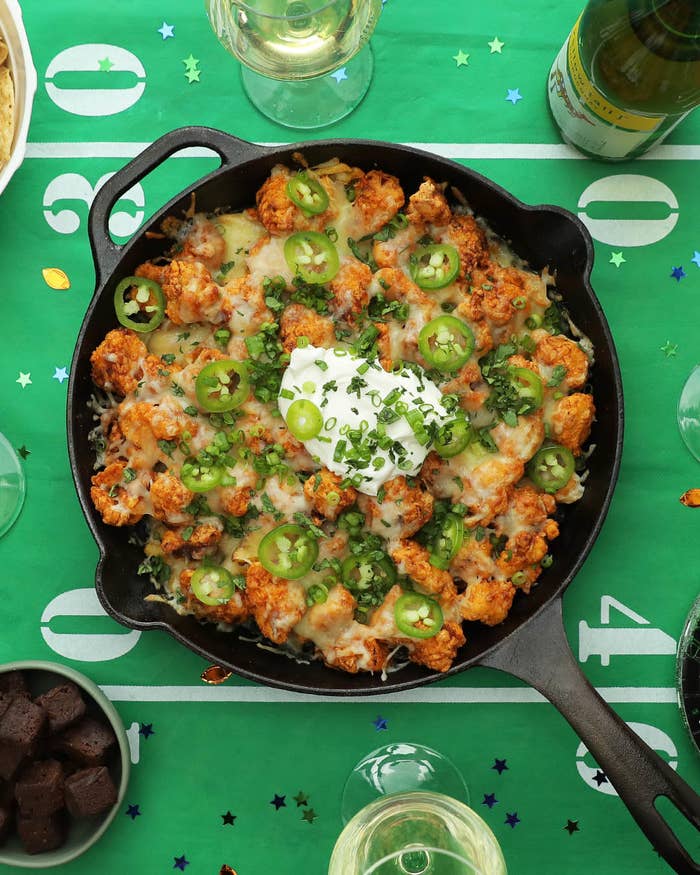 INGREDIENTS:
1 cup buttermilk
2 tablespoons kosher salt, divided
1 pound boneless skinless chicken breasts or thighs, cut into 1⁄2-inch pieces
2 cups flour
3 eggs
1⁄2 cup vegetable oil, plus more for frying
1 tablespoon cayenne
1 tablespoon brown sugar
1 teaspoon garlic powder
1 teaspoon paprika
1 bag (1 pound approximately) frozen waffle fries, cooked according to package instructions 2 cups shredded mozzarella cheese
2 cups shredded Monterey Jack cheese
Sliced jalapeños, for garnish
Sliced scallions, for garnish
Minced cilantro, for garnish
Sour cream, for garnish
PREPARATION:
1. Stir together buttermilk and 1 tablespoon kosher salt in a bowl. Add chicken and stir to coat. Let marinate for at least 30 minutes and up to 2 hours.
2. Whisk flour and 1 tablespoon kosher salt in a bowl. Whisk eggs in a second bowl. Remove chicken from buttermilk marinade and dredge in flour, shaking off the excess. Move chicken to the eggs and toss to coat evenly. Move back to the flour bowl and dredge a second time, shaking off the excess again.
3. Heat 3 inches of vegetable oil in a medium pot to 375°F . Working in batches, fry the chicken until golden brown and cooked through, about 3–4 minutes per batch. Drain on paper towels.
4. In a small pot over low heat, combine 1⁄2 cup vegetable oil, cayenne, brown sugar, garlic powder, and paprika. Heat until lightly bubbling, stirring occasionally, then remove from heat. Toss spice oil with chicken in a bowl.
5. Preheat oven to 350°F.
6. Arrange waffle fries in an even layer in a large oven-proof skillet. Sprinkle with some mozzarella and Monterey Jack cheese. Top with hot chicken. Sprinkle the rest of the cheese on top. Place skillet in oven and cook for 5–7 minutes, until cheese is melted.
7. Remove from oven and garnish with jalapeños, scallions, cilantro, and sour cream.