1.
A rechargeable bubble machine that'll ~blow away~ any bubble wand in sight. Parents, you will no longer have to huff and puff or lose your breath blowing bubbles again! And, it's a fun activity that'll keep your kiddo busy for a long time. 
See this bubble machine in action on TikTok here.

This bubble maker includes: bubble gun, two bottles of bubble solution, a rechargeable battery, a charger, and a plate to place the bubble solution.
Promising review: "I ordered this for my daughter's birthday and she has always loved bubbles!. So when I found this bubble gun on TikTok, it was a no-brainer. The amount of bubbles that you get out of that is so fun and it lights up. It's easy to use and pretty inexpensive for what we wanted. Even the adults enjoyed it." —Tina
Get it from Amazon for $36.99+ (available in five colors/styles).
2.
An electric bumper car if your little one doesn't quite meet the height requirement for the ones at theme parks and carnivals. Now, your tyke will be able to ride around in style at home and around the neighborhood. This bumper car comes with a remote control, it lights up, and it can spin 360 degrees. Your mini driver will ~cruise~ right through their summer vacay.

See this in action on TikTok here.

You can control this with a remote and when your kiddo is old enough, they can drive it on their own, though you should always supervise. And it includes a rechargeable 6V battery for one to two hours of riding fun. Battery charging time is about five hours and 18 hours when charging for the first time.
Promising review: "TikTok made me buy it lol. It's great. Babe got it at 6months old and was scared of it but now at 9months loves it so it was definitely a great investment! It's a bit loud but functions as it should." —Jasmin Rose
Get it from Amazon for $139.96 (available in 10 colors).
3.
Or, for older kids, a ride-on toy because your thrill-seeker will be able to race around the neighborhood all summer long. And, although it's electric, they'll have to use their weight to turn and maneuver around — what I'm saying is, they'll get all of their energy out.

Check this out on TikTok.
FYI: This is recommended for kids six and up and can support up to 110 pounds. Children should wear a helmet while operating this. Parental supervision is recommended at all times. 
Promising review: "If your kids love to play outside like mine do, I would highly suggest buying this product. My child loves this thing and can be on it for hours and not want to do anything else. It gives her so much reassurance that she is not going to tip over because it has guards in place on both sides. It also helps her balance with her two feet up as she says." —Devin A 

Get it from Amazon for $149.99+ (available in three colors).
4.
A foldable indoor slide because rain or a heat wave shouldn't ruin your little one's day. This slide will come to the rescue if you need a fun indoor activity when your kiddo is on the verge of crying out "I'm bored!" but the weather isn't ideal for a trip to the park.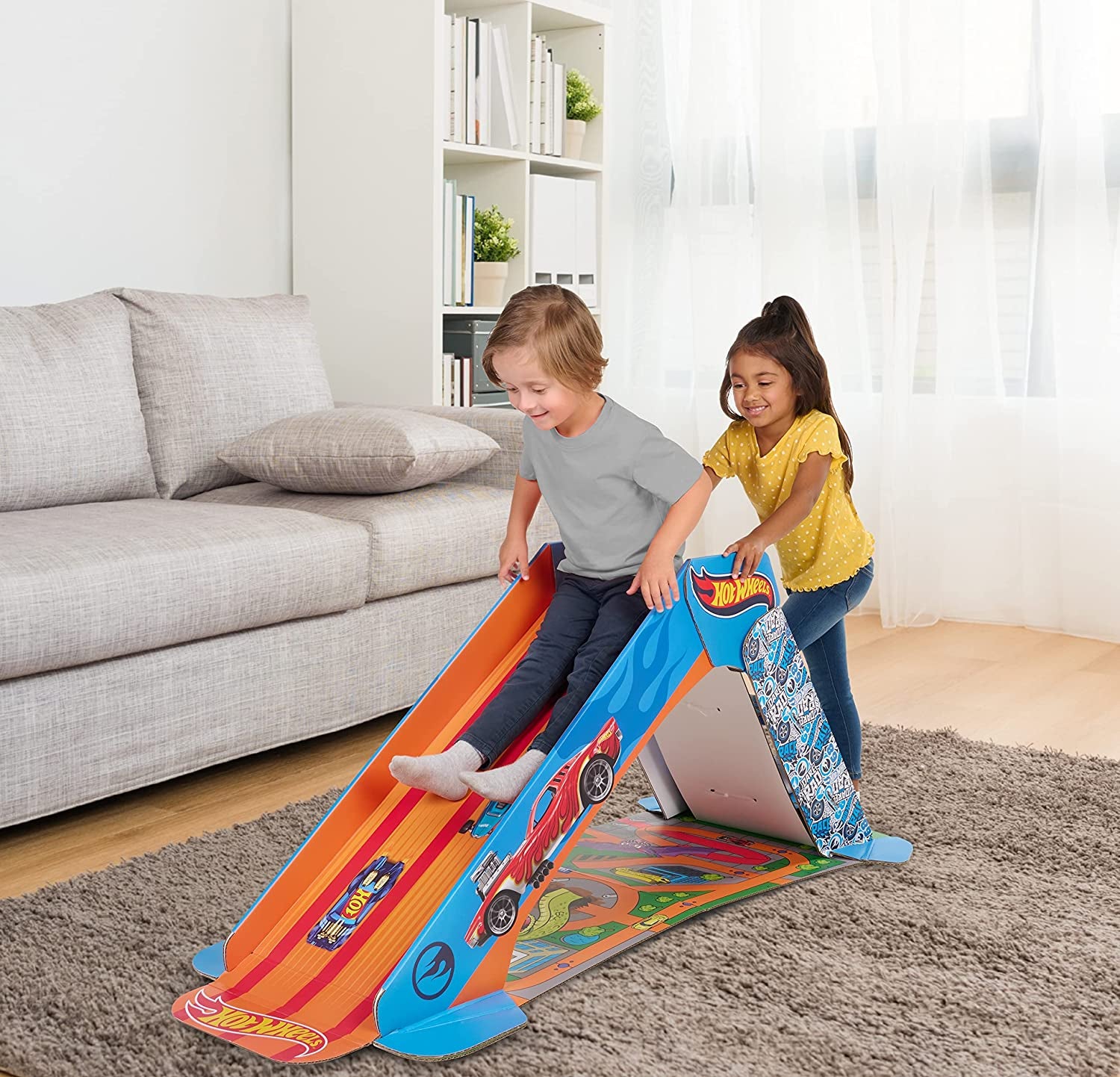 Watch this kiddo use the slide in this TikTok. 
Promising review: "I got this for my 2-year-old daughter's birthday and she LOVES it. She is a little nervous on the playground and she took to this right away. It folds down easily and sets up easily — the design is brilliant. It was actually so easy that I watched the 30 second set up video just to be sure I got it right lol. My 8-year-old son got on it too and it held up. We live in an apartment so this is something that she can climb on safely without taking up a ton of space. Love this product!!" —jenna

Get it from Amazon for $34.99 (available in two designs).
5.
Or a Montessori indoor play gym if you need your child to play inside when it's just too hot to trek outdoors. The best part? Your kiddo won't scorch their bum sliding down one of those overheated metal slides at the park — ouch!
See this play set in action on TikTok here.
Good Evas Kids is a small biz based in NY that sells wooden children's play sets, climbing walls, and bookshelves.

Promising review: "This product is amazing! I did so much research regarding quality and cost before purchasing one and this was the best one! My baby absolutely loves this! It is very sturdy and strong. It came with everything you need and the website has the instruction videos which made it so easy to follow and put it together. Also, customer service is so quick to respond and very caring! I love that you can adjust the height and angle of the triangle ladder. You can also move around the 4 products and change it up so you can have different set up which i like!" —teni240
Get it from Good Evas Kids on Etsy for $89+ (available in seven variations and two colors).
6.
A kids' selfie camera so your little influencer can become a savvy photographer and snap pics of their OOTD. You don't want to keep their followers waiting!
Check out this TikTok to see how it works.
Promising review: "I gave this to my granddaughter for her 4th birthday. She had been asking for a camera of her own for a little while. The camera itself is of great quality for a kiddie camera, the parents appreciated that it was digital and not Polaroid and my granddaughter was actually able to use independently with ease, after we taught her how. I would purchase again, and I highly recommend it to others." —The-Way-I-C-it

Get it from Amazon for $36.99 (available in six colors). 
7.
A wireless karaoke mic because you can say yes to an impromptu concert without having to whip out a heavy karaoke machine and a bunch of wires. Your little singer will be belting out tunes all summer long.
Check out a family having a blast with this on TikTok.
Promising review: "My 8-year-old daughter loved this birthday gift. The only problem is that my 6-year-old and 12-year-old daughters love it too, so now I have to purchase two more." —Carl Fowler

Get it from Amazon for $19.95+ (available in 11 colors).
8.
An Orbeez Challenge playset with 2,000 beads that soak up water and expand. This set comes with all the necessary tools so your child can satisfy their need to make a (contained) mess! They can roll, shape, and crush the Orbeez for endless sensory fun! 
Check out this TikTok to see how much fun this set is.
My daughter has been asking for this set for a long time but I was nervous to get it for her because it just seems like a messy toy that will require a lot of cleaning afterwards. She received it as a gift, and I hesitated when it was time to finally open it up. I'm happy to report that not only is this set SO much fun, but if you use the included container, it keeps all the messy stuff contained. And this set will definitely keep your child entertained for a long, long time. We love it.
Promising review: "My son loved the sensory play with these Orbeez rainbow beads — we were both shocked by how large they grew in water! They provided hours of creative play for my 8-year old and eventually he ended up putting them in a glass vase as decoration! He will still pour them out every week for some play time and has enjoyed them in the bath as well — just be sure to properly scoop all the beads out b/c they should not go down the drain! Great gift for kiddos with lots of hands-on play!" —Sara Ahmed

Get a set of from Amazon for $12.99.
9.
Some reusable water balloons made of eco-friendly material that can be reused over and over. No need to turn down a water balloon fight because you'll never run out (and these are better for the planet). Go ahead...throw a few of these, I know you want to. 

Promising review: "The adults in this house love water balloons but not the mess…plus with toddlers around, it didn't quite make sense to have water balloons but we saw a random video on TikTok and HAD to find reusable water balloons to try out. These were the first ones we bought to try out, and WHOA we were blown away! Super easy to for the 2- and 3-year-old to use, which means more fun for all of us!! Do not think twice or continue with regular water balloons, you'll waste precious time cleaning up and filling that could be used to make memories." —Taurus

Get a four-pack from Amazon for $15.99 (also available in packs of six, 12, 16 and 18). 
10.
A butterfly garden because it's a fun and educational activity that'll keep your curious scientist captivated. With this kit, your kiddo will be able to observe caterpillars as they transform into butterflies in a safe habitat. 

Take a look at this TikTok to get a closer look.
FYI: This kit includes a reusable, pop-up mesh habitat, perfect for butterfly, a feeding dropper, instructions, and a journal to take notes. It also includes a voucher you can use to redeem live caterpillars.

I purchased this kit for my daughter and she absolutely loved checking on the caterpillars every day. It was a fun activity for the whole family. It took about three weeks for them to go through the whole process. It was so cool to witness the transformation and my daughter really enjoyed it. I recommend this kit to everyone looking for an engaging, fun, and educational activity.
Promising review: "This was a really fun project with my 4year old last summer. She loved every part of the process and looked forward to looking at what was happening every morning." —Melissa
Get it from Amazon for $24.99.
11.
An inflatable pool center that reviewers say provides hours of entertainment, is easy to inflate, and kids and adults enjoy it. It includes a water slide, sprayers, two wading pools, an inflatable strawberry floatie, and and six balls.

See how fun this is on TikTok.

Promising review: "So much fun! The kids completely love to play in this pool, and I love how much you get for the great price! It's beautiful and colorful, quick to inflate, and the details are perfect like the little landing pad at the bottom of the slide. There's even a drain built in so if you attach the hose to the sprinkler part it won't overfill. Huge win!" —Hanabi 
Get it from Amazon for $60.29.
12.
A roller coaster for kids so you can save some money and skip a trip to an amusement park while still giving your kiddo the thrill of a ride. This can be used indoors or outdoors, so it can be used rain or shine. And, reviewers say it's easy to assemble and to store.

Get a closer look on TikTok.

Promising review: "So if you're like me, you've come to the reviews to talk you into or out of buying this. Well no further scrolling is needed. Buy it. Just do it. It's worth every penny I spent on it. My son LOVES it. It's easy to put together and to take apart when you want to move it. Its built really well and shipped faster than expected. It's hours of fun indoors and out." —Mariah Manley
Get it from Amazon for $139.99+ (available in three style).
13.
A fold-away pirate ship because your child will play with it for hours. It includes a slide, a ladder, a pretend telescope, a steering wheel, and a secret play space underneath. The best part? When folded, it's so compact, it can be stored almost anywhere. 

See this in action on TikTok.

Promising review: "This is so worth it! I looked at the large, bulky plastic play sets for months and they are so expensive and huge! This collapsible play set is the real winner. Both my 1 and a half and almost 6-year-old enjoy playing with this! I am impressed with the sturdiness, it doesn't not shake around while they are climbing on it and holds both my daughters perfectly. It's a great size for small yards or your living room. We move it between those two places. Definitely recommend. —Amanda 
Get it from Amazon for $179.99 (also available in a castle).
14.
A set of inflatable ride-on bouncers so your child will be able to race in the backyard by hoping and bouncing around.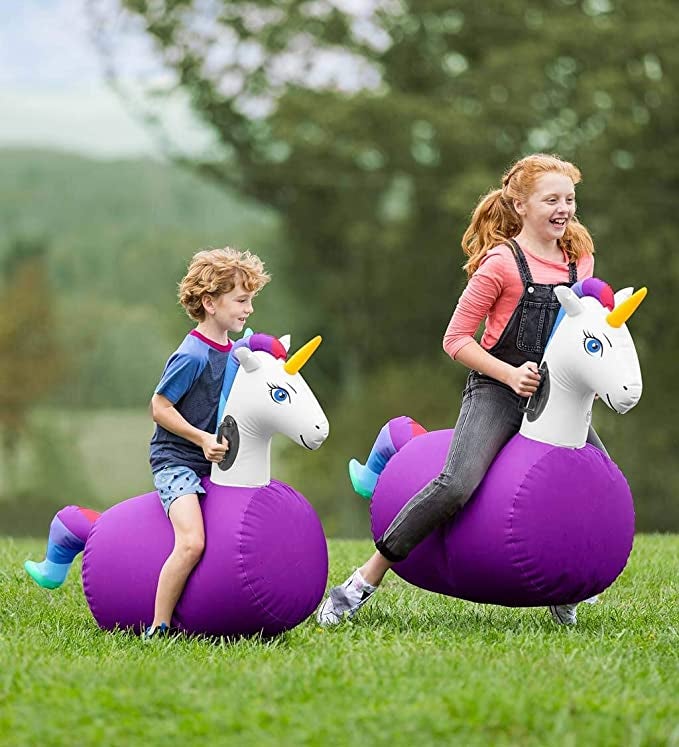 See how fun these are on TikTok.

Promising review: "I purchased four of these little bundles of joy for a Super Soft Birthday Party I was throwing, figuring two would burst before things really started happening. Not only did they not immediately burst but, they survived two races across my yard by four lubricated 20-somethings. I could not be more amazed at just how these things held up to the abuse they put them through! I cannot say enough good things about them! If your looking to have some fun. You gotta buy these!" —DanielNell
Get a set of two from Amazon for $49.98 (available in three styles).
15.
A fairy garden kit that comes with everything your little one will need to grow their own magical garden. This set includes a cottage that doubles as a flower pot, soil, seeds, a bridge, two lady bugs, a butterfly, a fairy, and a frog.