1.
A tracker calendar because adulthood means there's a lot to do! This will help you keep track of your to-do lists, goals, and habits. You'll be able to remember important dates, stick to a routine, and stay consistent.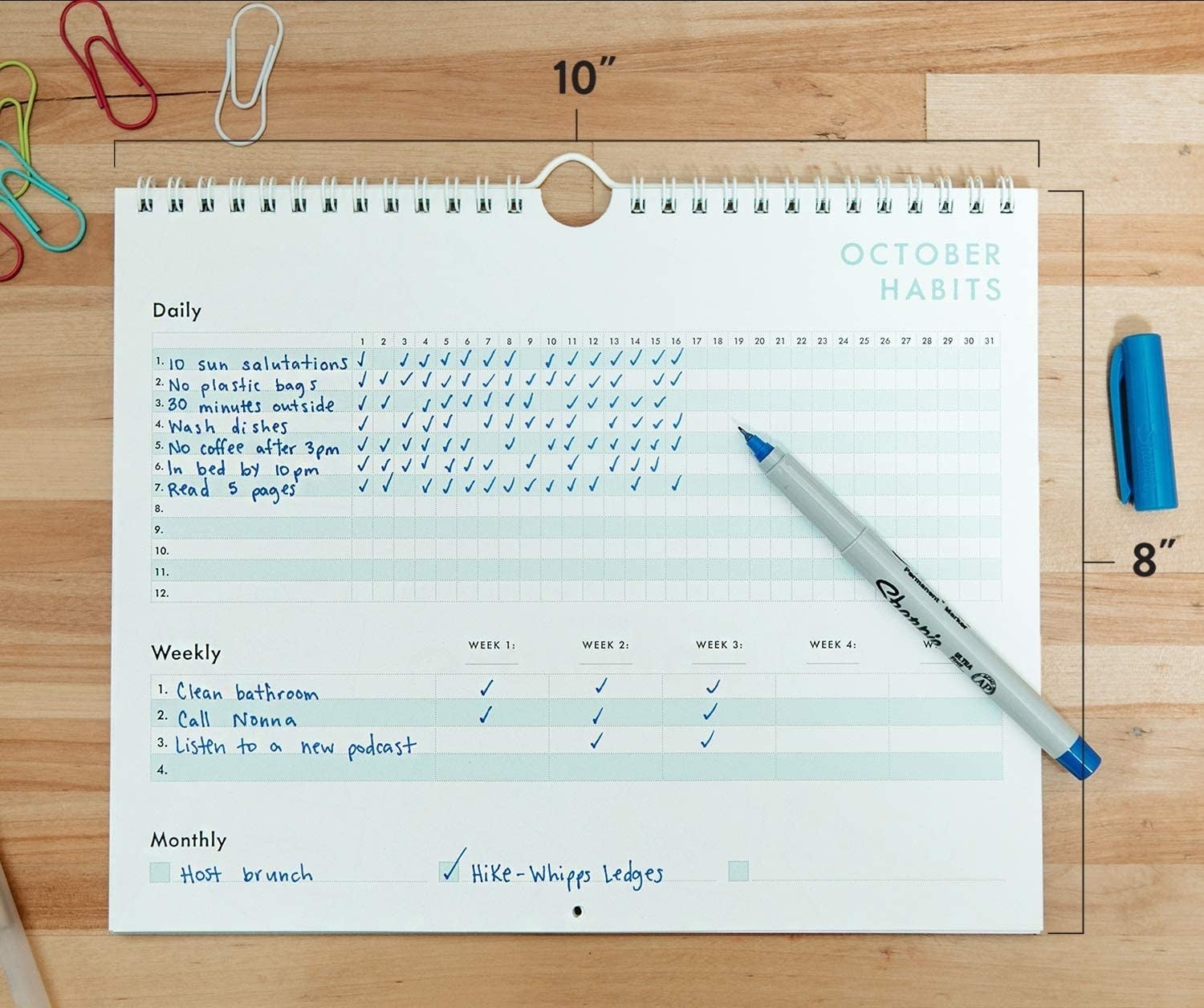 Free Period Press is a woman-owned, queer-owned small business that creates paper tools to help with productivity.
Promising review: "I wanted to reduce stress and nail down some habits, and I've always done better when I can see progress tangibly. I'd been eyeing this calendar for some time, but was unsure if it was worth the money. I decided to go for it. SO glad I did. It has some 'homework' pages at the beginning to help you focus in on your goals, but mostly its the cleanness and ready-to-go nature of the monthly calendar pages that have worked for me. It's helped me be more disciplined AND narrow my focus so I'm not worrying about doing everything under the sun each day. I liked it so much that I bought a second one for a friend. Another friend saw me using it and also made a purchase. I'm really happy I made the leap." —Flight of Stars
Get it from Amazon for $19.99.
2.
A storage strip that mounts on the wall, because you're likely to be in charge of cleaning a lot more than you've ever expected now that you've grown up (such a scam). And that means you'll start accumulating a bunch of tools. This will prevent your mop and broom from sliding off of walls or out of your storage closet. And this will keep your tools organized so you can find what you're looking for when you need it.
Promising review: "Repeat customer! I purchased one to organize the garden tools (rake, hoe, cultivator, shovel, etc.) in our garage and by alternating the tops of the tools up/down, was able to fit them neatly in the holder. Liked it so much, going to install another next to it for the other items. The hooks are a nice feature to hold our gloves and a simple plastic bag to hold things when needed." —Rob C.
Get it from Amazon for $13.97+ (available in four colors and various packs).
3.
A pack of cleaning tablets to keep your dishwasher in tip-top-shape so it will clean your dishes more efficiently (and there's a lot of dishes! Welcome to adulthood). These tablets will get rid of limescale and mineral buildup so your glasses will come out as sparkly and shiny as the day you bought them.
Promising review: "After using this product, I am happy to report that my $5 investment saved me over $500. I was ready to replace my dishwasher, due to super cloudy glasses, residue, and just not getting clean. Then I saw a product test review for Affresh in Good Housekeeping magazine. I was ordering some stuff from Amazon anyway, so I added that to my order. I did not expect the results I got! The glassware that I thought was permanently etched and ruined came out like new. Same with cutlery. The difference is unbelievable. I am amazed!" —Sheila
Get a six-pack from Amazon for $8.95+ (also available in a pack of 12).
4.
A food container lid organizer, because a big part of being an adult is trying to keep messes contained — and your lids will get out of control without this. IDK how to explain it, but everyone ends up with a cabinet filled of random lids and yet they can never find the one they're looking for when they need it.
Promising review: "This product does exactly what it is supposed to and does it well. In under 15 minutes, I took my nightmare lid drawer and turned it into a functional, convenient storage space. The dividers were simple to install and provided flexibility. Slowly but surely I am getting my tiny, chaotic kitchen under control, and this got me a huge leap closer." —S. Hawthorn
Get it from Amazon for $13.49+ (available in five sizes).
5.
A cord-managing box so you can hide the tangled mess under your desk. Reviewers say it's also great at keeping cords away from pets.
Promising review: "This is the third box I have ordered and I am still happy with this product. It keeps the cats from turning off my power strip when they zoom behind the couch. The first two I ordered were all white, which was fine for where I placed them. With this purchase I went with the wood grain top which blends in more easily with the surrounding area. I would, obviously, purchase this item again." —Susan Beattie
Get it from Amazon for $23.99+ (available in three styles).
6.
A three-pronged duster to easily clean between your blinds because, trust me, there's a ton of dust in there. One thing about becoming an adult is coming to terms with how much there is to clean! This tool will make the annoying task of dusting blinds super easy and way faster.
The duster comes with five microfiber sleeves.
Promising review: "A super time saver. It legitimately used to take us hours to clean all the blinds. We can now do all the faux-wood Venetian blinds in the house in about one hour. It's really nice that it comes with some spare cloths for it, and it's cheap enough to buy a whole additional set so we can make more than one kid do this chore at the same time." —R.D.
Get it from Amazon for $7.99 (available in two colors).
7.
A splurge-worthy Roborock robotic vacuum because you'll have a long list of things to do, and it's mostly cleaning related. So, whenever you can take a chore off of your plate, you should. This vac will clean your entire home with just a push of a button and it empties itself!
Here's what former BuzzFeed editor Daniel Boan had to say about it:
"I've always wanted a robotic vacuum, and after getting a chance to try the Roborock Q5+, I can't believe I waited so long. I absolutely hate vacuuming, so the ability to have a magical little robot clean my entire apartment at the touch of a button is an absolute lifesaver. The accompanying app is very easy to use — I typically use it to set up custom cleaning schedules — and the smart mapping feature was extremely accurate on the very first try. There are definitely cheaper options on the market, but what makes this worth the extra splurge is the self-emptying feature. Once the robo-vacuum is done cleaning, it finds its way back to the charging base and empties itself into a dust bag that lasts for up to seven weeks. My apartment has never been cleaner!"

Get it from Amazon for $429.99+ (available in two versions). 

8.
A felt handbag insert with several pockets and compartments because as you creep into your adult years you've probably started to notice that your bag is filled with old receipts, random crumbs, and a ton of pens that may or may not work. Sound familiar? Yet, you can never find what you actually need when you need it. This will keep your purse organized so you can find your keys without rummaging through gum wrappers.
Promising review: "My summer handbag has no dividers, so everything falls into a lump together. I was so pleased to find the smaller slender option for this organizer. It slides down into my purse with room on the sides to spare - this is exactly what I wanted since it lets me put things into the organizer and then other things outside of it on either side. I ordered the gray color and am very satisfied with the construction and fabric used." —Jay
Get it from Amazon for $15.88+ (available in five sizes and 16 colors).
9.
And a "Bagnet," which is exactly how it sounds: a magnet for your bag. As I navigate being a whole grownup, I've found that I carry way more stuff than when I was younger. So, going without a purse isn't ideal. Now, you'll be able to hang your bag in restrooms and restaurants without it touching the dirty floor. 

Bagnet is a woman-owned small business that specializes in magnetic bag holders and handbags. 
Promising review: "This is the best bag holder ever! I was completely blown away, the magnet is SO strong. Works in so many places, in restrooms (try the hinges if the door isn't metal), at restaurants (on tables, chairs, even under the table), at the gym to hold my water bottle and keys so they don't end up on the floor. But my absolute favorite place to use it is on my car! I can attach it to the side of my car while I unlock it without having my hands full and leaving me vulnerable. If you have ever felt nervous trying to fumble with all your stuff while trying to unlock your doors in a dark parking lot, you need this! My only regret is that I didn't know about it sooner. I am going to get one for everyone in my life for Christmas. Any person who carries a bag should have one (or two). Seriously, it's life changing​." —robert rodriguez
Get it from Amazon for $18.99+ (available in 18 styles).
10.
A handheld garment steamer, because those carefree days when you could just throw on a crumpled up T-shirt have come to an end. Don't worry, you won't have to whip out an ironing board. This genius device takes only 30 seconds to heat up and you can just smooth away wrinkles while your shirt is on a hanger. 
Promising review: "I'm a TV wardrobe stylist, and I do a lot of steaming. This is hands down the best steamer I've ever used. It doesn't spit water out, warms up very quickly, and will steam multiple garments before it needs a refill. I love that it has a button and a lock to keep it on (my last one just turned on... no button to pause the steam). The brush attachment is awesome, and pulls the fabric as you steam, which pulls the wrinkles out more quickly." —Monkaloo
Get it from Amazon for $29.97+ (available in three colors).
11.
A Power Dash carpet cleaner for messes your pet leaves behind. You know when you parents warned you that a dog would be a lot of work? Well, now that you have to do everything for your fur baby, you know they were right all along (talking to myself here). This cleaner has a powerful brush that'll make spots disappear and it uses "HeatForce" technology to quickly dry your carpet.
Promising review: "I freaking love this thing. It's small but extremely powerful! The soap that comes with it is excellent! When I ran out I bought a gallon of it! The amount of cat hair this thing sucks up is wild! I'm six months pregnant and have absolutely no trouble with this thing. It snaps together easy to fill and change water. I wish I could give it 10 stars." —Bee Fowler
Get it from Amazon for $99.99.
12.
A Bartesian cocktail maker, that is basically like a Keurig for mixed drinks. If paying $20 for a half-decent margarita seems less appealing now that you're older (same), yet you don't really know how to make a cocktail, this will make it so much easier. 
Here's why former BuzzFeed editor Daniel Boan loves this:

"I used to work as a bartender, so anytime I'm with my friends I end up becoming the designated drink-pourer by default. The problem? I was ridiculously bad at it then and I'm ridiculously bad at it now. If a drink requires more than two ingredients, I probably can't make it 🙃.
Thankfully I had a chance to try out a Bartesian, and it'll now handle all bartending duties for me! It's super easy to use: just fill each glass container with your liquor of choice, insert a cocktail capsule, choose your desired strength, then sit back as it pours you a perfectly crafted drink. I had family over recently and the Rum Breeze and Cosmopolitan were huge hits. If you entertain often, you'll want this on your bar cart ASAP."
Get it from Amazon for $293 (available in three versions).
13.
A set of bedsheet fasteners because there's no one else there to make your bed now that you're a full-fledged adult. This puts an end to the frustration of having to deal with sheets that slip and slide off of your mattress. So, when you actually decide to make up your bed, your bedding will stay put.
Promising review: "I love these! Since I started using them my sheets haven't popped off once and that used to be a multiple times a night problem because I toss and turn when I sleep. Thank you TikTok!" —Gabby
Get a set of four from Amazon for $8.95+ (available in three colors and also in packs of eight).