1.
The Complete Gardener's Guide by Simon Akeroyd to help you figure out all the basics. This book will help you learn how to sow, plant, and prune. It'll also give you tips on choosing the right plants, how to design boarders, and even how to protect your veggie patch.

Promising review: "I bought a new home in the woods and haven't really gardened before. The previous owners already had a very impressive garden. Me being new to the scene, I wanted to learn as much as possible to keep up my garden beautiful, fresh, and healthy. This book has everything a first-timer like myself could need. From plans, designs, sowing, pruning etc. I was also excited about the fruit and vegetable section, as I plan to grow my own. I definitely recommend the Complete Gardener's Guide book. It just arrived today and I've been flipping through, bunny-earring pages all night. Excited to prune my rose bushes tomorrow after reading the section on them." —QueenJ

Get it from Amazon for $21.99+ (available in hardcover or spiral bound format).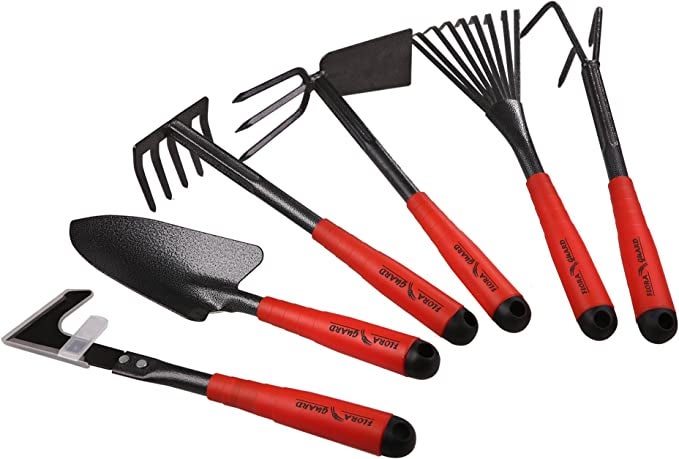 This set includes a trowel, a five-teeth rake, a nine-teeth leaf rake, a double hoe with three prongs, a cultivator, and a weeder.
Promising review: "If you are looking for quality in a set of garden hand tools this is the set for you. Every hand tool I can possibly use. Buy the set, you won't be sorry!" —Bobbie
Get a six-piece set from Amazon for $25.59.
3.
And pair of stainless-steel gardening shears to clip, cut, and trim your plants. Reviewers say they're great for beginners. Plus they're lightweight.
Promising review: "I needed something sharp and small enough for deadheading smaller blooms but that would also do well with any size of bloom. These are my new favorite pair. They're sharp and easy to use. The small push lock that keeps the blades locked closed is very easy to unlock and relock. I would highly recommend these to any gardener professional or hobbyist like me." —JoJo
Get it from Amazon for $6.99 (available in three colors).
4.
A pack of Miracle-Gro water storing crystals, because when you're new to gardening, you can use all the help you can get. These will make sure you won't over or under water your plants. Just mix it in with your soil and the crystals will work like magic to absorb water and then release it later.
Promising review: "Love this soil additive! But, be careful to add just a little at a time! I have used this product for the last 15 years, as a High School Horticulture teacher. Really comes in handy when school is closed for the holidays! I could come in once over the holidays and water my plants, and they looked great! I always put some crystals in a bowl, about 2 or 3 tablespoons and add water, to expand them before I add them to the soil. (I've cracked a couple of nice pots not doing this.) I also add fertilizer to the water, so the crystals take up the fertilizer as they expand. The crystals release their water to the roots as the plant dries out, so you will see the soil level retreat, an easy cue to add more water!" —Roseann R.
Get it from Amazon for $12.49 (also available in a two-pack).
5.
A pack of food spikes that are perfect if you haven't developed a green thumb quite yet. These will provide food for your plants for up to two months so you won't have to worry too much about forgetting to fertilize them or check the soil for a few days.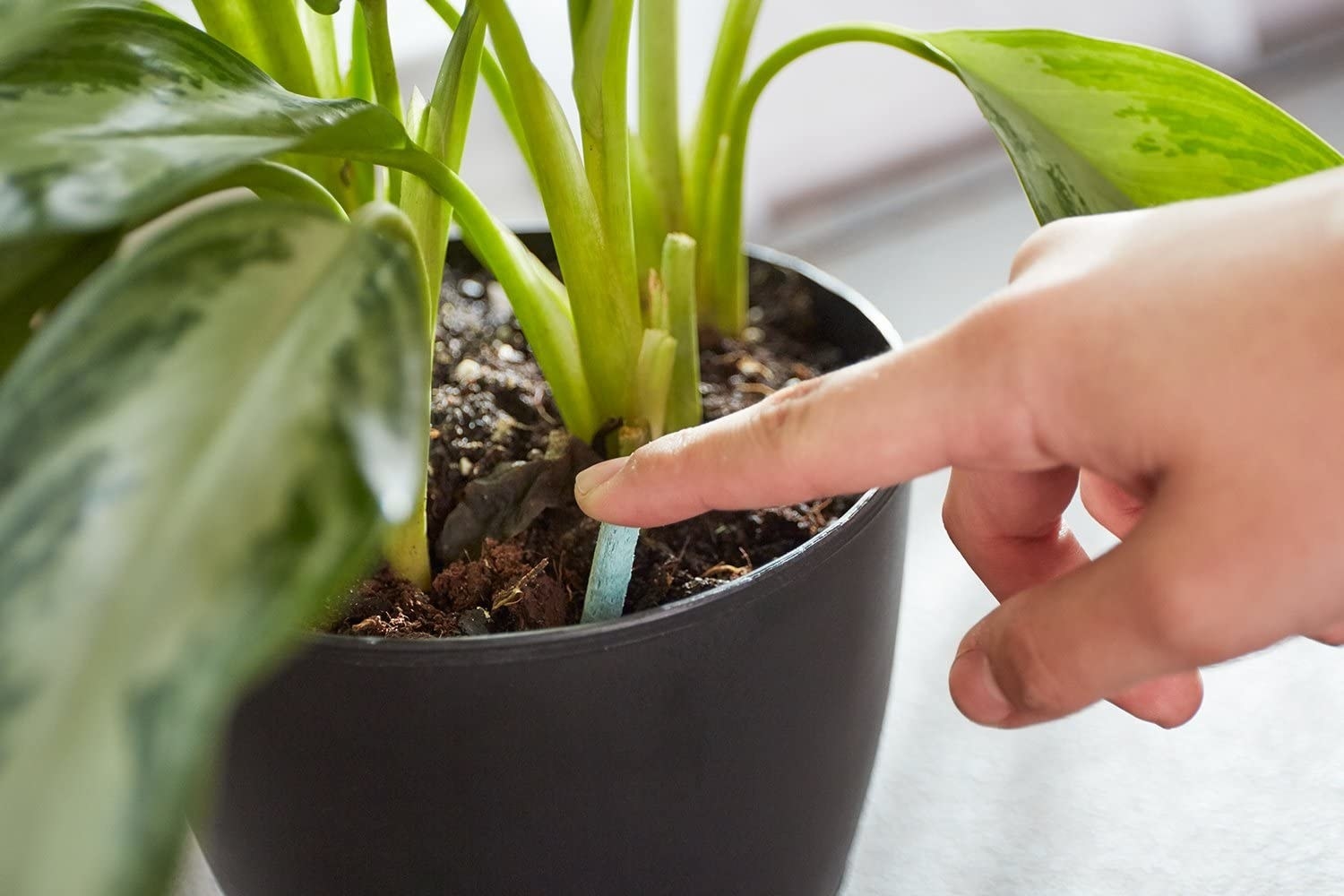 For best results, replace spikes every 30 days in spring and summer; replace every 60 days in winter and fall.
Promising review: "I swear by these plant food spikes!!! The package says they are for indoor plants, but I actually use them for all of my outdoor plants, especially my herbs. I first tried these after planting some basil and other herbs that seemed to be taking an eternity to grow. I figured I'd give them a try since they were so inexpensive and wow!!!!! Within just a few days, my plants had grown more than double what they had grown in the previous several weeks!! One of my friends (who also enjoys gardening) came over to my house and was in awe of how big and healthy all of my herbs were. When I told her about these spikes, she went straight from my house to purchase some and had the exact same growth results." —GatorDO17
Get a pack of 48 spikes from Amazon for $5.69.
Read our full review of the Miracle Grow plant food spikes.
6.
A five-tier pot if you are working with a tiny space, but have big dreams about your garden. This is perfect for strawberries, herbs, peppers, and even flowers. It uses vertical space if you're low on room. And, the design even helps to prevent overwatering and root rot.

BTW: These can hold up to 20 plants and can be broken into two separate planters if you don't want it to be stacked all together. 
Promising review: "Great for novices. Loving our new strawberry station. We've never done this before, so having a Mr Stacky is awesome." —Melissa Toledo

Get it from Amazon for $44.99.
7.
A set of owl decoys because as one reviewer puts it, they'll act as "bouncers" for your garden and will scare away pests like birds, squirrels, and more. They will protect your veggies and fruits from getting eaten or your plants from being destroyed by invaders.

Promising reviews: "Birds are constantly crapping on our concrete patio and eating our plants in the garden. These have helped scare them away! I move them around so birds don't get used to them!" —Sentimental
"We placed these on the ground looking out of the garden and change their locations weekly. We no longer had problems with rabbits eating our crops. They are a little smaller than you would think but effective." —Brenda L.

Get a set of three for $29.99.
8.
A set of vegetable, fruit, and herb markers so you don't make the rookie mistake of forgetting what seeds you planted in each pot. This will come in handy since plants practically look alike in the beginning, but can require different care. 
Wood N Sparks Co is a small business based in Montana making wooden garden markers.
BTW: If you don't see an option for your fruit, herb, or veggie, there's an option to customize one at no additional cost!
Promising review: "These were great! Perfect size and nice quality. Ordered a variety of different herb and vegetable sticks including some custom and they all came out exactly as ordered and described." —Lauren
Get it from Wood N Sparks Co on Etsy for $1.75 (originally $1.95) a stick.
9.
A set of sticky insect traps because they are a poison- and pesticide-free way to effectively prevent an infestation or help get one under control. I know, gross 🤢 — but you'll be grateful to have these to help keep flies, gnats, and bugs from taking over your plants.
Promising review: "At first I was hesitant. How could little sticky tabs on a stick control or eradicate my fungus gnat infestation? I had tried various pesticides, but those killed my plants too. So, in desperation, I tried these. They had good reviews and people said they worked wonders. Well, add my name to that list. These things worked fantastically! I bought these on June 28 after battling fungus gnats for months, the problem was only getting worse. It is now August 9, and I can honestly say I haven't seen any gnats in my house flying around. I still keep the tabs out just in case, and occasionally I'll catch one of two, but for the most part they're gone and it's 100% due to these little tabs! And I didn't even use all 7 traps!" —Katheryn Camm
Get a pack of seven from Amazon for $5.33.
10.
A soil moisture meter to help you avoid one of the biggest mistakes new plant parents make: overwatering. Instead of sticking your finger in and guessing if your plants need more water, this device will let you know your soil's moisture level. And, it doesn't require batteries!

Here's what BuzzFeed writer, Courtney Lynch had to say about this:
Using a soil moisture meter is easier than you might think. I've been using this particular model for years without any issues. All you have to do is insert the metal stem into the soil of your plant (about three to four inches deep) and view the moisture reading. When you're done, wipe it clean and store it until your next watering session. I like to measure the soil moisture both before and after watering to make sure I've given my plants a nice big drink without overdoing it.
Promising review: "This is a remarkable little gadget! All gardeners need this in their arsenal of tools! #1. no batteries!!! #2. simple to use #3. no more overwatering your beautiful plants!! I have already bought 3 of these for my gardening friends and they love it too! It has saved so many of my plants from overwatering. I highly recommend this gadget!!" —carolel
Get it from Amazon for $9.99 (available in two colors).
11.
And a light meter so you can make sure your plants are getting the right amount of light.

This light meter measures both luminosity and ambient temperature. You'll have an easy-to-read digital LCD screen, min/max readings, data hold, auto power off, and low battery indication. Different plants require different amounts of light, so be sure to do your research and use this handy tool accordingly!
Promising review: "Yaasssss! Why didn't I get this sooner? First off, they sent the meter with a set of batteries! Finally, a company that anticipates you needing batteries with the device! Second, it works perfectly. I know nothing about reading light for plants and this thing was super easy to use. I saw the readings, checked Google for what the levels meant and I was good to go!" —chris
Get it from Amazon for $25.48.

12.
Some LED grow lights if you're meter has alerted you that your plants are not getting enough light — these will come in handy. Plus, you'll never have to worry about remembering to turn it on/off because it has an auto timer.

These LED grow lights are designed to mimic sunlight at noon, which is ideal for most plants during all growth stages. The three auto on/off timing options are available at intervals of four, eight, and 12 hours. The time for each LED bar can be controlled separately. You're also able to adjust the brightness across five different settings. The sturdy clamp can be applied to various surfaces and the 360-degree adjustable gooseneck allows you to direct the light in any direction.
Promising review: "I bought this for my beloved little tomato plant I was gifted late in the summer and didn't want to lose to the winter weather. This indoor light is the easiest thing to set up, very self-explanatory. Works amazing! My plant has grown incredibly in the weeks that it's been indoors. The timer setting has been a lifesaver. There are different brightness settings, which I've used on several different occasions based on my plants' needs. I can't recommend this product enough." —Amazon Customer
Get it from Amazon for $22.99.
13.
A standing weeder so you won't have to kneel to pluck out weeds — your back and knees will thank you. You'll be able to get rid of them fast so they won't kill your flowers and plants nearby. This genius tool has three steel claws that will help you to remove weeds and roots while standing. 
Grampa's Gardenware Co. is a small, family-owned business based in Oregon making tools for gardening.
Promising review: "Oh my god, I friggin' love this tool. I bought this on a whim given we bought our first house and know nothing about caring for a yard. Boy has it come in handy. Our new house had a ton of weeds in the front yard and this tool helped me get most of them out in no time. In fact, the process of yanking out the weed was strangely satisfying! I don't think anyone can say that weeding is fun but this tool made it as close to fun as you can get, especially when you see a long root along with the weed you pulled." —JG
Get it on Amazon for $39.99.