1.
A stationary vacuum that'll hopefully encourage your messy roommate to sweep up since they won't have to grab a dustpan or carry messes all the way to the garbage bin. It's touchless and doesn't require bags.

Promising review: "Saw it on TikTok and knew I had to have one. I hate cleaning but get annoyed with the clumps of dog hair and bits of things on my kitchen floor. I usually just vacuum my tile with the vacuum, which is a pain. This thing is so easy to just sweep things into and it sucks them right up. Sure, it's more expensive than my actual vacuum, but I've only had it three days and have used it two times." —Amazon Customer

Get it from Amazon for $109+ (available in six colors).
2.
A weekly shower spray if you don't want to spend a long time scrubbing your shower because your kiddo used a bath bomb to draw all over your tile (again). All you have to do is spray, go to bed, and wash it off in the morning. This cleaner is bleach-free and prevents soap scum buildup when used regularly. 
3.
A robotic vacuum so you won't have to follow your messy roomie around with a vacuum. This device can be controlled from the comfort of your couch with a remote. It'll also charge itself!

Promising review: "I've been in the market for a robotic vacuum for quite some time, and, after a recent back surgery, vacuuming manually wasn't easy. I purchased this vacuum and have been very pleased with it. Its slim design gets under the dressers, beds, other furniture, and all the tight spaces that I couldn't get to with an upright vacuum cleaner. This makes a very low sound while in use, and honestly, I don't even realize it's operating, as the sound is pleasant (not loud at all)." —Teach3
Get it from Amazon for $139.99+ (available in two colors).
4.
Or a robotic mop because you won't have to carry a heavy bucket around your home when your dog tracks mud all over your tile floor. You'll never have to worry about a dirty mop again because this uses "smart mapping" to clean up messes for you.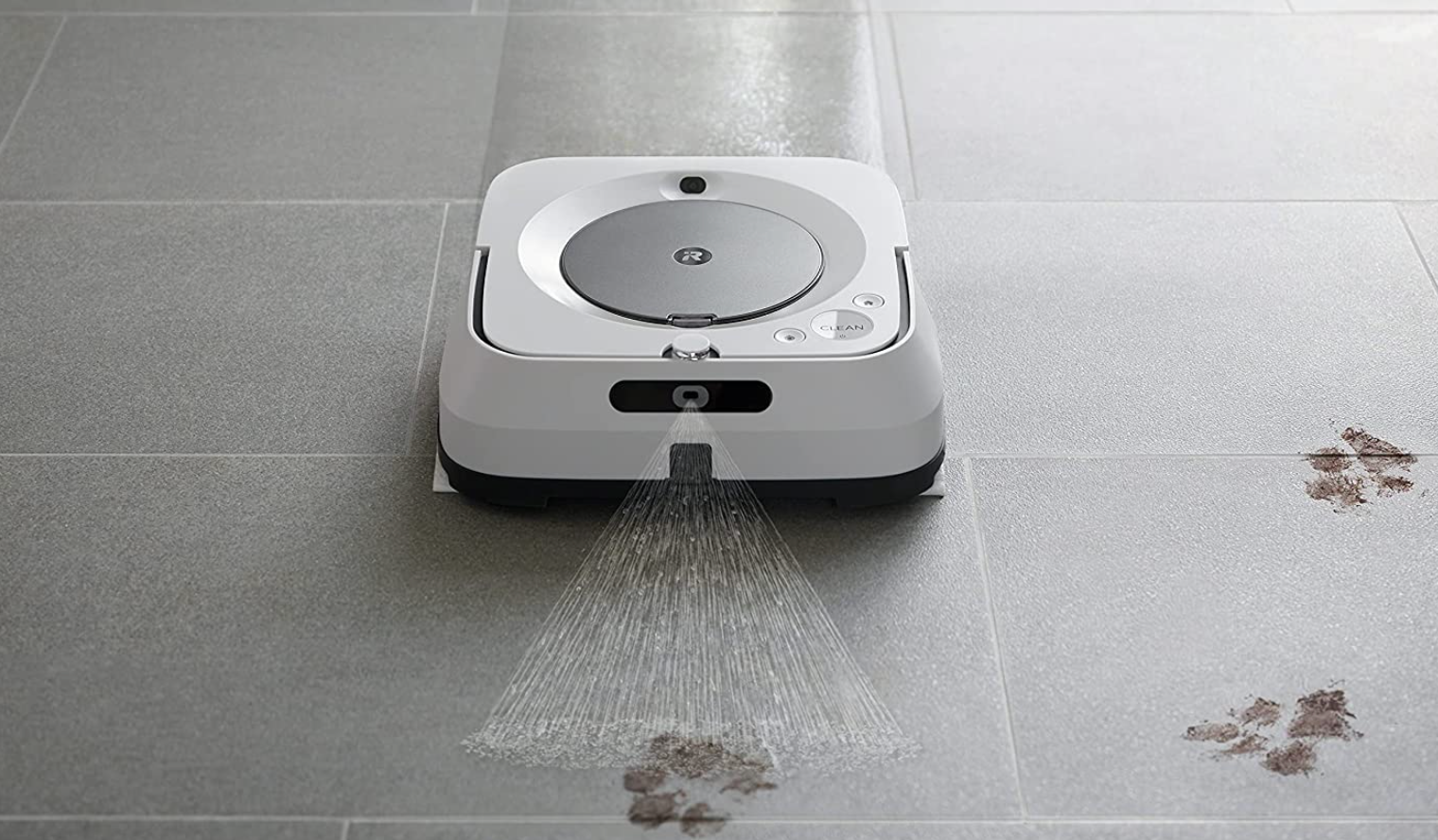 Promising review: "I was a little price leery on this but I've just been struggling to mop as much as I need to. I have three cats and I already have a regular vacuum robot that is amazing, but the idea of a mopping robot seemed different, like it wouldn't be helpful. Then after falling behind on cleaning we finally decided to splurge and buy one and omg — it's amazing. I should have given in a long time ago. My floors are so much cleaner and I have the reusable pads and when I clean them I see just how much dirt this little mop robot is helping me clean." —Christina H.

Get it from Amazon for $349.99.
5.
A bag of fizzy toilet cleaners that work like bath bombs for your toilet. These are so easy to use, you might be able to pass your least fave chore on to your messy roommate. All they'll have to do is pop one of these in, let it fizz, brush, and flush. The fizzing action will deodorize and clean your bowl.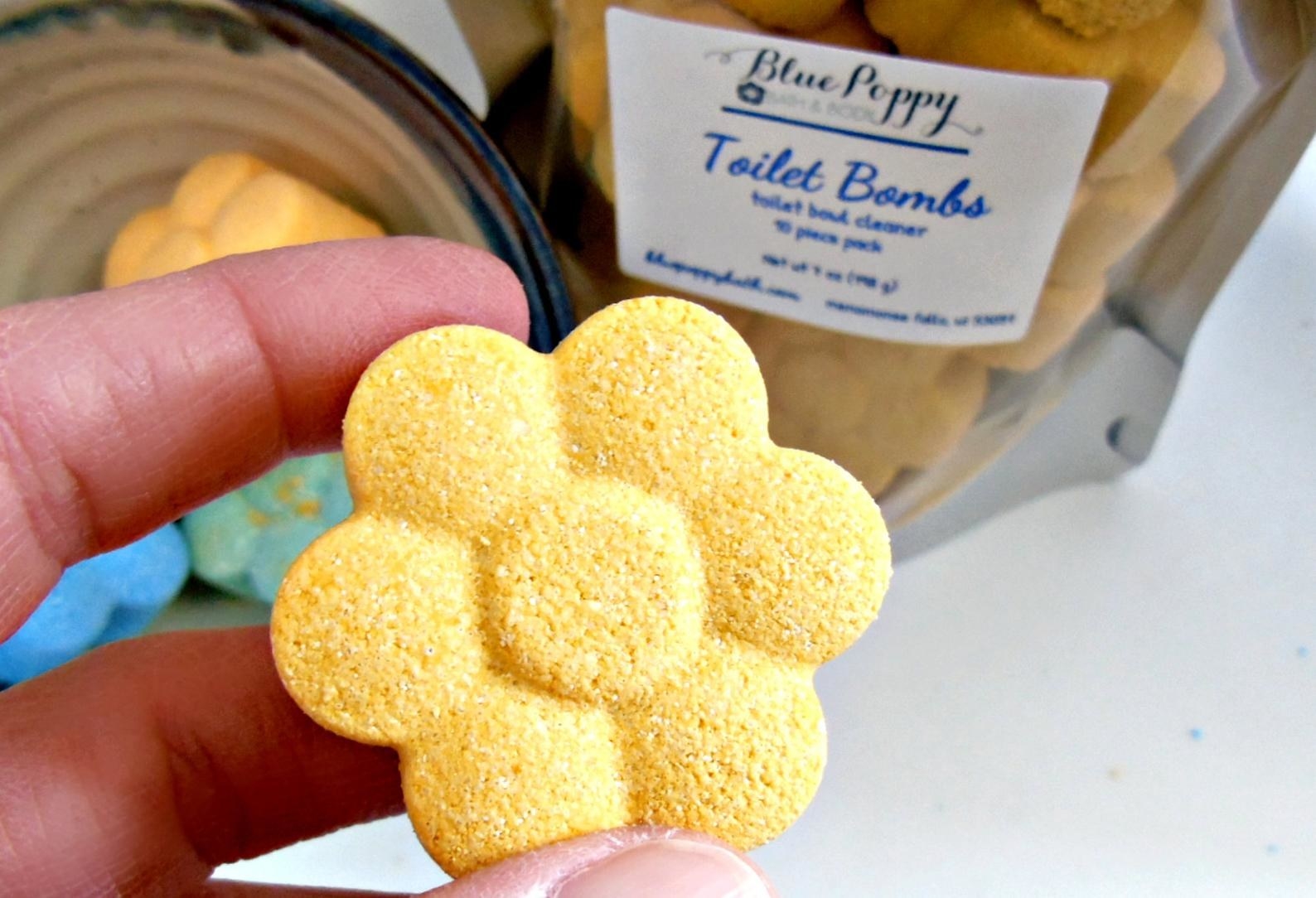 Blue Poppy Bath is a small biz based in Menomonee Falls, Wisconsin that sells homemade bath and body products.
Promising review: "Made my toilet fresh and sparkling clean with just ONE bomb. I ordered the lemon as well as the eucalyptus. I loved both scents!! I will be ordering again!" —Lori. 
Get a bag of 10 from Blue Poppy Bath on Etsy for $9.50 (available in six scents).
6.
Or a Lysol click-on automatic toilet bowl cleaner because it sticks to the inside of your bowl and it will deodorize, remove stains, and freshen your toilet with every flush. So, when your roomie actually remembers to flush, they'll be cleaning the bowl without even realizing it. The best part? You can apply these without touching your toilet and you'll be able to go longer in between cleanings.
Promising review: "This is a nifty design. Easy to use and press on without being a mess using the one-piece design. Beautiful scent. It really does release a pleasant scent each time without being overwhelming." —outlander22
Get a pack of six from Amazon for $4.58.
7.
Bissell Stomp N' Go stain lifting pads if you live with someone who is always spilling something on your carpet. All you'll have to do is place one of these pads over a stain, stomp on it, and the stain will be removed. There's no need to whip out a bunch of cleaning supplies.
The cleaning formula is released when you stomp, so there's no added spray involved! Everything you need is on the pad already.
Promising review: "I never ever write reviews for anything, but I just had to write one for these. We have two dogs and one of them will get sick or have an accident in the house a few times a month. I've used all kinds of carpet cleaner as well as the SpotBot, but they never seemed to really get the stains out. I bought these on a whim because I was desperate to find something that might work and guess what? THEY WORKED! No joke, every stain I have put these on has come out of the carpet. I have told everyone I know about these and have heard great things from them as well. If you are on the fence, just give them a try!" —Angela Mimm
Get 20 pads from Amazon for $27.49.
8.
A set of oven liners to help with messes your "cook" makes but totally ignores. This will catch any drippings from their famous casserole that bubbles over. You won't have to scrub the oven after spills. And they're reusable and easy to clean — just pop them in the dishwasher!
Promising review: "I ordered these on a whim, after cleaning my self-cleaning oven and seeing how some things just won't come off the interior enamel. They fit perfectly, have no discernible odor, and wash easily. I recently had the ultimate test....baked beans that boiled over. After the oven cooled, I pulled the liner out, stuck it in the sink, and all of the dried stuff came off without scrubbing!" —Vicky
Get a pack of three from Amazon for $11.99.
9.
And a pack of stove burner covers because they will catch all the messy splatters your ~at-home chef~ doesn't seem to notice after they've thrown down in the kitchen. You can just throw these out and replace them when they're dirty.
Promising review: "One day I will be the happy owner of a flat surface oven/stove top! But until then, these are the best at keeping your stovetop free from food and grease spills and caked-on messes. They're cheap, so clean up is a breeze. When it's dirty, just remove it, throw it away, and replace it with a new one. It makes cleaning the stove top so easy!" —Melanin Monroe
Get a pack of 50 from Amazon for $10.99+ (also available in a 100-pack and for electric burners).
10.
A self-cleaning litter box if you love your cat but not the messes they leave behind. It's basically like a magic cat toilet that flushes and cleans itself. Now you can be just as carefree and spoiled as your cat since you won't have to constantly clean their litter box.
This litter box is anything but ordinary — it doesn't require litter! It uses septic-safe washable granules that you never have to change. When your cat goes, the liquids drain through the nonabsorbing granules and The Cat Genie scoops and liquefies the solids. 

Promising review: "Works like a charm. Forget scooping litter ever again! This thing is amazing. You never have to change out the granules, just refill when they get low. I take mine apart and give it a good deep clean twice a year, but that's really all the maintenance it requires. I highly recommend!" —Kristen I.
Get it from Amazon for $379.
11.
A TikTok-famous pink cleaning paste so you don't have to freak out every time your little artist draws on the walls or on furniture. This magic cleaner can also be used all over the house to remove stains, grime, and grease.
Promising review: "I used this product for my stove because if there's one thing I dislike it's cleaning. I have used multiple degreaser sprays and they all are so toxic and don't work for me. But this product, oh my goodness; legit a miracle. It doesn't have any type of smell. I put the paste on a cloth, clean the area, then wipe it off with a damp cloth and voilà — magic!" —May
Get it from Amazon for $5.97+ (available in three sizes).
12.
A mess-free toothpaste cap if you're tired of everyone in your household leaving toothpaste all over your sink or buildup all over the tube. This cap is self-sealing and dispenses the right amount of paste every time.

Promising review: "I found a miracle product! After lesson after lesson on how to use toothpaste failed, I went online for help! The photo (above) is after two days (with old tube for reference). This cap really works! No longer will I be cleaning toothpaste from every surface! No longer will I stare at the ceiling wondering how toothpaste got there. Goodbye golfball-sized globs, hello slightly cleaner sink!" —Christina 
Get a three-pack from Amazon for $9.95.
13.
A 15-piece set of airtight food containers to encourage your fam to keep cereal and chips sealed shut so they'll stay fresh and won't topple over and spill crumbs everywhere. These clear containers will also make it way easier for them to find what they're looking for so they won't have to pull everything out of the pantry.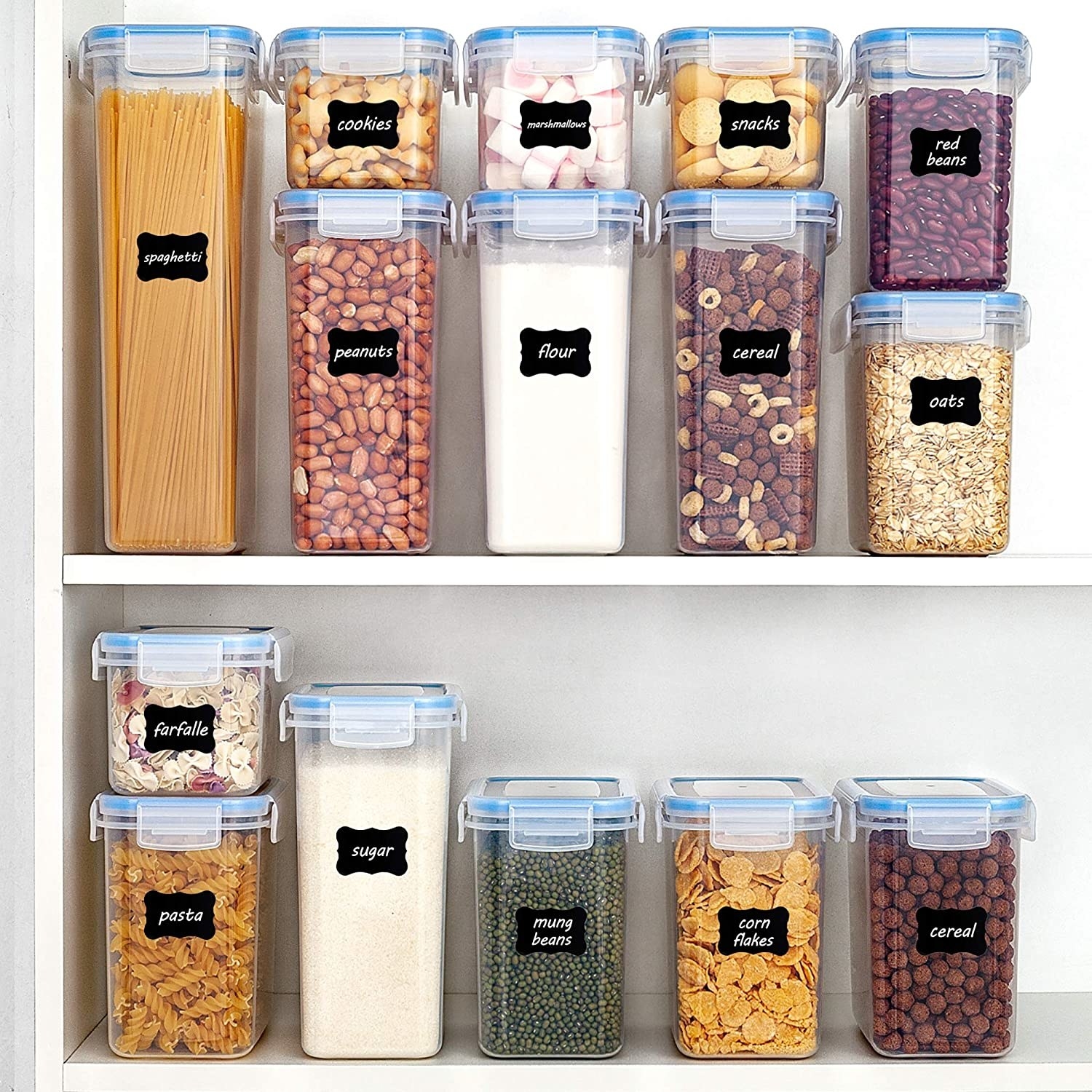 Promising review: "I ordered this set to continue on the road to an organized pantry. There are enough containers and enough variety of sizes to make me happy. I have stored pastas and noodles, dried beans, rice, sugar, instant mashed potatoes, crackers, etc. When I open a box of something, I put whatever is unused into one of the containers and feel very secure that the contents will be fresh and protected from any possible insect problem." —R M
Get it from Amazon for $28.99+ (available in three colors).
14.
A set of grocery organizers if your fridge is a mess and no one puts things in there rightful place. With these clear bins, your fridge will be more orderly and have sections to hopefully encourage your disorganized roommates to put things where they belong.
Promising review: "These are so helpful if your fridge is cluttered. I bought these for my mom who is an extremely cluttered person. I love her to death, but she is not an organized person. Her fridge used to look wild. There would be food piled on top of food, and small jars and containers EVERYWHERE. I bought her these to help her organize everything. Now she can see what she has and everything has a place. Thank you for making something like this to help those that are so cluttered." —MioRioZio
Get a set of six from Amazon for $19.99+ (available in five colors in a 12-pack).