1.
A Baby Einstein Take Along Tunes Musical Toy that plays classical songs inspired by Mozart, Vivaldi, Chopin, and more. It also lights up to keep your little one thoroughly entertained! It's so fun, it might even prevent a meltdown when your baby gets fussy.
Promising reviews: "I LOVE this thing! I bought it before my daughter was born because of high reviews. It's a reasonably priced toy and my daughter has been using it since birth. Whenever she's having a meltdown I break it out of the diaper bag and she's all better. :) I actually memorized the songs and order and they're pretty catchy. Not annoying and overbearing like other toys. I don't know what I would do without it!." —uhhdorkable
"The best baby distractor EVER! Every person with a child must have this toy! I had about five tucked in various places in case one got lost. My son loved them from basically birth and sometimes it would distract him for hours of non-crying! (heaven for a new mother) Of course in the beginning you have to keep pushing the button for them but compared to swinging him in his car seat that was easy! Then we he got older he would spend entire car ides just playing with this one toy. I give it to everyone I know who has a baby." —NH-Mommy
Get it from Amazon for $9.99.
2.
A pack of colorful stacking cups because it has over 77,000 5-star ratings and reviewers are saying it's the best (and probably the cheapest) toy they've ever purchased. They can be used to stack, for water-play, and pretend play — there are so many possibilities.
BTW: These have holes in the bottom for water play and come with a cute star ring to keep them together.
Promising review: "Such a simple and inexpensive toy that has entertained my 10-month-old so much and has been his most used toy so far. He has been playing with these since about 5/6 months old and he just comes up with new ways to enjoy them which has been so much fun to watch him discover. He started by just grabbing them and tasting them. Now he puts them inside of each other, looks for other toys to fit inside them, and pretending to drink out of them. I really want to express how great such a simple toy can be. I will be buying this as an add on for every baby gift/shower that I need!" —GW
Get a pack of eight from Amazon for $11.40.

3.
A Contigo spill-proof tumbler that'll actually keep its promise and won't leak. Even if your kiddo shakes it while it's upside down, not a drop of water will escape — you're welcome!
Promising reviews: "The holy grail of sippy cups!! This cup is THE BOMB! No leaking, easy to clean, my 18- month-old, who wants to do and have everything like his 6-year-old brother, loves this cup! Both boys use them. Not too babyish for my older one and easy enough that my little guy can use them, we now have four of them! I'm sure a couple more are in our future! And the price is great." —shoelover
"I was skeptical that these were ACTUALLY leak proof. After all I have a toddler, they can make literally anything leak or spill. I have been through sooooo many cups trying to find ones that will not leave a puddle of water behind when it's left in its near permanent horizontal resting place on the floor or break or pour when my son inevitably bashes it onto the hardwood floor. The only liquid that comes out is what is left behind in the top of the straw after he drinks from it, which there is nothing you can do to even fix that. These are magnificent! They are easy to clean but then again I only use these for water so thicker liquid or drinks that tend to spoil may be more difficult to clean out. Overall this is the BEST cup I've come across when it comes to capacity, functionality, and most importantly ACTUALLY NOT LEAKING!" —Ashley
Get it from Amazon for $10.47+ (available in various designs/colors and two-packs).
4.
And a Munchkin snack catchers so your child can eat on their own without leaving a trail of Cheerios behind. These cups allow easy access to their fave snack but will prevent them from spilling it everywhere — yup, even if they hold it upside-down!
Promising review: "What a lifesaver! I mean really! My daughter loves her snacks, she also loves to make a mess, give them to the dog, or fill her car seat up with them. Then cry when she has nothing to eat. My wife picked one up at Target and man...we used it so much, we couldn't clean it fast enough. SOOOO we bought a few more. This is a no-brainer!" —jeffgrantMEDIA
Get a pack of two from Amazon for $6+ (available in two color combos and a four-pack).
5.
A sight word Bingo game that'll be a lifesaver when it's time to teach your kiddo sight words because it makes it fun instead of frustrating. Your child won't even know they're learning to read because it feels like a game instead of a lesson.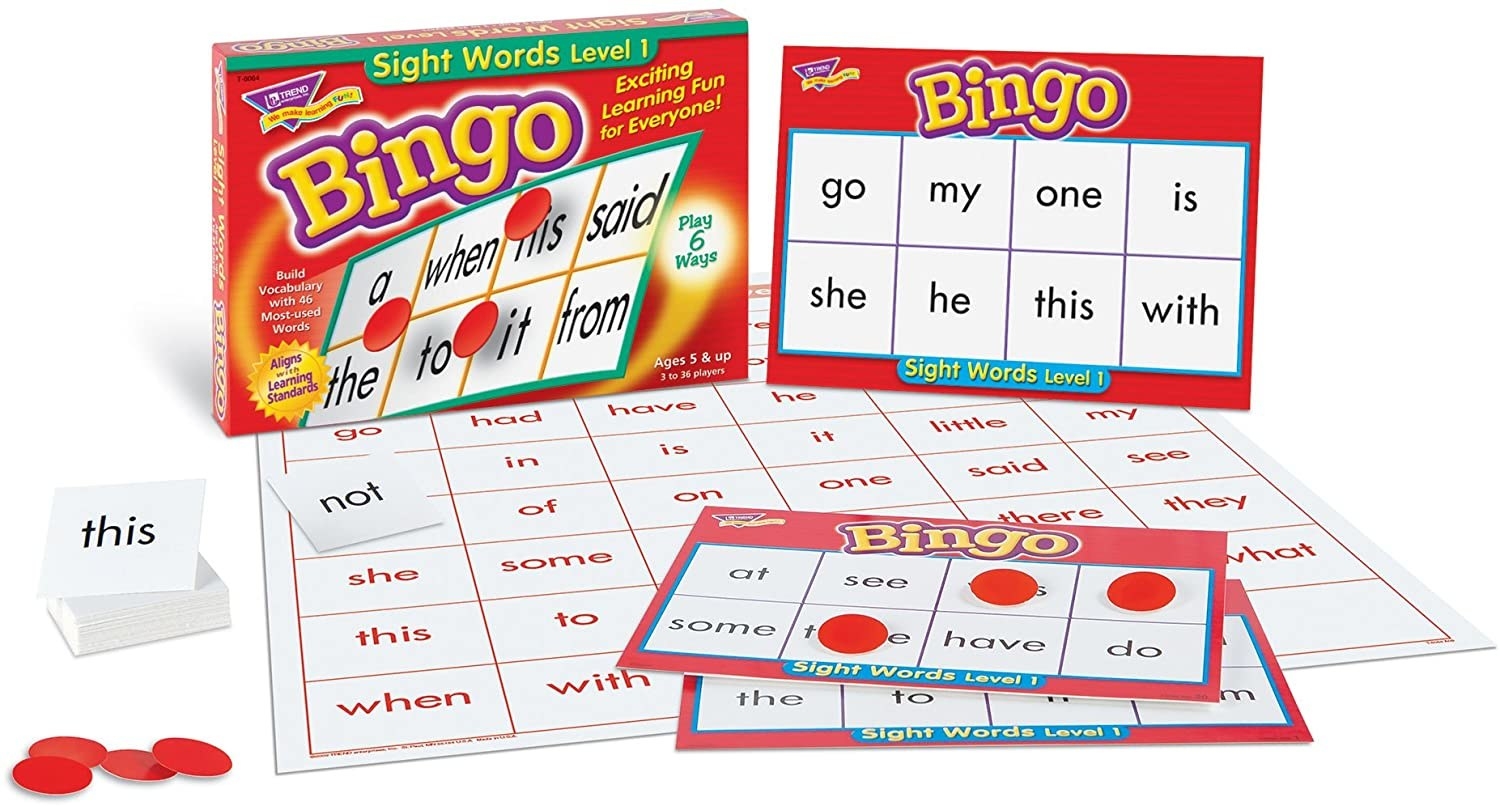 The set comes with 36 playing cards, 264 playing chips, caller's mat and cards, and a storage box. This version is a fun twist on the classic, but instead of calling out numbers, the leader calls out words (there are 46 most-used words), players search their cards for a match and place a red chip on the match. Once a player has covered the spaces on their card needed to win, they call BINGO! 
Promising review: "Our first-grader was feeling really discouraged with her sight words and I've been trying to think of ways to encourage her and get her excited to learn things she doesn't already know. She loved this game! We played with the whole family and her 3-year-old sister even enjoyed playing (we show her the cards and have her find the word that matches on her Bingo card). I think this is a great way to make learning/practicing sight words fun! I am very happy with this purchase and I can see how it would be great for teachers in the classroom as well!!" —Jennie

Get it from Amazon for $9.99.
6.
And a pack of colorful laminated flash cards to help your little one learn their ABCs, 123s, shapes, and colors. Reviewers say it makes learning fun!
Promising review: "My 2-year-old mastered the her numbers, alphabet, colors, shapes, and identifies all animals and objects on the cards. When I first received the cards I thought they may be a little too advanced for her age (18mo old at the time), but I was dead wrong! After about a month and a half of using the flash cards she mastered them! We usually 'play' with the flash cards for only about 10 minutes before her bedtime. This is a great tool in the early developmental stages for any toddler. I'm excited to get her the next card set. Material = durable, same as a normal deck of cards. Size = a little bigger than your typical deck of cards. Fits nicely in pocket or purse, great for keeping toddlers busy while traveling. Overall = A+." —M. Abdallah
Get a pack of 58 cards from Amazon for $13.99 (available in two other versions for babies and toddlers).
7.
A leave-in conditioning spray for curly hair so your kiddo's hair can be frizz- and tangle-free. And it'll help define their curls so they'll look bouncy and more healthy-looking. The best part? It's free of harsh stuff you don't want near your child like parabens, sulfates, and phthalates.
Reviewers say this spray will leave wavy or curly hair (from 2a–4c hair) shiny, soft, and bouncy.
Promising review: "This stuff is fantastic for curly girls! I spray it in my daughter's dry hair in the morning, run my fingers through her ringlets (never ever comb or brush curly hair dry), then clip the top back. It smells amazing, and the price on Amazon is better than other national retailers I've found it at. The price is worth it. Minimizes frizz and keeps curls soft and natural looking. My daughter has soft/fine thick hair." —Carolyn Smith

Get it from Amazon for $7.99.
8.
And a detangling brush because its easy-to-hold design means your kid will be able to tackle knots on their own. Reviewers say their kids can now comb their hair independently with it, and it has over 48,000 5-star reviews.
Reviewers swear this brush works on all hair types: straight, wavy, or curly (from 3a–4c hair).
Promising reviews: "I'm a single dad of a 6-year-old girl and combing her hair is the hardest part of taking care of her. She gets really bad knots in her hair. This brush is the only thing that has ever worked. Thank you so much. She even likes to comb her own hair now." —Eric Phan
"I was shocked at how much easier it was to detangle my 3-year-old daughter's mixed super-curly hair with this brush and she didn't cry. It's a huge win for us!" —Leanna

Get it from Amazon for $10.99+ (available in 10 colors and in two-packs).
9.
A compact Graco Slim Snacker high chair because it's perfect for small spaces and it folds easily (with just one hand, BTW) so you can tuck it away when you're not using it. 
Promising review: "Amazing highchair! Seriously, can't say enough nice things. I love how easy it is to clean, to fold, to use. The storage bin underneath has been incredible! It's very sturdy, lightweight, and not top heavy at all! And it works at our counter height table! The recline option is great too-so easy to adjust even when my son is in it. I looked at a lot of high chairs before getting this one and SO glad I did. This may be my favorite baby purchase to date as far as simplifying and improving my role as Mom." —Sarah C.
Get it from Amazon for $89.97.

10.
And a set of starter spoons to help your baby learn how to feed themselves. These have little crevices that pick up purees and mashed food easily when they dip the spoon in their bowl. This set comes with two stages, so when your little one becomes more of a pro, they'll be able to level up.
The set includes a stage one spoon and stage two spoon. The first stage spoon doubles as a teether, and is designed to introduce babies to holding utensils and exploring purees, as they soothe their sore gums. The second stage spoon is capable of holding more food and can even be loaded with solids for the child to grab and eat.
Note: The spoons don't have a stopper, so please supervise your babies to make sure they don't stick the spoon too far back in their mouth. Recommended for ages 6 months+.
Promising review: "Great skill-building utensil. My baby loves gnawing on these for teething just as much as he loves eating with them! I love that you can load the spoon and hand it to baby to feed themselves. My little one just turned 6 months and uses these spoons with wild success. A must-have for BLW or feeding, in general." —Christopher
Get a two-pack from Amazon for $13.99+ (available in multiple colors and in packs of four and six).
11.
A National Geographic geodes kit so your little geologist can channel some of their destructive behavior into something educational. Plus, what kid can resist smashing things with a hammer?
This science kit includes four natural crystal-filled geodes, one pair of safety goggles, one display stand, and one learning guide.
Promising review: "My daughter is 10 and this kept her busy for HOURS! She had so much fun and was excited every time she got a glimpse of what might be inside. A couple of them were pretty cool, while the rest were just white. She didn't care, she loves them all. She was so proud to gift them to her grandparents." —Michelle
Get a set of four geodes on Amazon for $19.99 (also available in 2, 5, or 10 geodes).
12.
A set of kid-safe plastic knives if your child loves being your sous chef but you're terrified of them cutting into more than just the carrots. These knives aren't sharp enough to cut fingers, but are perfect for your little one to help you chop some veggies.
Note: Children still need supervision while using them, of course.
Promising review: "I've only had these for a couple of days, but already my 4-year-old daughter keeps asking me for things to chop up. They're perfect for the little chef in your life or the kid who want to be a big helper. So far she's easily (and safely) chopped up: lettuce, apples, bananas, strawberries, potatoes, even carrots! I can run my hand along the blade and not cut myself and yet it's designed in a way that you can still chop through veggies and fruits. Another pro is they are super easy to clean and dishwasher-safe. They came exactly as pictures for me: in three different sizes and colors, with a slight grip texture on the handle for little hands. They're nice and lightweight as well so it's not cumbersome for younger kids. Love them!" —Abby Roeller

Get a set of three from Amazon for $9.95 (available in two color combinations).
13.
And Whiskware pancake batter mixer for your chef-in-training who loves to help out in the kitchen. As a parent, I know that extra ~help~ can lead to an extra big mess. But this bottle will allow your little one to mix and pour batter without a mixing bowl or spoons — and without getting batter all over the counter and their clothes.
BTW: You can even store leftover batter in the bottle and pop it in the fridge.

Promising review: "This is the best breakfast invention after the waffle maker. LOVE IT! As someone who makes pancakes or waffles three to four times a week (my kids are pretty spoiled, but breakfast is key to getting through the first part of the school day), this is the easiest and fastest way to get that done. I just add everything to the bottle, shake, and pour into the waffle maker or griddle. When I am done, just add some water, shake again, empty, and then place everything in the dishwasher." —Amazon Customer
Get it from Amazon for $14.99+ (available in two colors and two pancake art kits).