Unless otherwise specified, all sizes in this post are listed in women's.

1.
An off-the-shoulder ruffle sleeve dress because you don't have to have a ton of sparkles to shine. This dress brings the drama if you're looking for a showstopper to ring in the New Year. 

Promising review: "I got so many compliments on this dress, nobody could believe I purchased this dress from Amazon! The fabric is amazing, the shoulder part did not poof up as much as I wanted it to but the dress still looked amazing." —QueenNesha
Get it from Amazon for $62.99+ (available in blue and red and sizes M–XXL).
2.
A short tulle dress if you want to go all out and wear something dramatic and fun. This dress is short, so you can dance the night away.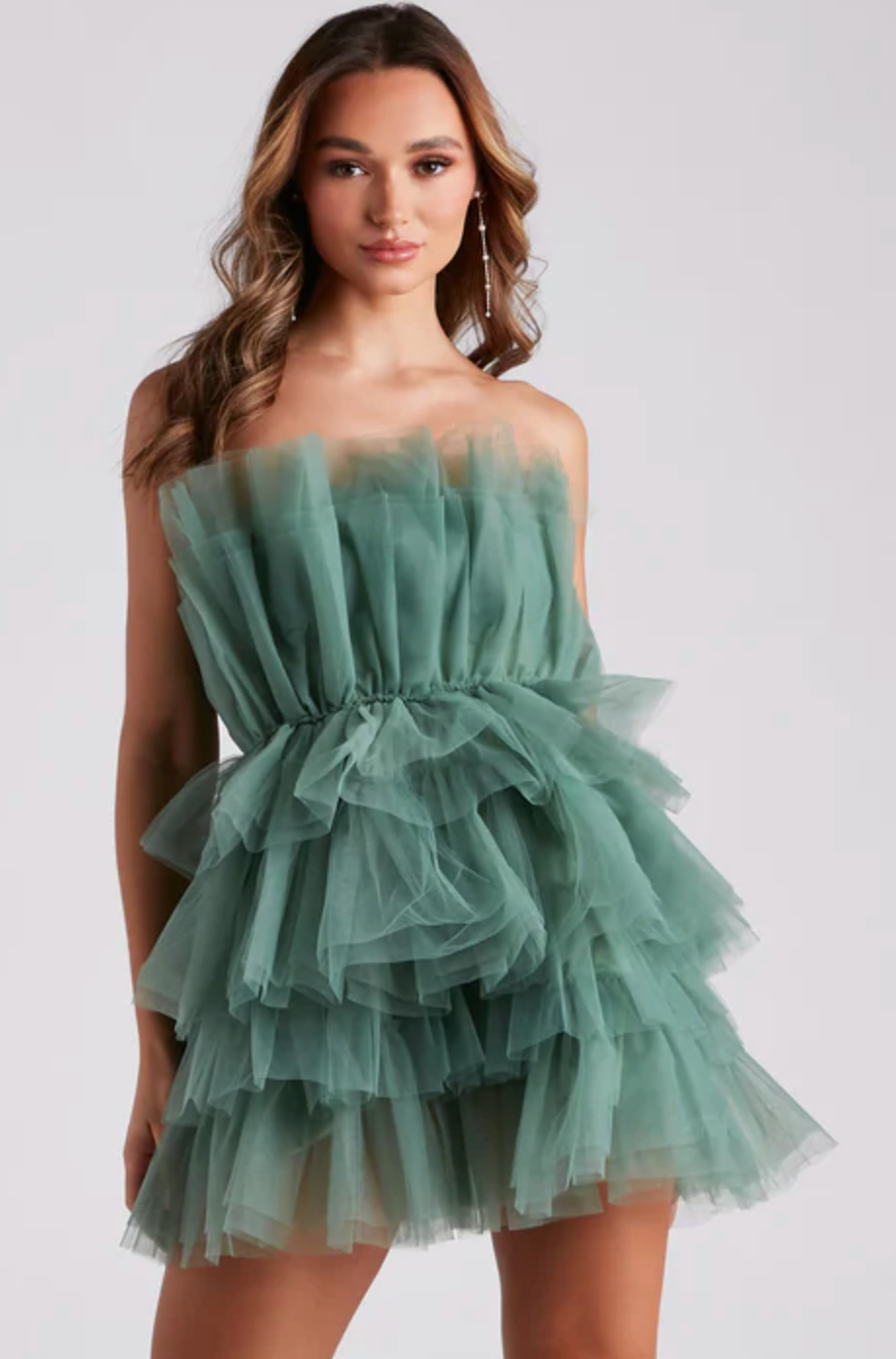 Get it from Windsor for $89.90 (available in sizes S—L).

3.
A floral scuba dress with mesh sleeves, because who said you couldn't rock a floral design for NYE? I'm not waiting for spring to ~smell the roses~ and neither should you.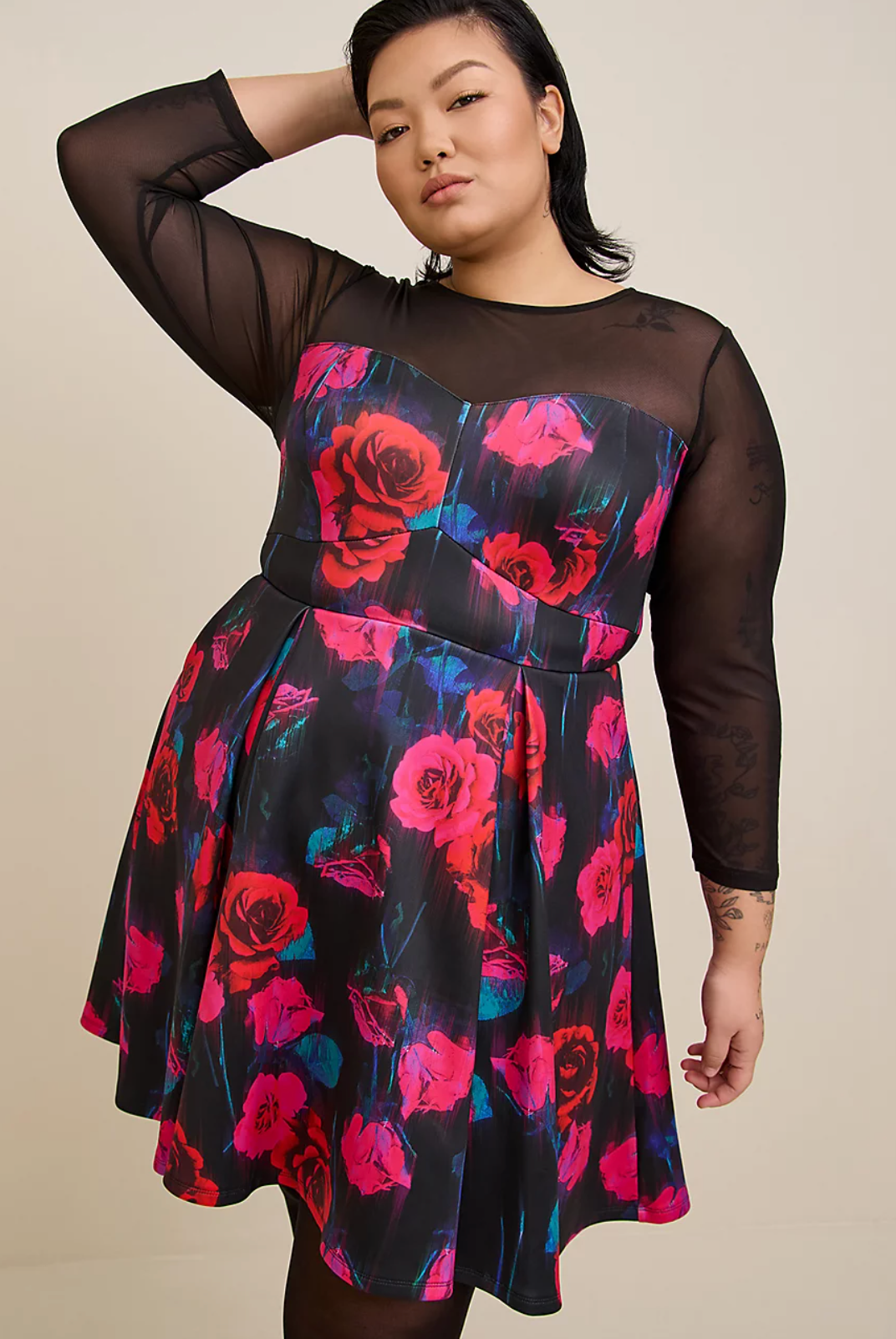 Promising review: "I brought this dress for my anniversary and it fit amazing. The look was elegant and I promise you won't be disappointed." —Alexis Nicole
Get it from Torrid for $89.50 (also available in solid red and sizes 00–6X).
4.
A silky dress with cascading ruffles that comes in so many cute colors, you'll want them all.

Denise Vera Boutique is a family-owned small business based in Virginia.

Promising review: "This dress is so beautiful!! It looks just as it is pictured. I didn't expect such good quality. I am very happy with that purchase!" —izdebska13
Get it from Denise Vera Boutique on Etsy for $119 (available in six colors and sizes S–3XL).
5.
A mini V-neck bodycon dress that can be dressed up if you're going out for cocktails or dressed down if you're celebrating NYE at a house party.

Promising reviews: "This dress is PERFECT! I normally don't buy dresses but decided to step out of my comfort zone and I could not be any more pleased with how this dress turned out! HUGE confidence booster! I DEFINITELY recommend!!!!" —Brook Eiler
"I love it, it looks just like the pictures and it fits really well. I can't wait to order a different color!"—Danielle

Get it on Amazon for $29.99 (available in 14 colors and sizes S–XL).
6.
A V-neck sweater dress with a tie belt if you'll be counting down to 2023 in cold temps so you will be warm and cozy. You can wear it with or without the belt and off the shoulder. 

Promising review: "This dress is everything. I've purchased it in two colors and need more! I've worn it to a bridal shower and date night. It's comfortable and yet dressy. I've worn mine without the belt and it looks amazing either way. This dress is a STAPLE." —Amazon Customer 

Get it from Amazon for $52.98 (available in 19 colors/patterns and sizes S–XL).
7.
A one-shoulder backless gown because it's just so stunning, you'll want any excuse to wear it over and over again.

Marcella NYC is a small biz that partners with the global NGO CAMFED to support girls' education globally. Some proceeds from purchases go towards school fees, books, uniforms, and menstrual products.
Promising review: "Wow. Stunning for one. But just everything about this dress! The quality and fit is amazing. The packaging and speed of shipping was phenomenal! Top notch seller for sure. Thank you so much :)" —Laura 
Get it from Marcella NYC on Etsy for $129 (available in black and red and sizes XS–XXXL).

8.
A puff-sleeve dress if you want a little flair. It has tulle sleeves and a sweetheart neckline. Reviewers say that it also has a great stretch and fits as expected so you can be stylish and comfy.

Promising review: "Super soft, comfortable, and gorgeous!!!! I almost returned it because I didn't wear it for the event I originally planned on wearing it to but I'm so glad I kept it. The sleeves are so beautiful and have just the right amount of drama! It has cups in place so you don't have to wear a bra if you don't want to. However, the cups in place won't give you any lifting. Other than that, I'd definitely recommend you getting this dress!" —Maria
Get it fron Amazon for $31.18+ (available in nine colors and sizes S–3XL).
9.
A bodycon dress that has pearl beaded mesh sleeves if you want something fun and unique. These sleeves add a little edge without over-the-top sparkles. And it looks super luxe but it's under $50!

Promising review: "This is money worth spending without breaking your pockets. I love the stretchy material and that it fits into the shape of my body. The color is exactly as expected. Love this dress. Bought it for my daughter to wear at a wedding. You can't even tell the difference that it's Amazon bought." —golda dulcio

Get it from Amazon for $45.99 (available in seven colors and sizes L–5X).
11.
An off-the-shoulder V-neck dress that will pair perfectly with a statement necklace. Also, you can totally get your money's worth and stash this away to wear again and again when wedding season approaches. 

Promising review: "Loved the dress so much, I'm ordering a different color. Wore it to a wedding and got so many compliments." —nena willis

Get it on Amazon for $40.99 (available in nine colors and sizes S–XXL).
12.
A dramatic halter satin gown if you want a floor-length dress. You can still shine without sparkles in this. And since it's a halter, you can adjust and style the top in so many different ways. Bonus: it's one of those pieces that looks like it'll require your whole entire paycheck — but won't!

Promising review: "This dress is absolutely gorgeous. I wore this for my husband's Army Ball and the color reflection was gorgeous. The material is stretchy so you can fit a size down. The upper portion of the dress you can shape it however you want it which was super nice. The dress is quite long, so be prepared to either pick up your dress while walking or getting it hemmed. All in all, this dress was absolutely beautiful." —Isabella Moo
Get it on Amazon for $78.88+ (available in three colors and sizes XS–XL).
13.
A long-sleeved ruched mini dress to show off your legs and dance your way into the New Year without your outfit holding you back. And reviewers say it's warm — perfect for chilly weather.

Promising review: "Ok, this dress exceeded my expectations. First off, it is lined with the softest fleece-like material. It's not bulky or overly thick, but ridiculously soft. Second, it fits like a glove. It fits exactly as expected. I got the wine red and it's like the color of a lighter pinot. Not overly dark. I will definitely order in another size." —Jamie
Get it from Amazon for $20.79+ (available in eight colors and sizes S–XXL).
Promising review: "Super cute and super comfy. I purchased this dress for my brother-in-law's wedding and I must say, I absolutely loved it. It matched my husband's suit perfectly. It fit like a glove but was very flexible. It was SUPER HOT (outdoor wedding) and this material was the best. No sweat spots or stains. I mean I was absolutely shocked. Just know my cousin is getting married in two weeks and I'm absolutely going to buy this dress again, just in a different color. 🤷🏽‍♀️🤣" —Amazon Customer

Get it on Amazon for $33.99+ (available in 24 colors and sizes S–3XL).