Deep Dish Fajita Pizza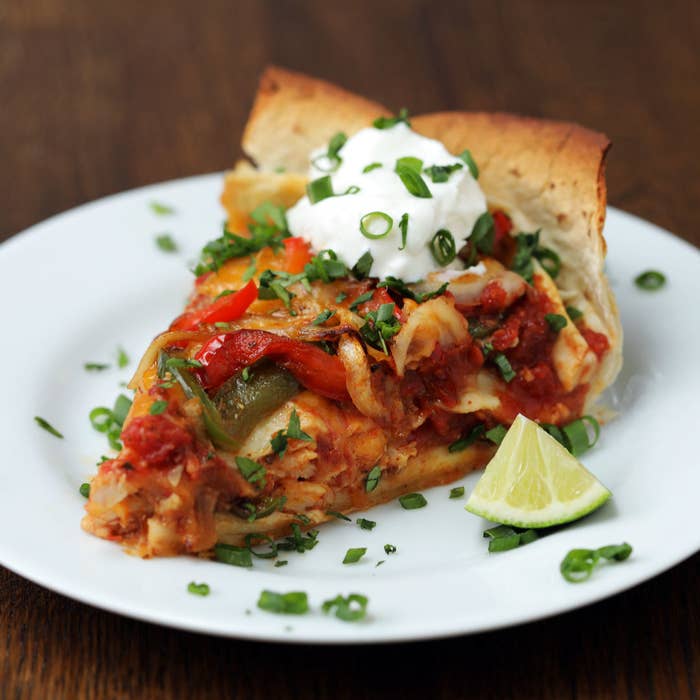 INGREDIENTS
Servings: 8 Slices
1 tablespoon olive oil
16 ounces crushed tomatoes
2½ teaspoons salt
2½ teaspoons oregano
2½ teaspoons cumin
1½ teaspoon garlic powder
¾ teaspoon chili powder
¾ teaspoon paprika
½ red bell pepper, thinly sliced
½ green bell pepper, thinly sliced
¼ onion, thinly sliced
1 large chicken breast (about ¾ pound), thinly sliced
6 large flour tortillas
2 cups Mexican blend cheese
Garnish
Cilantro
Sour Cream
Scallions
PREPARATION
1. Preheat oven to 425˚F/ 220˚C. 

2. Layer tortillas in a 10-inch springform pan; line the edges of the pan to create about 3 layers of tortilla.

3. Mix salt, oregano, cumin, garlic powder, chili powder, and paprika to create a blend.

4. Pour half of the spice blend over crushed tomatoes and mix.

5. Heat olive oil in a large pan. 

6. Season chicken and vegetables with remaining spice blend.

7. Cook the peppers and onion in sauté pan for five minutes. Reserve.

8. Using the same pan, sear chicken for 2 to 3 minutes. Reserve. 

9. Layer half of the tomato sauce mixture and Mexican cheese blend over the tortilla.

10. Top with chicken and an additional tortilla. 

11. Layer the remaining sauce and cheese and top with the cooked peppers and onions. 

12. Cook pizza in the oven for 20 minutes. 

13. Garnish with sour cream, scallions, and fresh chopped cilantro.

14. Cut, serve, and enjoy!