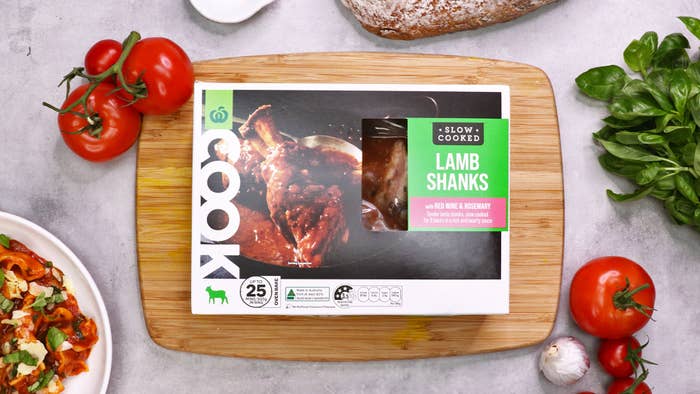 Ingredients:
800g Woolworths COOK Lamb Shanks
For the Pappardelle*:
1 ¼ cups 00 flour + extra for dusting
1 cup semolina flour + extra for dusting
4 eggs
1 tbsp olive oil
1 pinch salt
For the Sauce:
1 onion
3 garlic cloves
2 cups mushrooms
1 tbsp dried parsley
800g diced tomatoes
1 tbsp tomato paste
1 cup water
2 tbsps olive oil
Salt, to taste
Pepper, to taste
To Garnish:
1 cup shaved parmesan
2 tbsp basil leaves, sliced
*Note: To save time use pre-made pappardelle.
Method:
STEP 1: To make the pappardelle, sift 00 flour and semolina flour into a large bowl. Create a well in the centre of the flour, then add eggs, oil and a pinch of salt.
STEP 2: Using a fork, beat the eggs and incorporate the flour with each stir. The mixture should slowly thicken and form a dough. Once it's too hard to stir, place the dough onto a floured surface and divide in half.
STEP 3: Knead the dough for approximately 5 minutes until springy. Cover in cling film, then refrigerate for 30 minutes. Repeat with the other half of the dough.
STEP 4: Once the dough is chilled, remove one ball from the fridge and lay on a lightly floured surface. Roll out using a rolling pin and make it as thin as possible, until it becomes opaque and you can just see through it.
STEP 5: Gently coil the dough into a cylindrical shape and, using a knife, cut slices 2cm thick. Unravel the pappardelle and lay on a tray lightly coated with semolina flour.
STEP 6: Microwave Woolworths rosemary lamb shanks for 8 minutes according to packet instructions, then once heated, remove from packaging and separate the gravy with the bone, and roughly dice the lamb meat on a chopping board.
STEP 7: In a large saucepan on medium heat, add olive oil and onion. Cook for 2 minutes until the onions start to sweat then add garlic, mushrooms and parsley. Stir for 5 minutes until the mushrooms brown a little.
STEP 8: Add the roughly diced lamb, bones, gravy, diced tomatoes, tomato paste, water, salt and pepper to the pan, then allow to simmer for 30 minutes, stirring occasionally. If the mixture reduces too much, top it up with some water.
STEP 9: Once the flavours in the pan have developed, remove the bones and add the pappardelle in one piece at a time, carefully submerging in the tomato mixture. Cook for 8 minutes with a lid on and try not to stir too much to avoid the pappardelle sticking together.
STEP 10: Test the pappardelle, it should be silky, smooth, with a little bite. Once it's cooked through, top the pasta with shaved parmesan and sliced basil leaves for garnish.
STEP 11: Serve and enjoy!