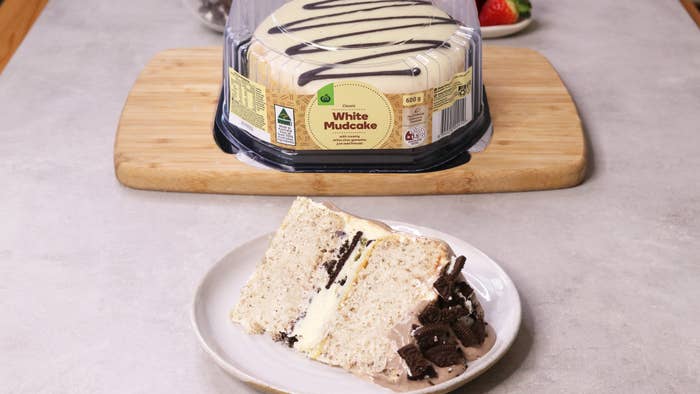 Ingredients:
2 Woolworths White-Choc Mud Cakes
250g unsalted butter, room temperature
2 cups icing sugar
1 tsp vanilla essence
20 chocolate sandwich biscuits
2 cups pouring cream
½ cup condensed milk
½ cup cream cheese
2 tbsp milk
Equipment:
6cm cake collar (acetate strip)
Method:
STEP 1: Separate the chocolate sandwich biscuits and scrape the cream filling with a knife into a bowl.
STEP 2: To make the buttercream, beat butter on medium speed for 6-8 mins until pale and creamy.
STEP 3: Sift the icing sugar, then add in to the whipped butter in increments of half cups. Mix on low until combined, then increase speed to medium for a further 6-8 mins. Scrape down the bowl half way to make sure everything is incorporated. Buttercream should be very light and fluffy. Add vanilla essence and cream filling from the sandwich biscuits to the frosting, then mix once more to completely combine.
STEP 4: To assemble the cake, place a small dollop of buttercream frosting in the centre of a cake board or serving plate and place one of the Woolworths Mud Cakes on top. Spread a thin layer of buttercream over the top of the first cake then add a layer of chocolate sandwich biscuits. Add another layer of frosting on top of the biscuits, then stack the second cake on top with the icing facing down.
STEP 5: Cover the entire cake in a thin layer of buttercream to trap all the crumbs. Use a spatula to smooth the edges.
STEP 6: Take the cake collar and wrap around the top edge of the cake. The collar should sit approximately 1cm below the top edge, which means there's approximately 5cm overhanging on the top. Use tape to reinforce.
STEP 7: To create the melting topping, add milk, the leftover separated chocolate sandwich biscuits and condensed milk to a blender. Combine until smooth.
STEP 8: Combine pouring cream and cream cheese in a bowl and beat for 1 minute until the mixture has very light soft peaks. Don't over do this otherwise the cream will become too stiff.
STEP 9: Add the mix from the blender into the cream and cheese mixture, then combine using a beater.
STEP 10: Pour the melting mixture on top of the cake so that it sits inside the cake collar. It should hold approximately 2 cups. Add crushed chocolate sandwich biscuits on top for decoration.
STEP 11: Lift the cake collar in one smooth motion to release the melting top, which should flow over the cake nice and evenly.
STEP 12: Serve the cake immediately.
STEP 13: Enjoy!