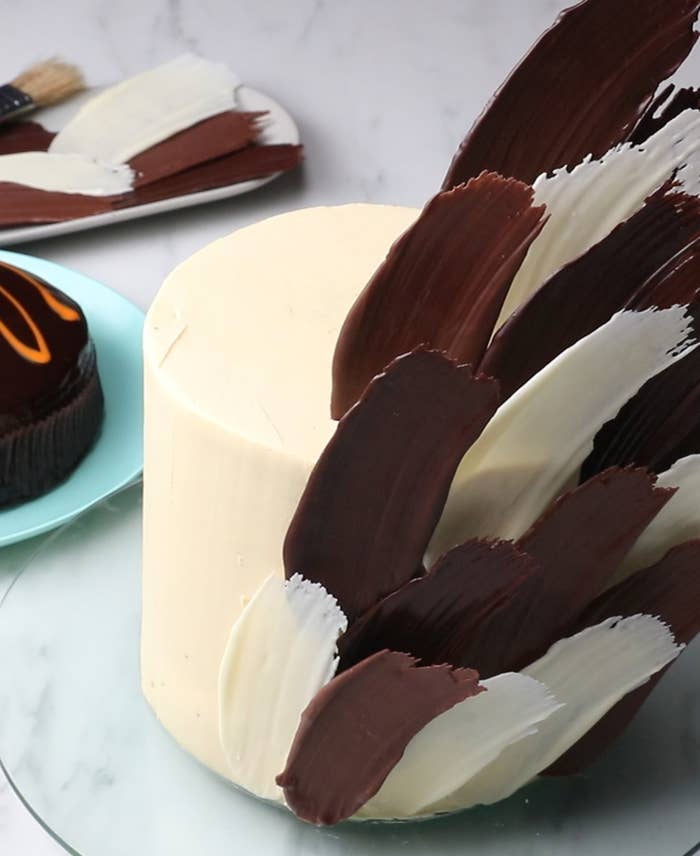 Ingredients:
3 Woolworths Choc Orange Mudcakes
150g dark or milk chocolate
2tbs vegetable oil
Assorted choc orange flavoured chocolates and candies
For the buttercream:
560 grams unsalted butter, at room temp
600 grams icing sugar, sifted
1.5 tablespoons vanilla
Pinch of salt
For the brush strokes:
1500g white chocolate melts
150g milk chocolate melts
150g dark chocolate melts
Pastry brush
Parchment/baking paper
Method:
STEP 1: To make brush strokes separate the white, milk, and dark chocolate melts into three bowls and melt in a double boiler.
STEP 2: Using a spoon place small dollops of melted chocolate on a sheet of baking paper a few centimeters apart. With the pastry brush swipe each dollop of chocolate upwards in a 'brushstroke' motion. Repeat with remaining chocolate and set aside to harden.
STEP 3: To make buttercream, beat the butter on medium speed for 6-8 mins until pale and creamy.
STEP 4: Add the remaining ingredients and mix on low until combined, then increase speed to medium for a further 6-8 mins. Scrape down the bowl half way during mixing to make sure everything is incorporated. Buttercream should be very light and fluffy.
STEP 5: To assemble the cake, place a small dollop of buttercream in the centre of a cake board or serving plate and place one of the Woolworths Mud Cakes on top. Spread a thin layer of buttercream over the top of the first cake and stack with the second cake. Add another thin layer of buttercream to the top of the second cake and stack the third cake so the bottom of it is facing upwards.
STEP 6: Cover the entire cake in a thin layer of buttercream to trap all the crumbs then refrigerate for 20 mins.
STEP 7: Remove from the refrigerator and cover in a final layer of buttercream, smoothing the top and sides.
STEP 8: Add brush strokes on cake to complete design.
STEP 9: Enjoy!
Try the limited edition Woolies choc-orange mud cake, available at Woolworths stores across the country from 3 June 2019.