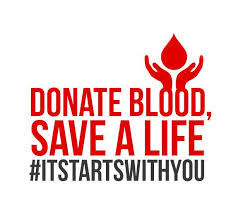 Why should you give blood? Because you can make a difference!
Why give? There may be trauma victims, cancer patients, or even people with sickle cell or other blood disorders that are in need of a blood transfusion. So why not donate to help save a life?
But before donation, make sure you get at least eight hours of sleep, eat a healthy breakfast or lunch, make healthy food choices like eating proteins, complex carbohydrates, and foods rich in iron. Avoid iron busters because they may reduce the absorption of iron by your body. Avoid eating chocolate, high fiber foods, medications like phosphate salts or antacids, and caffeinated beverages. Drink a few extra glasses of water or fluids in the days before you donate because if you drink water within 10-30 minutes before donating you may be less likely to become dizzy or lightheaded.
The blood donation process begins with registration; remember to bring a photo ID and if required the signed parental consent form. Then, Red Cross employees will take your temperature and also measure your blood pressure and pulse. Then a staff member will cleanse an area of the arm and continue the process. Afterwards, you should spend at least 15 minutes enjoying refreshments in the recovery area.
Wondering what to eat the night before you donate? Look at the following examples of healthy food choices:
Cereals
Beans
Fish
Watermelon
Red meat
Bread
Yogurt
Fruits
Orange juice
Rice
Veggies
This post was created by a member of BuzzFeed Community, where anyone can post awesome lists and creations.
Learn more
or
post your buzz!