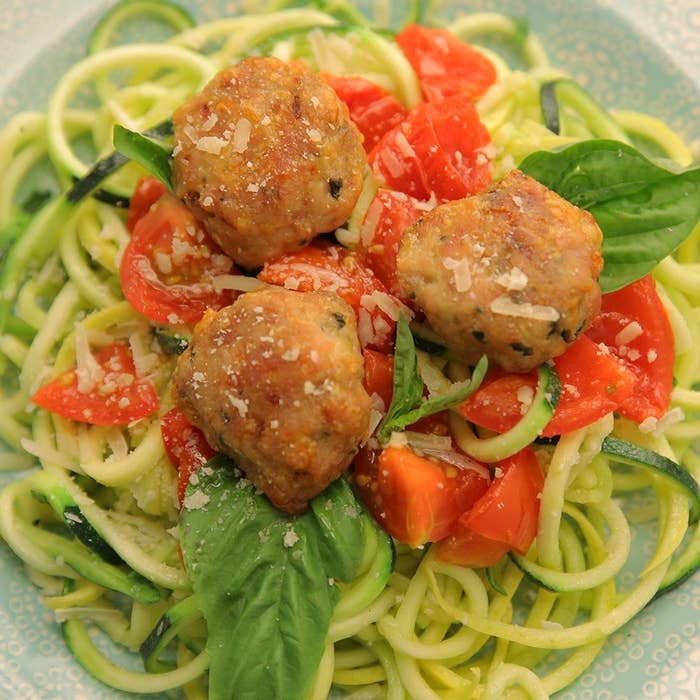 Spaghetti Zoodles and Chicken Meatballs
INGREDIENTS:
2–2 1⁄2 lbs boneless chicken thighs (2 packages)
3 yellow summer squash
3 zucchini
4 ounces Parmesan cheese
1 cup fresh chopped tomato (or 1 can of diced tomatoes) 1 teaspoon red pepper chili flakes
1 tablespoon sea salt
4 tablespoons olive oil, divided
Salt and pepper
1⁄2 cup fresh basil leaves
PREPARATION:
Grated Cheese
1. Cut parmesan into 2" long pieces. Using the KitchenAid grater, grate cheese and divide in half.
Meatballs
Preheat oven to 450 ° F (230°C).

Using the meat grinder attachment, grind chicken thighs along with 6 basil leaves.

Combine ground chicken with 1⁄2 the grated parmesan, as well as with salt and pepper

flakes.

Shape into 11⁄2–2" meatballs.

Place on a lined baking sheet and drizzle with 1 tablespoon of olive oil. Bake for 10

minutes and turn, continue cooking until evenly browned (about an additional 6–8 minutes).
Zoodles
Remove stems and ends of squash and zucchini to fit the KitchenAid attachments. Spiralize using the spiralizer.

Over medium-high heat, cook squash and zucchini zoodles in 2 tablespoons of olive oil, until just softened, about 4–6 minutes. Be sure not to overcook. Vegetables should have a bit of "bite" and should not be mushy.
Tomatoes
Over medium heat, gently warm tomatoes in 1 tablespoon of oil until just warmed through (if using fresh tomatoes, do not over cook).

Place zoodles in large pasta bowl, then top with tomatoes and meatballs.

Garnish with remaining Parmesan and basil leaves.
Citrus Granita
INGREDIENTS: 8 lemons
2 grapefruits
5 oranges
1⁄2 cup sugar
1⁄2 cup water
Handful mint leaves, roughly chopped
PREPARATION:
Cut all of the fruit in half. Using the KitchenAid citrus juicer attachment, juice all the fruit.

Pour sugar and water in a small saucepot. Place over medium-high heat and bring to a

simmer. Whisk, letting simmer for a minute, then remove from heat.

Stir mixture into citrus juice. Stir in chopped mint.

Pour the liquid into a shallow metal pan. Freeze for 2 hours, then use a whisk or fork to

stir up the sorbet every 30 minutes to achieve a granita texture.