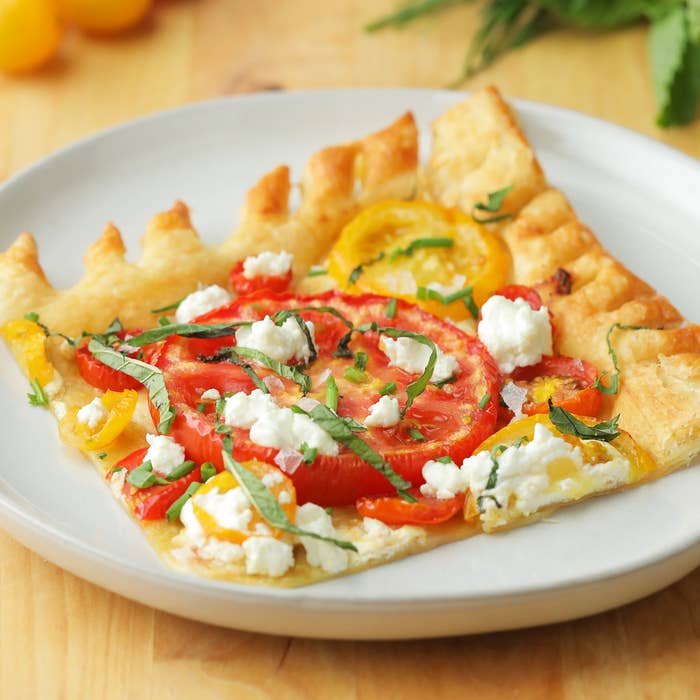 INGREDIENTS
1 large sheet of puff pastry dough from 4 packages of dough
1 tablespoon Dijon mustard
1 egg whisked
3 pounds of assorted tomatoes, mix of colorful cherry tomatoes and small red tomatoes
12 ounces goat cheese crumbled, divided in half
Olive oil
1 tablespoon snipped chives
1 tablespoon roughly chopped mint
Salt
Sea salt
PREPARATION
1. Thaw puff pastry dough in a refrigerator overnight.
2. Working on a well floured surface, dust the puff with additional flour and roll out
very thin, between 1/8 –1/16 of an inch. Use a sharp knife to trim into a
10x14-inch rectangle. Brush off any remaining flour and transfer to a
parchment-lined baking sheet.
3. Using the knife, gently score a ½-inch border around the entire edge.
4. Inside the border, dot the mustard in a few places. Use a pastry brush to spread
into a thin, even layer, taking care not to go over the border.
5. Using a pastry brush, paint the egg wash on the border. Chill for 20 minutes.
6. Preheat the oven to 400ºF.
7. Wash all tomatoes, then thinly slice and toss them with a few generous pinches
of salt. Set a colander on a bowl and press them out in the colander. Let drain
while the puff rests.
8. Spread half of goat cheese in a single layer onto the puff dough, taking care to
avoid the border but going to the edge. Spread the tomato slices over the goat
cheese in an even layer.
9. Transfer to the oven and bake for 30 minutes.
10. Remove from the oven. Drizzle with olive oil and sprinkle with the remaining goat
cheese.
11.Return to the oven and bake for 5 minutes, until the top layer of goat cheese just
begins to soften.
12. Garnish with chives and mint. Season with additional sea salt, if needed.