Holiday Ham Ring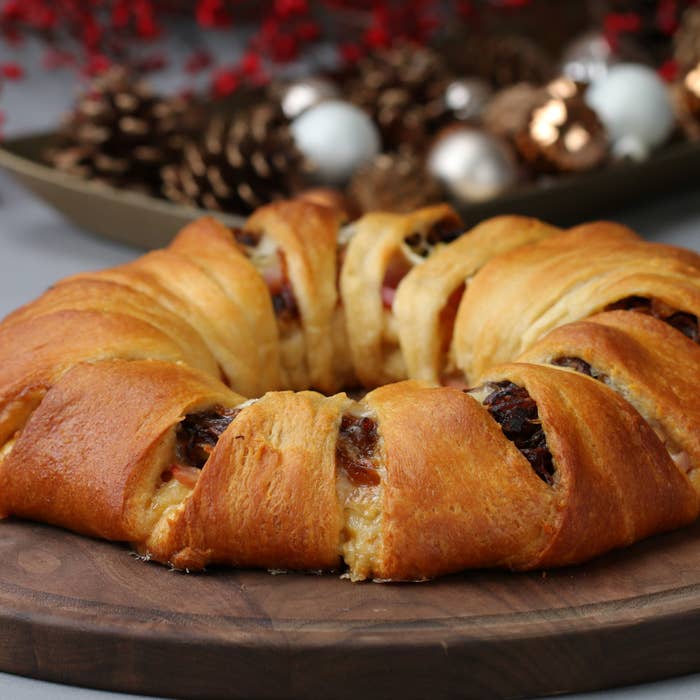 INGREDIENTS
¼ pound spiral-cut ham, cubed
2 tablespoon unsalted butter
1 large onion, thinly sliced
1 small wheel brie cheese, sliced
1 green apple, thinly sliced
1 tablespoon Dijon mustard
2 rolls crescent rolls dough
Fresh herbs for garnish
PREPARATION
1. Heat a large sauté pan over medium heat and add the butter. Caramelize the onion until golden brown and very soft, stirring occasionally.
2. Preheat oven to 375˚F/190˚C.
3. Unroll the crescent roll dough and separate into triangles. On a large baking sheet, place a small bowl (about 5 inches in diameter) in the center. Arrange the triangles in a ring around the bowl, overlapping slightly. The points should be facing outward.
4. Spread the Dijon mustard on the dough close to the ring. Layer the ham, apple, brie, and caramelized onions on top of the Dijon.
5. Bring the top of the triangle over the filling, and tuck the edges under the bottom layer of dough. Repeat around the ring until the entire filling is enclosed.
6. Bake 25-30 minutes or until golden brown.
7. Cut into wedges.
8. Enjoy!