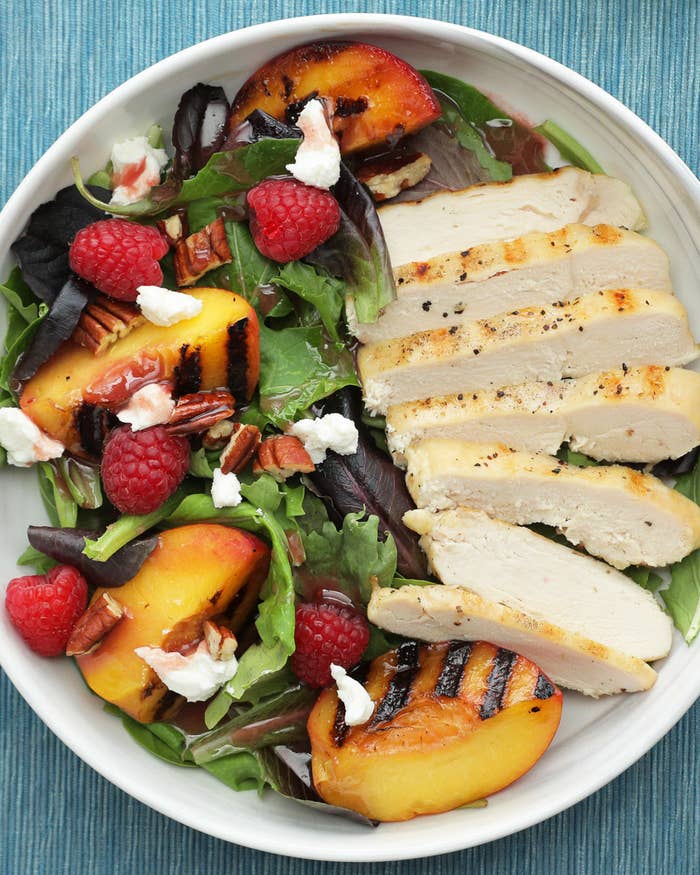 2 antibiotic-free chicken breasts
Olive oil
Salt

Pepper
7 peach halves, pits removed
1 cup raspberries
Mixed lettuces

½ cup goat cheese crumbles
½ cup toasted pecans, roughly chopped
Vinaigrette:
3 tablespoons Dijon mustard
3 tablespoons raspberry jam
1 tablespoon honey
¼ cup red wine vinegar
¾ cup olive oil
⅛ teaspoon salt
1. Place the chicken breasts on a cutting board and cover with plastic wrap. Using a pounding tool or the back of a skillet, gently pound the thick part of each chicken breast until it flattens into a uniform thickness. Drizzle with a little olive oil and season with salt and pepper. Let sit for at least 30 minutes to come up to temperature.
2. Preheat a grill pan to medium/medium-high heat for 5 minutes. Grill the chicken breasts for 5 minutes on each side, until internal temperature of 165°F (74°C). Turn off the heat and let the chicken rest for 2 minutes on the hot pan, then transfer to a cutting board and let rest for 5 minutes more. Slice each breast into 10 pieces.
3. Preheat a grill pan to high. Drizzle the peach halves with olive oil. Grill for 3 minutes or until well marked. Transfer to a cutting board and slice each half in half again.
4. To make the vinaigrette: Whisk together the mustard, jam, honey, and vinegar. Pouring the oil in a thin, steady stream, whisk into the vinegar mixture until incorporated, then whisk in the salt.
5. To assemble the salad: Divide the lettuce, peach wedges, raspberries, goat cheese, pecans, and grilled chicken among 4 plates/bowls. Drizzle with the vinaigrette.