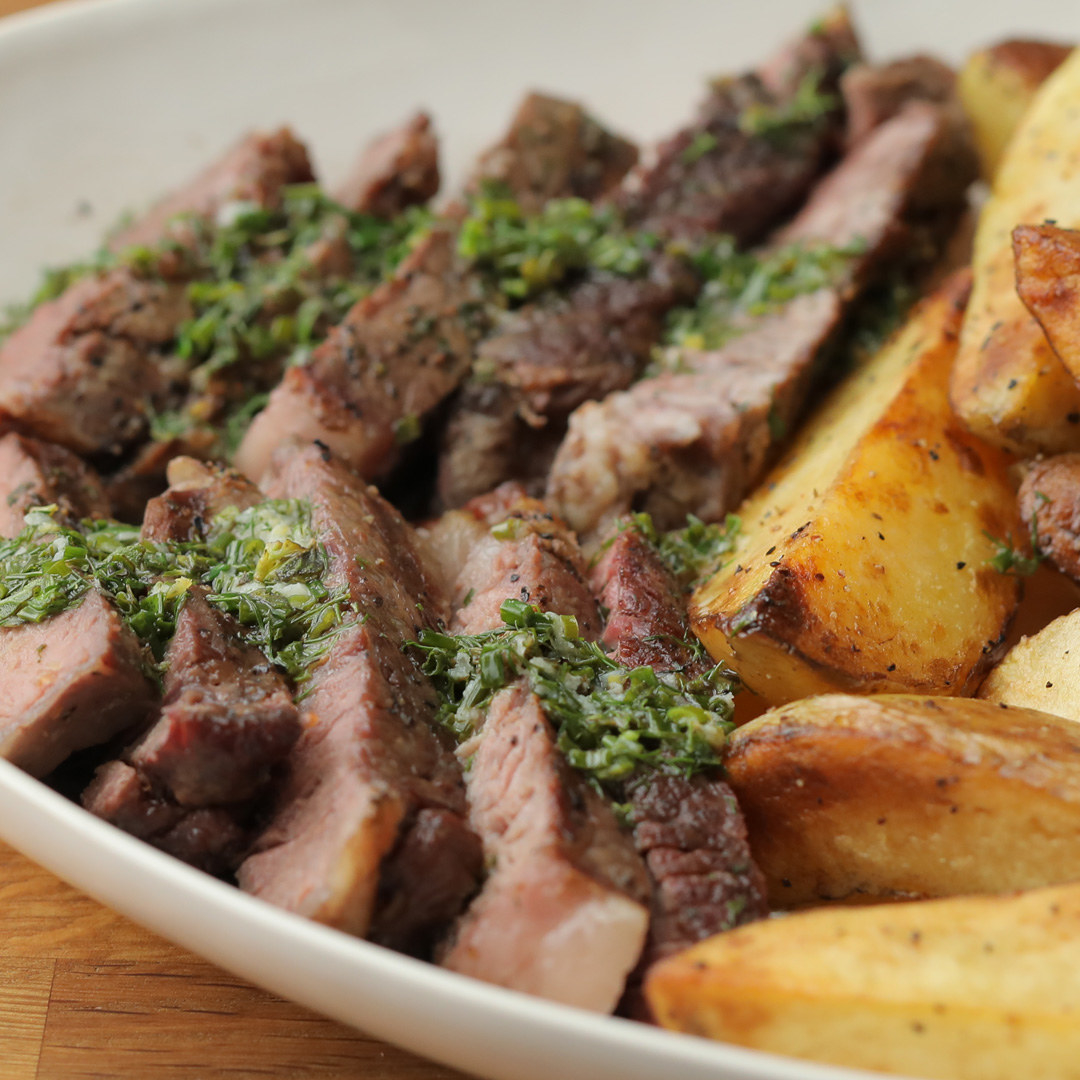 INGREDIENTS

2 angus beef rib eye steaks (about 2½–3 pounds)
Olive oil
Salt
Pepper
1 pound Yukon Gold potatoes or fingerlings
Herb butter:
1 stick softened butter
6 tablespoons mixed, chopped herbs, such as parsley, chives, and oregano
½ teaspoon garlic paste or microplaned garlic
¼ teaspoon lemon zest
Pinch of salt

PREPARATION
Generously season the steaks with salt
and pepper.

Place the potatoes in a small pot and
cover with 1 inch of water. Salt the water well and bring to a boil over
high heat. Boil until tender when pierced with a knife, approximately 8–10
minutes. Drain and spread out onto a baking sheet until cool enough to
handle.

Preheat a gas grill to medium high.

Cut the potatoes into quarters and season
with salt and pepper. Drizzle with 2 teaspoons olive oil.

Preheat a large cast-iron skillet on the
grill. Heat for 5 minutes. Add the remaining tablespoon of olive oil to
the pan and lay the potatoes out in a single layer. Let cook for 15–20
minutes, without disturbing, until browned in some places.

Grill the steaks for 10 minutes on each
side, until internal temperature of 145°F (63°C). Let rest for at least 2
minutes prior to slicing.

To make the butter: Place all ingredients
in a small bowl. Using a rubber spatula, stir all ingredients together
until well combined.

To serve: Slice the steaks and transfer
to a platter. Dab the steaks and potatoes with room-temperature herb
butter or, alternatively, serve with slices of herb butter from a chilled
log. (The herb butter may be transferred to plastic wrap and shaped into a
log. It should be wrapped well and chilled for 2 hours to be cut into
slices for serving.)

Looks like there are no comments yet.
Be the first to comment!