Cauliflower Fritters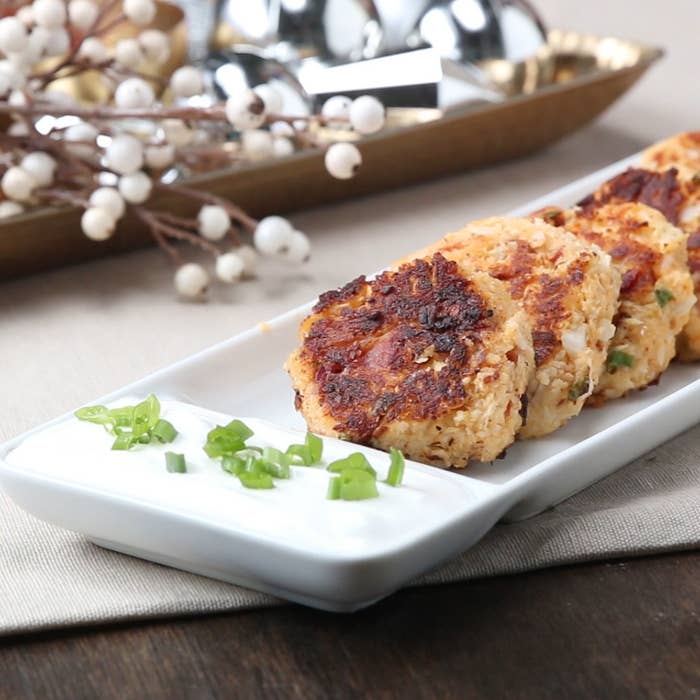 INGREDIENTS
Servings: 8-10
1 small head cauliflower, cut into florets
8 pieces bacon, cooked and crumbled
½ cup sliced scallions
1 tablespoon hot sauce (optional)
2 eggs
1 ¼ cup shredded cheddar cheese
¼ cup parmesan cheese
½ cup bread crumbs
Salt
Pepper
Garnishes
½ cup sour cream
½ cup sliced scallions
PREPARATION
1. Add the cauliflower florets to a bowl with 1 inch of water at bottom of the bowl. Cover and steam in the microwave about 4 minutes, or until soft. Drain the water.
2. Place the steamed cauliflower florets in a food processor and pulse until it resembles rice. (This can also be chopped with a knife).
3. In a mixing bowl, combine the cauliflower rice, bacon, scallions, hot sauce, eggs, cheeses, and bread crumbs. Season with salt and pepper, and stir. Cover and chill for 30 minutes.
4. Heat a large skillet over medium-high heat. Add enough vegetable oil to lightly coat the bottom of the pan.
5. Shape bite-size patties with the mixture and fry until golden brown on both sides.
6. Top with sour cream and scallions.
7. Enjoy!