Butternut Squash Braid
Butternut squash wrapped in a flakey delicious braid. Get the ingredients at your local Walmart: http://bzfd.it/2eW8irQ.
Butternut Squash Braid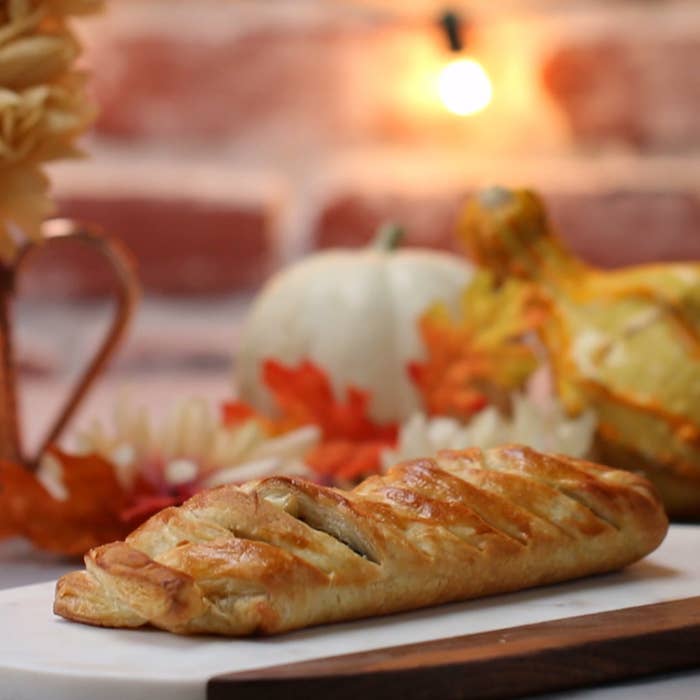 INGREDIENTS
Servings: 8 (recipe makes 4 braids)
1 (16 ounce) bag precut butternut squash
1 tablespoon olive oil
1 pound mild bulk Italian sausage
1 cup diced onion
2 cloves garlic, minced
2 sage leaves, chopped
8 ounces baby spinach
1 ½ cups Italian cheese blend, divided
2 packages frozen puff pastry dough (4 sheets)
Salt, to taste
Pepper, to taste
1 egg, beaten
PREPARATION
1. Preheat oven to 400˚F/200˚C.
2. Heat a large sauté pan over medium-high heat and add olive oil. Add the Italian sausage, garlic, and onion. Break up the sausage pieces and stir until cooked through.
3. Add sage and spinach, and cook until spinach wilts. Remove from heat.
Poke holes in the bag of butternut squash and microwave 3 minutes.
4. Stir the cooked butternut squash and cheese blend into the sausage and spinach mix.
5. Roll out the puff pastry squares.
6. Using the vertical fold line in the pastry as a guide, cut diagonal lines along the left and right side of the pastry square, about an inch apart. Remove the corner pieces.
7. Fill the center with about ¼ of the filling.
8. Starting from the top, fold down the flap, then alternate right and left until you are close to the bottom. Fold the bottom flap up and finish alternating between right and left. Tuck any extra puff pastry underneath.
9. Brush with egg wash.
10. Bake for 20-25 minutes until golden brown.
11. Cut into wedges and serve immediately.
12. Enjoy!