I got invited to attend BLACK ADAM ROCKS CANADA, a premiere event by Warner Bros. Canada.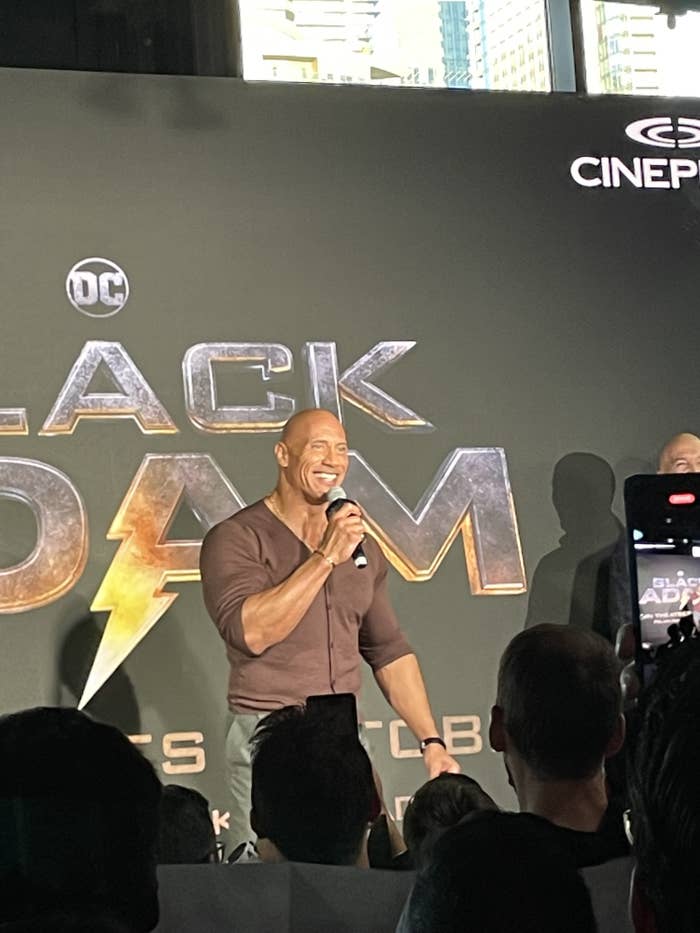 And yes, that is People Magazine's Sexiest Man Alive for 2016, Dwayne "The Rock" Johnson!
It was a night filled with music, games, finger food, Teremana tequila (obviously), topped off with a private screening of DC's Black Adam !
Although I was flattered with the luxe of a premiere event and starstruck for 3 hours before the actual screening, I can objectively say Black Adam might be the contender to beat for 2022's Comic Book Movie of the Year! And yes, I did see Matt Reeve's The Batman; and no, I did not drink too much Teremana.
Story Line (**Soft Spoilers**)
Like any superhero story that hasn't been seen or featured on screen before, Black Adam starts out in the past. We see a young slave boy living in Kahndaq digging away looking for the powerful element know as 'Eternium' - which the ruler, King Ahn-Koht (Marwan Kenzari), plans to use to create the "Crown of Sabbac" which will give its wearer great power. After witnessing an untimely and unfair death of one of his people, this boy leads a revolution against their tyrants. As expected, the boy gets sentenced to a beheading for treason. Just as he is about to get his head chopped off, he is summoned by Shazam (Djimon Hounsou, not Zachary Levi) to be "The Champion."
Fast forward 5000 years to present day Kahndaq is still oppressed, this time by the Intergang. A university professor named Adrianna (Sarah Shahi) her brother Karim and colleague Ishmael aka Sabbac (also played by Kenzari for family- lineage consistency as he is a descendant of King Ahn-Koht) are on a quest to find the crown. They are ambushed by Intergang members upon finding the crown, and Adrianna recites a spell that awakens Teth-Adam (Dwayne Johnson), who wastes no time in slaughtering the Intergang members.
Amanda Waller (Viola Davis) finds out this pulse of energy and destruction, and declares Adams awakening a threat. She summons the "Justice Society of America" (JSA) - a team the predates the in-universe established Justice League. We then get soft introductions to Hawkman (Aldis Hodge), Dr. Fate (Pierce Brosnan), Cyclone (Quintessa Swindell), and Atom Smasher (Noah Centineo). The JSA tries to put Black Adam down to rest, but immediately fails. The JSA explain to Adrianna (who supports Black Adam and rolls her eyes at the JSA) that Black Adam is actually a madman who was imprisoned.
While all of this is going on, Sabbac kidnaps Adrianna's son, Amon (Bodhi Sabongui), as collateral for the crown. Black Adam (who has developed an unlikely emotional connection for Amon as he teaches Black Adam how to be a superhero like the Justice League, and gives him the name 'Black Adam') and the JSA vow to get Amon back from Sabbac.
Then the usual tropes; Black Adam clashes with the JSA in their methods and morals while hunting down Sabbac (anti-hero vs superhero just like in Deadpool), Amon is "saved" and Sabbac gets the crown and "instantly dies" (like Joker in The LEGO Batman Movie), if you didn't read the comics the identity twist that Teth-Adam is actually ***** and the real Champion was ***** but ******, so now he surrenders to Amanda Waller and Task Force X, the plot twist when the JSA and Adrianna realize Sabbac is exactly where he wanted to be, and he returns to the world more powerful than ever, the JSA is getting their ass handed to them, **** sacrifices themself to summon Black Adam from Task Force X, who then arrives at the perfect place at the perfect time and defeats Sabbac.
The JSA and Black Adam go their separate ways, with Black Adam vowing to stay in Kahndaq as not a ruler but a guardian. In a mid-credits scene, Amanda Waller (via hologram) advises Black Adam to never leave Kahndaq, which Black Adam responds, "There's no one on this planet that can stop me," reminiscing The Rock's sentiments in the days leading up to the release. Waller says she can call in a favour from people, "not from this planet," to which Black Adam responds, "Send them all," before destroying the hologram. As the smoke clears a figure emerges, which is none other than Henry Cavill's Superman who says, "We need to talk."
What's Good?
As on origin story which starts out in the past, I was expecting a lot of exposition in this movie, especially with the introduction of the JSA. To my surprise I can say with great pleasure that is not the case at all! Black Adam does a great job with disguising exposition as spectacle. We are shown (not told) of what makes Black Adam badass and unstoppable within the first 5-minutes of being awaken (even with his own version of the iconic Quicksilver scene from X-Men: Days of Future Past). We are also shown who the JSA are and what makes them special. This "showing-not-telling" tactic of storytelling is alleviating and refreshing to see, especially since DC has done so in past with Batman v Superman: Dawn of Justice, Suicide Squad, and Shazam! (to name a few) illustrating their struggle and desperation to play catch-up with Marvel. This allowed for a satisfactory and complete story to be told, that doesn't leave a lot of plot threads and rely on sequel set-ups to keep people on board (although, Black Adam was briefly setup in Shazam!).
I also appreciate how the in-universe establishment of Black Adam was declared but not to "in-your-face," with comedic references to world-ending events *ahem Thor: Love and Thunder*. We got some Justice League memorabilia in Amon's room, and Amanda Waller (who has been to most consistent thread in these things). The most exciting part was the mid-credits scene with the return of Cavill's Superman, and I appreciate this was done after the movie when the story was complete and it wasn't integrated into the plot (which I originally thought would happen when DJ was teasing the meetup on his press tour).
What's Bad?
If by bad you mean 'badass', then this entire movie is! In all seriousness, my query is the inevitable meet-up between Shazam and Black Adam. Black Adam to Shazam is what Venom is to Spider-Man, afterall! I love the detail and intricacies of the Black Adam costume, but it makes the costumes of Shazam and the rest of of the Shazam family look like laughable cosplay.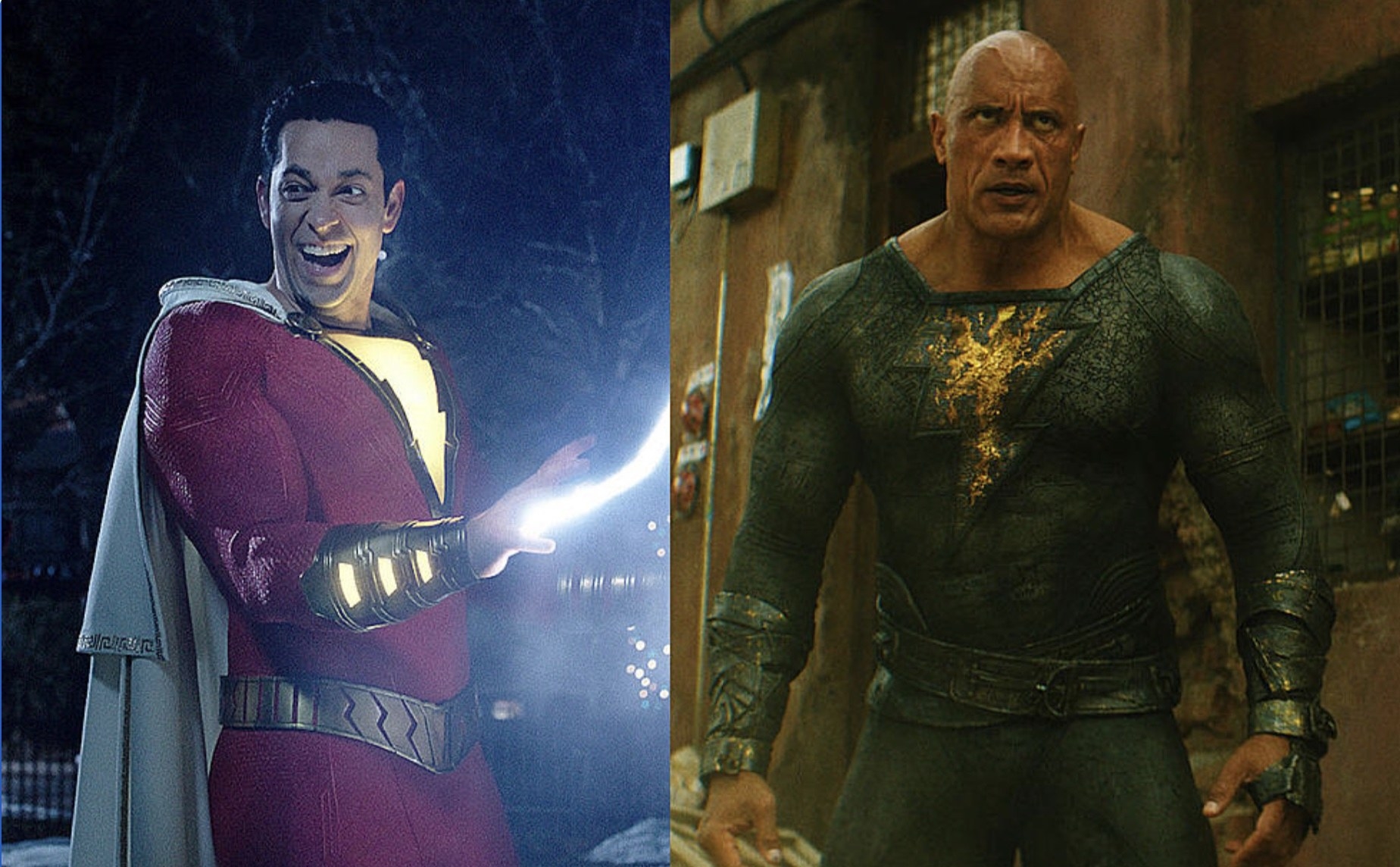 TL;DR
Although Black Adam didn't necessarily change the hierarchy of power in the DC Universe, it did improve the skill of storytelling.