Jamestown, Williamsburg, Richmond. Cannons, carriages, colonial houses. Heritage, history, Americana. Biddies in bonnets churning butter by hand. In what is often called "the birthplace of a nation," Virginia has produced eight of our presidents, including four of the first five. (Yes, even the OG G-Wash.) The Old Dominion State shaped the development of this country in its nascency, and it is well regarded in the annals of American history for its role.
But what if we told you Virginia is wine country, and good wine country at that? You'd probably say, "No! Biddies. Bonnets. BUTTER." That's what we said too (in not so many words) when we learned we were going to Charlottesville, Virginia, for the Monticello Wine Trail. Virginia is all Southern charm to a couple of New Yorkers like us, but we were about to learn otherwise in four days, five wineries, and glass upon glass upon... Well, you know how this goes.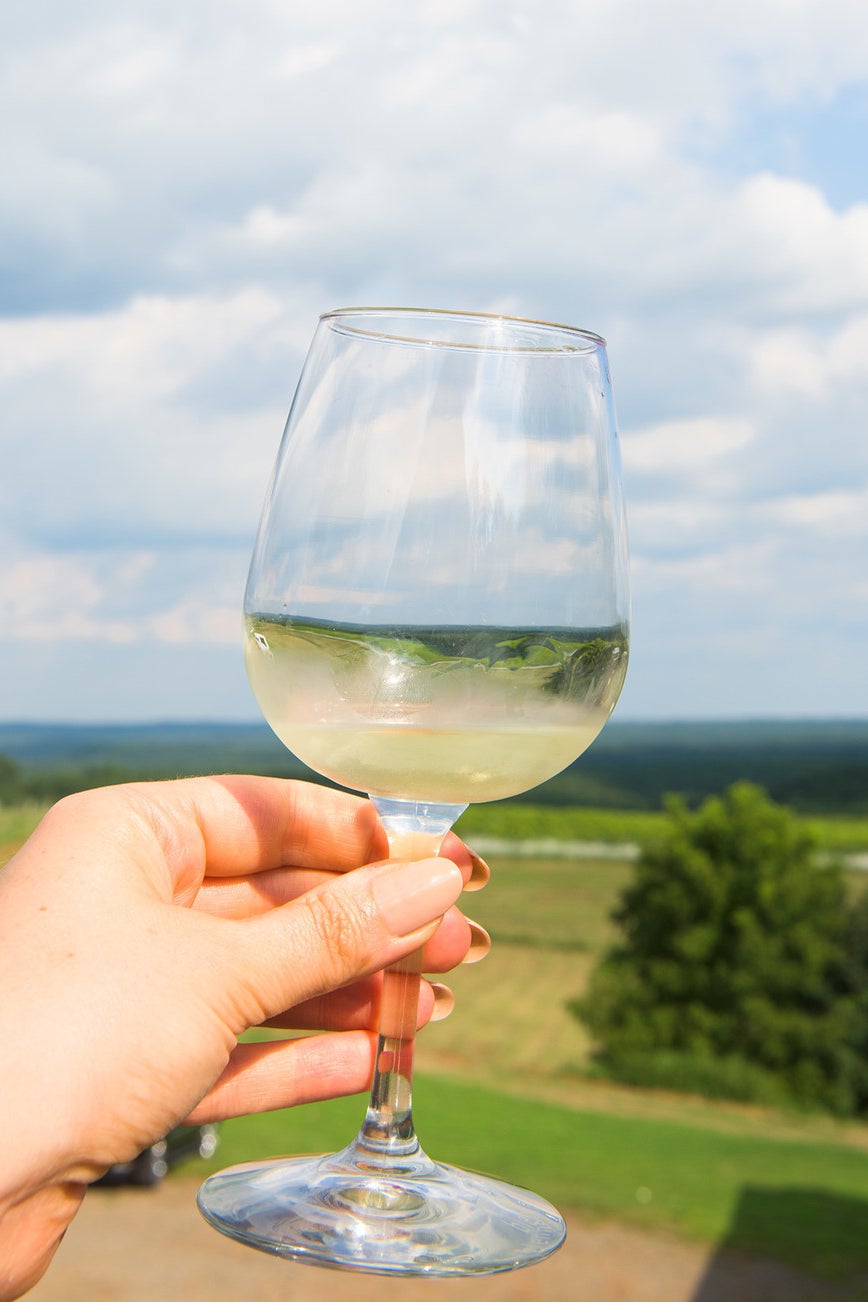 The Monticello Wine Trail, we would come to find, was inspired by Thomas Jefferson's obsession with wine. (Ol' Tommy reportedly spent 12% of his presidential salary just on wine, so clearly the man had his priorities in all the right places.) This actually made practical sense, as one of the first things we learned was how much Virginia and wine capital of the world, Bordeaux, have in common. OK, well maybe just clay soil and (summer) climate. But that's enough for some great grape-growing.

Barboursville Vineyards was our first stop. The very suave Luca — the resident winemaker there since 1990 — treated us to an incredible Italian lunch at Palladio. His diluted Italian accent made his descriptions of food and wine sound delectable. Luckily, the taste lived up to the talk, especially the gnocchi with the locally harvested mushrooms.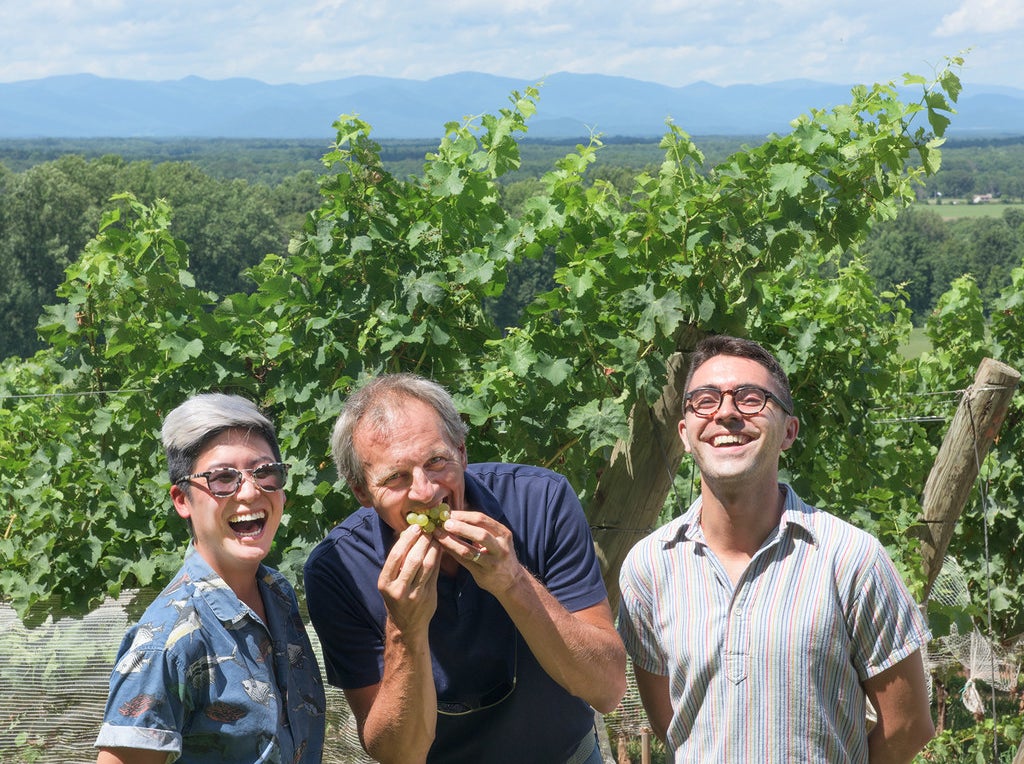 But truly, the star of the show (aside from Luca) was the wine. We were introduced to Nebbiolo, which neither of us had tried before. A pleasantly astringent, medium-bodied red with strong tannins, its grape is predominantly grown in the Piedmont region of Italy, where Luca hails from. Then there was their vermentino (Jordan's favorite white), which Luca described as an old-world classic from Sardinia: crisp, floral, and mineral — extremely fragrant all around.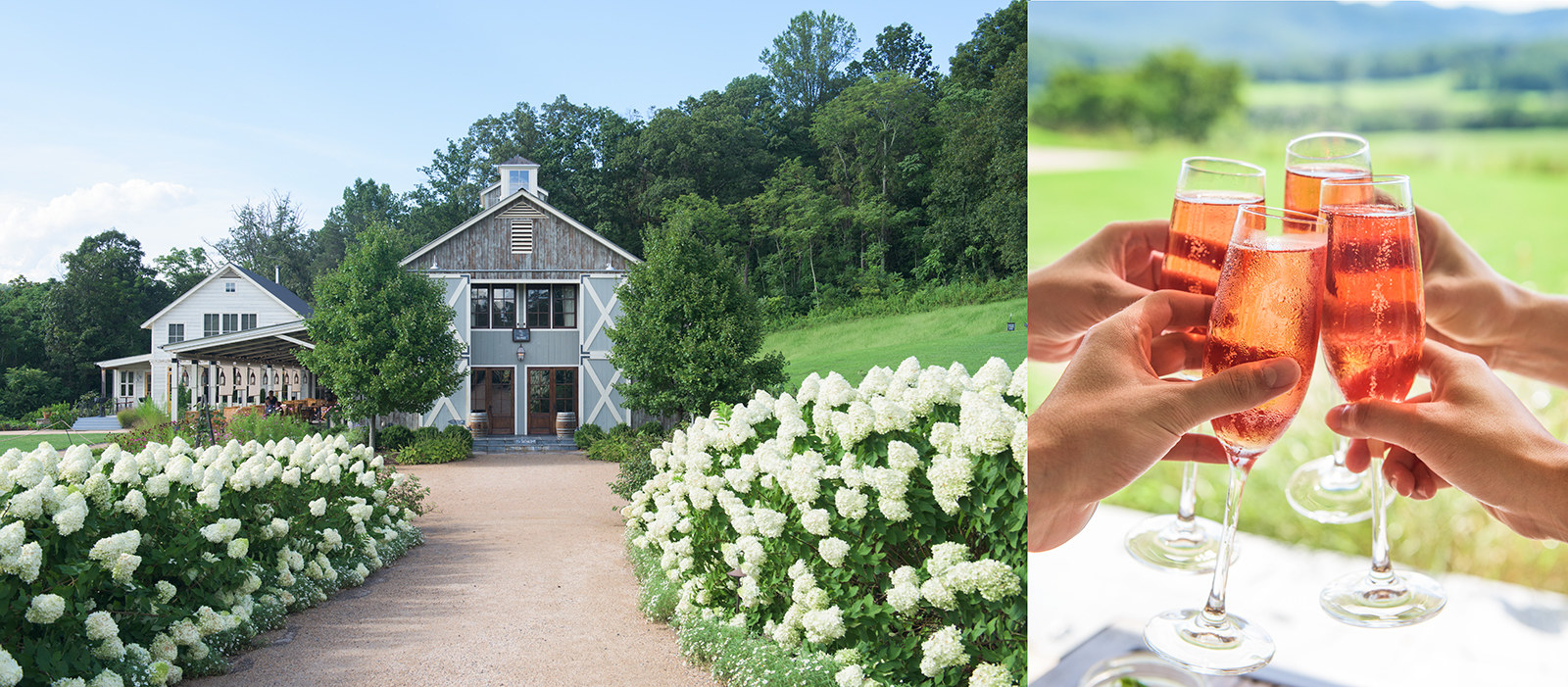 Next was Pippin Hill Farm and Vineyards, where we took a tour of their well-tended garden. Filled with everything from bursting blooms of hydrangeas, heavy enough to bend their stalks, to fennel to apples to figs, this beautiful and functional garden supplies their kitchen with plenty of ingredients for their vineyard-to-table dishes. We settled our sweaty selves on their shaded deck to hide from the heat and enjoyed a crab cocktail, a skirt steak, and a cheese board, all paired with a refreshingly crisp bottle of sparkling rose.
If Barboursville is a charming Italian romantic, and Pippin is a beautiful bride with a weakness for farm-to-table and wood finishes, King Family Vineyards is a perfectionist who goes for tradition and polo. King Family is set on a sprawling property that's surprisingly flat, which makes sense when you find out David King searched specifically for a plot where he could play his favorite game.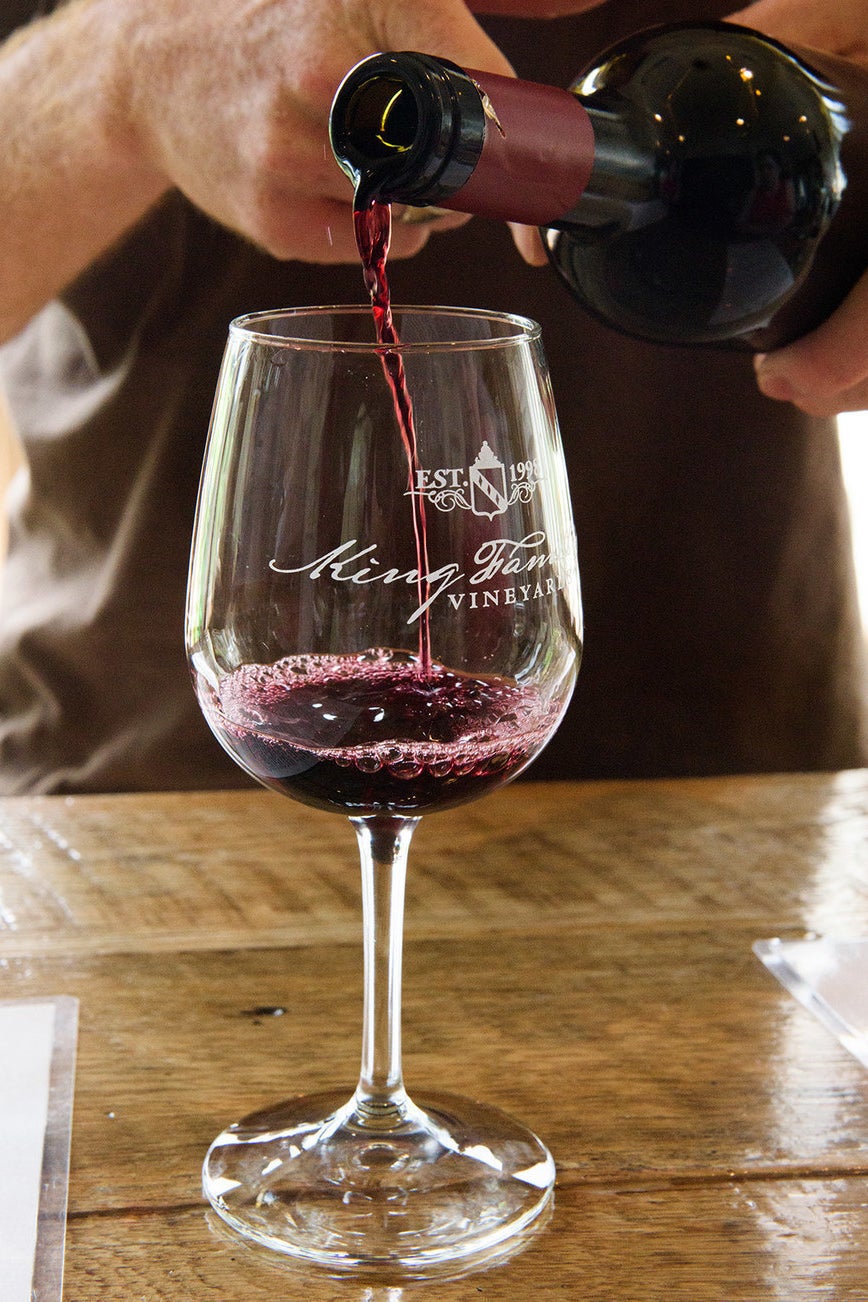 Sunday polo aside (yes, they actually play a game of pick-up polo here on Sundays), the winery here is state of the art. The folks at King Family will stop at nothing — including starting tiny, controlled fires and flying helicopters to blow hot air down — to get the perfect grapes. There's even a "squawk box" that amplifies prerecorded sounds of various birds of prey to scare away other birds.
Then there was the refreshingly unpretentious Blenheim Vineyards. Kristy, the only female winemaker we met on our journey, gave us a short tour and regaled us with stories of Dave Matthews (owner of Blenheim and apparently just as cool a dude IRL as he seems). As you would expect of a winery owned by Mr. Matthews, Blenheim had the feel of a gorgeous bar — high, peaked ceilings and an entire wall of windows to allow sunlight to spill in — and patrons sipped wines as casually as they might sip a dollar beer. In fact, they had wine on tap!
While I wandered around the tasting room (already too WINE DRONK to continue sampling) and observed the wine production facility through the glass-paneled floors, Jordan was converted, if only for a few blissful hours, into a *gasp* chardonnay lover(!) under Kristy's spell.
After Blenheim, we traveled to Glass House Winery. The first thing you notice when you pull up to Glass House is the greenhouse. The first thing you notice when you walk up to Glass House is the giant pineapple mosaic. These are two big clues into what you're about to experience: a uniquely tropical environment in which to sample vino. The husband-and-wife team behind Glass House, Jeff and Michelle, lived in the Honduras for a while, and the influence is verdantly apparent.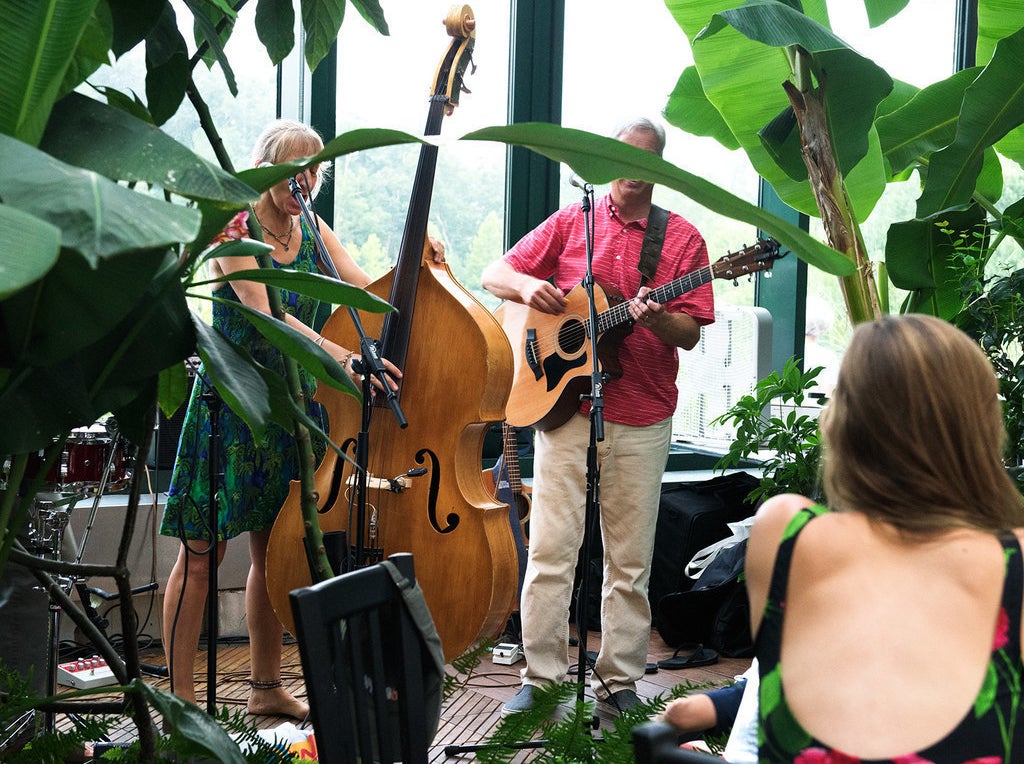 They had a matchless viognier we all marveled at and drank too much of while Jeff told us about their use of the chambourcin grape. This is technically the most environmentally friendly grape one can use. It's a disease-resistant French-American hybrid that was originally bred at Cornell University. Oh, and, yeah: THEY BREED WINE GRAPES AT CORNELL.

Of course, our wine adventure would not have been complete without our super-helpful drivers and guides from Blue Ridge Wine Excursions. We owe a lot to the ever-knowledgeable captain of our drinking ship, Andrea, who runs things at Blue Ridge. She drove us from winery to winery and was not without her fair share of wine knowledge. Plus, she basically saved our lives (and licenses).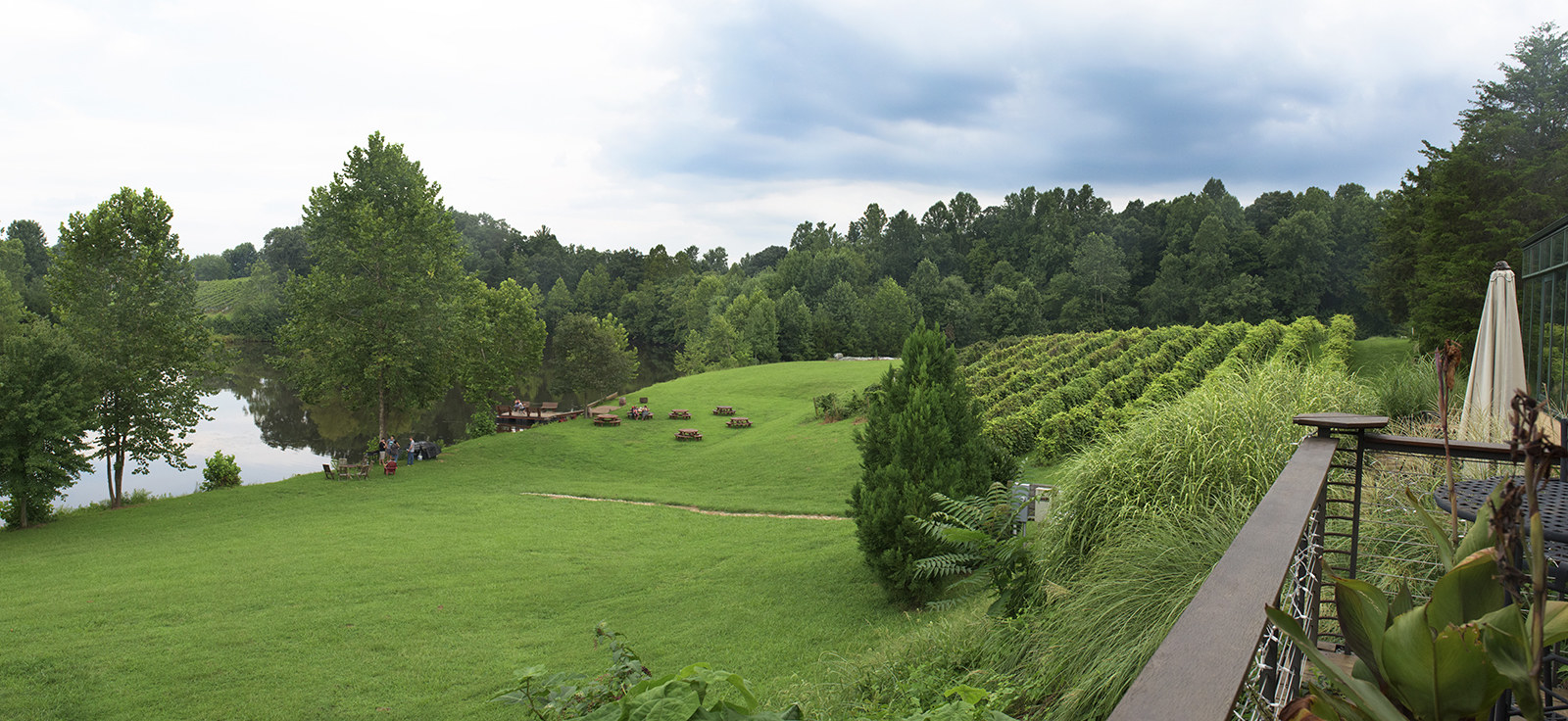 OK, so, Virginia is for wine lovers. We understand now. But we were all totally unprepared for the food. Our first dinner was at Mas Tapas. The small plates were divine, but the highlight for us was drinking wine from a porron. (Yes, back to wine.) For the uninitiated, it's basically a wine pitcher that looks like a certain type of blown-glass (ahem) paraphernalia.

Here's how you drink out of one:
Start by clutching the pitcher with two sweaty, shaky hands as your co-workers scrutinize your technique.

Begin with the spout close to your open mouth, unhinge your jaw, and tilt your head back.

Pour slowly while extending your arm and pulling the pitcher away from your face. You will feel like it's very far from your face. It will not be.

Spill ⅓ of the poured amount all over your chin and chest and collar while drinking the other ⅔ that made it into your mouth.

Bring the spout back in toward your face, dribble the remaining few drops of wine, and wipe sloppily with the back of your hand, toddler-style.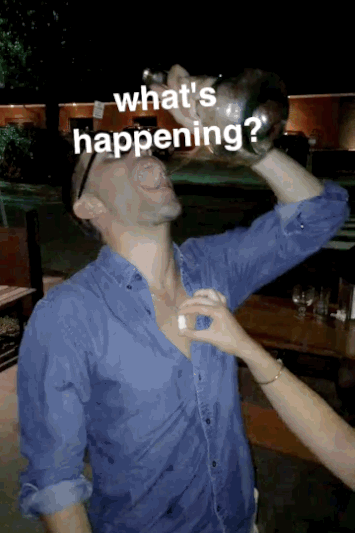 This manner of wine drinking is not efficient due to loss of liquid on shirts and napkins. However, it typically expedites your actual rate of consumption due to the frequent pours as you're attempting to master this new skill. Also, pouring for one another is a fun trust exercise to try. Then you find out Emily is not trustworthy.
For a definitively darker dining experience, try the speakeasy-inspired Alley Light. If you're game for game meats, the Alley Light is right up your alley. The entrance is unmarked and nondescript, but if you can find it, you'll be enveloped by cozy candlelight and a too-large selection of inventive dishes and intricate cocktails.

Also try: The Whiskey Jar for hushpuppies and tomato sandwiches you will dream about; JM Stock Provisions for the components of a picnic fit for foodies; the retro, kitchsy Blue Moon Diner for pancakes featuring Frida Kahlo's mug; Red Pump Kitchen for so-fresh-you-can-taste-the-green dishes with ingredients sourced from Pippin Hill; and C&O for an OG Charlottesville experience (once home to a music club where people like Sarah Vaughan played).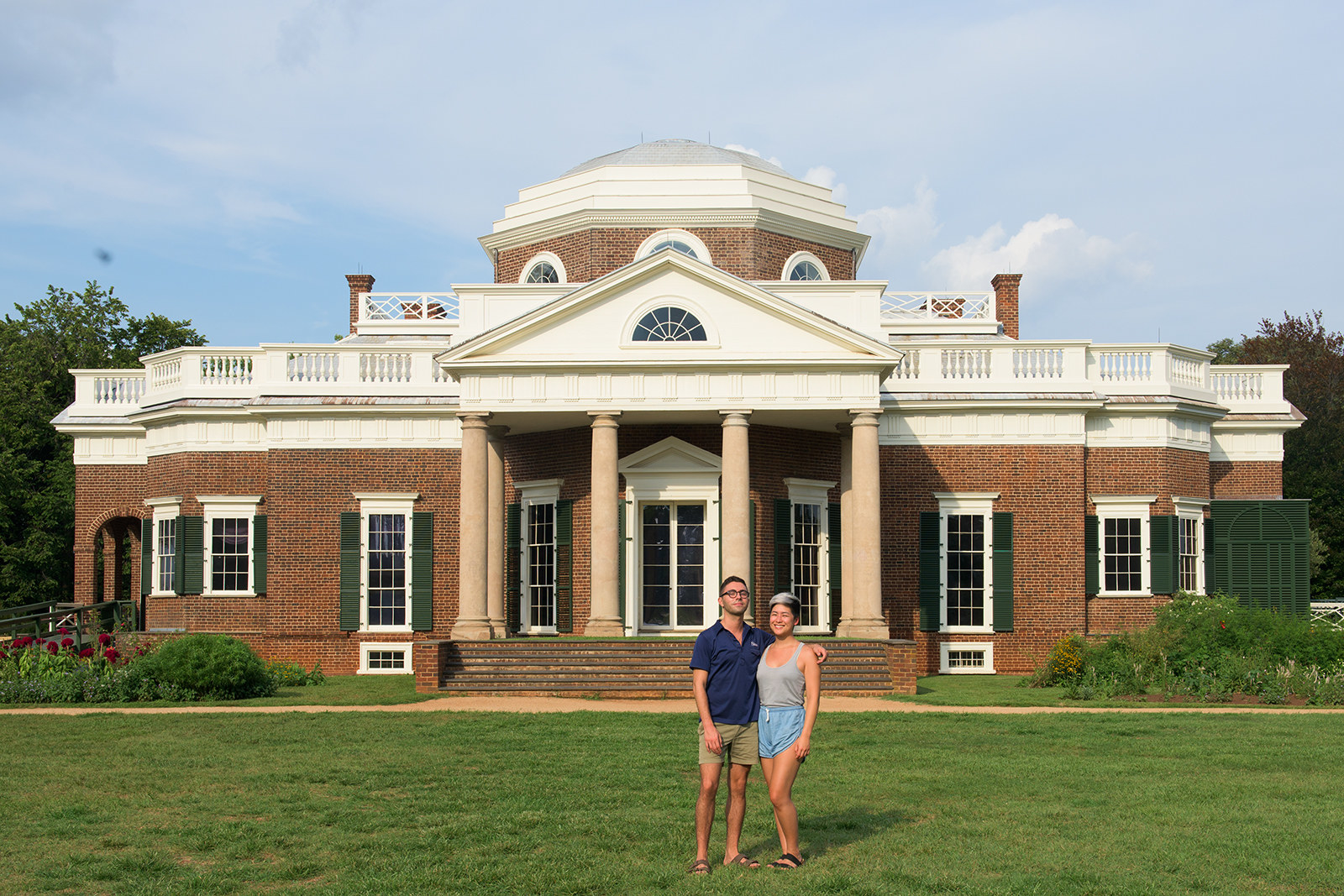 OK, so we came to Virginia for the wine, but what would a trip to Charlottesville be without visiting Monticello, the estate of Tommy Loves-Him-Some-Wine Jefferson? We came for the peaceful and bucolic walk through the historically accurate vegetable garden and stayed for the riveting stories of TJ, the Hemings family, and how the estate operated. (Teej apparently had a dumbwaiter installed just for the wine cellar.)
Another must is Carter Mountain Orchard. With its live music nights, cornhole, and apple cider doughnuts, Carter Mountain is extremely family friendly. But you could also just come, spawnless, and drink all the fruit. Try Bold Rock Hard Ciders on tap. Tastefully dry and brisk, these ciders will surprise you with flavor profiles more akin to champagne than juice. And let's not forget about the WINE SLUSHIES at the Prince Michel Wine Shop on site. We will say no more on this topic because: wine dronk. So. Very. Wine dronk.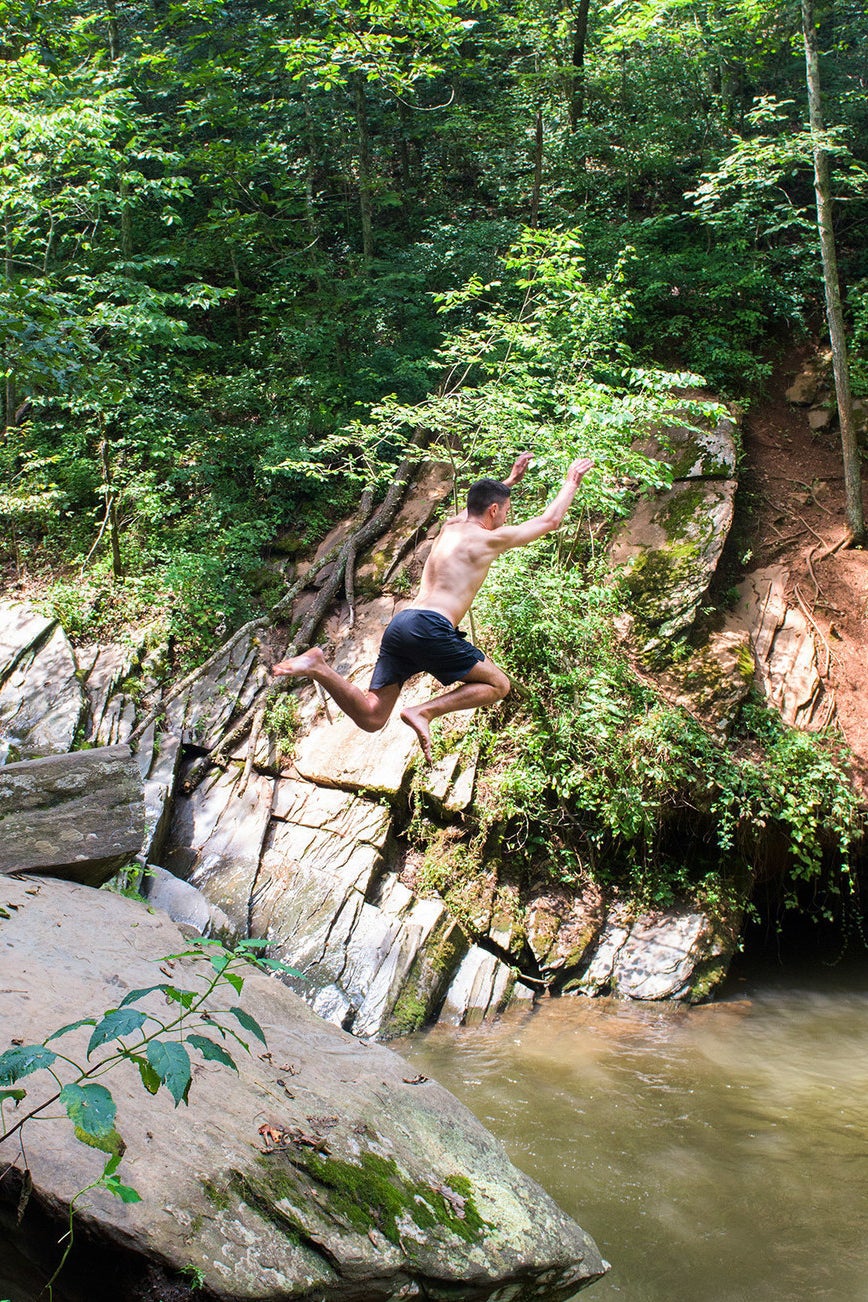 If you truly you need a break from wine on a hot day (even though, like, what? who needs that?), a swimming hole will be paradise. After a very short and very green hike across small streams and through Appalachia, you'll reach Blue Hole. Deep in some parts, shallow enough to hang out and chat in other parts, this refreshing (and did we mentioned SHADED?) swimming hole is even fed by a cute waterfall.

Also try: Nelson 151 Trail for wine alternatives, from the great beer at Devils Backbone Brewery to the special spirits at Silverback Distillery; The Garage for tiny concerts to be watched from the comfort of a grassy hill; Daedalus Used Bookshop if you're looking to be lost amongst shelves and shelves of floor-to-ceiling finds; and a cult-favorite flick at the legendary Paramount Theater, which has been totally restored to its 1931 glory.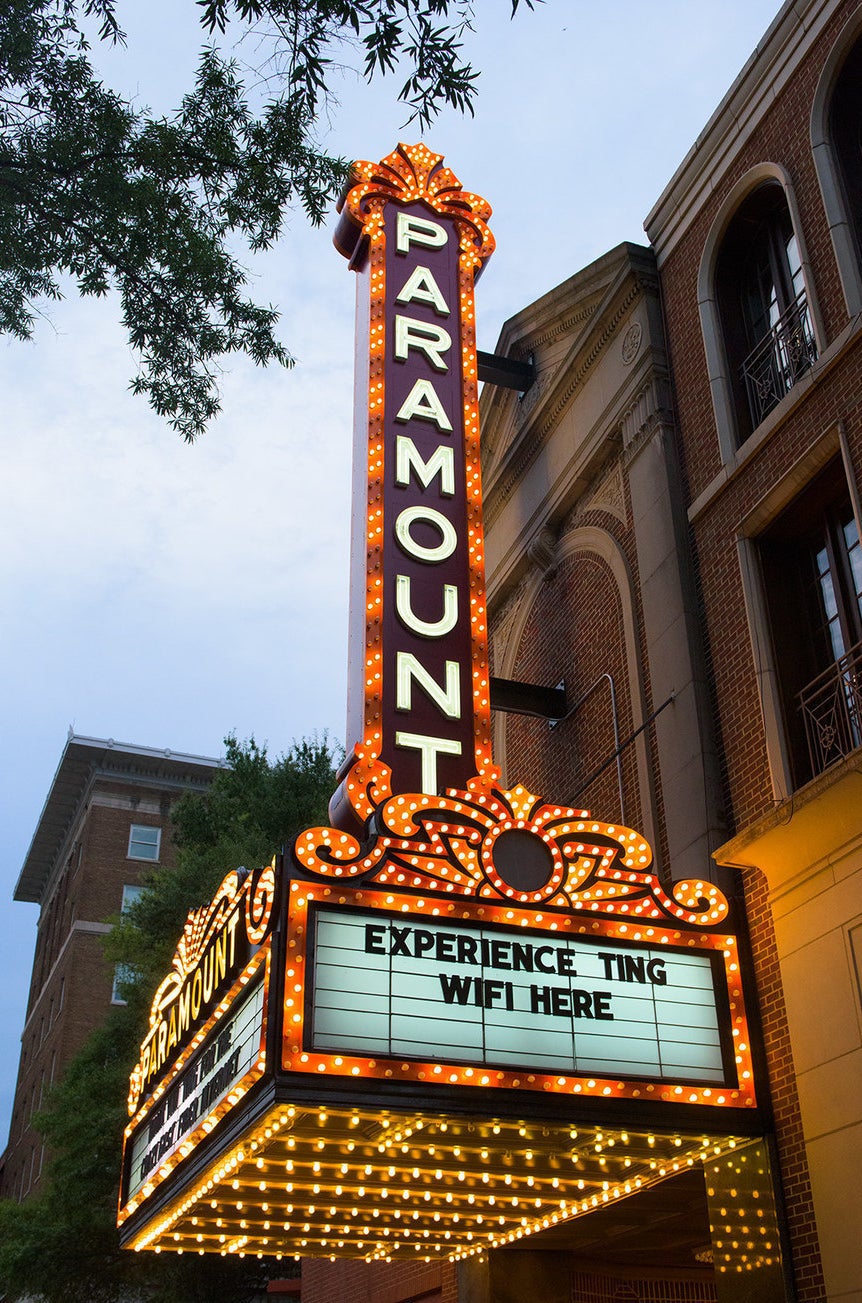 The Paramount specializes in cult favorites, and did we mention the interior is real, real impressive? It's been completely restored to its 1931 glory. Our tour guide put it this way: "If someone were to travel through time to 1931, they wouldn't know the difference." In the rear of the theatre, they've also preserved what was once a segregated box office and entrance. Whereas most places have destroyed any trace of those very terrible times, the Paramount has kept it as an educational tool for visiting schools.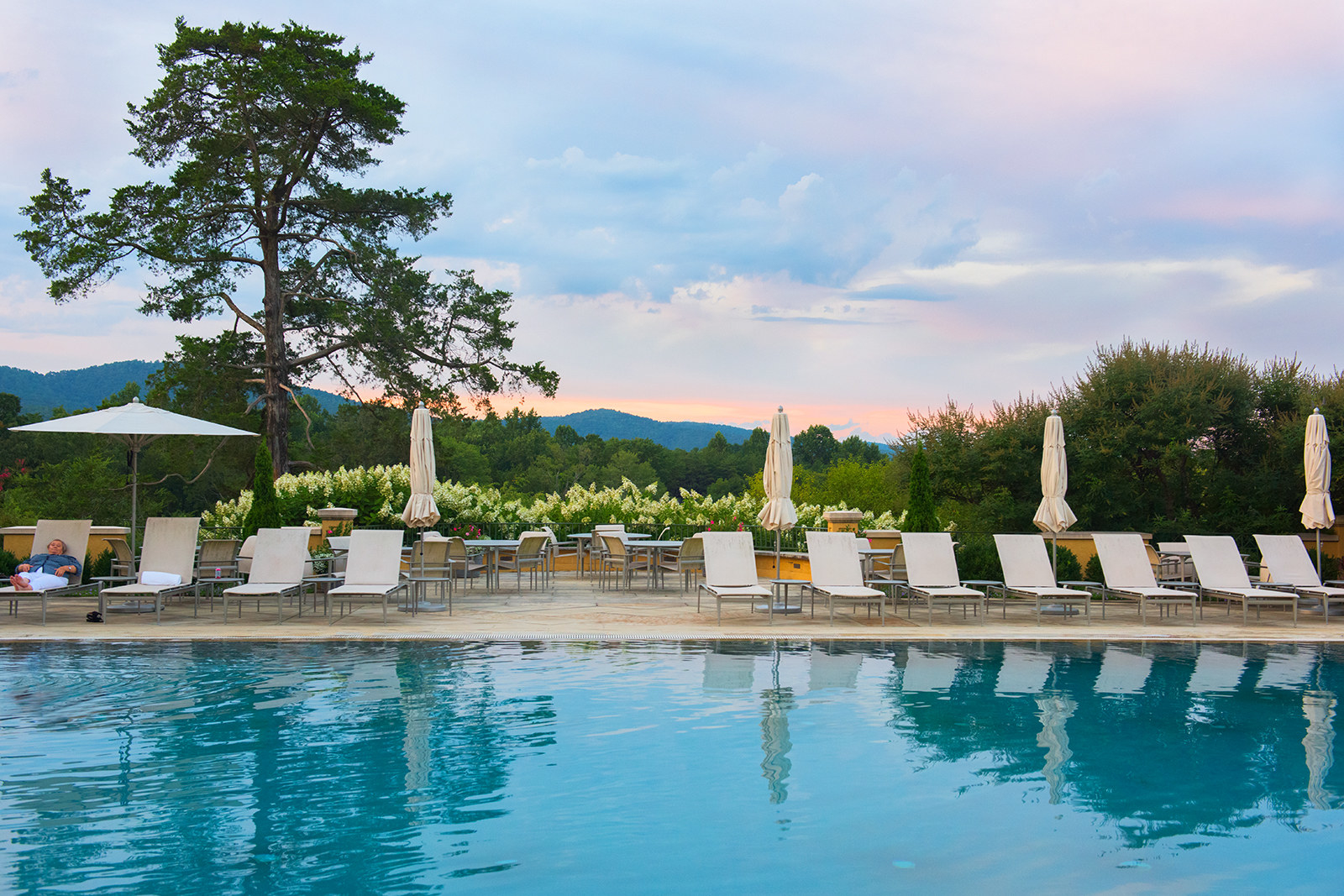 Charlottesville was brimming with romantic places to stay, with charm to spare. For one, there was the literal mansion with an infinity pool and hunting hounds that bay at sunset, also known as Keswick Hall. (Do not miss the French toast here. It is stuffed with banana compote and mascarpone, and you are a soulless, tongueless demon-person if you don't enjoy that.)
If you want to stay near the historic Downtown Mall, The Inn at Court Square, which has a history dating back to 1785, is your best bet. A whole lot of character is stuffed into every room via fancy furniture and decor, and we heard a ghost that once hung around the place, hellbent on destroying a sconce he used to hate when he worked there. And hey, we get it — an ugly sconce is an ugly sconce.
Also try: the 1804 Inn at Barboursville Winery for something secluded, save rows of grapes and the occasional cow, and Oakhurst Inn, a distinctly modern, local favorite with tons of great toiletries.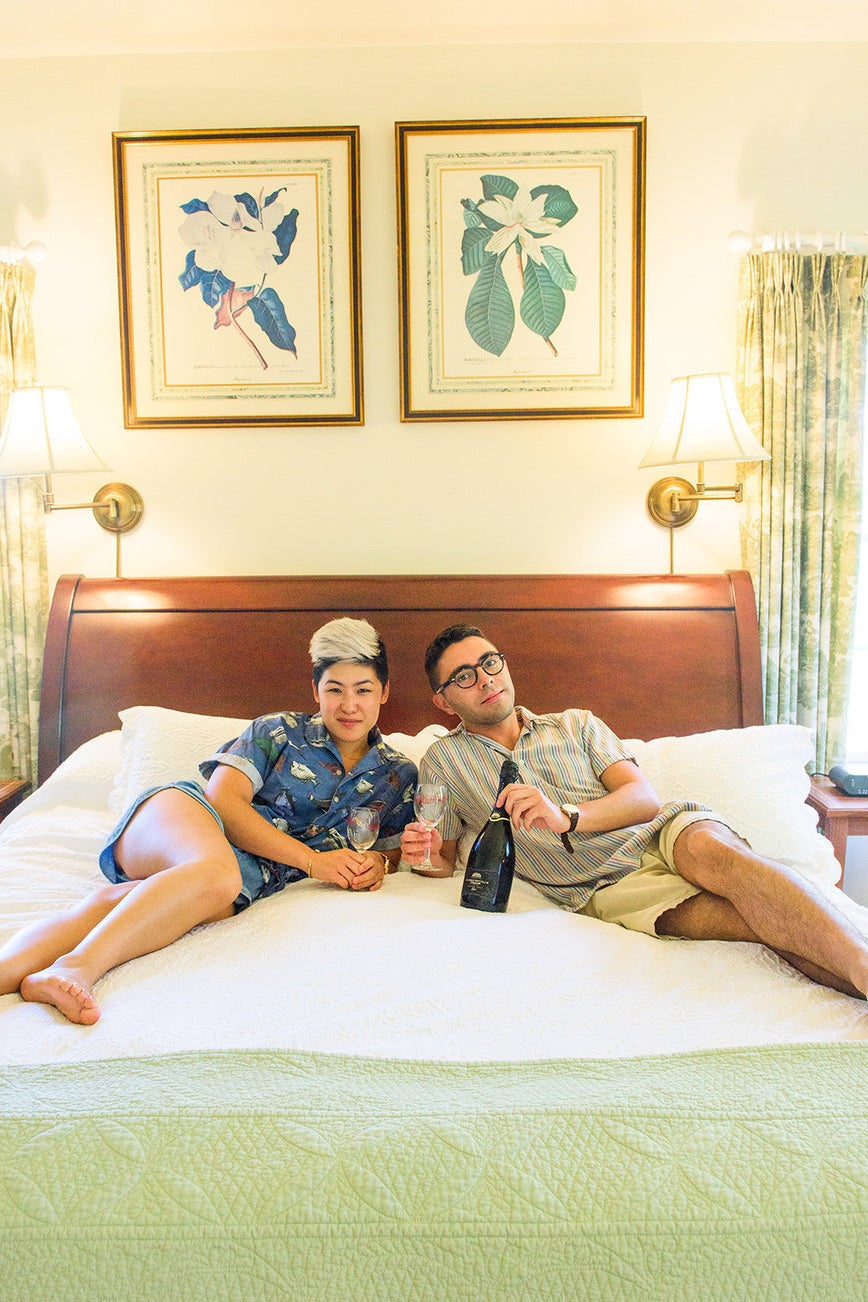 After four days of drinking at five different wineries and uncountable glasses of vino, we had to tip our hats to Virginia, Charlottesville, and, ultimately, Tommy Boy (Jefferson, obviously). There were unforgettable wines that made us rethink our prejudices against chardonnay, saccharine dessert wines that made us want to skip our dinners, too-slurpable wine slushies that got us turnt like sorority girls, and obscure wines we had never heard of that we will now be scouring wine shops in New York to find. So it's fair to say we no longer see Virginia as just a place to watch guys in tube socks stroll around with canes — we see it as a wine drinker's paradise.
Photographs by Lauren Zaser/© BuzzFeed

You wouldn't be the only one not to think "Virginia" when you hear the words "wine country," but you would be missing out. Visit Virginia.org/Wine to learn about the Monticello Wine Trail and the rest of Virginia's wine country.