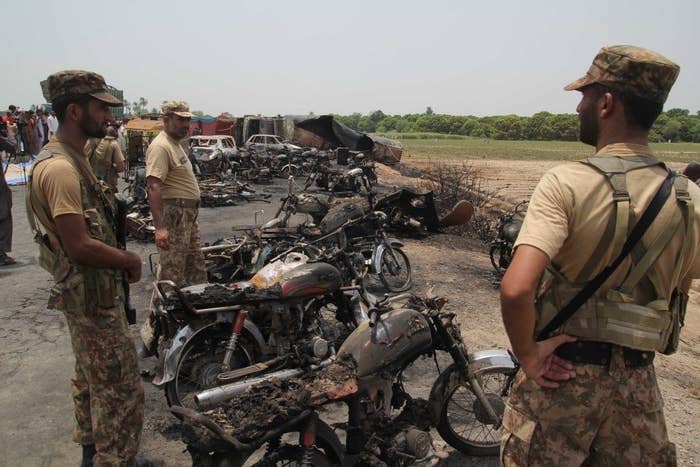 An oil tanker burst into flames in Pakistan on Sunday after overturning on the highway, leaving at least 153 people dead.
According to the BBC, dozens of people from the scene are being treated in hospital. Images and videos of dark black smoke and dead bodies from the incident are circulating on social media and being shown on local TV stations.
Dr Mohammad Baqar, a senior rescue official in the area, told The Guardian that the death toll could rise even higher.

Rescue services claim that the fire – which broke out about 60 miles from Multan and about 400 miles from Islamabad – may have been sparked by a cigarette. The truck was driving from Karachi in the south of the country to Lahore, the Punjab regional capital.
"People of the area and passersby had started gathering fuel when the tanker exploded, burning everybody on and around the spot," provincial government spokesman Malik Muhammad Ahmed Khan told Reuters.
The official spokesperson of Pakistan Armed Forces tweeted that helicopters sent for evacuation of casualties to hospitals and burn centers.
Rana Mohammad Salim, the deputy commissioner of Bahawalpur, said that after a loudspeaker warned locals that there was still fuel leaking from the truck, some risked their lives by rushing to fill up their cans.
The Prime minister of Pakistan, Muhammad Nawaz Sharif, will be cutting his visit to London short due to the incident, Pakistani government news agency APP reports.
Some 57 people died when a bus collided with an oil tanker near Karachi in January 2015.