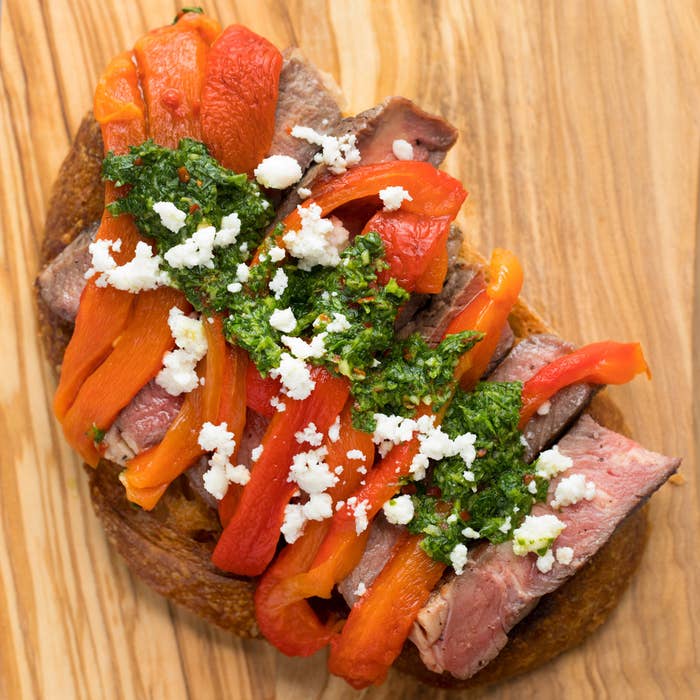 Servings: 4

INGREDIENTS:
1½ pound Verde Farms ribeye steak

Salt, to taste

Pepper, to taste

Sourdough bread, sliced

Roasted red peppers, sliced

Queso fresco
Chimichurri
1 bunch fresh parsley

3 tablespoons fresh oregano leaves

2½ tablespoons red wine vinegar

2 garlic cloves

1 teaspoon red pepper flakes

½ teaspoon salt

½ cup olive oil

PREPARATION:
Prepare chimichurri: Add all ingredients to a food processor and pulse to form a chunky sauce. Set aside

Rub the steak with a bit of olive oil and season heavily with salt and pepper. Grill steak on each side for 3–4 minutes for medium, then let rest for at least 5 minutes. Thinly slice against the grain.

While steak is grilling, rub the bread slices with a drizzle of olive oil and grill each slice.

Assemble the open-faced sandwiches by spreading a layer of chimichurri on each slice of bread. Then, pile on the thinly sliced steak, followed by a layer of roasted red peppers. Top with a little more chimichurri and sprinkle with some crumbled queso fresco.