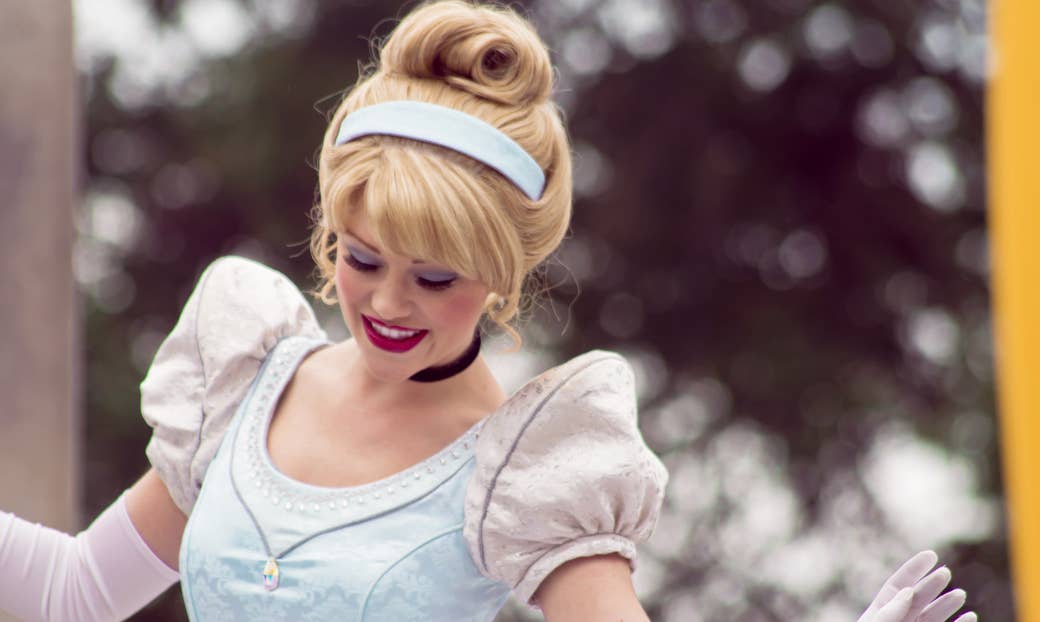 Life as a Disney princess seems easy enough: Throw on a ballgown, be home by midnight, lose a shoe, meet a prince. But for the real-life Cinderellas — i.e. those who work as characters in Disney theme parks — work isn't quite as easy as simply throwing on a costume and giggling a few times. There's actually a pretty precise method to the madness — perhaps unsurprising, considering Disney's reputation for being obsessive when it comes to the "magic" of a perfect guest experience.
The world of the Disney "Face Character" is kept pretty well under wraps and is rife with company lingo: A face character, for one, just means an actor who wears makeup rather than a mask. Ask around and you'll find that most who work or have worked at Disney (i.e. "cast members") don't want to comment on their jobs; more than once in the interview process, I was told by current and former cast members that they preferred to "keep the magic" rather than speak with a reporter.
So, how do the Tinker Bells and Cinderellas of Disney theme parks land their jobs? Let's start at the beginning. Those wishing to work as a character at Disney must first undergo several rounds of auditions, and many of those trying out come via the Disney College Program. Katie McBroom was an undergraduate at the University of North Florida when she applied. While she had taken jazz and tap classes growing up and acted in a high school play, she wasn't interested in pursuing an acting career and initially intended to complete a communications internship at Disney. Eventually, though, she decided to audition for an entertainment role — aka playing one of the famed Disney characters children around the globe wait hours to meet.
According to Disney, those who audition don't get to pick their intended role. Instead, they audition for any open role, including princesses, princes, fur characters (those who wear large costumes and masks), and parade performers. From the Disney Internships blog:
Please note: all performers, including Disney Character Look-alikes, will also perform in meet-and-greets as fully costumed Disney Characters in our Parks and Resorts. This includes wearing large body costumes, heads, and feet, and exposure to hot and humid weather.
In other words, most of the Disney princesses aren't just relegated to one costume. McBroom, for instance, played both Snow White and Princess Leia, and would moonlight as Mr. Smee (Captain Hook's sidekick) when time permitted. Another current employee, Susan Banks (not her real name; she wished to remain anonymous), plays both Tinker Bell and a handful of other petite characters: Chip and Dale, Winnie the Pooh, and Doc McStuffins.
The audition process was relatively straightforward, McBroom said. "It was just kind of an open call, come-in-your-dance-clothes kind of situation. Everyone is essentially placed in a bucket, based on their height."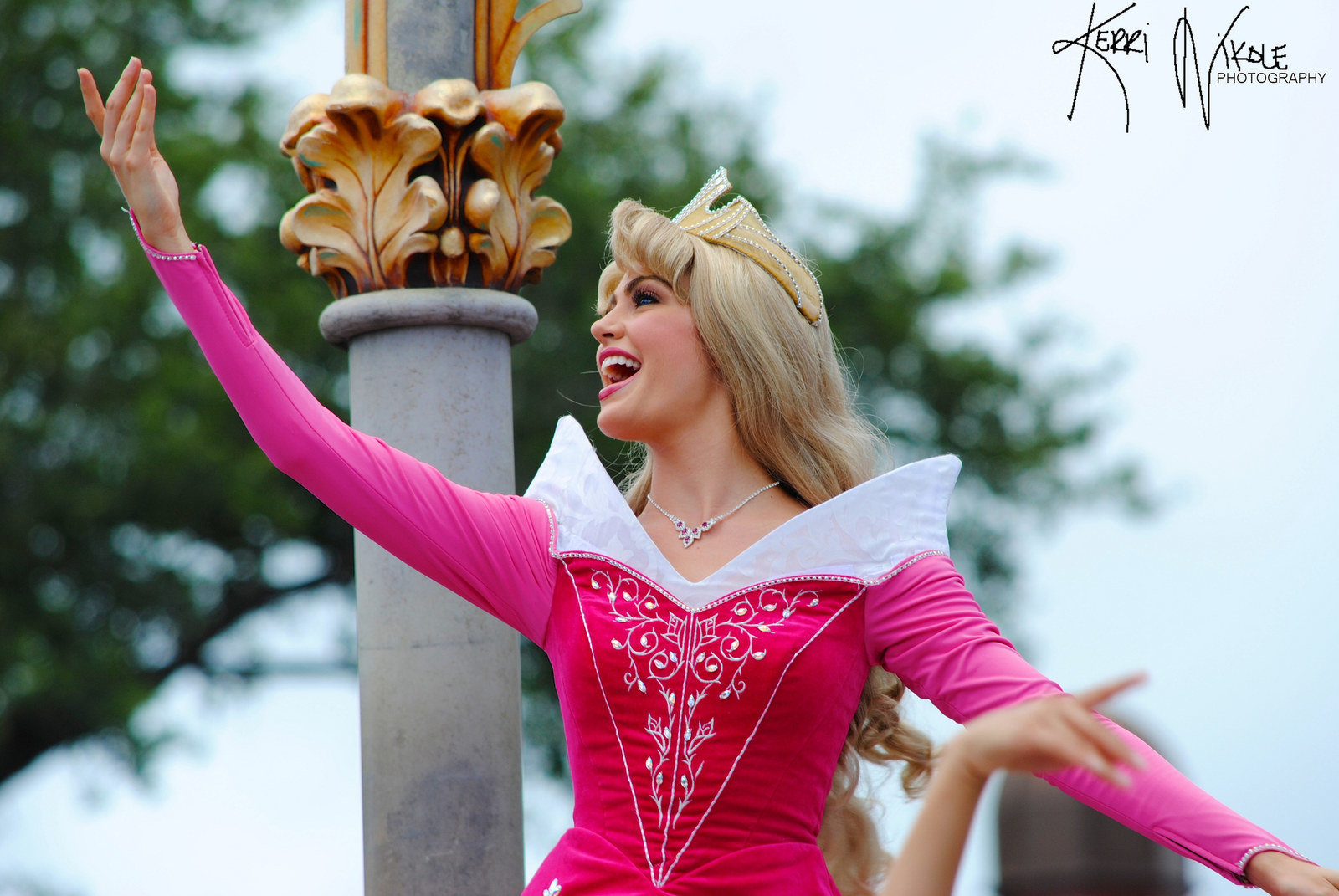 Because all characters at Disney wear some sort of costume — fur characters wear large, fuzzy costumes complete with a removable head, while face characters wear an outfit and a full face of makeup — height is a determining factor in who can play which role. Unlike a role in a play or a film — where costumes are made for the actors who can best play the role — the actors at Disney have to be able to fit into costumes that already exist. Tinker Bell, for instance, is played by a petite woman, as are Chip and Dale.
That being said, someone's "look" doesn't always determine which character they might get. It really boils down to what Disney needs. On Reddit, a former Disney worker said he first auditioned for a role after several people told him he looked like Prince Phillip [from Sleeping Beauty]. Ultimately, he wasn't selected — he said he found out after the audition that "they were really only looking for Kim possible and Ron stoppable. And since you can only attend one face audition a year I never tried again."
The first audition includes a simple miming exercise; once cuts are made, those who come back are asked to take on more advanced choreography. McBroom was asked to come back after the dance portion of the audition and was then immediately fitted as a princess.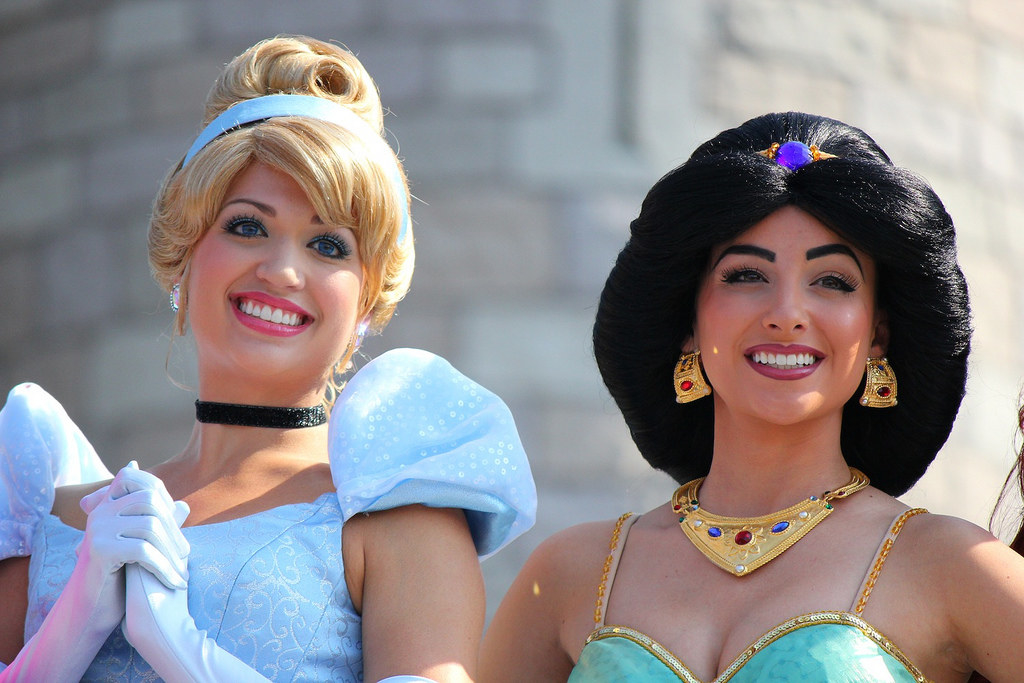 "A professional cosmetologist comes and does your makeup, and fits you with the wig," she said. "That day, I was fitted for both Snow White and Princess Leia. It was kind of surreal to see yourself in the mirror as those iconic characters — I've always had a passion for makeup and beauty so it was kind of the best thing for me. I got to peek behind the curtain."
Characters with an accent (like Alice, Wendy, or Mary Poppins) undergo a separate day of dialect training. But even those who play American characters have to alter their voice a bit. As part of training, actors will watch movies starring their characters and say lines back.
"For most girls, the character is higher than their actual voice," Banks said. "Actually it's so high that some girls will go on vocal rest because it strains their vocal chords — especially when they first start out."
"Most of the princesses are supposed to be, like, 15 years old, so the makeup looks are generally very clean beauty makeup versus an Instagram face."
Though the real magic happens in the park, behind the curtain is where it all comes together. All Disney employees arrive on set and must immediately put on company-issued clothing. "When you check in to work, you put on shorts or bloomers and a V-neck," Banks said. "You have to be in company clothing from the time you start your shift to the time you end."
From there, characters head to check out their costumes (each is fitted with a bar code so Disney can track them to ensure they don't ever leave the property) and to what Banks calls a "crazy wig shop," where her Tinker Bell wig is cleaned and styled at least every two days.
Full-time performers (those who work 40 hours per week) each have their own wigs. Part-timers wear "sub" wigs in their size that are washed before each shift and shared with other performers.
"I remember when I first started, I found the wig difficult to put on and very tight and itchy," Banks said. "Now I toss it on and put four bobby pins in and I'm done."
Face performers have use of a backstage cosmetology room, where makeup and hair artists are on hand to help apply finishing touches or secure a wig. "Some of them are really intricate," McBroom said. Pretty much every character has to wear a wig (even those with updos are wearing a wig), with one major exception: The actors playing Pocahontas can be "hair-approved."
After being cast, McBroom and her colleagues went through a full day of immersive character training. Each performer is trained to do their own makeup. "Each character is their own prescribed look," McBroom said. "That first day, the cosmetologists teach you to put it on. That's where I really fell in love with makeup." (Today she blogs about makeup and beauty.)
Though they are given stage makeup (all products are by Ben Nye), the looks themselves are fairly natural.
"Most of the princesses are supposed to be, like, 15 years old, so the makeup looks are generally very clean beauty makeup versus an Instagram face," McBroom said. "There wasn't a strict rule on contouring for my characters; it was more about the shape of the blush and the type of lip line."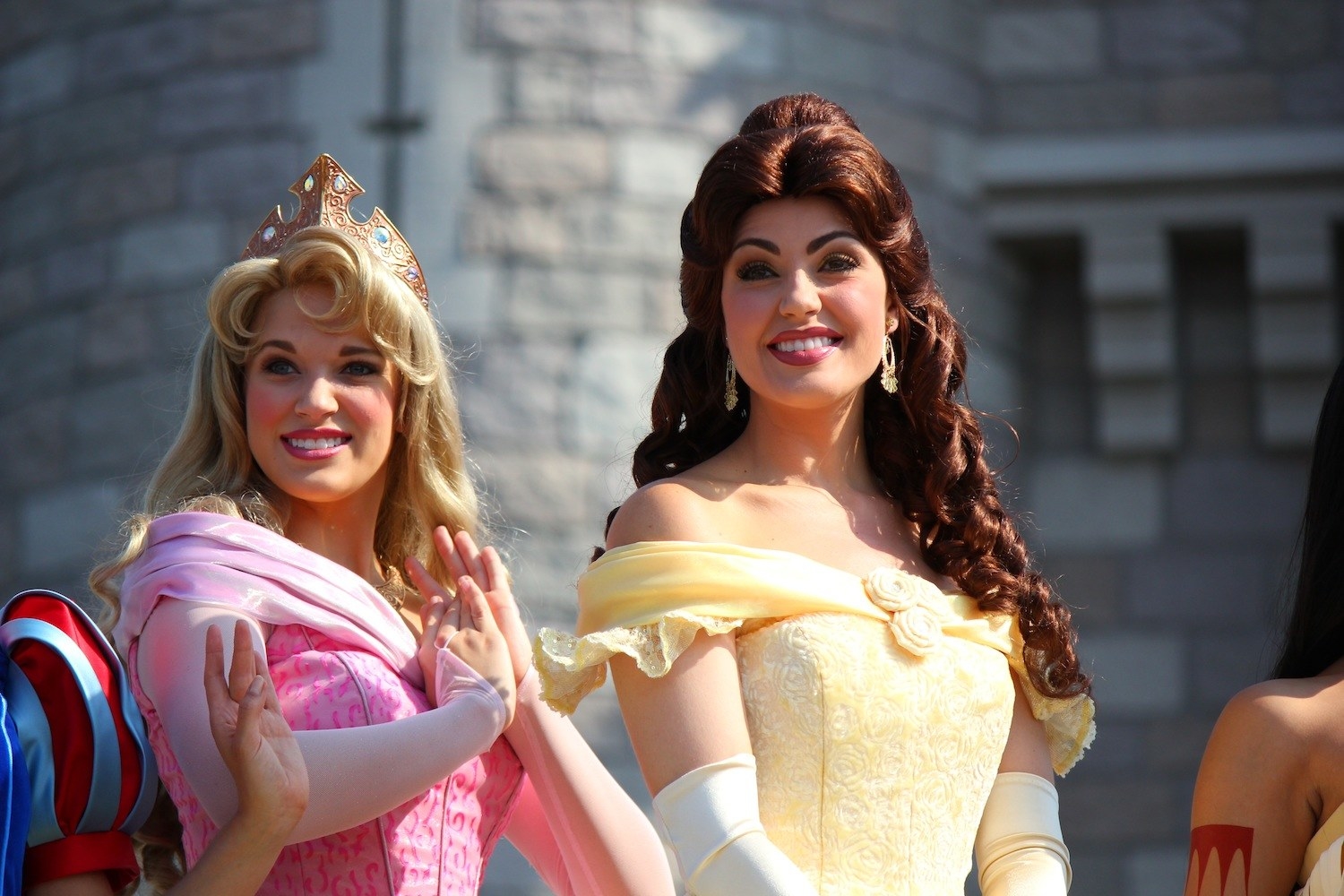 As Tinker Bell, Banks wears Ben Nye's Dusty Rose lipstick with a natural lip liner (there's even a specific gloss that goes with it). She meets with guests of the park indoors, so she doesn't have to touch up as often, but will fix her lipstick on her breaks. "I like the Ben Nye concealer," she said. "It's specifically stage and performance makeup so it's a little bit thick on my face. Over that, I use a MAC powder, with Nars foundation and Too Faced 'Better Than Sex' mascara."
Tinker Bell's signature eye is "a bright sun yellow" with a brown contour in the crease. Though Banks does her own makeup these days, she's careful to ensure it looks exactly like every other Tinker Bell at Disney.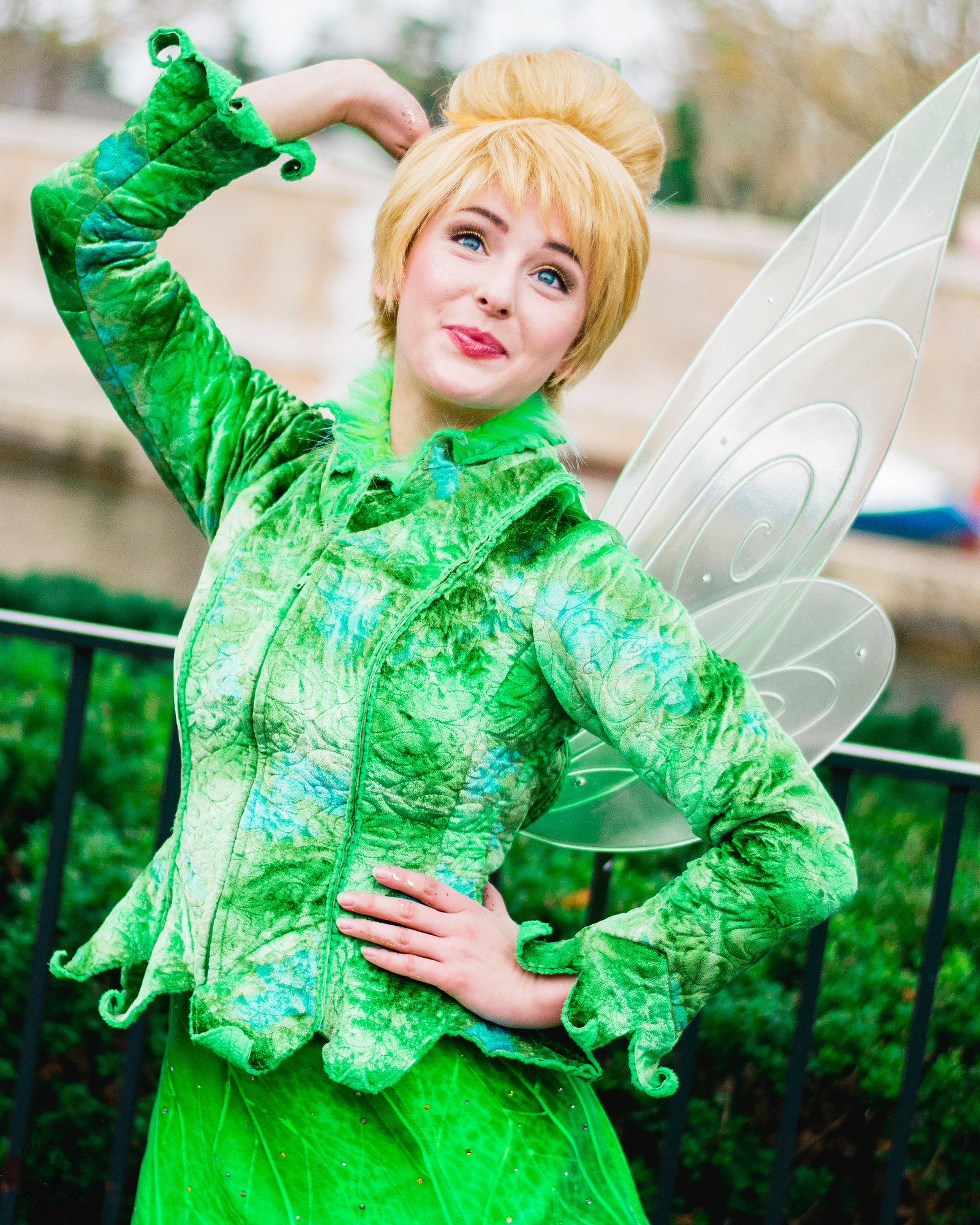 That's one of the biggest challenges of being a Disney face character, and the reason so much training is required: There are always more than one of everyone. A Snow White having breakfast at Epcot has to look exactly the same as a Snow White visiting Magic Kingdom during lunch. Disney has plenty of protocols to ensure two of the same characters are never in the same place ("It's shift-based, otherwise that would traumatize children," McBroom said), but there are other measures to "keep the magic" too.
Each character (even those wearing enormous masks and gloves) has to learn their autograph — and practice it over and over again. In fact, one woman who played Mulan admitted on Reddit that she had accidentally signed the name to restaurant and retail receipts, simply out of habit: "I signed 'Mulan' about 1000 times a day at work, you eventually get handed paper and do it without thinking."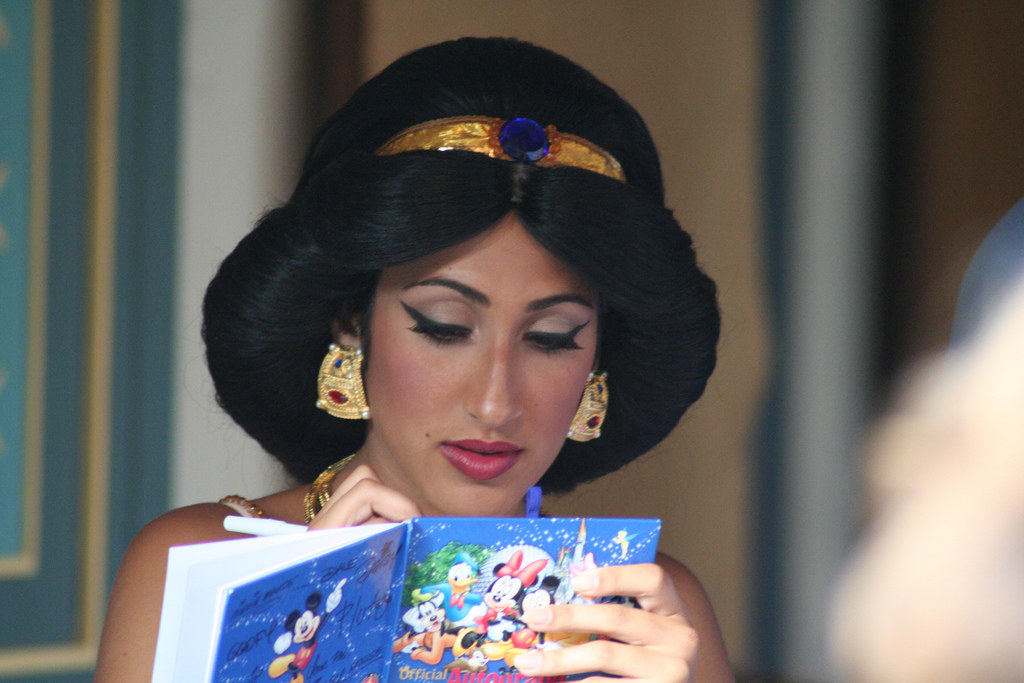 "Each character has a very distinct signature, to keep consistency," McBroom said, "in case someone sees a princess at breakfast and sees her again at dinner they want to make sure the autograph stays the same."
When McBroom first started working at Disney, she rode in the parade at MGM (now Disney's Hollywood Studios) as Princess Leia, alongside Luke Skywalker. The role was altogether different than her shifts at Magic Kingdom. As Princess Leia, McBroom was playing a "powerful, strong princess," while Snow White was "the original princess — one with some pretty old school traditions that not all of us would agree with these days."
"I never slipped into the wrong character," McBroom said, "mostly because they were so different, and you're always in the environment Disney creates for you."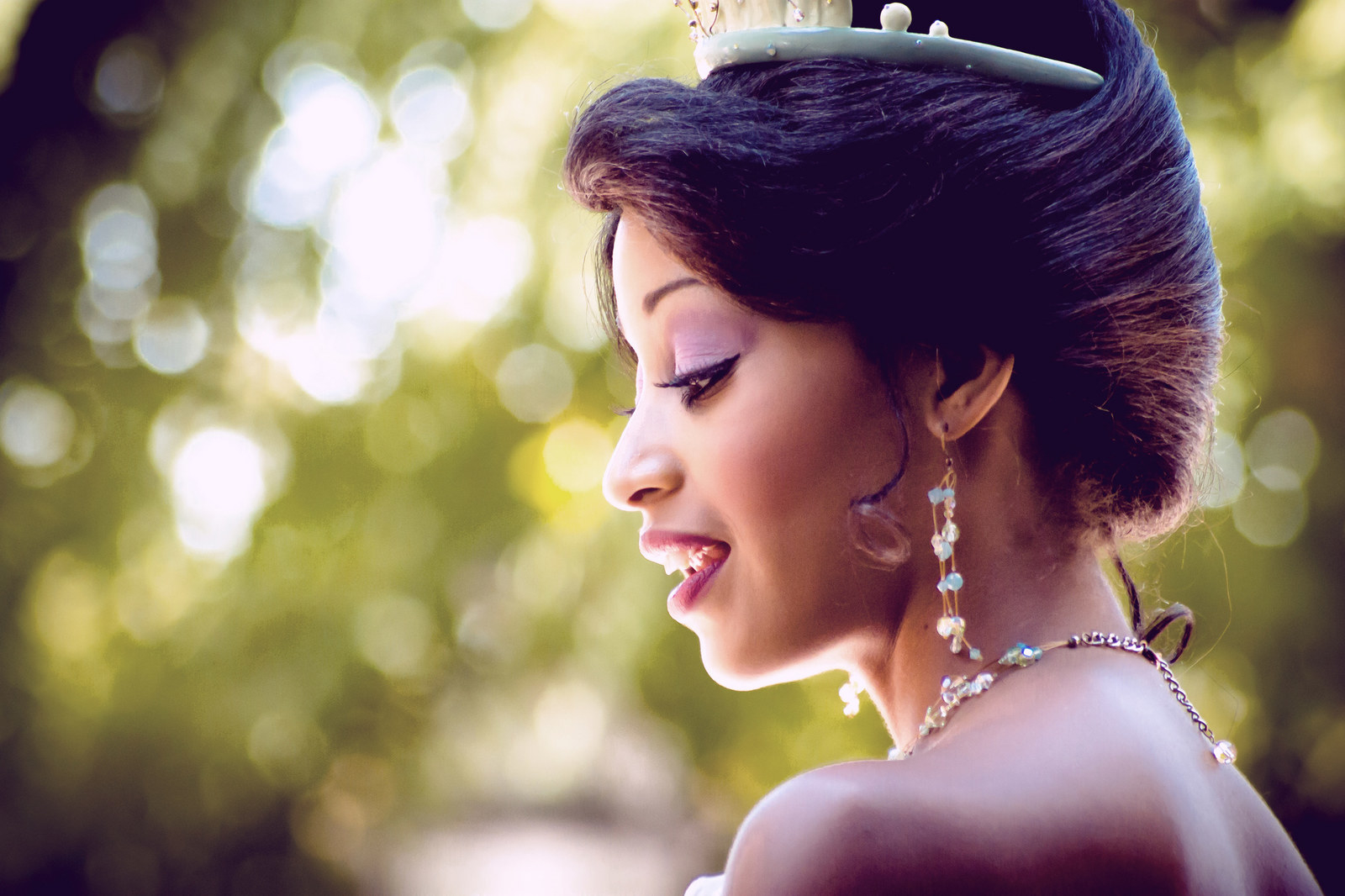 Still, parkgoers will try to get princesses to break character with lots of jokes and even the occasional catcall. "It was kind of like performing improv, because you never knew what you were gonna get," McBroom said. "I had some dads or older brothers that would not be excited to see Snow White, but excited at the idea of having her break character. People would mention Nintendo or something, but of course Snow White wouldn't know about that because she lives in Germany in a castle on the clouds or whatever — so I would just kind of deflect and say, 'Oh I don't know what you mean.'" In Snow White's voice, of course.
Adults and older teenagers really responded to Princess Leia, though the reactions to Snow White have stayed with her. "So many little girls are obsessed with Snow White and look at you in awe," she said. "I personally like Princess Leia's character better, but being dressed up, and seeing little girls in the same costume as you, who really think you're her — that's special."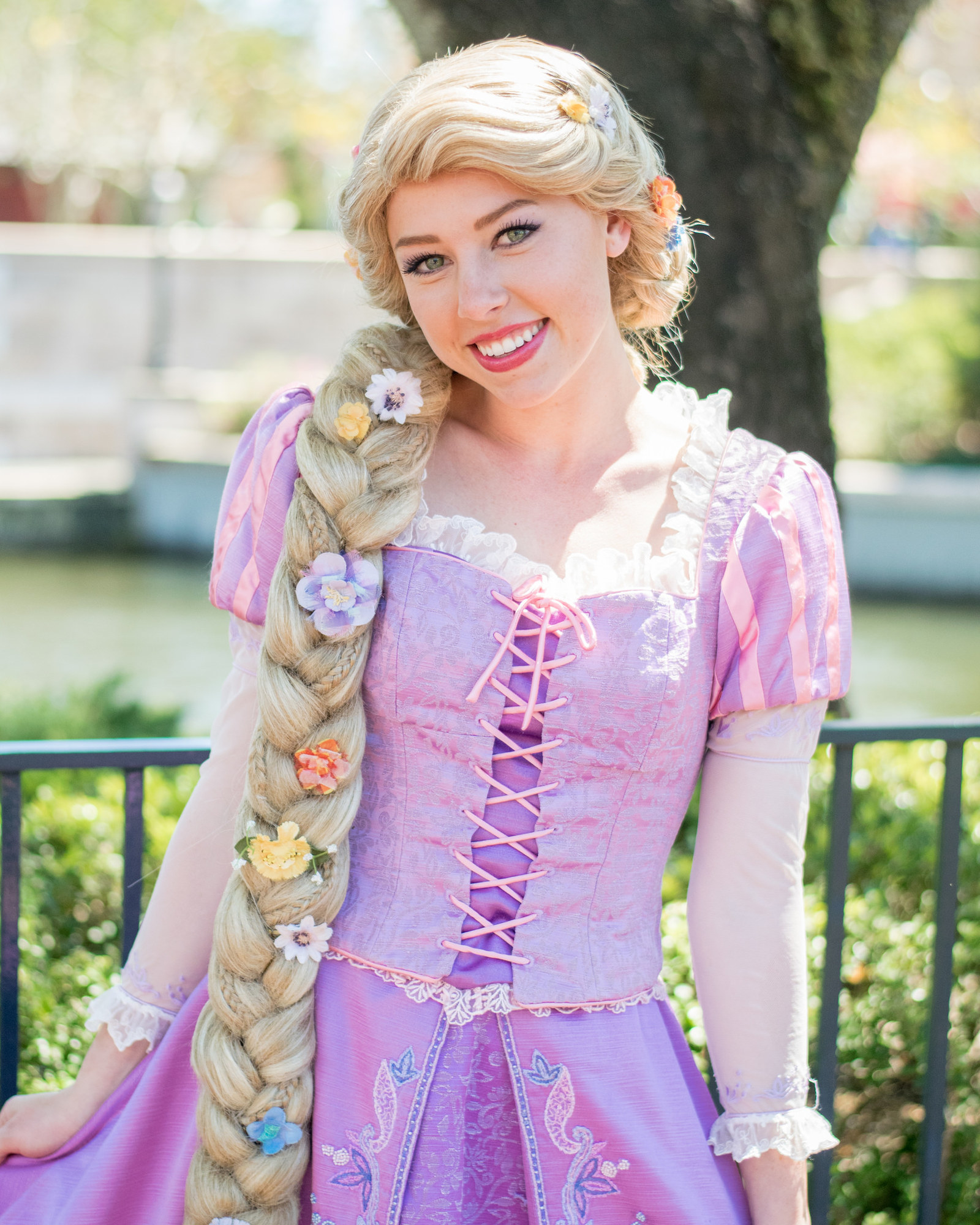 Of course, what's happening "behind the curtain" isn't as positive an experience for everyone. Another woman, who also participated in Disney's college program but only agreed to speak anonymously, said she never ended up being a face character, "due to the demanding requirements and me being too 'ethnic'-looking. I'm Italian and they like to hire lighter hair and skin so they can be made up into multiple characters."
Banks, who currently works at Disney, admits that many of her colleagues have been "disapproved" from working as face characters because they've either aged or gained weight.
"They bring you in once a month, put you in the costume, and reevaluate you," she said.
Those who are disapproved due to weight gain wouldn't be fired, she said, but would instead be reassigned to a character who wears more clothing (Ariel, for instance, might become Mary Poppins).
"A Snow White having breakfast at Epcot has to look exactly the same as a Snow White visiting Magic Kingdom during lunch."
But perhaps the biggest offense, says Banks, would be dressing as a character outside of the park walls. Social media makes this especially problematic, as even a friend tagging her (while she's dressed at Tinker Bell) could be an offense. "We have to remove all tags on photos in character. Unless the caption said something along the lines of, 'We met Tinker Bell today — wish you were there, [Susan]!'"
The rules are so strict, she adds, that the naturally blonde Banks isn't allowed to come to the park with her hair in a bun, "because they wouldn't want anyone to recognize me in my street clothes, out of the costume. It's a big no-no to look like your character outside of work," she said. "If Disney found out that I went to a party as Tinker Bell, for instance, I would be immediately fired."
Even outside the park walls, though, it's all Disney all the time for many of the company's cast members. Though it's not a requirement, many of those enrolled in Disney's College Program even live in Disney housing. "My roommates were also in the College Program, but did not work in Entertainment with me," says McBroom, adding that she and her roommates would often swap stories at the end of the day.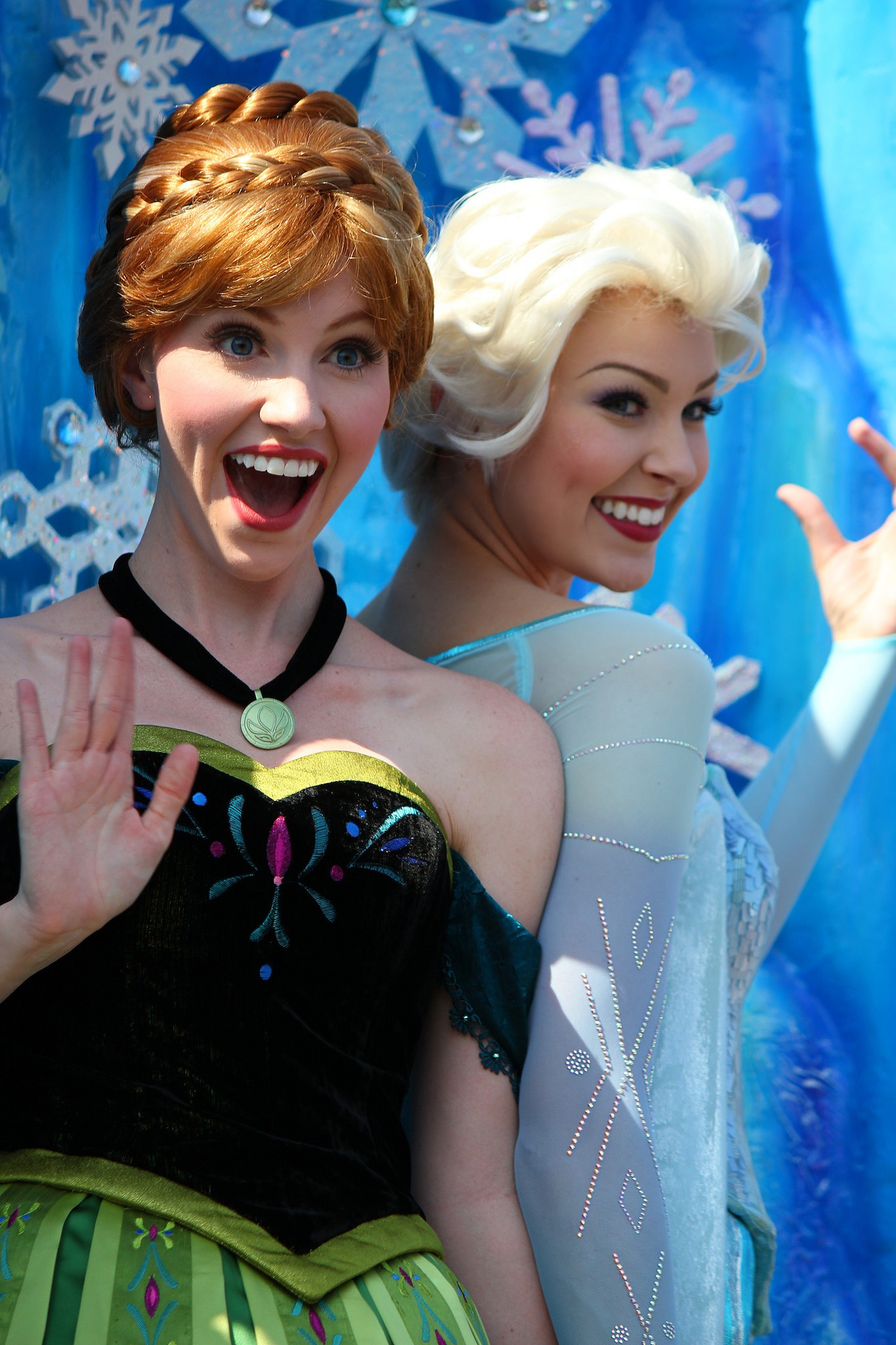 Though it comes with its fair share of (rather unique) challenges, working at Disney certainly comes with its unique rewards as well — in particular, the response actors get from their youngest and most ardent fans. On a Reddit AMA, a woman who played several characters at Disney wrote that a little girl named Emily visited her while she was playing Pocahontas and gave her a card that said "Dear Pocahontas, I drew some flowers for you. I hope you have a lovely day. Love, Emily."
The next day, while the woman was playing Silvermist (a friend of Tinker Bell), the same girl gave her a card that said, "Dear Tinker Bell & her friends, I drew some flowers for you. I hope you have a lovely day. Love, Emily."
"Her dad didn't recognize me," the woman said, "but I was excited to have two cards from the same girl." Then, she said:
"A few days later, I was Mulan, & GUESS WHO COMES UP TO ME?

So I said, before she started talking, 'I know you, you're Emily! I heard you're really good at drawing flowers, all of my friends told me.'

This girl's face lit up like the Fourth of July & she pulled a card out.

'Dear Mulan, Shang, & Mushu, I drew some flowers for you. I hope you have a lovely day. Love, Emily.'

I have three cards for all three of my face characters from the same girl."