Neapolitan Brownie Bombe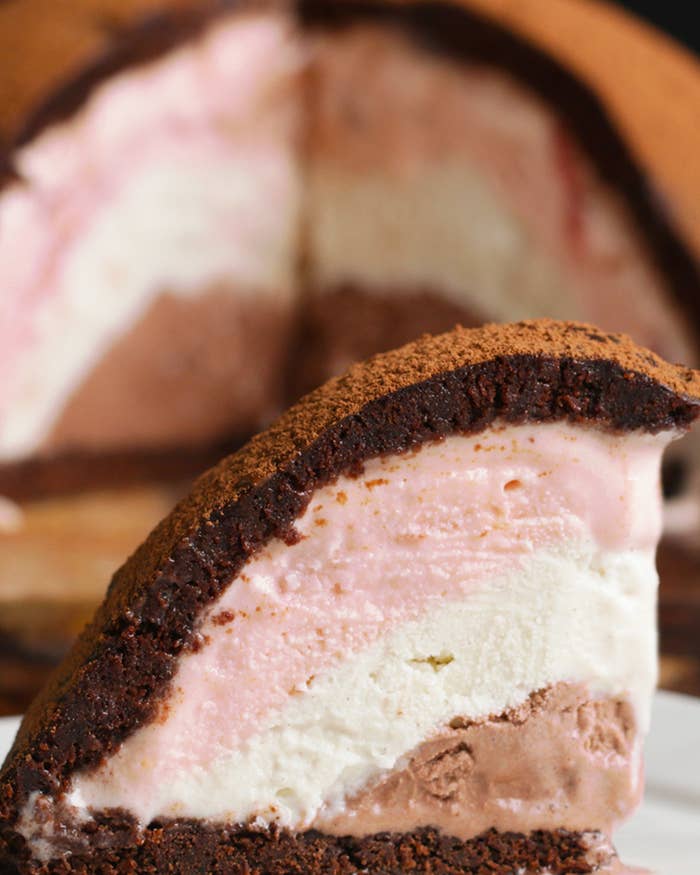 INGREDIENTS
2 packages brownie mix, divided
⅔ cup vegetable oil, divided
⅔ cup water, divided
2 egg, divided
1½ quarts strawberry ice cream, softened
1 quart vanilla ice cream, softened
½ quart chocolate ice cream, softened
Cocoa powder
PREPARATION
1. Preheat your oven to 350ºF/180ºC.
2. In a medium bowl, mix 1 package of the brownie mix, ⅓ cup oil, ⅓ cup water, and one egg until just combined.
3. Pour the mix into a half sheet pan lined with parchment paper, and spread with a spatula until even.
4. Repeat with the other brownie mix and bake for 13 to 15 minutes, until the brownies are fudgy yet firm, and let cool.
5. Once cool, cut one pan of the brownies into 4 rectangular shapes, 8 triangular shapes, and one circle.
6. Line a large glass mixing bowl with plastic wrap and fit the brownies into it like a puzzle, placing the circular one on the bottom and working around it.
7. Once the inside is covered, press down firmly on all the brownies until the outer shell forms. Make sure there are no openings in the outer layer.
Scoop the strawberry ice cream onto the brownie shell and smooth with a spatula.
8. Cover with plastic wrap and press a smaller bowl into the ice cream. Freeze for 3 hours, until the strawberry layer is solid.
9. Unwrap and repeat with the vanilla ice cream, covering it well and pressing the smallest bowl into it and freezing for two hours.
10. While freezing, cut a circle into the other pan of brownies the circumference of the large bowl.
11. Uncover the now frozen vanilla layer, fill the divot with chocolate ice cream, and cover with the cut circle of brownie. Eat the brownie leftovers or save for another bombe!
12. Press the circle to secure it and freeze the completed bombe for one hour.
13. Carefully remove the bombe from the freezer and flip it over onto a cutting board or serving platter. It may need to thaw a couple minutes before it dislodges from the bowl.
14. Once you can lift the bowl up easily, uncover the dome-shaped bombe and dust with cocoa powder.
15. Enjoy!