One-Pot Cajun Fettuccine Alfredo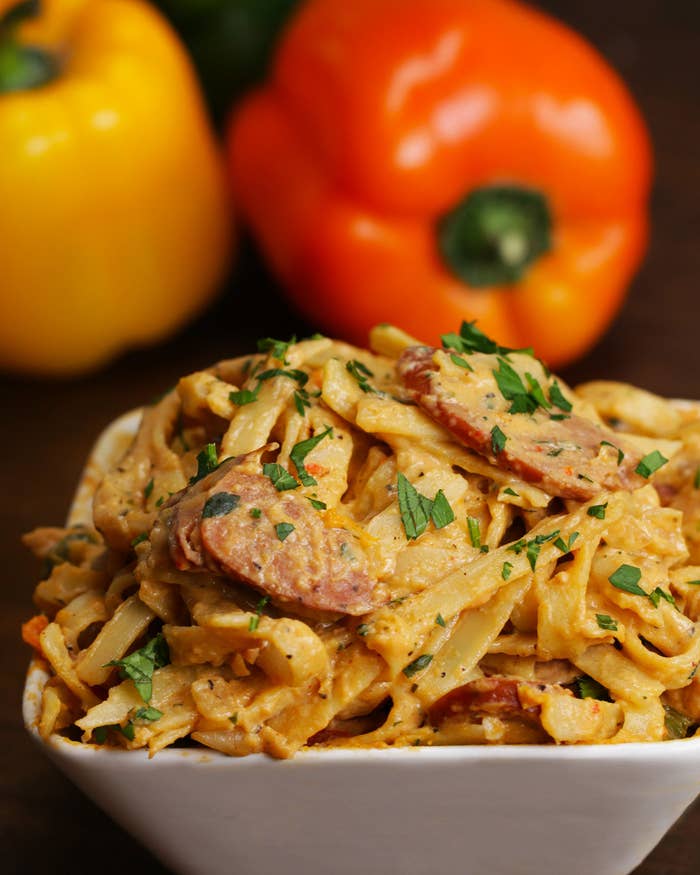 INGREDIENTS
Cajun Seasoning
1 teaspoon cayenne pepper
1 teaspoon garlic powder
1 teaspoon paprika
1 teaspoon onion powder
1 teaspoon dried oregano
1 teaspoon dried thyme
1 teaspoon salt
1 teaspoon pepper
2 chicken breasts, sliced
1 pound cooked andouille sausage
4 tablespoons olive oil
3 cloves garlic, minced
3 bell peppers, diced
1 medium onion, diced
6 cups milk (whole preferred)
1 pound fettuccine pasta, uncooked
¾ cup parmesan cheese, plus more for serving
3 tablespoons chopped parsley, plus more for serving
PREPARATION
# In a small bowl, combine all spices for the cajun seasoning and mix together. Set aside. Store any extra in an airtight container for future use.
# In a heavy bottom pot (such as a Dutch oven), heat 2 tablespoons of olive oil over medium heat.
# Add the sliced chicken and 2½ tablespoons of the prepared cajun seasoning.
# Add the andouille sausage and cook until the chicken is no longer pink, about 4-5 minutes.
# Remove the meat from the pot and add the remaining olive oil.
# Add the diced peppers and onions and cook until the onions are transparent and softened, about 5 minutes.
# Add the milk and stir so that the seasoning is incorporated into the liquid.
# Turn the heat to high and bring to a boil.
# Add the uncooked fettuccine, stirring constantly until the noodles are al dente, about 10 minutes.
# On low heat, add the meat back in and stir so that it's evenly incorporated.
# Add the cheese and parsley, and stir. Remove from the heat.