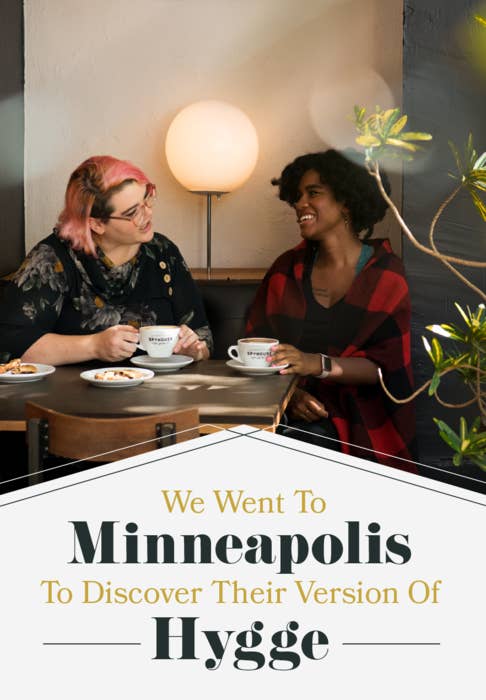 Hygge is a Danish word used to describe the very specific feeling of being cozy and contented and having a general sense of well-being. It is considered a key aspect of Danish culture. Hygge has recently entered the American lexicon as well. Used to describe everything from home decor to social events, hygge has become the next big thing. To get more acquainted with this concept, we visited several places in Minneapolis that totally embody hygge.
Coziness has always been a part of the culture in Minneapolis. With its super-cold winter temps frequently dropping into the single digits, remaining cozy is a must. Since the idea of hygge has come to America, it seems to be the perfect word to describe this city's vibe. I'd never been to Minneapolis and didn't know anything about the city, so I was interested to explore a new location, and what I found was a city full of warm people, cozy restaurants, and a culture all its own.
We landed in Minneapolis after a 7:30 a.m. flight from New York, tired and with neck cramps from sleeping upright on the plane. There was a slight chill in the air here; fall had already settled in, unlike at home, where it was still in the 70s. While I'm usually a summer devotee, there's something very nice about being able to walk a couple blocks without sweating through your clothes, and I got to wear my winter coat for the first time in months.
After waking up at 4:30 that morning, there was only one thing on my mind: coffee. And Spyhouse Coffee Roasting Co was the perfect hygge spot to grab a cup.
The café was warm and inviting with super-cozy wood accents and plants galore. I was surprised to learn Minneapolis has a thriving coffee roasting scene, and when I ordered the Spygirl Lavender Honey Latte, I could see why. The lavender flavor was subtle, smooth, and sweet, and it paired perfectly with the rich and chocolatey Devil's Food Cake Loaf I ordered. Tucked away in a little booth in the corner with the warm sun streaming in through the front windows, I was definitely feeling the hygge vibe.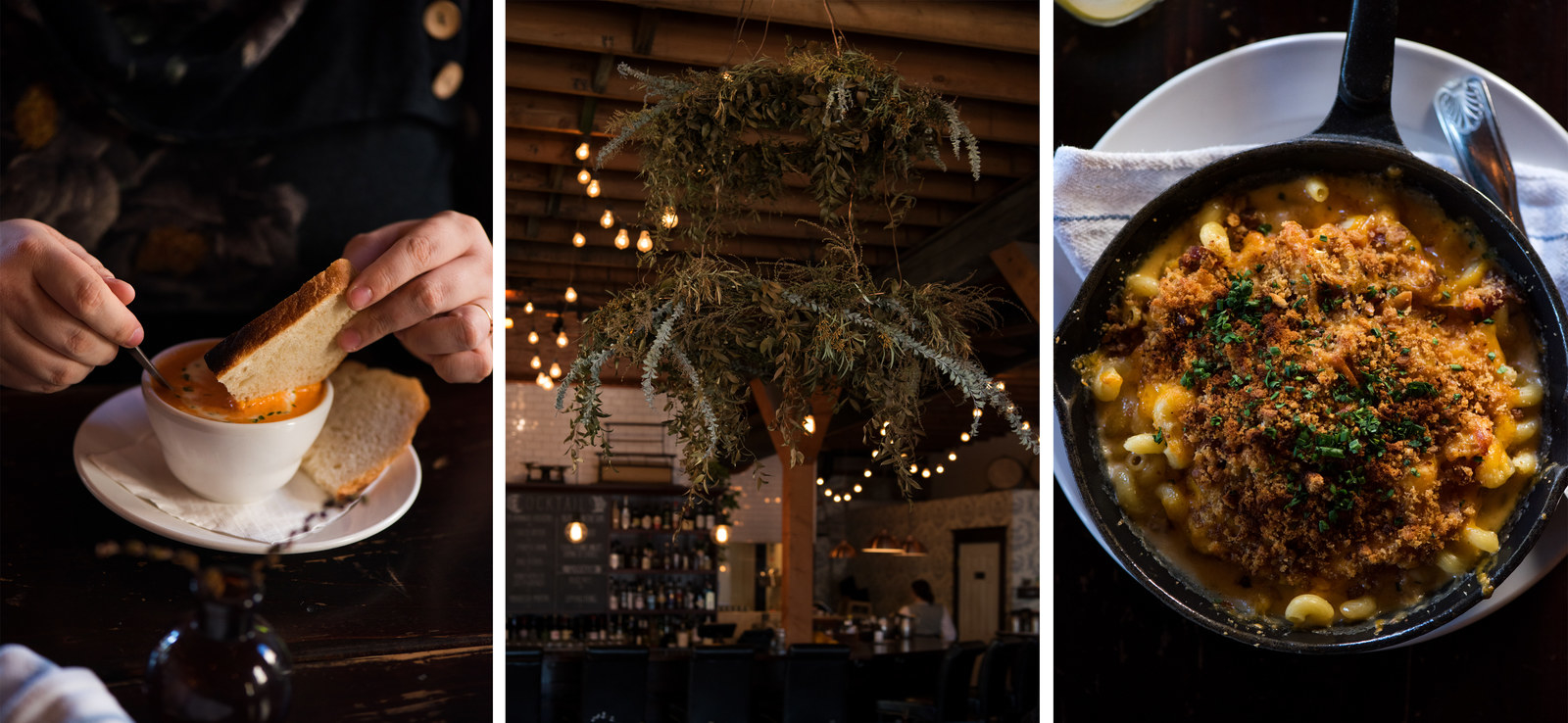 Walking around, I noticed neighborhoods of beautiful, old Victorian houses juxtaposed with tall steel-and-glass apartment towers just a few blocks away. The old bled into the new, and I felt I was experiencing a city in transition.
When you come to Minneapolis, it's a must to hit up the top-tier restaurants of the budding food scene, so we stopped at The Copper Hen Cakery And Kitchen for all the comfort food we could handle.

With exposed wood beams on the ceiling, dark wood accents, and comfy chairs, it was just the hygge vibe we were looking for. The menu had an extensive list of foods to put you in the best kind of food-induced drowsiness. It was easy to warm up with a cup of the best tomato soup we'd ever experienced and a good, heaping helping of mac 'n' cheese.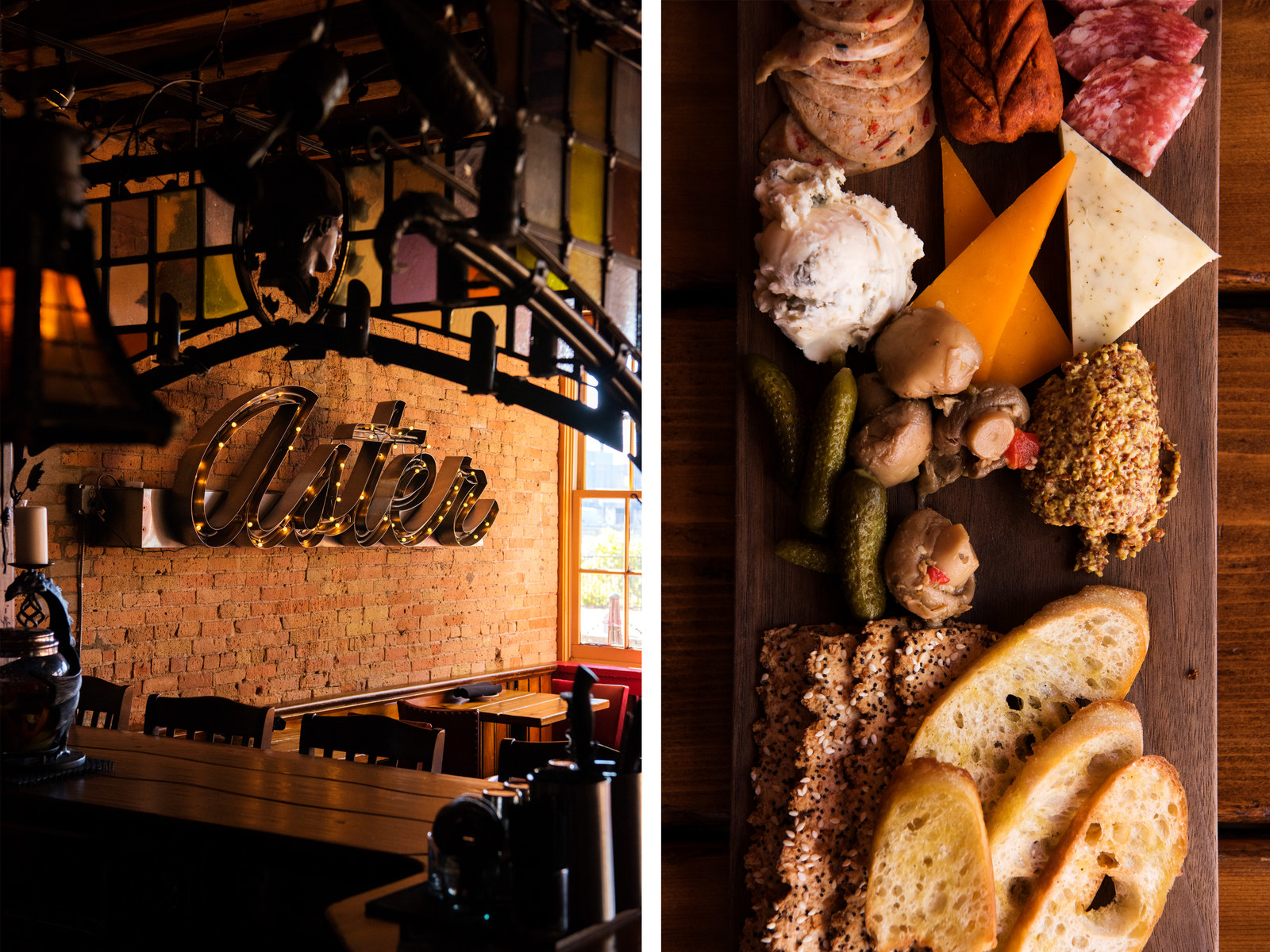 By the time we left Copper Hen, I felt like I was getting on board with the vibe of this city. Plus, I was beyond ready to eat more delicious food.
Aster Cafe gave us just that. A lovely restaurant overlooking the Mississippi River and the skyline of downtown Minneapolis, Aster Cafe had a warm atmosphere accentuated by a lovely exposed brick wall and cozy, intimate seating. The charcuterie plate and Margherita flatbread we ordered tasted just as good as it looked. The whole meal was made even better by our lovely conversation with our server, who was also a writer in her time off. We even exchanged emails, and suddenly I'd made a new friend in the space of about 45 minutes.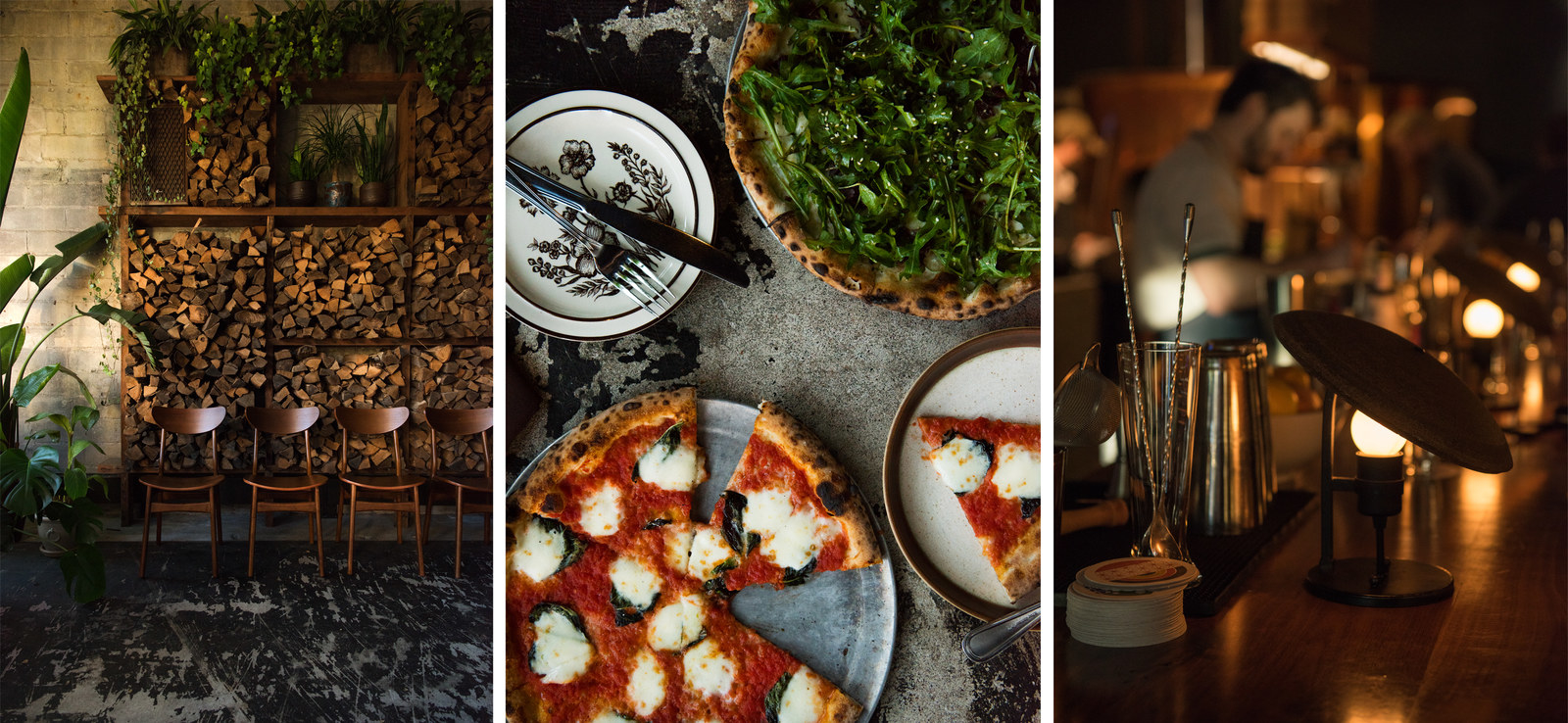 After a brief nap (we were running on fumes at this point), we hit up Young Joni, a darling pizza place with a wood-fired oven that gave off the aura of sitting in your living room with a fire crackling in the fireplace. The restaurant was packed, even on a Wednesday, and we ended up sitting comfortably at the community table, dining next to seasoned locals who had sniffed this place out long before we showed up. As a bonus, the Korean barbecue pizza was good enough to satisfy our group of New Yorkers.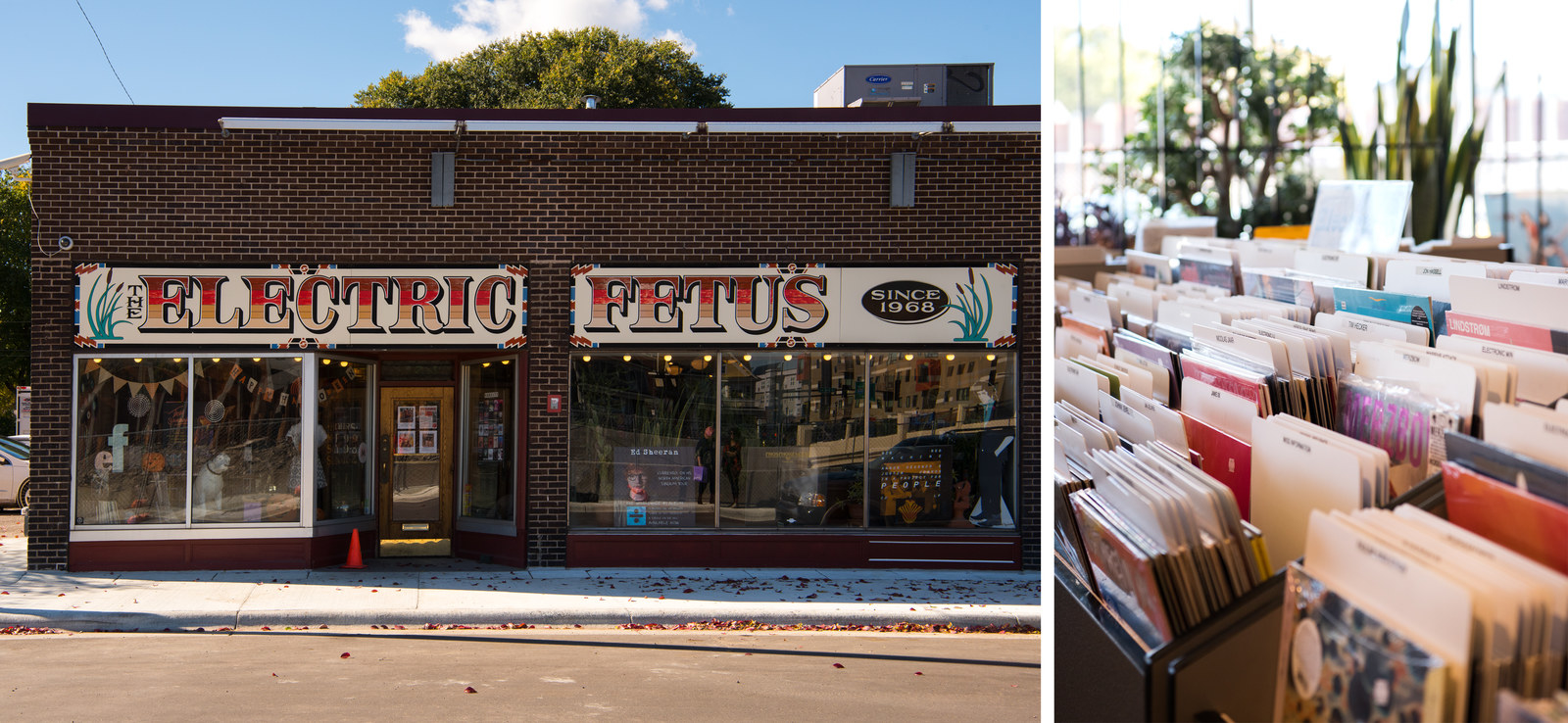 Not knowing what to expect when I came to Minneapolis, I had no idea it had such a vibrant arts and shopping scene. After doing research for this trip, I was looking forward to checking out Electric Fetus, a record store that did not disappoint. They had an almost unbelievably vast collection of vinyl, and I was even able to pick up a couple hard-to-find albums. There was something really cool about seeing so many albums I had forgotten I liked and so many albums from bands I'd never even heard of. It felt a bit like finding myself in a city I'd never been to before.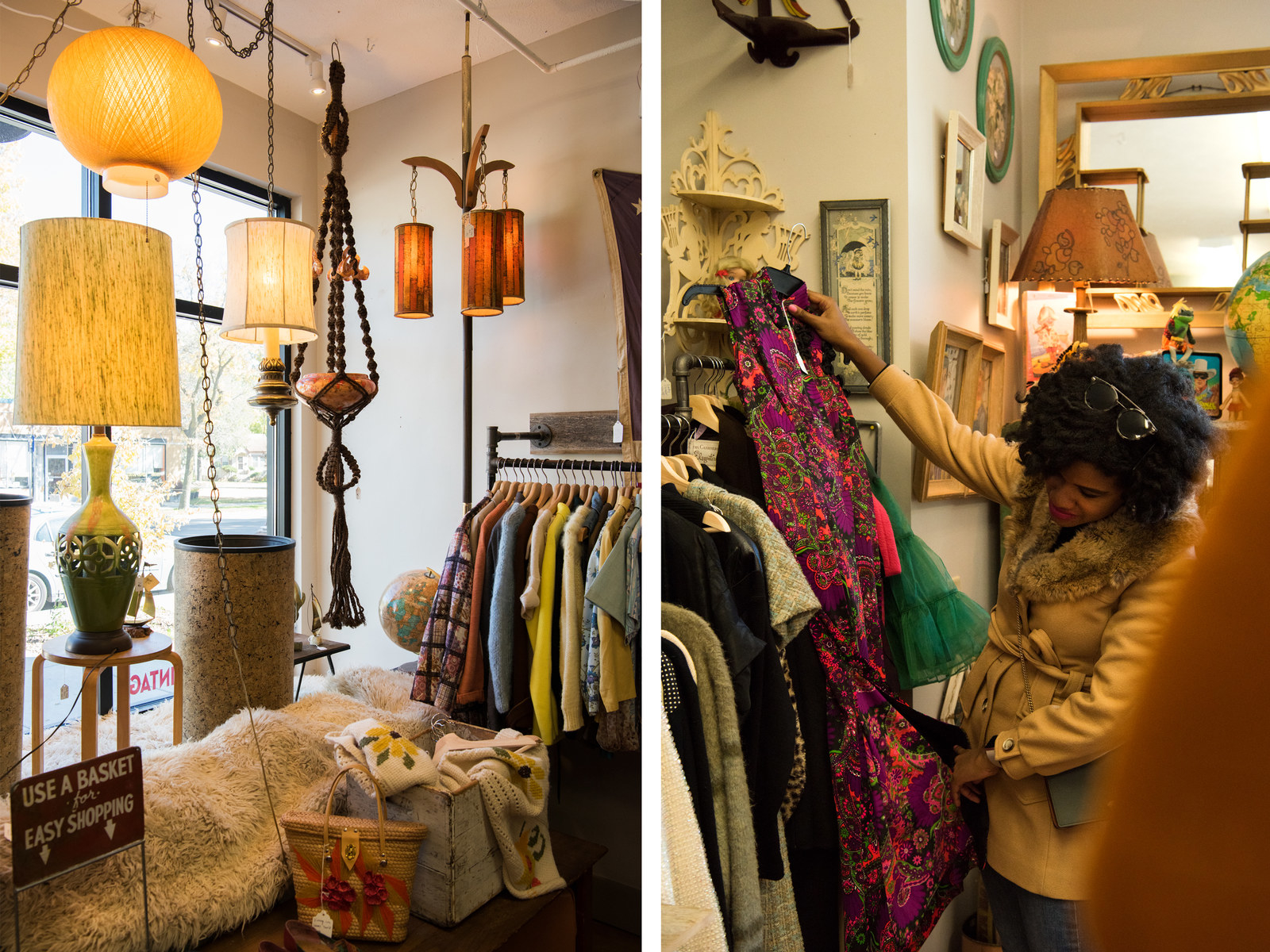 One of my favorite things to do when I visit a new place is hit up a vintage or antiques store and see what weird treasure I can find to add to my collection of junk, because one woman's trash is another woman's tchotchke.
Time Bomb Vintage, with its collection of midcentury housewares, cool vintage threads, and kitschy trinkets, was certainly a treasure trove. As a vintage devotee, I felt like I was totally in my element here. The place was stocked with vintage comics and toys that brought back memories of childhood and made me feel right at home. All in all, it was a pretty cool place, and I took home a pair of art deco bookends that are now beautifully displayed on my shelf at home.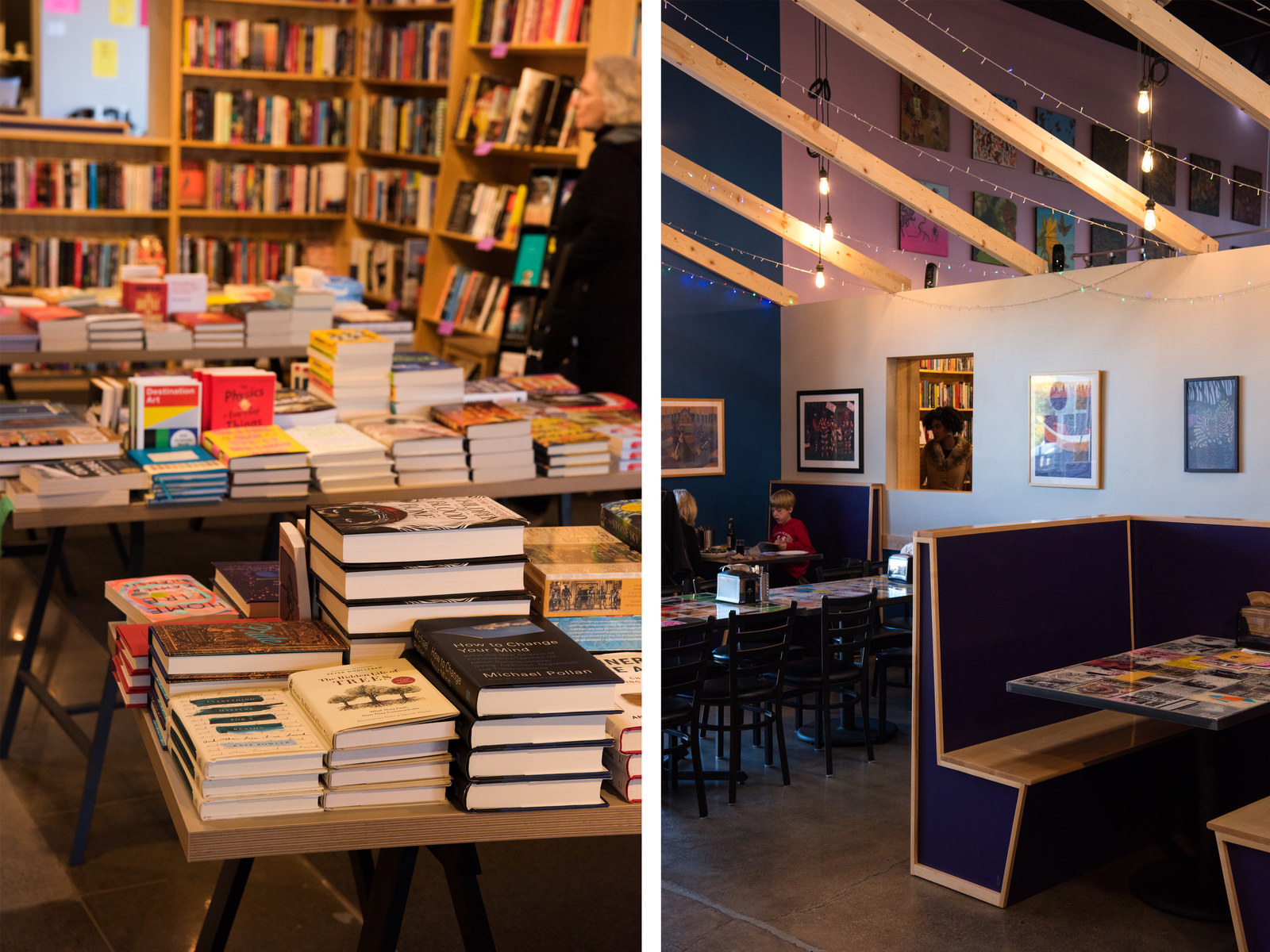 Since I was a kid, one of the things that makes me feel the most hygge is disappearing into a good book. I've had a lot of favorite bookstores in the past, so when I visited Moon Palace Books, it had a lot to live up to, but this indie bookstore was a real find with its amazing selection. My favorite thing about it was its well-curated collection of books by diverse authors, including women and authors of color, featuring titles you wouldn't necessarily find in other stores. The atmosphere was incredibly cozy with friendly staff to help you find just what you're looking for and a cozy café, perfect for relaxing and sinking into your new finds.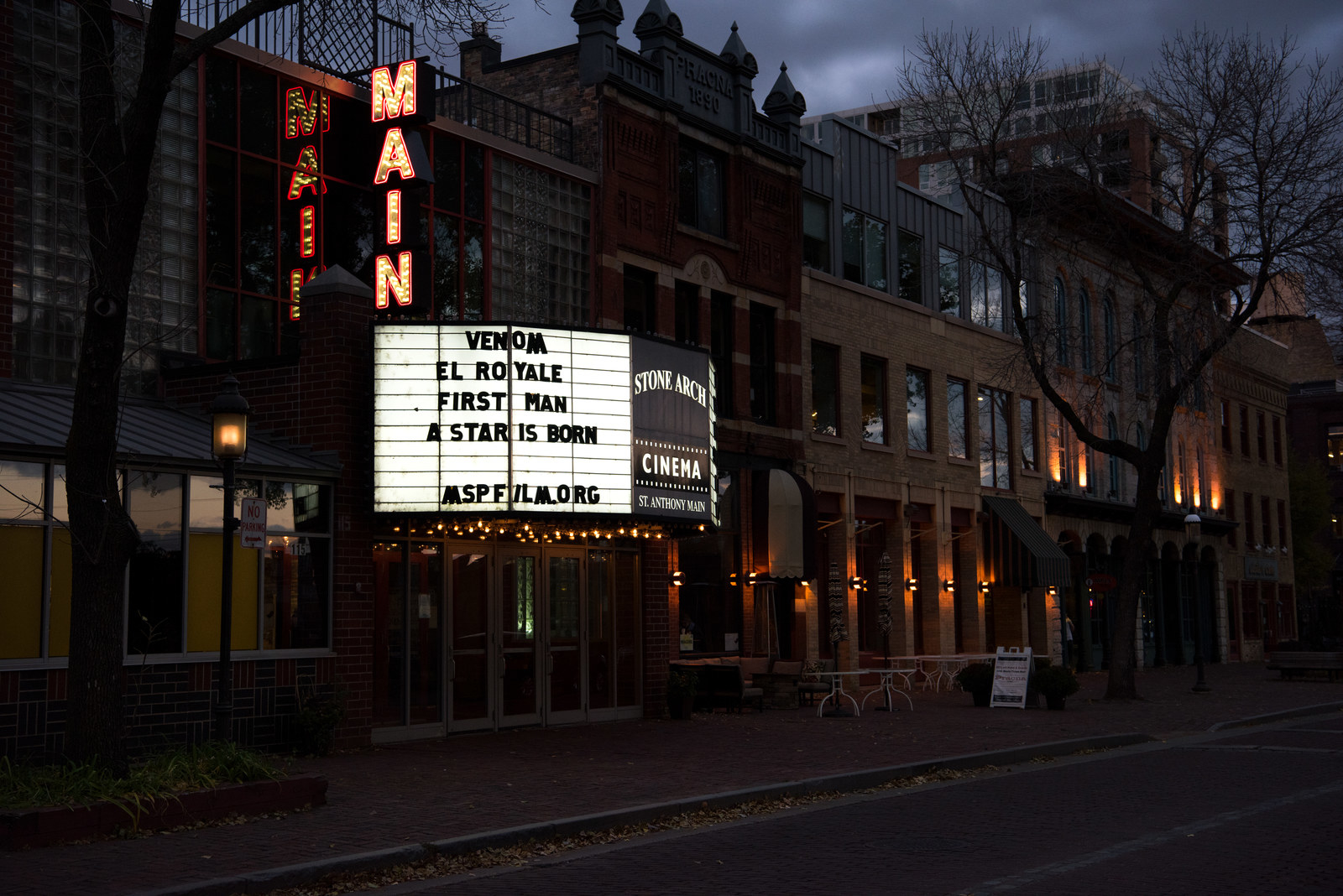 By evening, I was ready for a relaxing activity, and settling in for a good movie sounded like just the thing, so we headed to St. Anthony Main Theatre, the kind of theater you don't see very much anymore. With a classic marquee sign out front and old-school seating in the theater, it was a comfortable place to settle in for a flick. The movie ended up being a tearjerker, and by the end, everyone in the theater was crying. It was pretty funny, and you felt a sense of community as everyone looked a little embarrassed to be openly weeping in public.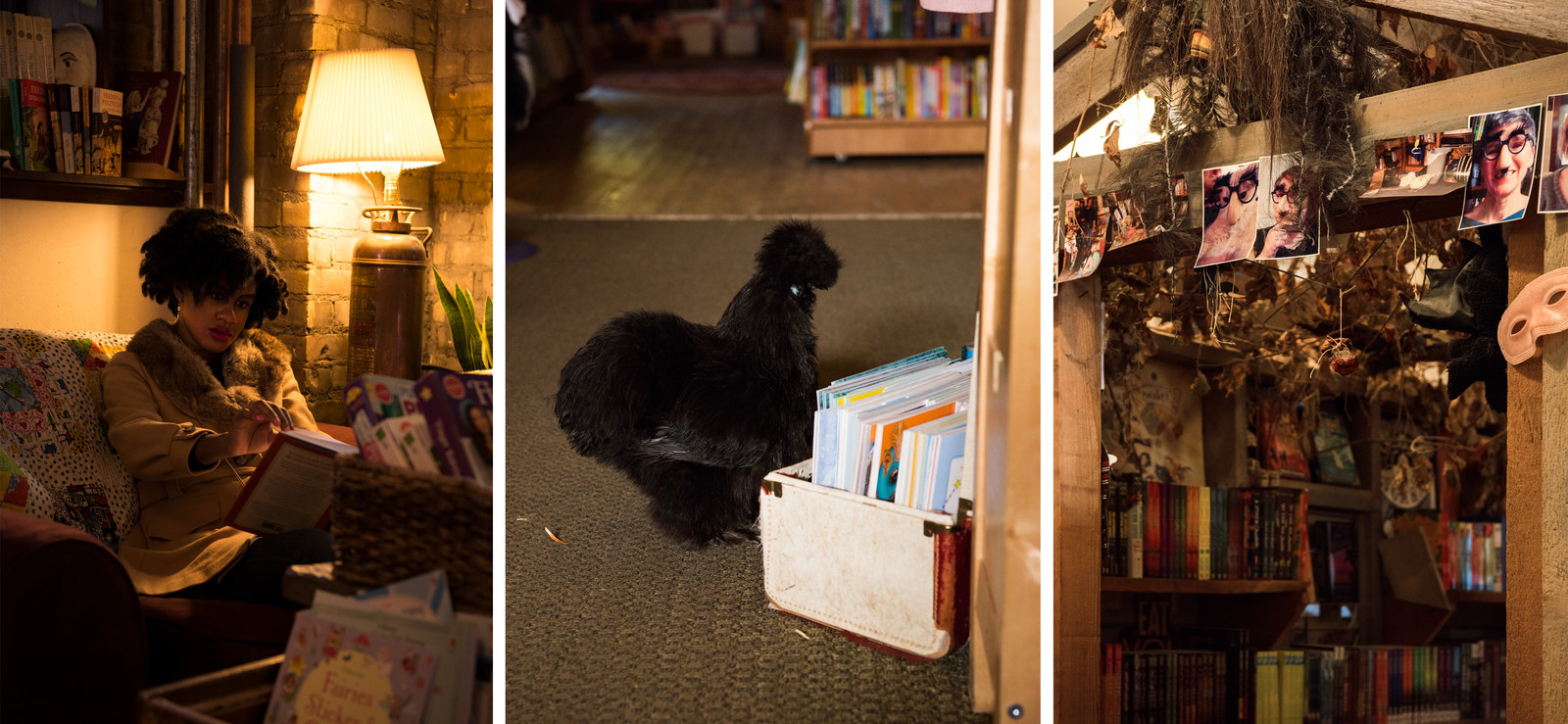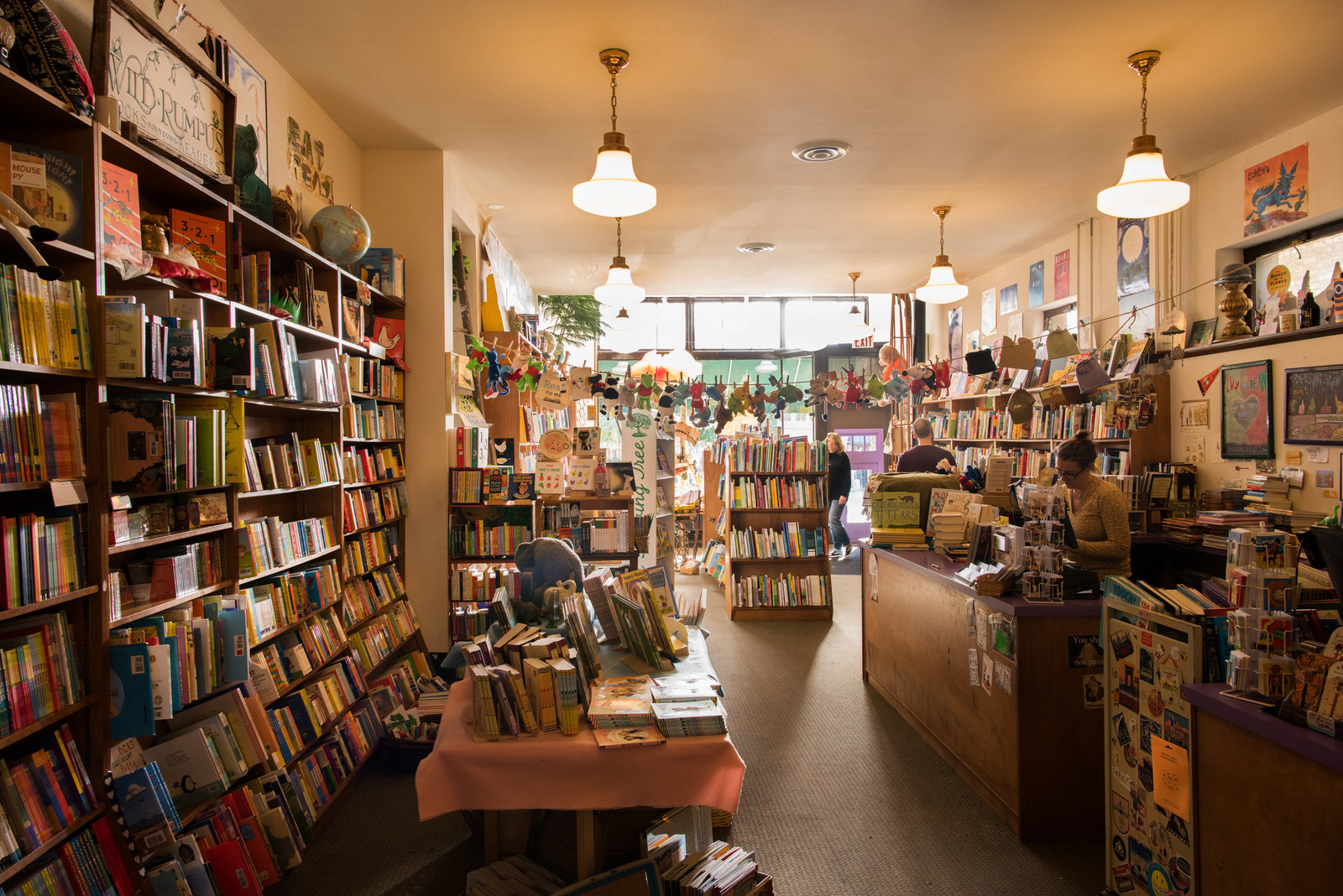 Out of all the amazing places we stopped on our trip, I think Wild Rumpus was my favorite. It's a children's bookstore with all the kids' books you could ever want and, amazingly, an assortment of fluffy creatures that live there. With cats and tarantulas and — the highlight — a Silkie chicken, it was a bookstore you can't find anywhere else. The incredibly cozy chairs and couches sealed the deal: This place was awesome, and I wanted to live there with the Silkie chicken forever.
Our last day in Minneapolis was super chill, which, after running around for two straight days, felt like a much-needed respite, and what better place to relax than a cat café? The Cafe Meow was about as much adorable as any person could handle. Honestly, if these cats don't give you the hygge vibe, I don't know what will. With 13 kitty cat residents, this place was a paradise for cat lovers. It was lovely to sit in a comfy chair, drink a little coffee, and have a cat sit in your lap. On top of that, all of the cats are available for adoption, and Cafe Meow has already adopted out 15 cats since their opening in February. Meeting these lovely cats was so heartwarming, and it was comforting to know they would someday go home to a wonderful family. It was the perfect last day in Minneapolis.

Coming from New York, it was so different to have people smile at you on the street and to strike up a conversation with everyone from your ride-share driver to the clerks working at the stores we stopped into. I left Minneapolis with a feeling of contentment. Escaping the hustle and bustle of New York was a great comfort and, I might add, gave me that cozy hygge feeling.
Photography: Sarah Stone © BuzzFeed 2018
Illustrated Headers: Nicole Ench © BuzzFeed 2018

U.S. Bank is proud to support Minneapolis communities and the individuals within them by helping them find their hygge as well as their possible.