Tater Tot Poutine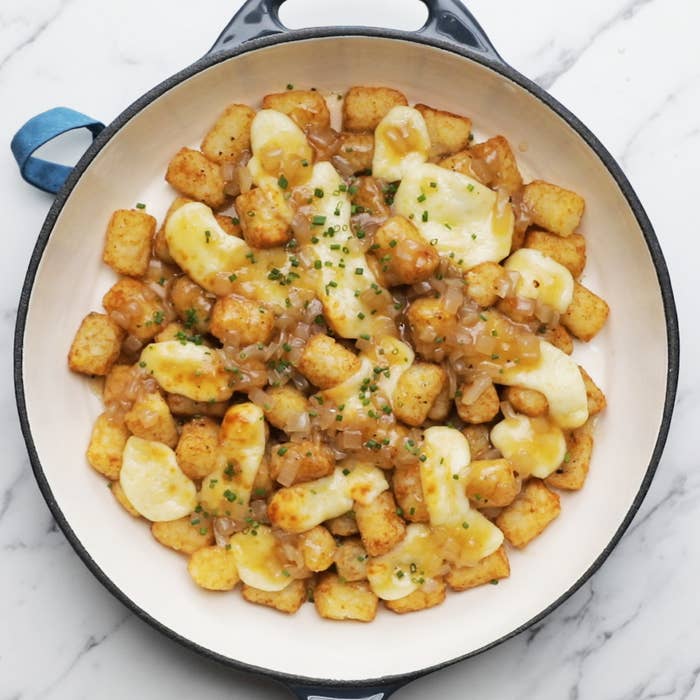 INGREDIENTS
½ pound frozen tater tots
1 tablespoon olive oil
¼ cup finely diced yellow onion
1 cup beef stock, divided
1 tablespoon cornstarch
Salt and pepper, to taste
2 teaspoons truffle oil (optional)
½ cup white cheddar cheese curds
2 tablespoons finely sliced chives (garnish)
½ ounce shaved black truffle (optional garnish)
PREPARATION
1. Preheat oven to 425℉.
2. Spread the tater tots in even layer on cookie sheet. Bake 15–20 minutes or until crispy and brown. Season with salt and pepper. Turn oven down to 350℉.
3. Heat a small saucepan over medium heat. Add olive oil and onion. Saute until translucent, about 2–3 minutes.
4. While onions cook, combine 2 tablespoons of beef stock with cornstarch to make slurry. Set aside.
5. Add the remaining beef stock to onions in pan. Bring to simmer.
6. Whisk in the cornstarch slurry. Gravy will thicken quickly. Season with salt and pepper, then fold in truffle oil. Keep warm.
7. Add crisp tater tots to large skillet. Sprinkle cheese curds evenly over top. Bake 6–8 minutes or until cheese gets melty.
8. Ladle gravy over top of tots.
9. Garnish with chives.
10. Enjoy!