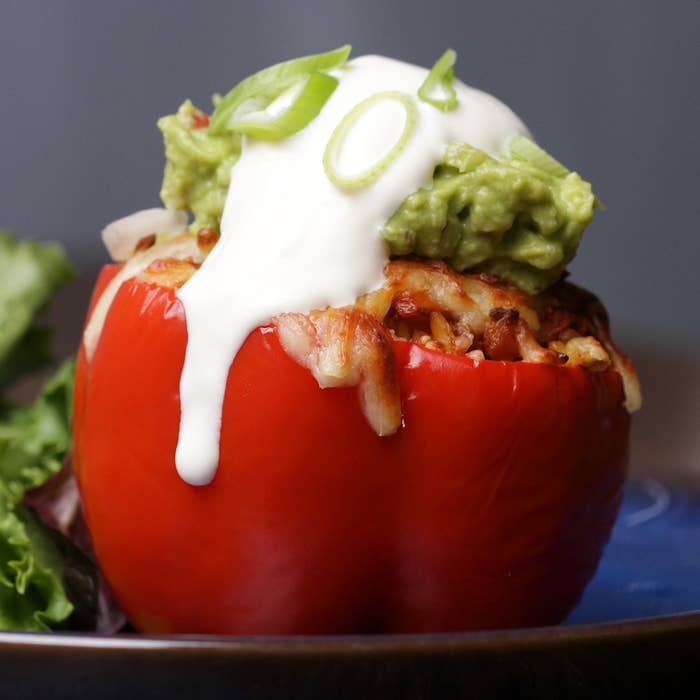 Makes: 4–6 stuffed peppers
INGREDIENTS
4–6 bell peppers, various colours
½ tablespoon olive oil
1 red onion, finely diced
1 carrot, diced
3 garlic cloves, crushed
250 grams lean beef mince
150 grams tomatoes, diced
2 teaspoons tomato puree
Salt, to taste
¼ teaspoon pepper
1 teaspoon cumin
1 teaspoon garlic powder
1 teaspoon smoked paprika
1 ½ teaspoon cayenne pepper
1 tablespoon coriander, finely chopped
1 packet Uncle Ben's Mexican Style Rice
100 millilitres water
100 grams cheese, grated
SERVING SUGGESTIONS
Spring onion
Sour cream
Guacamole
Coriander, chopped
Salad leaves
PREPARATION
1. Preheat oven to 210˚C (410˚F) and prepare the bell peppers by cutting the top off each pepper and removing the seeds. Place in a baking dish and set aside.
2. Place a large frying pan over medium heat and add the olive oil, red onion, carrot, and garlic. Gently sauté for 5–10 minutes or until the vegetables have cooked down and are starting to brown.
3. Next, add the minced beef. Break up and separate the meat; cook until browned and cooked through.
4. Add the tomatoes, tomato puree, salt, pepper, cumin, garlic powder, smoked paprika, cayenne pepper, and coriander. Stir well and continue to cook for 2–3 minutes to awaken the spices and bring all the flavours together.
5. Add the Uncle Ben's Rice to the pan and cook for a further 2 minutes; stir continuously. Once the rice is piping hot, remove pan from the heat.
6. Take your bell peppers and fill generously with the spicy filling. (Depending on the size of your peppers, the mixture should fill either 4 large peppers or 6 medium-sized peppers.)
7. Pour the water into the bottom of the baking dish and cover tightly with tin foil.
8. Bake in the oven for 30 minutes. After 20 minutes minutes, remove the tin foil and top each pepper with a sprinkle of cheese. Place back in the oven for the remaining 10 minutes.
9. Top with sour cream, guacamole, and spring onion and enjoy!