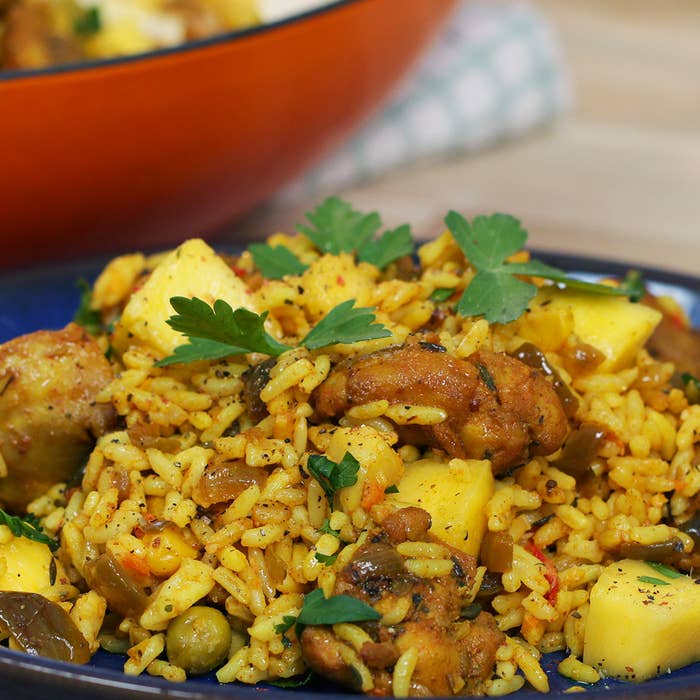 INGREDIENTS
700 grams boneless, skinless chicken thighs,
roughly chopped

1 tablespoons soy sauce

½ teaspoon salt

¼ teaspoon black pepper

1 teaspoon mixed herbs

1 teaspoon paprika

1 teaspoon thyme

2 teaspoons turmeric

1 tbsp vegetable oil

2 red onions, chopped

4 chopped garlic cloves (I use pre-chopped frozen
garlic — quicker and easier)

1 pack Uncle Ben's Golden Vegetable Rice

1 mango, cut into 1-inch chunks
1. Add the chicken to a large bowl along with the soy sauce,
salt, black pepper, mixed herbs, paprika, thyme, and
turmeric. Stir to combine and marinade in the fridge for 20
minutes or overnight.
2. Heat vegetable oil in a large heavy-bottomed frying pan.
When hot, add chopped onion and fry until translucent
(around 5 minutes). Add garlic and fry for a further 1
minute.
3. Next add chopped chicken thighs. Pan fry for around 10
minutes or until the chicken is cooked through.
4. Add the rice to the pan and cook for 2 minutes, stirring
continually.
5. Remove the pan from the heat and add your mango and stir
to combine. Serve immediately. If presentation is important,
add pile of chopped mango in a little mountain on top of
cooked rice.