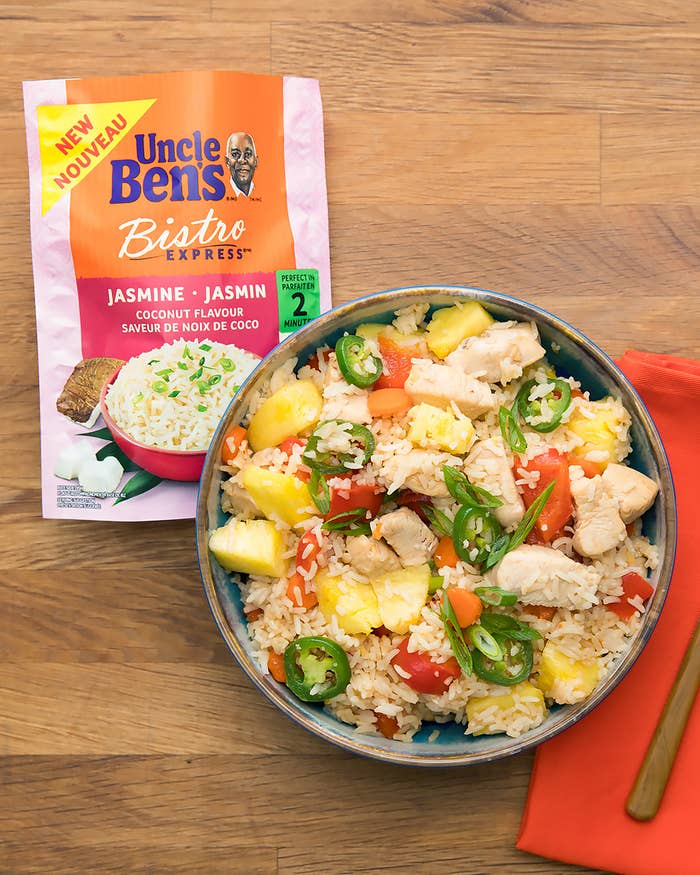 SERVINGS: 6-8
INGREDIENTS
1 lb boneless chicken breast
1 pineapple, halved and chopped
1 large carrot, peeled and sliced
1⁄2 red bell pepper chopped
1⁄2 fresh jalapeño, sliced
1⁄2 teaspoon fresh ginger, minced
1⁄3 cup pineapple juice
1 tablespoon light soy sauce
1⁄2 teaspoon cornstarch
2 packets of Uncle Ben's Jasmine Coconut rice
1 scallion, chopped
PREPARATION
1. In a wok or skillet heat oil over medium high heat, sauté chicken until lightly browned.
2. Add carrots and peppers and continue to sauté until vegetables have begun to soften (about 2 minutes).
3. Push chicken and vegetables to the sides or the pan and add pineapple juice, soy sauce, and ginger to the well in the center, allow to come to a simmer and add cornstarch, carefully stir to incorporate cornstarch, allow sauce to thicken slightly (about 1 minute.)
4. Combine chicken and vegetables with the sauce, and add pineapple and jalapeño, continue to sauté, until all ingredients are well coated and vegetables are cooked (about 2 minutes). Add rice packets to chicken and vegetable mix, stir and allow rice to heat through.
5. Garnish with scallions
6. Serve immediately
7. Enjoy!