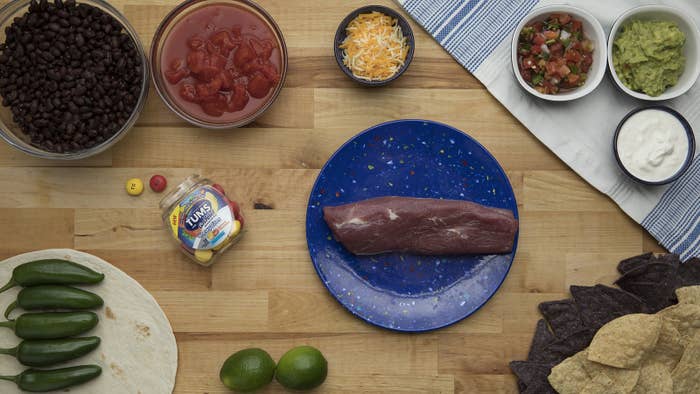 GRILLED PORK AND BLACK BEAN BURRITO

Servings 6-8


INGREDIENTS
1 lb Pork Tenderloin
1 tablespoons olive oil
Spice Rub
1 tablespoon cumin
1 teaspoon garlic powder
1 teaspoon onion powder
1 teaspoon paprika
1 teaspoon oregano
1 tablespoon salt
½ teaspoon cayenne
½ teaspoon pepper
Black Beans
1 tablespoon olive oil
½ onion, chopped
2 cloves garlic, chopped
1 jalepeño, diced
28 oz can black beans
2 teaspoons spice rub
½ teaspoon cinnamon
1 tablespoon brown sugar
1 can diced tomatoes
½ lime, juiced
½ cup chicken stock
2 tablespoons fresh cilantro
salt
Assembly
Large flour tortillas
Shredded cheese (cheddar/jack)
Guacamole
Pico de gallo
Hot sauce

PREPARATIONS
Mix
to combine all of the spice rub ingredients in a bowl. Set aside 2
teaspoons of the rub in a bowl for the beans.
Pat
the tenderloin dry and coat with 1 tablespoon of olive oil. Coat in the
spice rub.
Place
tenderloin on the grill and cook over medium heat until it reaches your
desired temperature (at least 145 degrees).
Remove
from the grill and set aside to rest.
To
make the beans, heat olive oil in a pot and add onions and jalepeños,
saute for 3 minutes and then add the garlic and saute for a further 1
minute.
Add
black beans to the pot, along with the 2 reserved teaspoons of rub,
cinnamon, brown sugar, diced tomatoes and chicken stock. Simmer for 15-20
minutes, stirring occasionally.
Dice
the pork tenderloin into cubes.
Stir
1 cup of diced pork into the beans and cook for 5 more minutes. Then
remove from heat and finish beans with lime juice and fresh cilantro.
To
build the burrito, place a generous amount of cheese towards one side of
the tortilla. Then top with beans, cubed pork, guacamole, pico de gallo
and a few liberal dashes of hot sauce.
Fold
in the top and bottom of the tortilla and roll it up.
Place
tortillas (flap side down first) on the grill and toast on low flipping so
they get brown on all sides and are cooked through.
Serve
with crema and salsa.
Enjoy!