A gust of wind heavy with dust sweeps across my face, and it tastes positively pleasant compared to the whipping tail of the horse I'm clumsily attempting to saddle. He stamps a single front hoof impatiently but maintains his place as my fingers continue to struggle with the knotty labyrinth of straps, rings, billets, and cinches. Just the day before, the only breeze I felt was the stale air of a New York City subway platform.
On this arid, sun-baked morning, I inhale mouthfuls of loose, powdered earth to take a horse out with the aim of driving a couple heads of longhorn cattle. I welcome the dirt-dusted breath of the wide, flat plains of Alberta, Canada. I even welcome the pungent, hay-sweet smell of the horsetail. Really, my nose is thankful for anything but air tainted with exhaust.
As a bonafide city mouse, these were a few of what I considered to be "good views":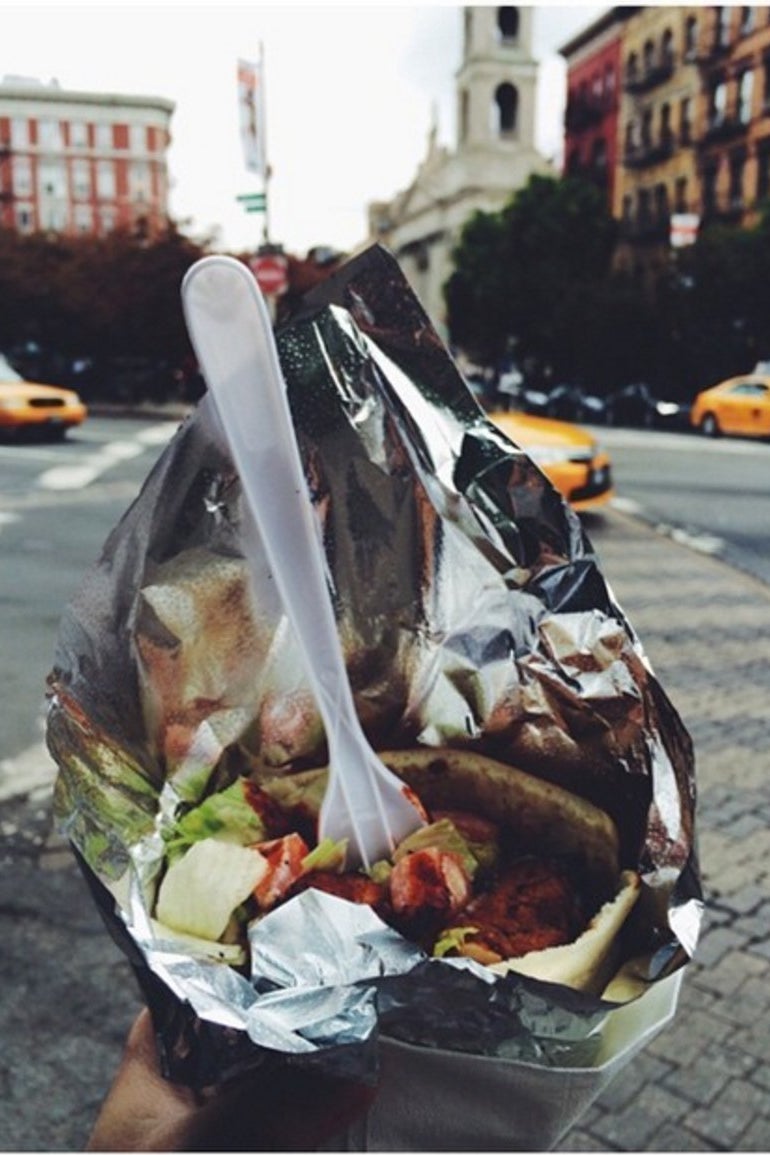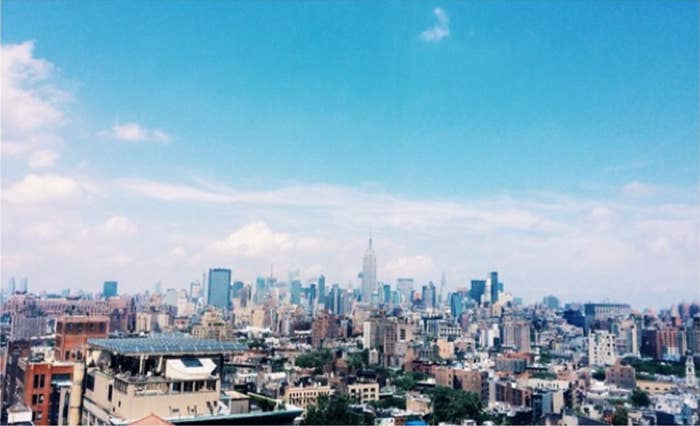 The Big Apple? Wonderful. But every so often, you get a craving for something else, something just a touch more organic than street meat, smog-polluted air, hot trash, or a fellow straphanger's coffee breath, for example. This sentiment is shared by my colleagues and fellow city mice, photographer Lauren and account manager Jeff.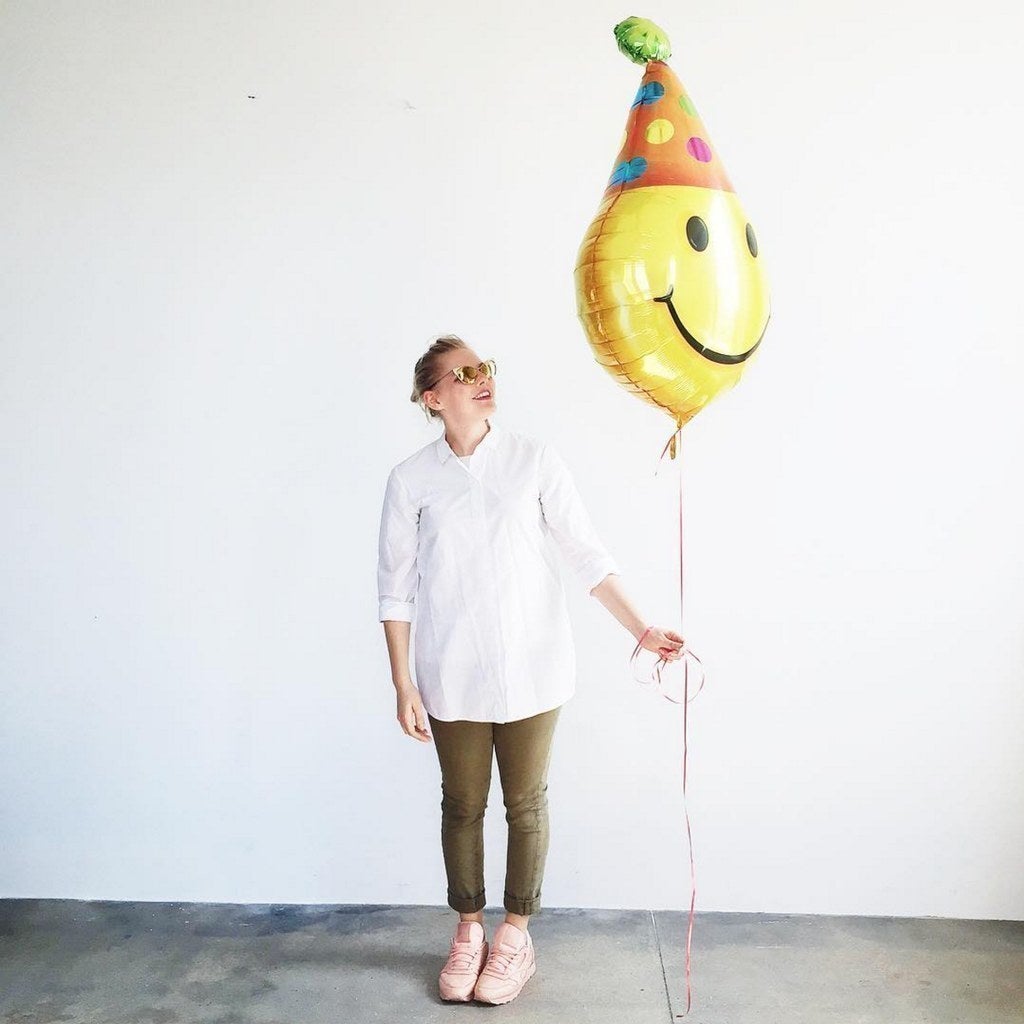 That's where Alberta comes into the picture, to commune with nature for a much-needed respite from our concrete jungles — for a fresh air break, if you will. Alberta, a western province of Canada, just north of the state of Montana, is most well-known for the wilderness of Banff and Jasper National Parks. But would we city folk be able to rough it?
(Spoiler alert: No, we really would not even try it.)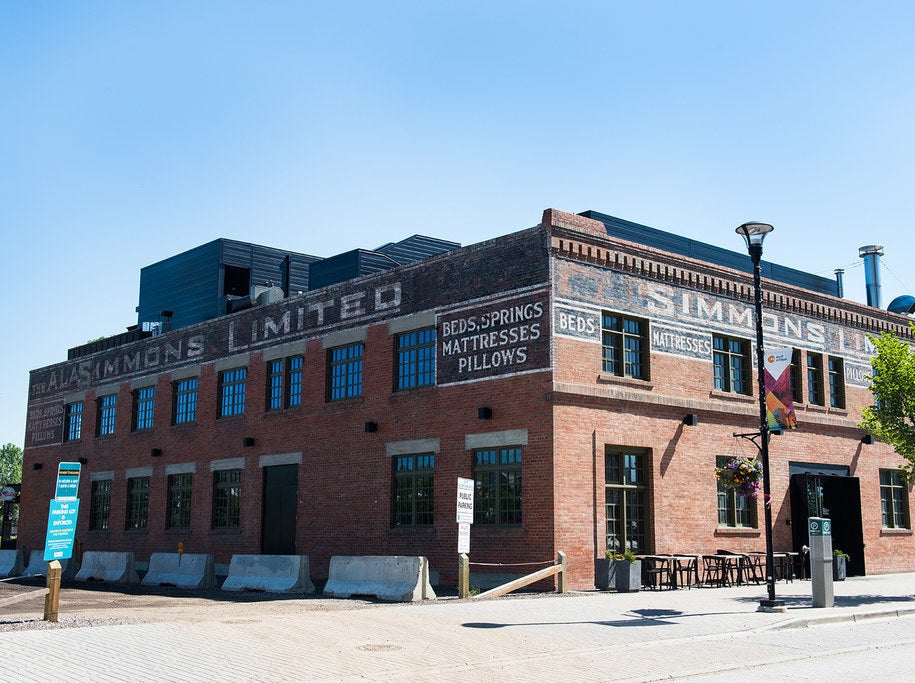 We started in Calgary, Alberta's biggest city, where we checked out some brekkie at Phil & Sebastian in the landmark Simmons Building. The area — once known for its foundries and skid row reputation — is now a really charming, post-industrial 'hood with great big brick buildings right alongside the Bow River, teeming with cafés, bars, and restaurants.
With tummies full of nom-worthy pastries, we couldn't resist visiting the brand-spanking-new Studio Bell, Home of the National Music Centre, just down the street. OK, so not exactly "fresh air," but really "fresh as hell" because we were some of the first people in it. And because the museum is the first of its kind to celebrate Canadian music and its icons and pioneers.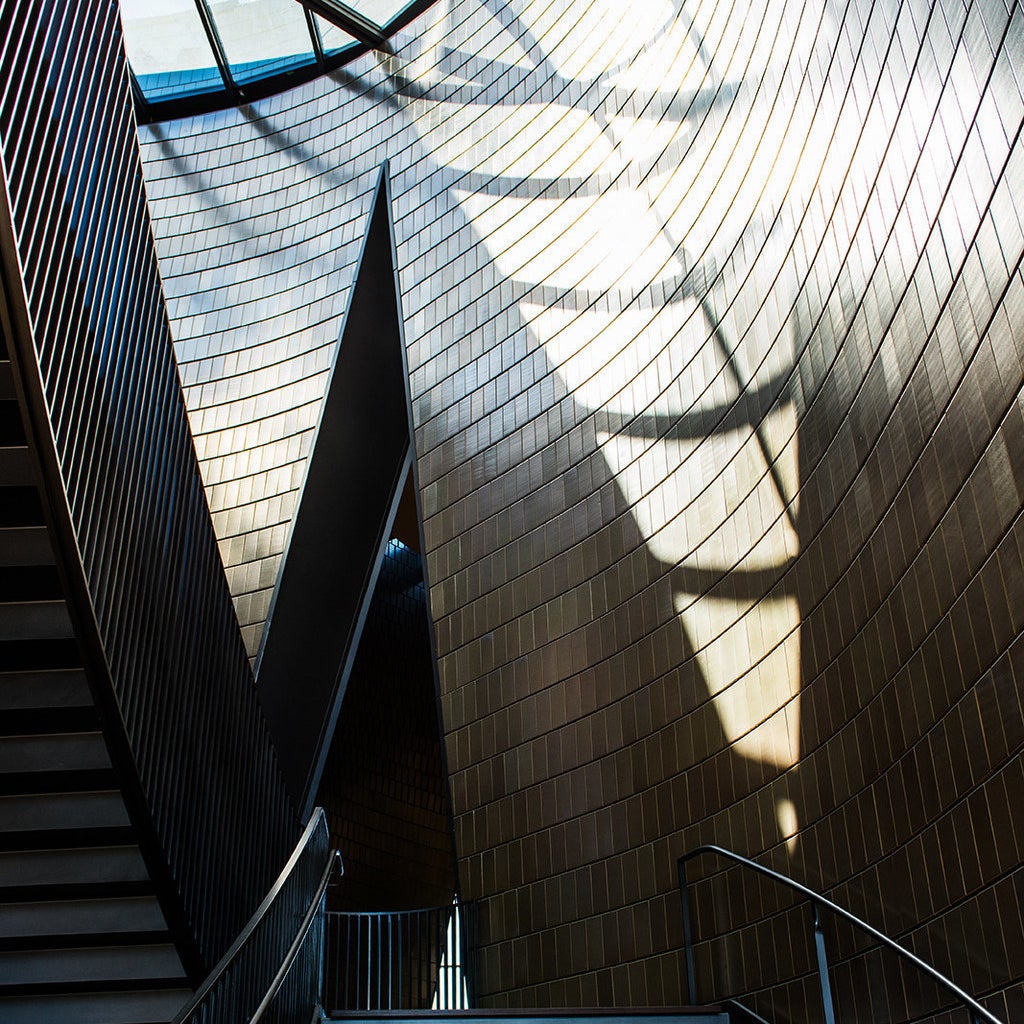 The flowy architecture for the museum is inspired by both the landscape of Western Canada and the design of instruments.
The NMC has over 2,000 instruments, artifacts, and pieces of music equipment, some of which they actually encourage you to play with. So we fiddled on interactive exhibits with drum sets, synths, guitars, and even a vocal booth. (We did "Rude" by Magic! — and trust me, you don't want to hear it. It was v rude.) And only artists-in-residence can get their hands on some of the equipment, like the TONTO.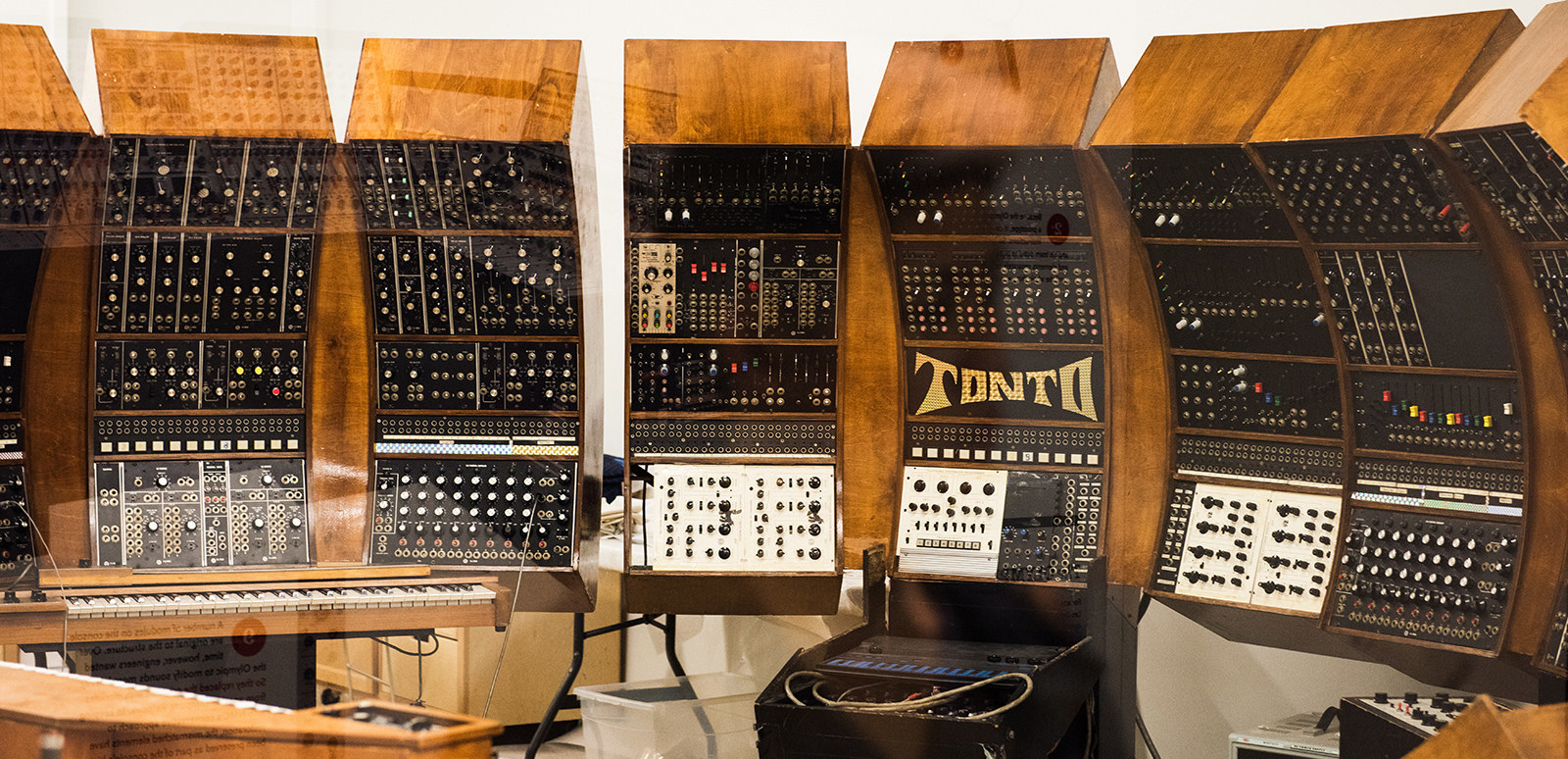 After having lunch at Shiki Menya, the best ramen spot in all of Calgary, we realized we hadn't even left the city yet. So we headed to Drumheller. Just a 1.5-hour drive away, this town is chock-full of dinosaurs — real ones long deceased and preserved by soft mud in a riverbed grave, fake ones molded and frozen into the perpetual chore of mowing a lawn (not kidding), and gargantuan ones made of fiberglass and steel you can climb up into.

And climb we did, right into the mouth of the World's Largest Dinosaur. Standing at over 80 feet, this T. rex is actually 4.5 times the size of its long-extinct predecessors, so yeah, her name is actually legit.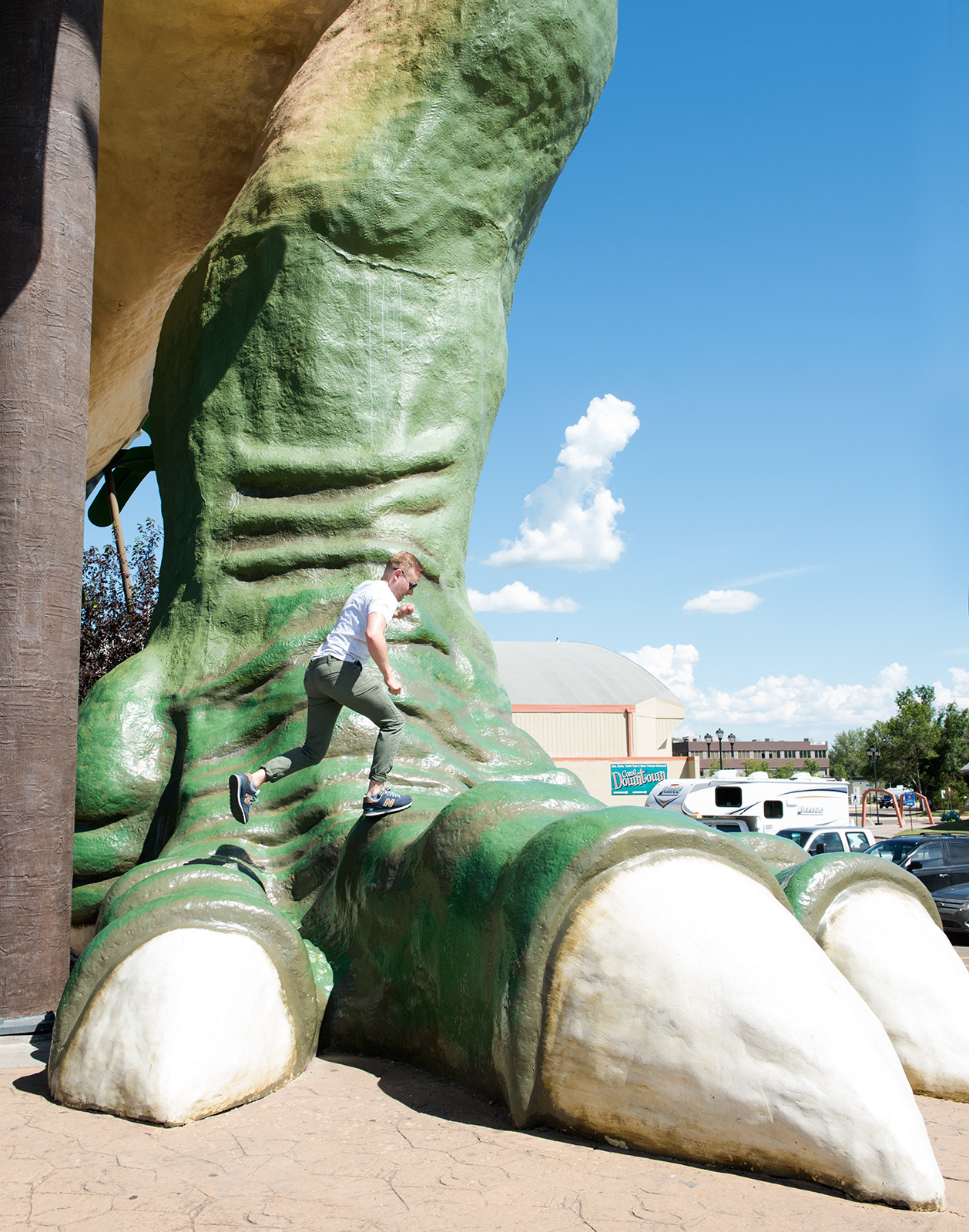 The town of Drumheller, as you may have already guessed, is world renowned for its dinos — that's why the Royal Tyrrell Museum is situated there. And that's where we actually got our first taste of the great outdoors, with a guided hike called the Seven Wonders of the Badlands.
Having once been covered with swamps, rivers, and oceans, the now semi-desert area known as the Badlands is a premier spot to find dinosaur fossils. The valley was carved out by accelerated erosion during the last ice age so that sedimentary layers and dino bones have literally just been exposed willy-nilly.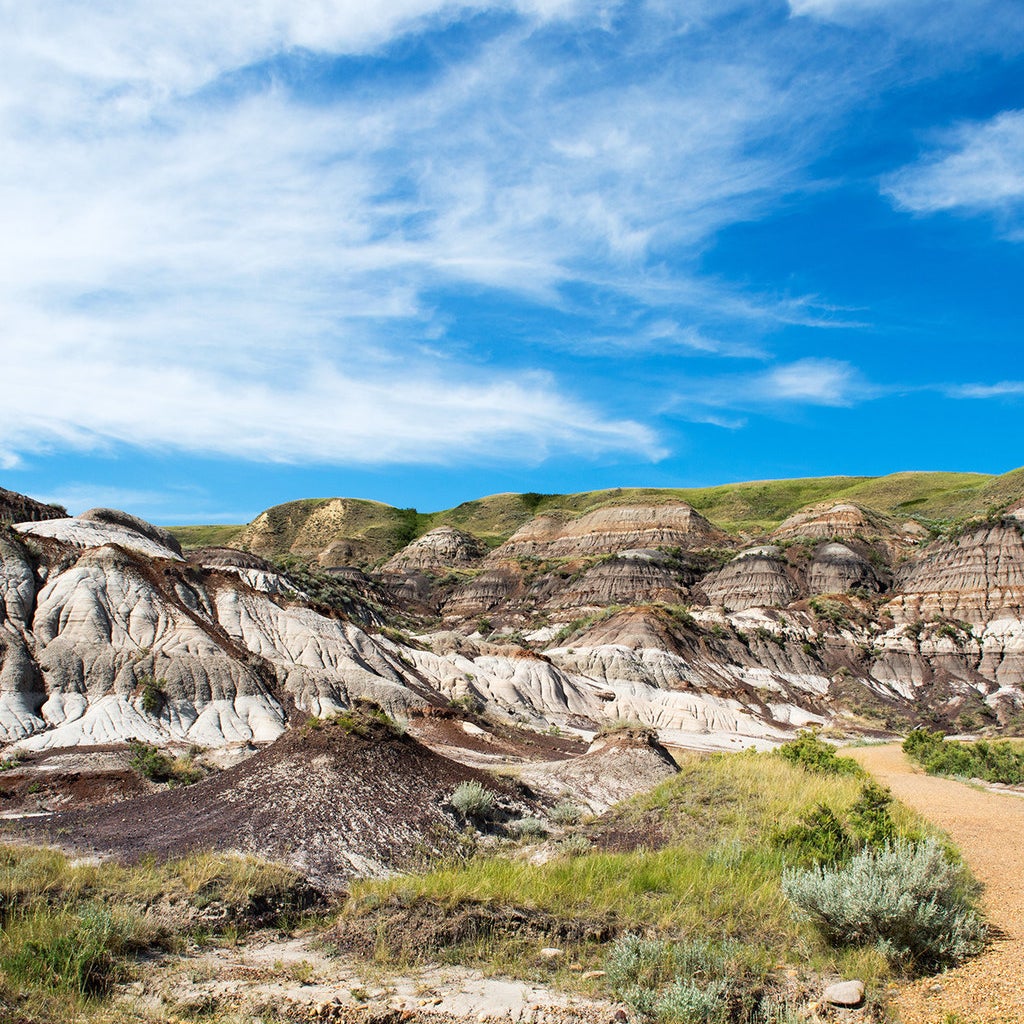 Literally, tourists go there and just *discover* dinosaur bones. We did not. But we did run around the museum making "WHERE ARE MY DRAGONS?" jokes and marveling at the sheer scale and grotesque beauty of these extinct beasts.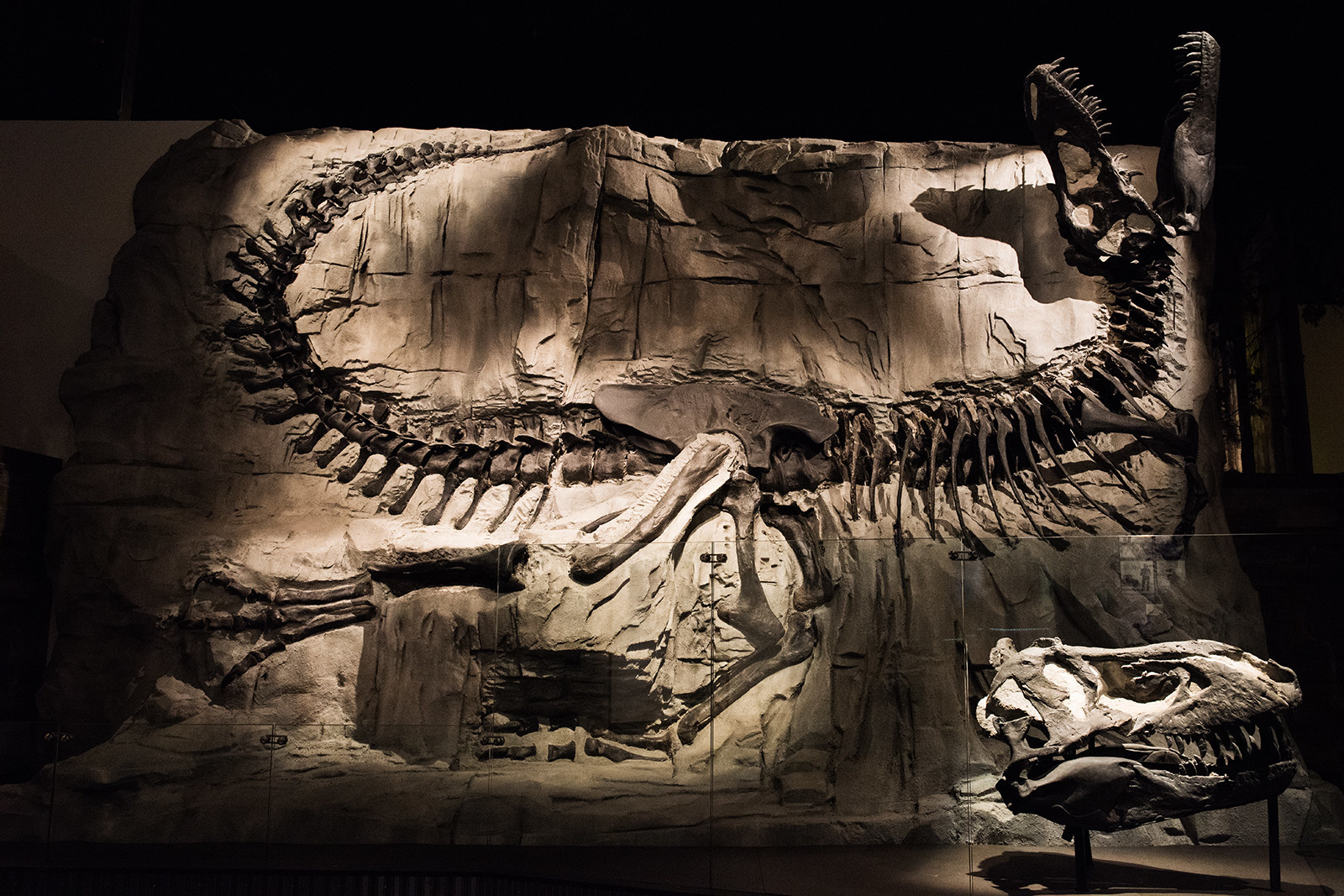 After an eventful, dino-packed day, we were spent, but we stopped over at the Hoodoos Trail for a quick hike before driving back to our hotel in Calgary. In the Blackfoot and Cree traditions, these strange structures called hoodoos hold powerful significance as petrified giants who come alive at night to protect the land by attacking intruders with stones. We waited for the sun to set (at 9:30 p.m.!) in the alien landscape and enjoyed closing our long day with something we could never get in the city: a quiet sunset.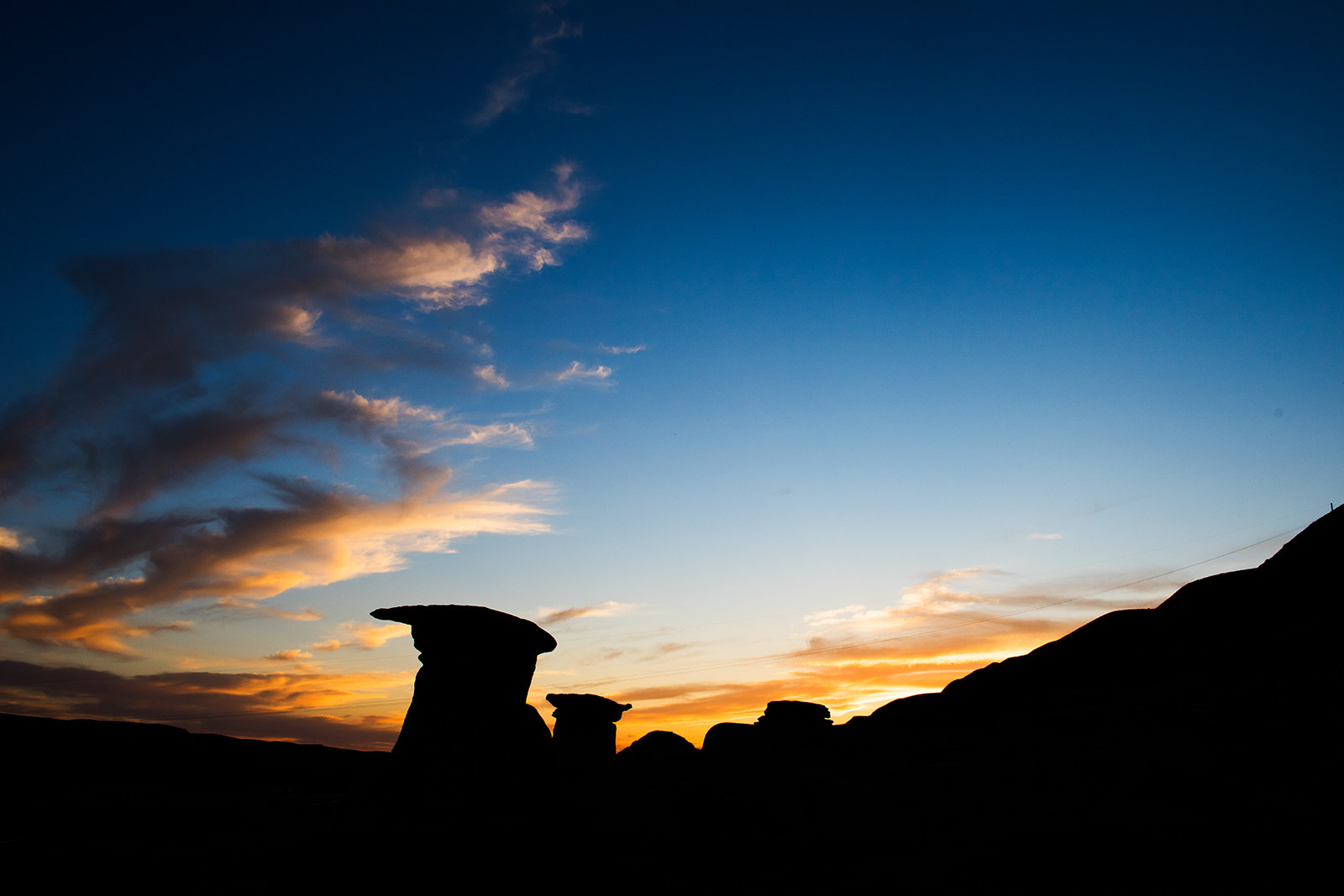 Invigorated from the small taste of nature from the day before, we got up bright and early to head south to Sierra West Ranch for Cowboy 101. Our coursework:
Tacking and grooming
Riding basics (i.e., how to steer your living, breathing, and sometimes farting vehicle), including a borderline too-competitive game of tag on horseback
Driving cattle
Trail riding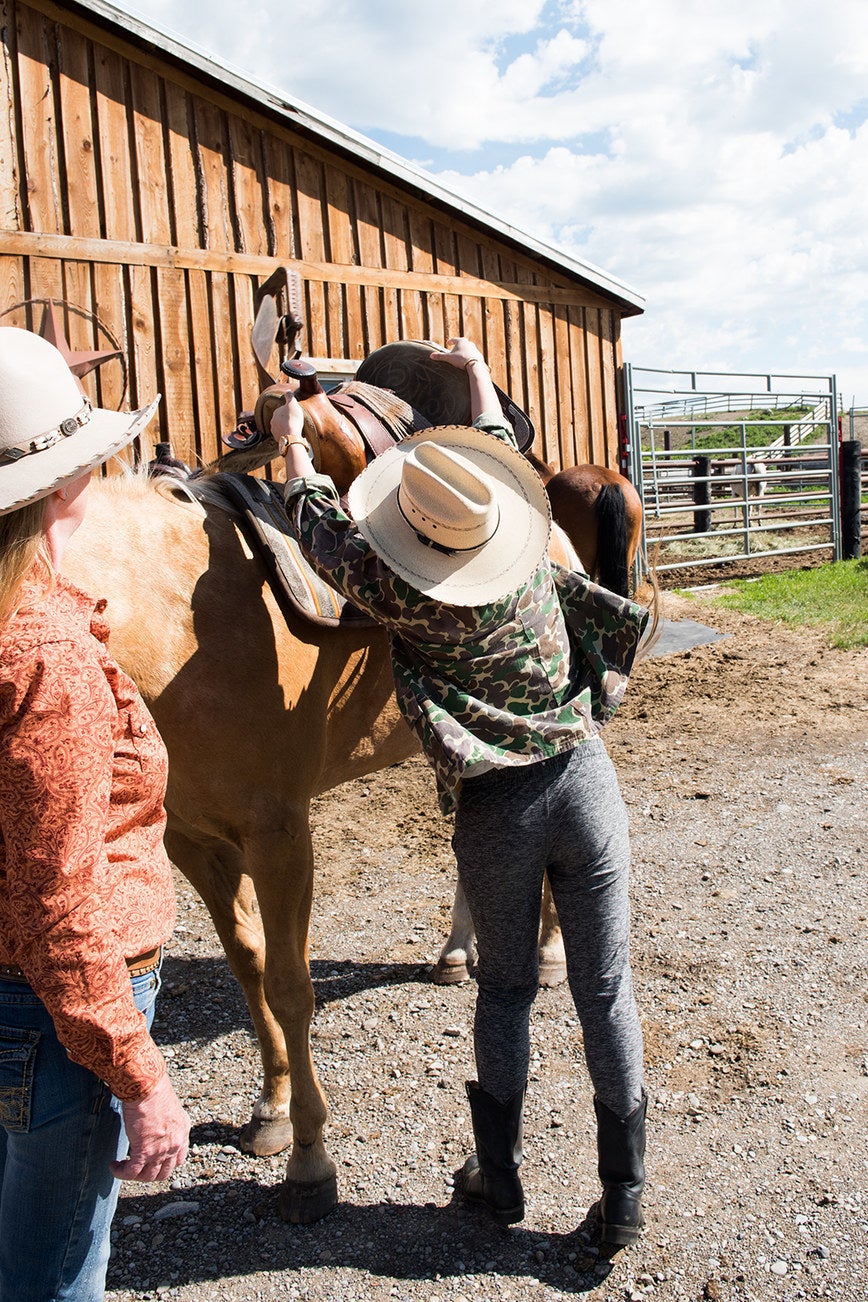 Randy and Ginny Donahue — the owners of Sierra West and a couple of great big sweethearts who were actually childhood sweethearts — were our brilliant teachers and guides. They've owned this place since '79 and transformed it into an award-winning guest ranch in 2001, so you can actually stay in one of their comfy log cabins, maybe even the one dating back to 1905.
"The easiest way to move cows fast is to go slow." —Randy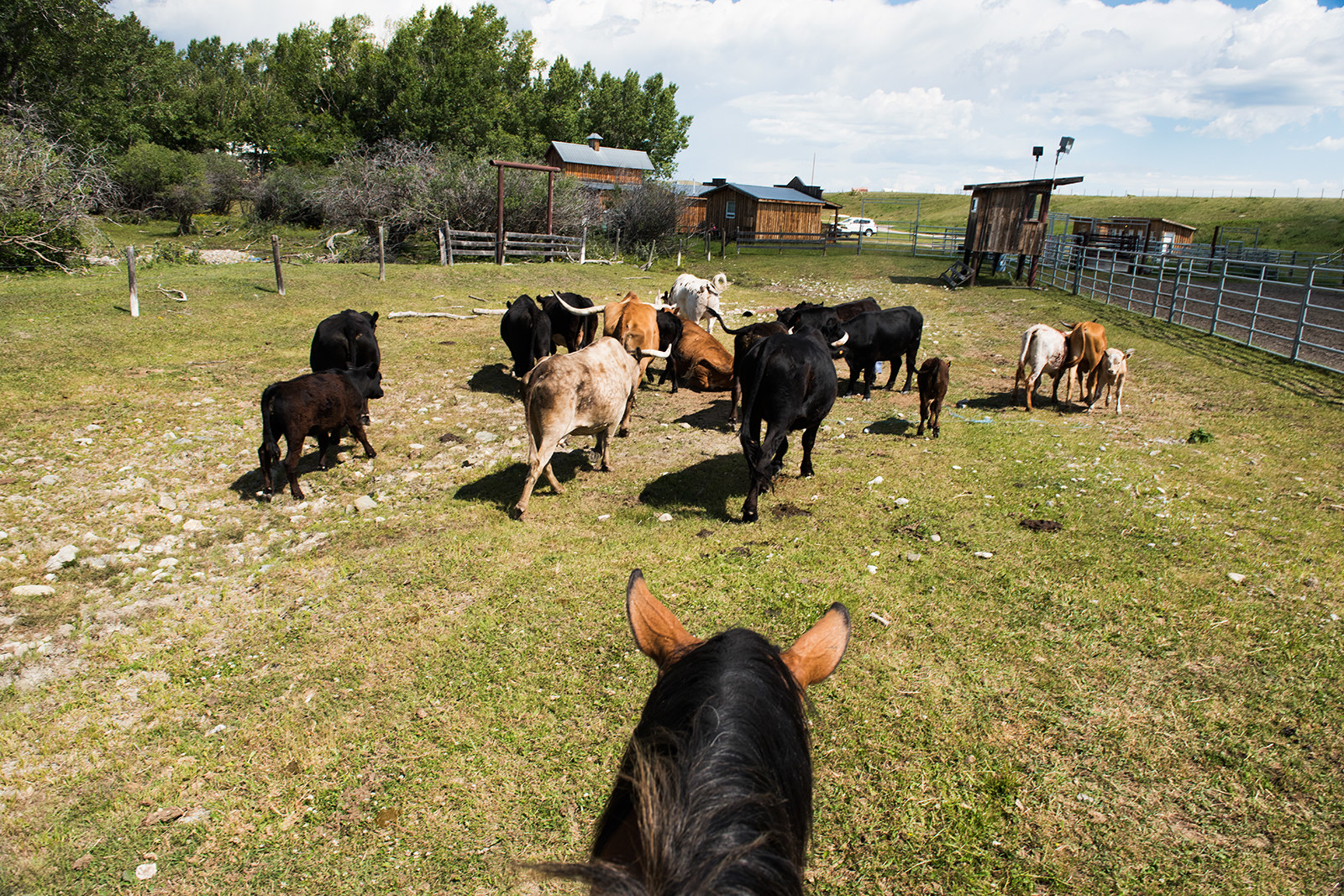 We loved riding and getting to know our horses with the broad, expansive landscape of the plains as our setting. Jeff, a first-time rider, learned the most, primarily about what kind of jeans to wear while riding (read: NOT skinny, you silly city boy). And we were all sad to miss their upcoming cattle drive — two days of herding cattle from pasture to pasture for the sake of grazing rotation. Our booties didn't agree with our FOMO though, and both we and our badonks were grateful for only minimal soreness the following day.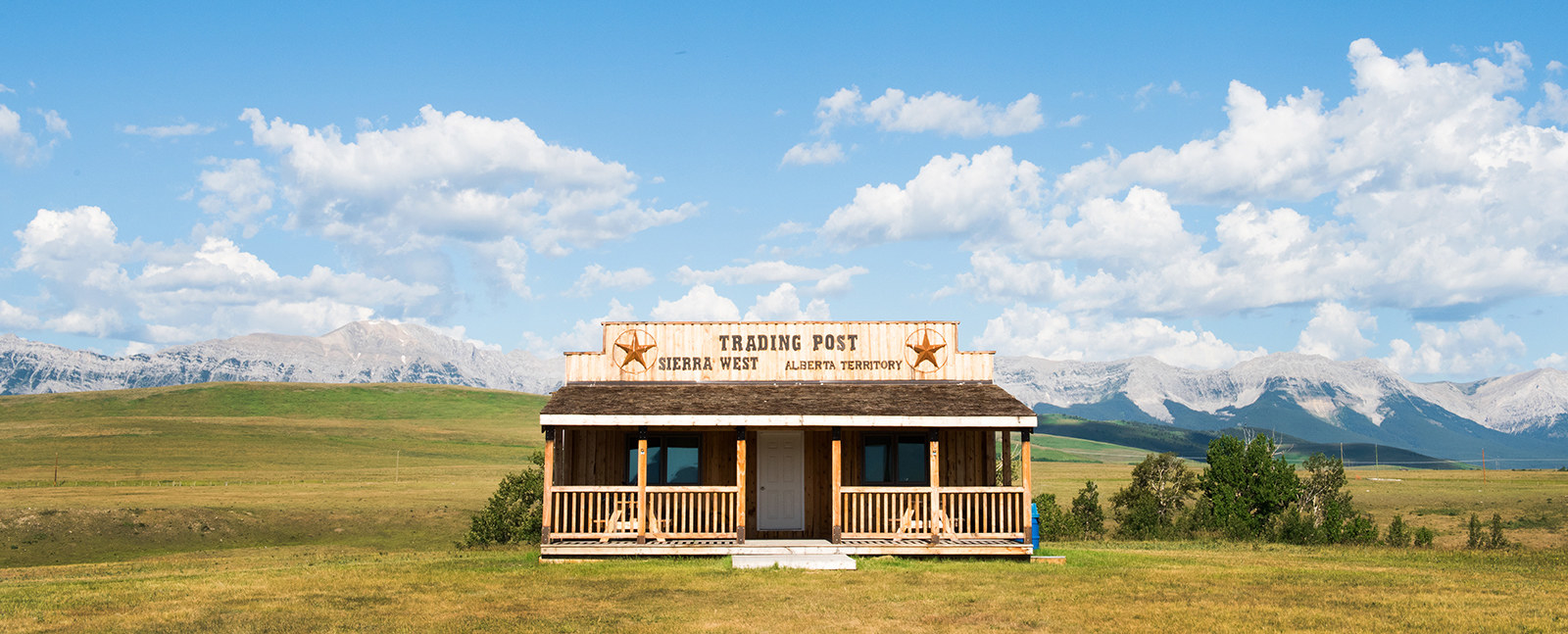 Next, we went up Highway 22 (or the Cowboy Trail — yes, it's really called that) to Black Diamond for lunch. At the Westwood, we had a meal of burgers; fried avocado; and a watermelon, prosciutto, and feta salad that almost made me cry with its perfectly crisp yet juicy texture and careful balance of sweet and savoury. It was belt-splittingly good, but we didn't feel too guilty because ORGANIC and LOCAL. So it's cool, right? Right.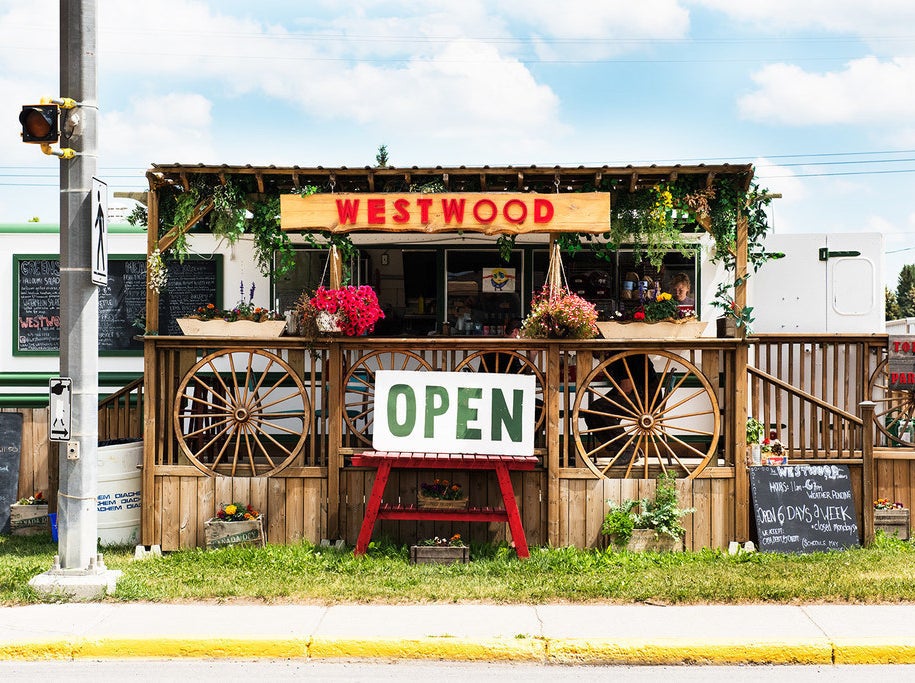 After lunch, we rolled ourselves into our SUV and took a short drive to Turner Valley's Eau Claire Distillery, once the town brothel on Whiskey Row and now a craft distillery — the first in the province. Being the breadbasket of Canada and having produced nearly all the rye used worldwide for whiskey, it's funny that Alberta should have only established its first distillery two years ago.
Despite being the first of its kind, Eau Claire has already garnered tons of awards with its one-of-a-kind farm-to-glass distillery. For one, they're still using horses to till the fields. For two, they make everything from whiskey to vodka to their award-winning gin and something called Prickly Pear EquineOx.
I'm not a person who drinks spirits neat (often...), but I can absolutely see myself getting accidentally very drunk while sipping EquineOx. This completely refreshingly original and fruity spirit is the equivalent of an alcoholic juice box made from a cactus native to Alberta.

They've also got expert mixologists making cocktails you just wouldn't believe, including a smoked Caesar with actual smoke. And for the uninitiated Americans reading this, a Caesar is like a Bloody Mary but with Clamato in place of tomato juice. You gots to try it.
After a long day of riding and eating and drinking (life is hard), we arrived at our next destination just a tick north: Azuridge Estate Hotel. This estate nestled in the foothills of Alberta's Rocky Mountains has been a luxury hotel since 2011. And boy, is it LUXE. I'm talking gem-themed rooms luxe. I'm talking a-free-bottle-of-prosecco-in-every-room luxe. I'm talking not-one-but-two-toilets-in-my-room (one for each function?) luxe. I'm talking butlers luxe, butlers-drawing-us-baths luxe.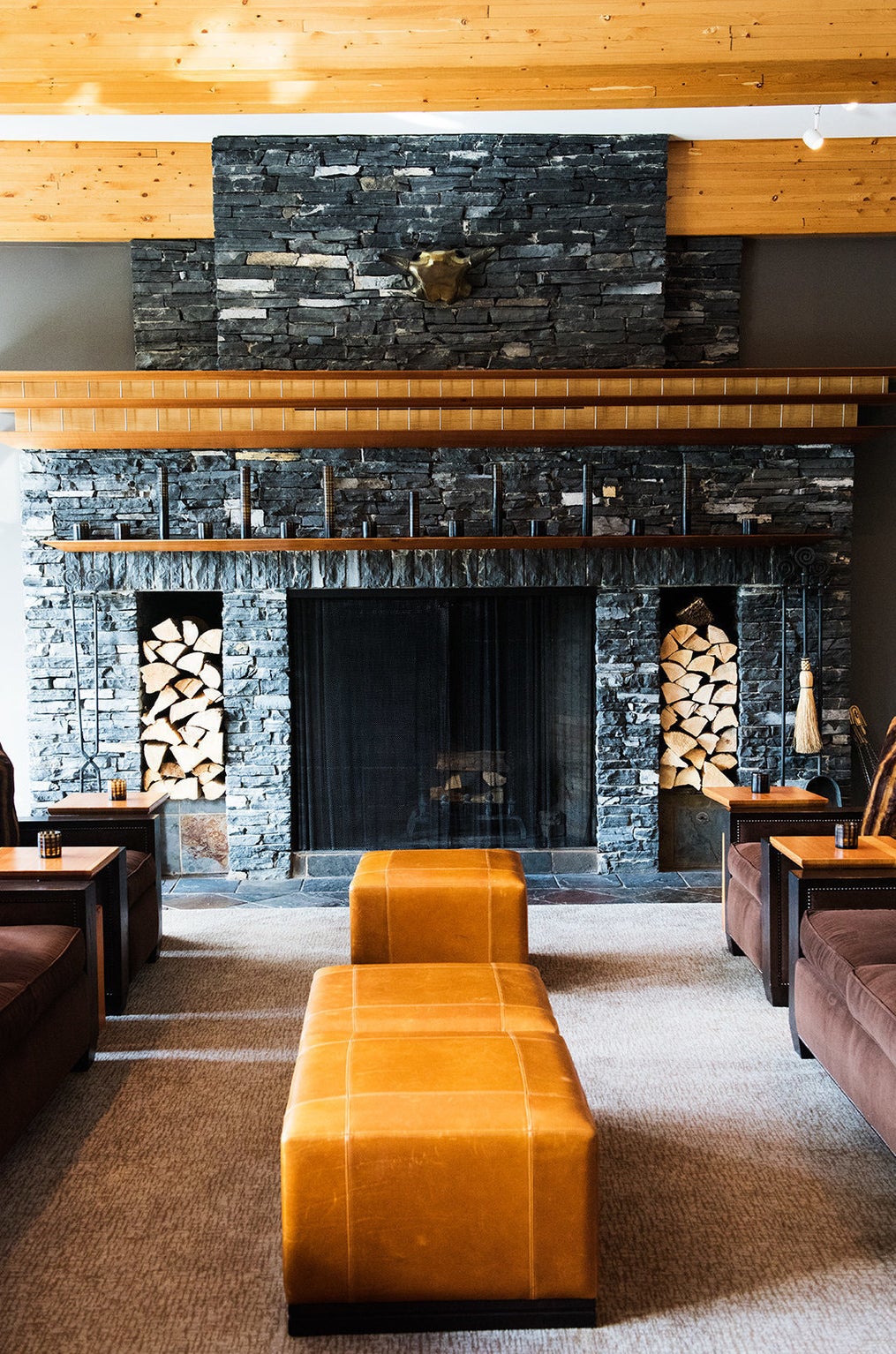 After a sunset enjoyed from Azuridge's observatory tower, the air crisp with the woody, sharp smell of pine, I requested an "amethyst" lavender bath. And at 10:30 sharp, there was a butler at my door to draw me a bath as if I were a baby. There were bath salts (the kind that don't make you want to eat someone's face) and lavender-scented towels.
Then we slept like the dead in the best way possible...in luxury...in the middle of a forest. This big city mouse had never experienced anything like it before, and I was savouring every second of it.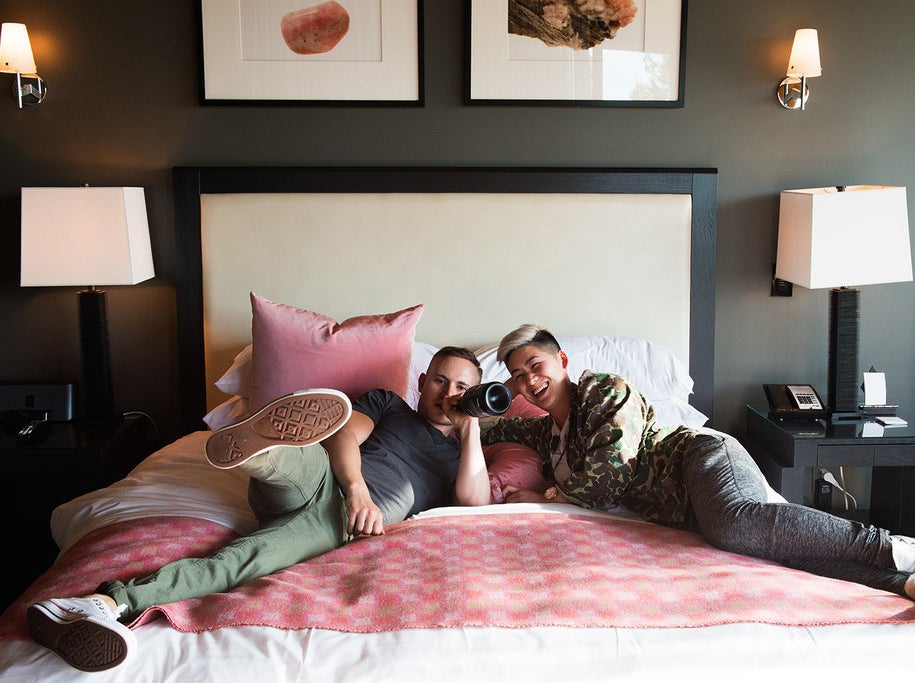 This morning, we slept in. Riding was tough, and those king beds were far too comfortable to climb out of before 9 a.m. But we did begrudgingly leave them behind for our next stop: a helicopter ride! After a quick safety briefing at Rockies Heli, our pilot, Ralph, took us on a picture-perfect ride through the Rockies, over Mount Assiniboine at almost 12,000 feet, above the Hague Glacier, and past the Opal Range with an unreal view of the Spray Lakes.
The takeoff was thrilling and, in a sense, magical. It's almost hard to believe helicopters are even real, both with the minimal amount of physical space needed to fly and the much-reduced size of the actual craft itself. But despite the unfamiliarity of the vehicle, helicopters give remarkably smooth rides, smoother than small propeller planes, smoother even than most commercial jet airliners I've been on, so the journey was très comfortable.
And the end of the ride, Ralph didn't take us back to the helipad but very gently set us down at Marvel Pass, just outside the border of Banff National Park, where we went for an hourlong hike alongside Cabin Lake. We inspected some trees that had been scratched to splinters by grizzlies and took in a dazzling array of flora, so much that I can't recall any of the names. I breathed it all in as we scrambled over rocks and across a stream. I regretted wearing Chucks with zero traction.
The fresh air and the altitude made us city folk dizzy with glee. At one point, Ralph called out to us, "New Yorkers! Stop. Listen. What do you hear?" And after a moment: "Nothing!" We spent the rest of the hike in silence, happy to be away from the din of the city, much of which is made up of our own voices.
Adrenaline-depleted and starved, we went farther west to the buzzing little town of Canmore. We gorged ourselves on burgers (yes, again), nachos, tuna tacos, and flights of beer at the Grizzly Paw Brewing Company. Stuffed again, we decided to walk some of it off by exploring the stores and cafés on Main Street. After all, we would be staying at our most rustic accommodations later that night and wanted to get a bit of our city fix.

After a good shopping session, we headed south, past the Three Sisters peaks and along the Spray Lakes Reservoir, which we had flown over earlier. The majority of The Revenant was filmed here, and it was very Revenanty, if you know what I mean — trees, lakes, general wilderness, a promise of peace and quiet, the looming threat of a mama bear attack. (Kidding, of course.) But we actually did see an elk on our way to our next stop, Mount Engadine Lodge.
Even though there was a comfy inn with ensuite bathrooms, we urbanites dared to try our hand at the yurt. If you don't know what a yurt is, you're not alone — neither did I before Burning Man, honestly. It's basically a round, portable tent, less easily broken down and set up than camping tents, but not a permanent fixture. So, in not so many words, we were glamping.

Luckily, the main lodge was only a five-minute walk and provided us with facilities and meals, including a delectable family-style dinner of game hens. After supper, we chatted with the other guests (Calgary residents!) by the firepit, swung on the swing, watched yet another ethereal sunset, and waited for the nightly moose visit. Yes, apparently he always comes around 11, but I suppose we didn't stay up late enough; we had to get an early start back to Calgary to go return to our respective cities the next day.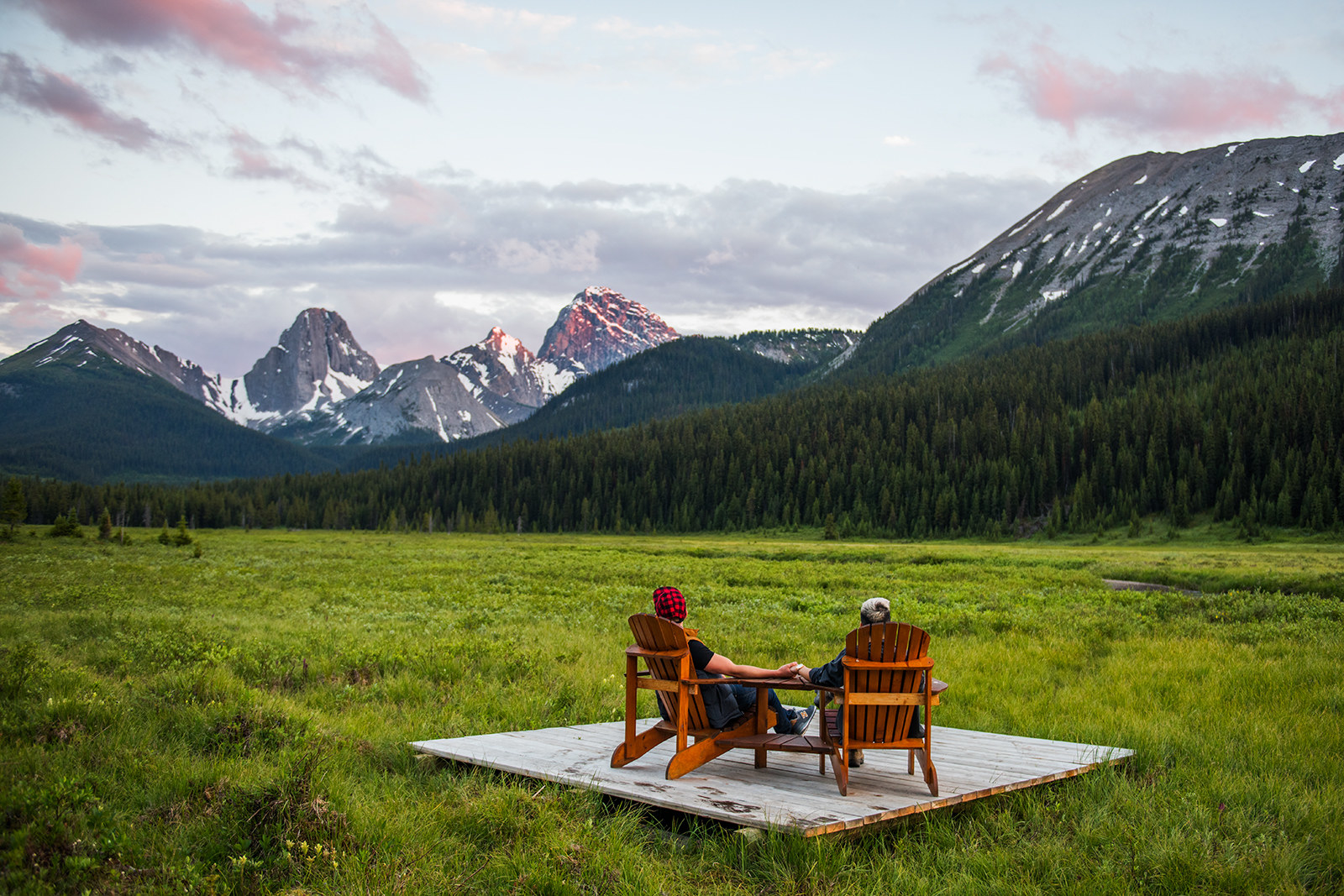 After a pretty good sleep in the yurt (and a few popped squats in the middle of the night), we had a scrumptious breakfast of fluffy pancakes, Canadian bacon (or just bacon to you Canadians), and eggs, and prepared to embark on the last leg of our journey, out of the wilderness and back to the city.
Just two hours later, we were back in Calgary, this time at Canada Olympic Park used in '88 and of Cool Runnings fame. We were there to bobsleigh...fast. Just how fast? 80km/h is the speed they list on the site. Like an American like me would know how fast that is.
"Do the summer bobsleigh," they said. "It goes up to 80km/h," they said. "It'll be fun," they said.
Was it fun? Yes. Did we go 80km/h? (As it turns out, that's about 50mph, by the way.) Yes, faster, in fact. Did I feel the force of two G's? Not even sure what that means, but I'm certain I did because it borderline hurt to hold on. Luckily, I held tight until my knuckles blanched and lived to tell my very own, very lame Cool Runnings tale: I went on the bobsleigh at Canada Olympic Park, and it was super fun, but I don't know if I'd do it again.
The last thing on our agenda was yet another meal, this time at the Beltliner, a modern take on the classic diner, named after the old streetcar that ran down 12th Avenue. Our last meal together was a brunch to remember, with a Benedict, merguez and eggs, and a big salad, all paired perfectly with fresh juices.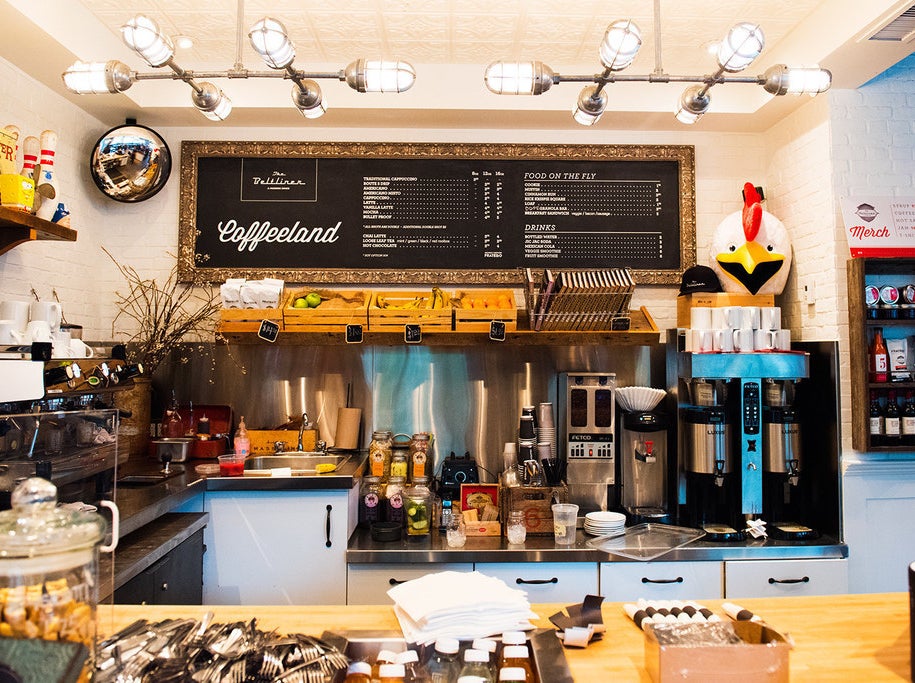 Do you need a breath of fresh air? Or a view to take your breath away? There's really no place better for that (or a 'copter ride over the Rockies) than Alberta, Canada. Head up north and get outdoors!
Jeff, Lauren, and I were bursting at the seams once again, definitely a recurring theme for this trip. Although we hiked plenty and breathed in enough fresh air to last us a few pollution-tainted months in our cities, we ate (and, in all honesty, drank) so well that our pants were probably tighter by the end of it.
It was the ideal mix of city and country, of the plains and mountains, of taking it slow and feeling the speed. (Eighty km per hour, you guys. Two freaking G's, you guys. I felt it, you guys.) I also felt like maybe I should move somewhere with more nature, somewhere I could look up and not see skyscrapers, somewhere that smells of everything green, somewhere I could close my eyes and not hear honking — or anything at all.
But for now, I'll stay in New York, where I take a train to work instead of a palomino, where there are herds of cabs instead of cattle. I'll just make it a point to stop, breathe, and allow myself to be stunned by a sunset every so often.
Photographs by Lauren Zaser/© BuzzFeed

Need a breath of fresh air? Or a view to take your breath away? There's really no place better for that (or a 'copter ride over the Rockies) than Alberta, Canada. Click here to find out more about the Sunshine Province.