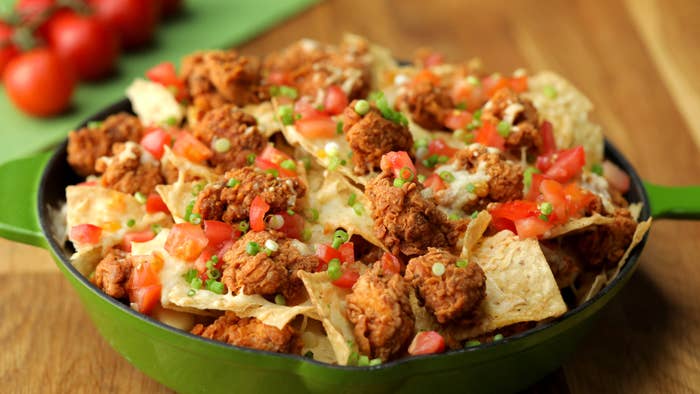 INGREDIENTS:
Fried Chicken
2 pounds chicken thighs, cut into 1-inch pieces
3 eggs
1½ cups buttermilk
2 tablespoons hot sauce
3 cups flour
1 tablespoon salt
½ cup vegetable oil, plus more for frying
1 tablespoon cayenne
1 tablespoon brown sugar
1 teaspoon garlic powder
1 teaspoon paprika
Nachos
1 bag Tostitos Hint of Lime
12 ounces shredded cheese
½ cup sour cream
Juice of half a lime
Diced tomato
Sliced scallions
PREPARATION:
1. Sprinkle chicken generously with salt and pepper. Set aside. Whisk together eggs, buttermilk, and hot sauce. In another bowl, whisk together flour and the tablespoon of salt. Dredge the chicken pieces in the flour, then coat in the buttermilk mixture, then dip in the flour again.
2. Heat 3–4 inches of vegetable oil in a pot to 350ºF. Working in batches, fry the battered chicken pieces until cooked through, 3–4 minutes. Drain chicken on paper towels.
3. In a small pot, heat the ½ cup vegetable oil with the cayenne, brown sugar, garlic powder, and paprika. Whisk well until the brown sugar dissolves. Working in batches, toss the fried chicken pieces with the spicy oil.
4. Preheat oven to 350ºF.
5. In a large cast-iron skillet, put down a layer of Tostitos Hint of Lime chips. Top with pieces of fried chicken and a layer of shredded cheese. Repeat layering of the chips, chicken, and cheese two more times for a total of 3 layers. Place in the oven for 5–7 minutes, just until the cheese melts.
6. While the nachos are in the oven, whisk together sour cream and lime juice to form a creamy dipping sauce.
7. Remove nachos from oven and garnish with the tomato and scallions. Serve immediately.