In Ohio, Advocates See A Long Haul For Marriage Equality
A coalition of LGBT organizations has hired a veteran political strategist to build public support.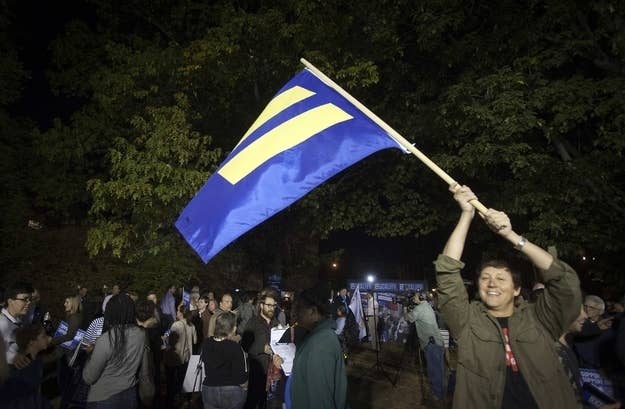 A coalition of LBGT advocacy groups is working to build public support for marriage equality in Ohio and has hired a campaign manager to lead the charge.
"What we are doing now is that we are pulling together the leaders of the LGBT community here and nationally and having conversations with them to come up with a consensus opinion on how to proceed," said Michael Premo, who has been hired to lead the campaign, Why Marriage Matters Ohio said Wednesday.
With 2014 around the corner, Premo said he is ruling nothing out in Ohio, where the constitution was amended to define marriage as a man and a woman and where both civil unions and domestic partnerships are prohibited.
Premo said it's a matter of "moving the needle" towards greater public support for marriage with the hope of eventually overturning the state's constitutional amendment via a ballot initiative, which would open the door for marriage equality legislation. In June, a separate LGBT organization, Freedom to Marry Ohio, announced its push for a ballot initiative in 2014, but Premo — and other advocates involved — say that it's too early to make that call.
"We have to make sure we have enough time to build that public education before the decision is made to go forward with the ballot initiative," Premo said.
According to recent polling from the Public Religion Research Institute, voters are evenly split on the issue with 47% in favor and 47% opposed to marriage equality for same-sex couples.
"If we went to the polls where we don't have majority support and it failed, that would be a major setback," said Grant Stancliff, communications director at Equality Ohio. "Then we would be waiting for years."
There are a number of variables, including polling, fundraising and building campaign infrastructure across the state, also at play, said Premo. "I would say that we will know more by the spring on how we are going to proceed, but in the meantime, we are working to expand the coalition," he said.
The Why Marriage Matters Ohio campaign was launched in September by the Equality Ohio Education Fund, Freedom to Marry and the Human Rights Campaign, and Premo said it will soon include several more organizations, faith community leaders and business leaders.
"The work has been going on for several months now, but bringing me on we are now starting the deep dive," he said. "What we are doing right now is having conversations in communities across the state and finding folks who are moveable on this issue and what messaging we can use to then move those people. Every state presents unique challenges and opportunities to realizing marriage equality, and Ohio is no exception."
As campaign manager, Premo has pledged that any decisions to move forward will be based on a consensus opinion among leaders in the coalition and that he will "bring everybody to the table."
In 2004, Ohio voters approved the constitutional ban with 62% of the vote. Since then, nearby states such as New York, Maryland and Illinois have approved marriage equality, but Premo said Ohio has added significance.
"Out of all the states, I don't think there is one more important than Ohio," he said. "As Ohio goes, so goes the nation. This applies to marriage equality as well. Winning Ohio would be a huge boost of momentum for the movement."
Elyzabeth Holford, board chair of Why Marriage Matters Ohio and executive director of Equality Ohio, said Premo is, "a proven champion of marriage equality" as demonstrated by his work in New Jersey, New York and other campaigns across the country. Prior to moving to Ohio, Premo was campaign manager for New Jersey Unites for Marriage and has years of experience in political strategy consulting.
"Mike's leadership of the Why Marriage Matters Ohio team brings a new level of expertise in moving Ohio toward full equality," she said.
The coalition has also hired Columbus-based Paul Werth Associates to oversee communications.
Freedom to Marry and the ACLU of Pennsylvania launched a similar education campaign at simultaneous press conferences in Pittsburgh and Philadelphia Wednesday, Why Marriage Matters Pennsylvania.