Three Irish LGBT Groups To Apply For Inclusion In New York City St. Patrick's Day Parade
The parade's organizers tell BuzzFeed News the groups won't be able to march in 2015, but are welcome to apply in 2016.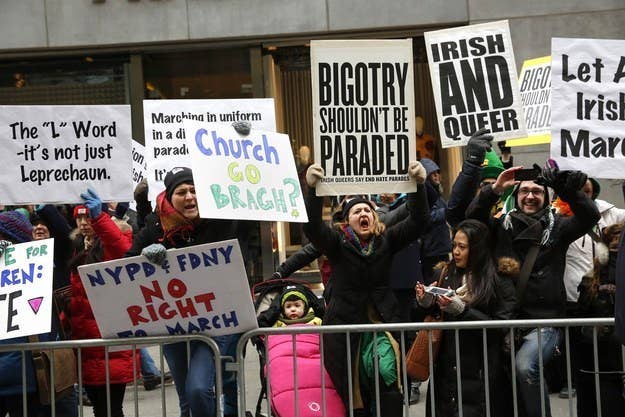 Three Irish LGBT groups said they will apply to march in next year's New York City St. Patrick's Day Parade on Tuesday — a move aiming to hold organizers to their decision to end the parade's longstanding ban on LGBT groups.
The parade's organizers said last week they are ending their long-held and controversial ban on LGBT groups marching under the parade banner and are allowing OUT@NBCUniversal, an LGBT support group at NBCUniversal, to march in the 2015 procession down New York City's Fifth Avenue.
With that, the groups — Irish Queers, Lavender and Green Alliance, and St. Pat's for All — plan to send applications to march in the 2015 parade, saying that if the parade is truly inclusive of LGBT people and groups, they should be able to march, too.
But when reached by BuzzFeed News by email Monday, parade spokesman Bill O'Reilly said, "Out@NBCUniversal will be only LGBT group for 2015. But [the groups are] welcome to apply for 2016."
Earlier Monday, the Irish LGBT groups said the LGBT NBCUniversal group is only permitted to march because NBC is the parade's broadcast partner and televises the annual event, and said they are skeptical that organizers have truly lifted the parade's ban on LGBT groups.
"The one LGBT group that's allowed to march in next year's parade has nothing to do with the Irish community," Emmaia Gelman, a member of the collective of Irish LGBT groups, told BuzzFeed News. "NBC is using its LGBT employee group to solve its problem, which is that it was embarrassed to continue sponsoring the event when the parade continues its exclusion of LGBT groups. This was a corporate decision."
In the announcement last week, parade organizers said other LGBT groups are welcome to apply to march in the parade in future years, but LGBT advocates and members of the Irish LGBT groups have yet to trust the organizers to their word — that is, until their groups, too, are permitted to march.
Groups like Irish Queers are among many LGBT activists to demand inclusion in the city's St. Patrick's Day parade, the largest of its kind, for over 20 years. The groups will gather for a press conference Tuesday at 9 a.m. on the steps of the New York Public Library at 41st Street and Fifth Avenue.
"Our place in the irish community is not in future years, it's now," Gelman said.
An email was sent to an NBCUniversal spokesperson seeking comment.