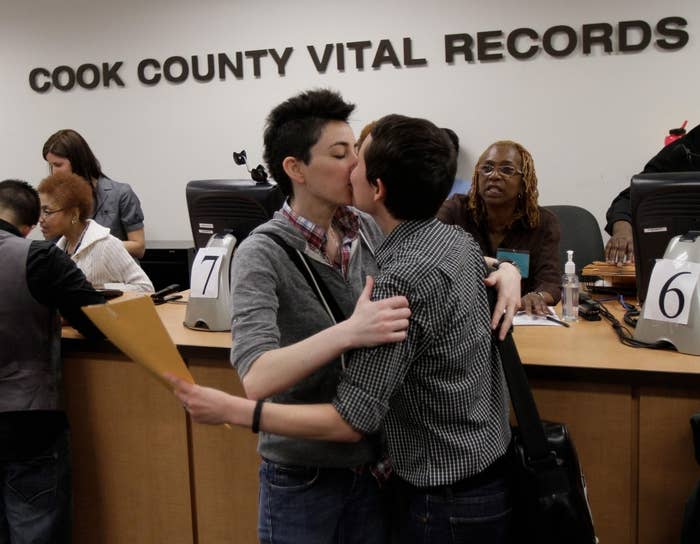 A second Illinois county announced Wednesday it is issuing marriage licenses to same-sex couples — months ahead of the state's new marriage equality taking effect this June.
Clerk Gordy Hulten of Champaign County in Central Illinois, told BuzzFeed he would immediately issue marriage licenses to same-sex couples and that one same-sex couple had already come and gone with a license from his office Wednesday morning.
The move comes after U.S. District Sharon Johnson Coleman ruled last Friday the state's ban on marriage for same-sex couples is unconstitutional and ordered Cook County — which includes Chicago — to begin issuing licenses to same-sex couples because the lawsuit was filed against Cook County Clerk David Orr.
The state's marriage equality law takes affect June 1.
Hulten said that although the effects of the ruling on other counties is unclear, he and county attorneys found it applies to Champaign County because Johnson Coleman found that the state's marriage ban on its face is unconstitutional and violates the equal protection clause of the Fourteenth Amendment.
"The Illinois Attorney General and the Cook County Clerk were parties to the suit," Hulten said in a statement. "The precise effect of the ruling on other Illinois counties is unclear. However, after consulting with State's Attorney Julia Rietz, I have come to the conclusion that the rationale of the case applies to all citizens of Illinois and that Champaign County residents should have no fewer Constitutional rights than those in Cook County."
Denying marriage licenses to same-sex couples in his county would likely lead to further lawsuits at taxpayers' expense for an identical ruling, Hulten told BuzzFeed.
Bernard Cherkasov, CEO of statewide LGBT rights group Equality Illinois, applauded Hulten's action and urged clerks in the state's additional 100 counties to do the same.
"Clerk Hulten recognized both the humanity of helping gay and lesbian couples to fulfill their dreams and the legal soundness of following the decision of a federal court that denying marriage licenses was unconstitutional," Cherkasov said in a statement. "It is simply time for the other county clerks to follow suit."
State and other county officials have said the ruling only applies to Cook County, despite the urging of advocates to immediately issue the licenses to same-sex couples. Clerks in McHenry, Kane and Sangamon counties previously told BuzzFeed the ruling only applies to Cook County.
Since the Friday ruling, at least 133 same-sex couples have received marriage licenses in Cook County — 14 of which traveled from other counties in the state, according to Clerk Orr.