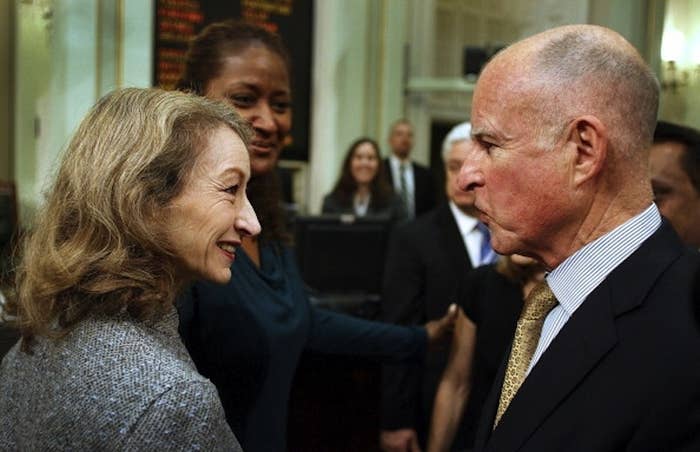 Opponents of a new law ensuring protections for transgender California public school students announced Tuesday they are taking their efforts to repeal the law to court — a month after state election officials disqualified their bid for a voter referendum on the matter this fall.
Christian legal group the Pacific Justice Institute, a member of the Privacy for All Students coalition opposing the transgender student law, filed a lawsuit in a California state court March 14, challenging the disqualification of thousands of signatures it submitted late last year in hopes of putting the question of repealing the law before voters this November.
The suit seeks a court order demanding California Secretary of State Debra Bowen certify the repeal referendum for the November ballot, according to PJI. The coalition is also demanding county election officials to disclose documents it claims will, "prove the abuse of discretion" in rejecting the signatures.
The law, or the School Success and Opportunity Act, allows transgender public school students to use school facilities and participate in school activities based on their gender identity. Opponents from Privacy for All Students refer to it as the "co-ed bathroom bill," and say the law will lead to discomfort among some students in school restrooms and locker rooms.
"It's unfortunate when the Secretary of State and other election officials in their official capacity treat a referendum effort as a partisan debate," said PJI President Brad Dacus. "It is not. It's about letting the voice of the people be heard. We want to make sure every signature is counted, and every voice is heard."
A weeks-long manual signature verification process that concluded late last month found that backers of the repeal came up significantly short of the number of valid voter signatures needed to put the question on the ballot.
According to the results released Feb. 24, election officials in California's 58 counties found that out of the nearly 620,000 signatures submitted, only 487,484 are valid — or, in other words, have been found to belong to registered voters in the particular county where they were submitted. To qualify a referendum on the state's ballot, proponents of an initiative must provide at least 504,760 valid signatures.
The suit alleges that 17,276 signatures were "unlawfully disqualified." If the court rules in PJI's favor, the total of valid signatures would increase to exactly 504,760. Specifically, the PJI claims significant numbers of signatures were thrown out for various reasons such as issues with dates on signature petitions, signature handwriting that doesn't match with voter registration cards, strikethrough corrections, and issues with addresses — among others — it claims were an "abuse of discretion" by election officials when disqualifying the signatures.
A court hearing on the matter has not yet been scheduled, Dacus told BuzzFeed, but noted the proceedings will likely move quickly.
"By early June, this legal matter should be resolved one way or the other," he said.
Masen Davis, executive director at the Transgender Law Center, said schools are already implementing policies for transgender students since the law took effect Jan. 1, and suggested a reversal of the initiative's disqualification is unlikely.
"We are confident in the ability of the Secretary of State to appropriately determine if an initiative has qualified for the ballot," Davis said in a statement to BuzzFeed. "Indeed, the Secretary of State's decision that a statewide initiative did not qualify has never been reversed by the courts. We will vigorously defend this law as needed so that all students are able to continue being their authentic selves at school."
A message was left with Secretary Bowen's office seeking comment.