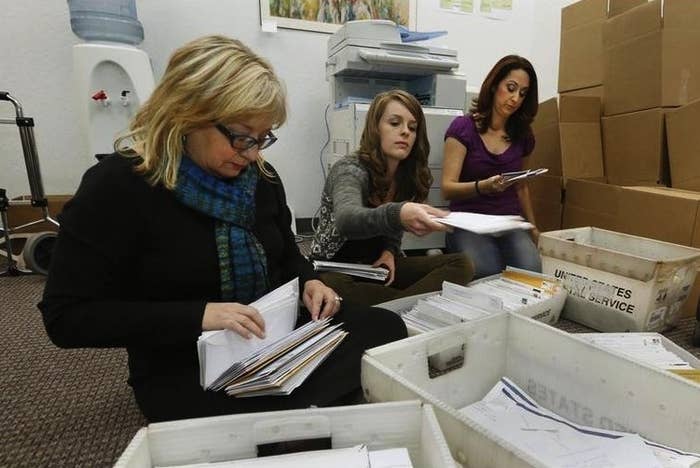 Opponents of a recent California law that would add protections for transgender public school students say they have gathered enough signatures for a ballot initiative they hope will repeal the law.
Privacy For All Students, a coalition of conservative opponents of the law, announced Sunday they have collected 620,000 signatures — well over the 504,760 needed to land the referendum on the November 2014 ballot.
"As far as we are aware, this is the largest number of volunteer signatures ever submitted in a California referendum campaign," Karen England of Capitol Resources Institute, a member of the PFAS executive committee, said in statement. But Masen Davis, executive director of the Transgender Law Center (TLC), said the 620,000 signatures submitted may not cut it in the end.
"We won't know the final count of valid signatures for several weeks; however, based on prior referendum efforts in California, they likely needed to submit more than 620,000 signatures to qualify for the ballot," Davis said. "No matter how this plays out, we will stand with our youth and their families and fight every effort to restrict their opportunity to succeed in school."
Officials from California's 58 counties have eight business days to tally the signatures, according to PFAS. In the coming weeks, they will work to verify the signatures, which could potentially shave down the number if the signatures sampled are proven to be invalid. Officials could also conduct a statewide review.
"The validity rate of volunteer signatures is considerably higher than those for a paid signature drive," said Frank Schubert, an anti-LGBT political activist and campaign manager of the coalition. "Historically, elections officials invalidate a significant percentage of signatures but many of our volunteer petitions have a validity rate of over 90%. We will be completing our internal validity checks over the next few days, but we believe the referendum has a good chance of qualifying. It's likely going to be very close one way or another."
Assembly Bill 1266, passed by the California Legislature this summer and signed into law by Gov. Jerry Brown Aug. 13, would allow transgender public school students to participate in sports and other activities and use school facilities based on their gender identity. It is the first state to approve such legislation. Currently, the law will take affect Jan. 1, 2014.
Opponents of the measure — bolstered by Schubert and the National Organization for Marriage — argue the law would infringe on parental choice and cause discomfort among students in school restrooms and locker rooms. The Privacy For All Students coalition refers to it as "the co-ed bathroom law." Thousands of volunteers throughout California collected and delivered the signatures since August, PFAS said.
TLC and other LGBT organizations in the state, say the law will help transgender students succeed in school and protect them from discrimination by their peers and school staff.
"It's unfortunate to see state resources wasted by fringe groups that want to eliminate opportunities for vulnerable youth to succeed in school — especially with so many critical issues impacting Californians, including jobs, the budget, and health care," Davis told BuzzFeed. "The groups behind this referendum effort are the same ones who brought us Prop 8. They know they can't win on marriage equality, so now they are trying to target our kids."