Obama: Keep Pressure On Congress To Pass ENDA
Executive action to protect federal LGBT workers is "helpful," but not enough, President Obama tells supporters at a Democratic National Committee fundraising event in New York City.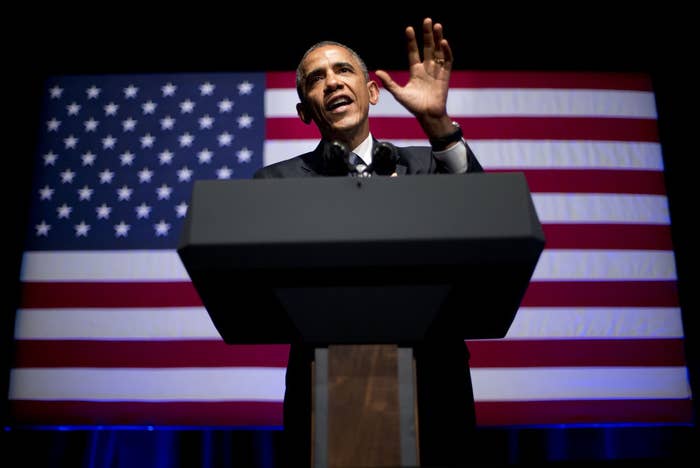 President Barack Obama said Tuesday during a fundraiser in New York City that even though his administration is moving forward with an executive order barring discrimination against LGBT employees of federal contractors, Congress should continue to be pressured to pass the Employment Non-Discrimination Act (ENDA).
"It would be better if Congress would pass a more comprehensive law," Obama told supporters gathered at the annual Democratic National Committee LGBT Gala. "We're working on that. Don't take the pressure off Congress."
Obama said that he instructed his staff Monday to draft an executive order for his signature — a point that led to a long, standing ovation from the crowd — however, the president said that while taking the executive action to protect LGBT employees of federal contractors is helpful, "it doesn't reach everybody who it needs to reach. Congress needs to start working again."
Obama did not address when he would sign the executive order or provide details on any type of religious exemption it might include, but LGBT advocates are set to meet with White House officials on Thursday to discuss the plans.
The president's comments pushing for action on ENDA are notable in light of the fact that a number of LGBT advocacy organizations and activists in recent weeks have announced their opposition to the version of ENDA the U.S. Senate passed last November because it includes what they see as an objectionable religious exemption that would continue to allow for discrimination.
The National Center for Lesbian Rights is one of the groups that announced its opposition to the religious exemption in the legislation, and following Obama's remarks the group's executive director said she is hopeful such exemptions will not make it into the final version of the bill.
"We are enormously grateful for the President's leadership and support for enacting federal protections for LGBT workers," NCLR's Kate Kendell said in a statement to BuzzFeed. "There is a groundswell of support for removing the current discriminatory religious exclusion from ENDA, and we are confident the final bill will not include it."
In addition to addressing his administration's action on workplace discrimination, the president touted advancements for LGBT rights and protections carried out in recent years, such as refusing to defend the Defense of Marriage Act (DOMA) and making it illegal to deny people health care based on their sexual orientation or gender identity. He also celebrated recent court rulings in favor of marriage equality, saying, "In 19 states, you are now free to marry the person you love."
"Pride month is a time of celebration and this year we've got a lot to celebrate," he said. "Despite the great work of the incredibly talented and courageous lawyers, it's important to understand it's not just laws changing, it's hearts and minds."